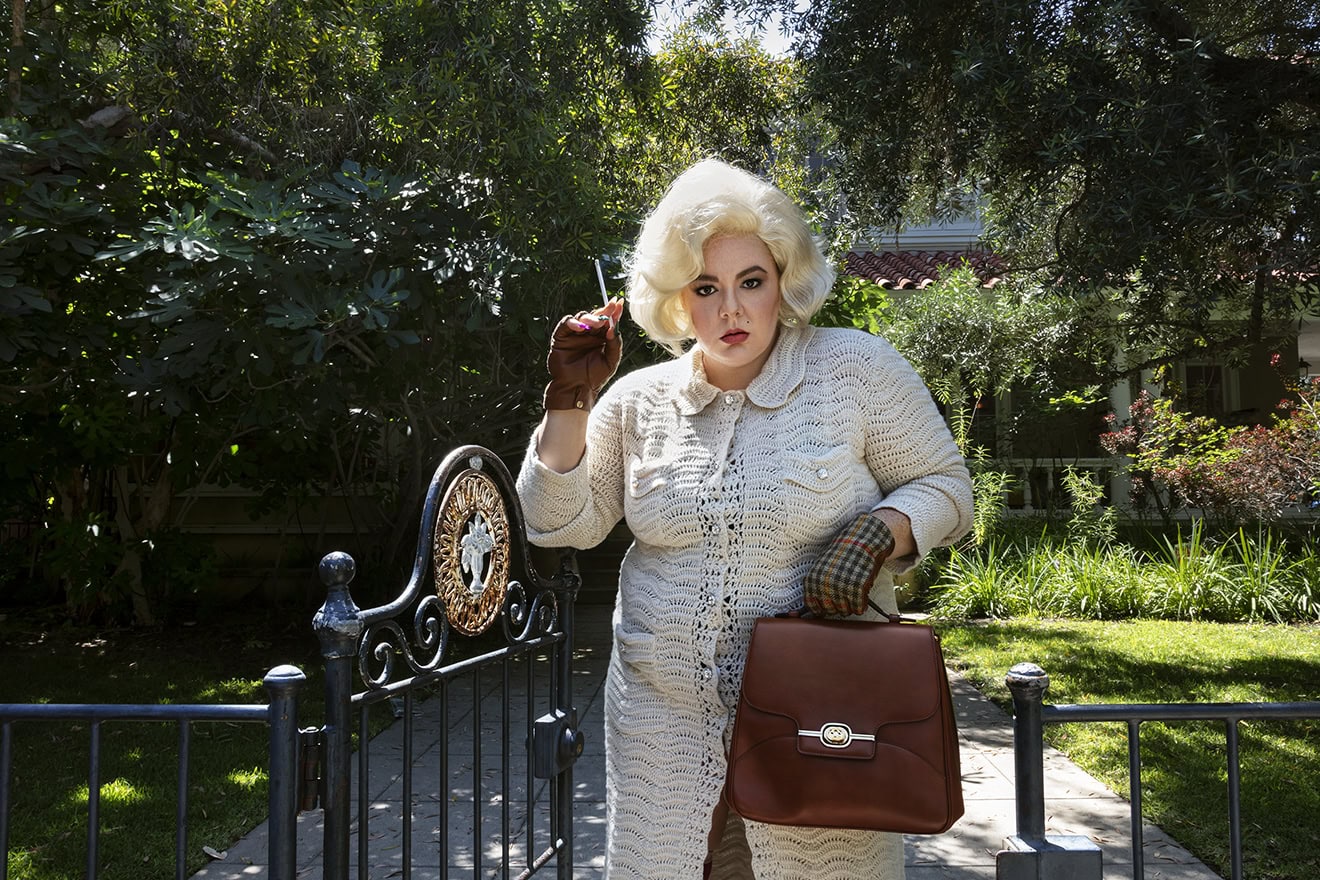 Art Basel OVR:
Miami Beach
December 2 — 6, 2020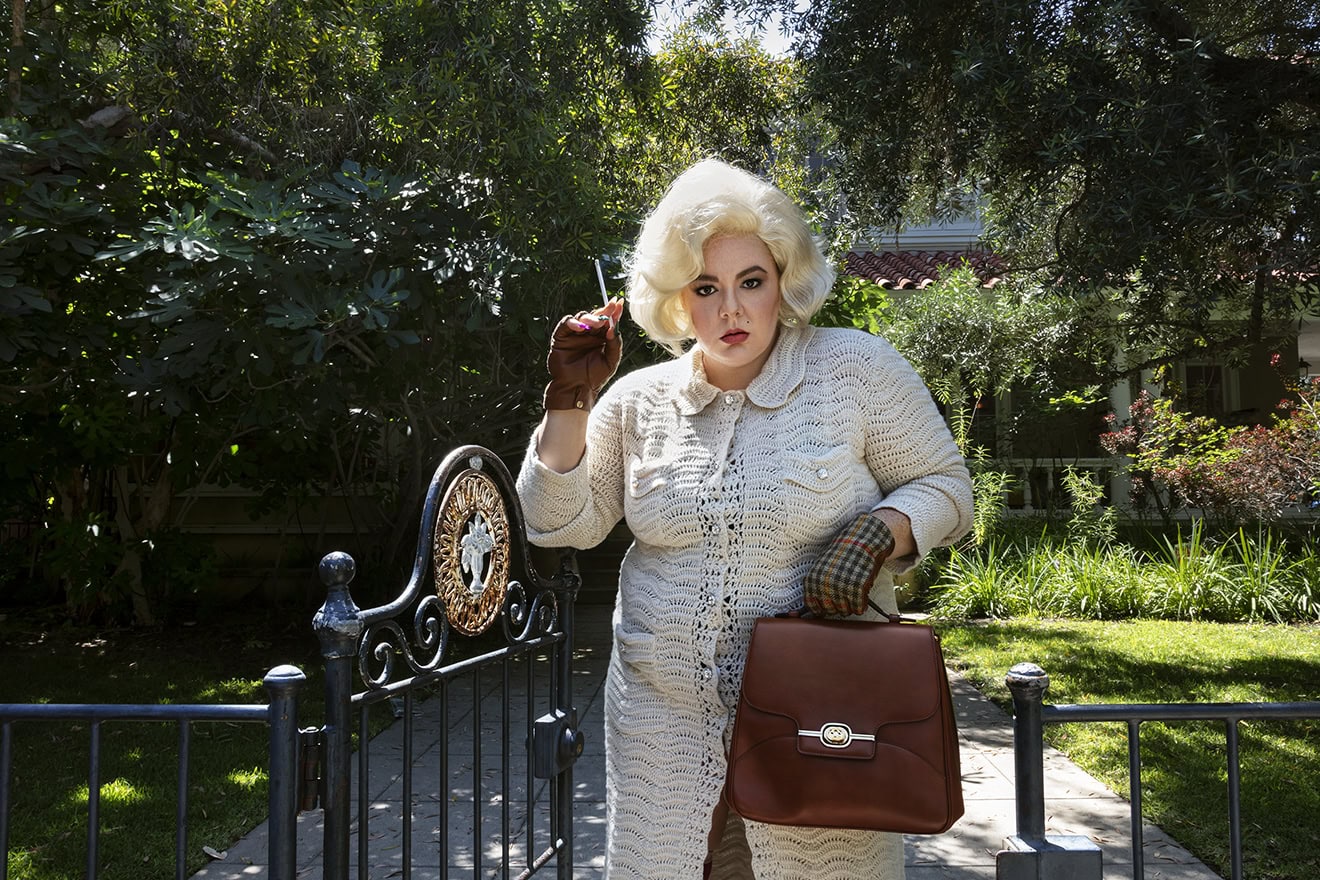 ---
Vielmetter Los Angeles is pleased to participate in 'OVR: Miami Beach' featuring artworks by Math Bass, Whitney Bedford, Ellen Berkenblit, Andrea Bowers, Nicole Eisenman, Louise Fishman, Genevieve Gaignard, Karl Haendel, Hayv Kahraman, Raffi Kalenderian, Hugo McCloud, Rodney McMillian, Paul Mpagi Sepuya, Arlene Shechet, Amy Sillman, Patrick Wilson, Gabriel Slavitt, and Kennedy Yanko.
Highlights include a suite of new photographs by Genevieve Gaignard, entitled "Model Citizen," originally commissioned by Vogue Italia on the occasion of their 2019 September issue. The series depicts Gaignard in Gucci regalia, shot in Los Angeles, and exudes a cinematic atmosphere through which Gaignard inserts herself as an atypical model, rebelling against beauty standards. Extending Gaignard's signature style of self-portraiture, the artist appears as various anonymous characters with visual details amplifying the intricate textures and colors of Gaignard's distinct curated imagery.
Louise Fishman
"STILL BURNING," 2020
Oil on linen
40 x 30" [HxW] (101.6 x 76.2 cm)
Inventory #FIS177
Courtesy of the artist, the Louise Fishman Estate, and Vielmetter Los Angeles
Photo credit: Adam Reich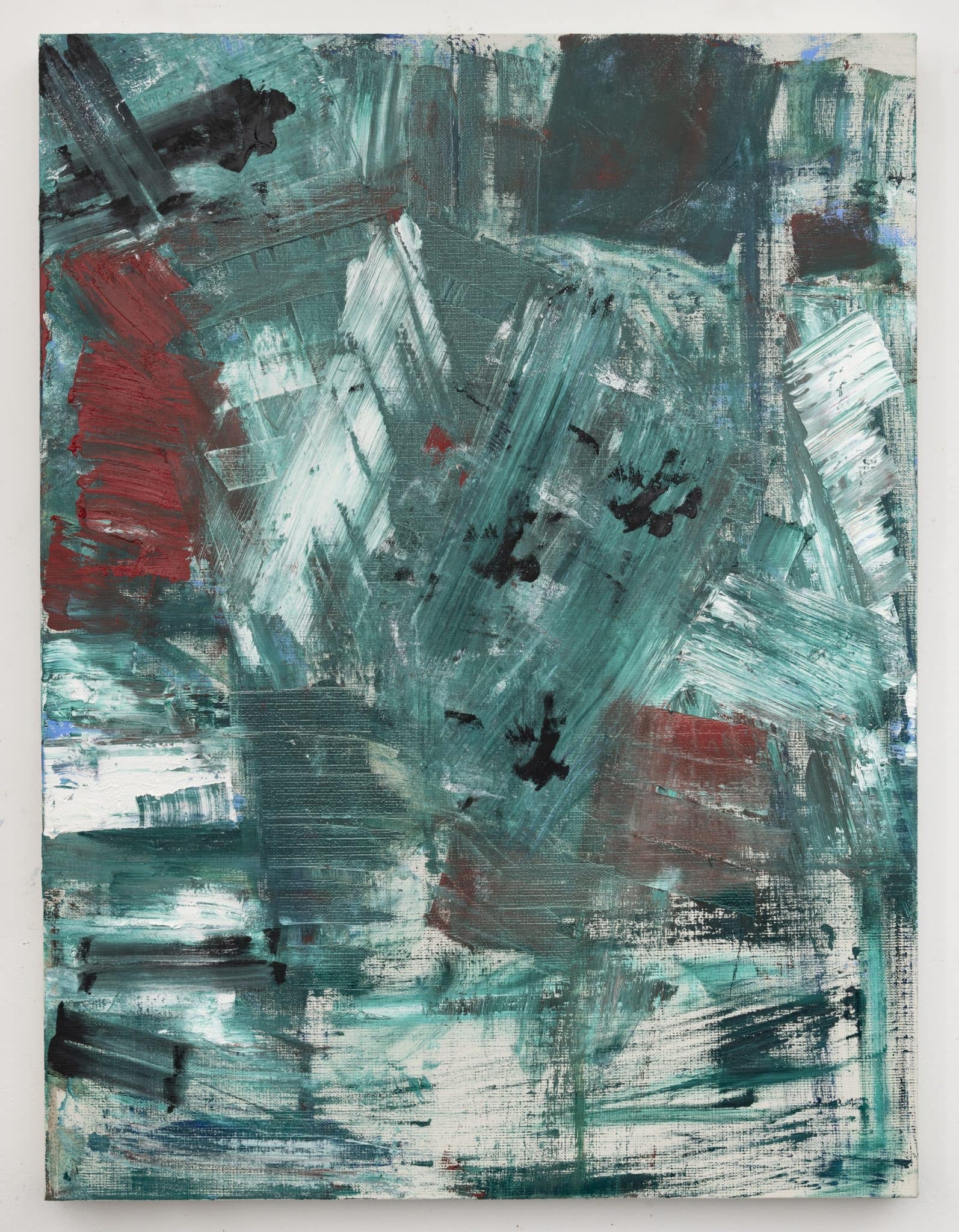 The booth also features a timelessly supernatural landscape by Whitney Bedford, from the artist's ongoing Veduta series, as well as new sculptural works comprised of supple paint skins and found metal by Kennedy Yanko, along with works on paper by Andrea Bowers, Nicole Eisenman, Amy Sillman, and recently completed paintings by Math Bass, Louise Fishman, Hayv Kahraman, Raffi Kalenderian, and Patrick Wilson.
In addition to the online presentation, some of these artworks will be on view at the gallery in Los Angeles for our California-based audience.
Kim Dingle
"Dinner for one," 2020
Oil on wood with artist frame
7.5 x 41.75 x 1.5" [HxWxD] (19.05 x 106.04 x 3.81 cm) framed
Inventory #DIN324
Courtesy of the artist and Vielmetter Los Angeles
Photo credit: Jeff Mclane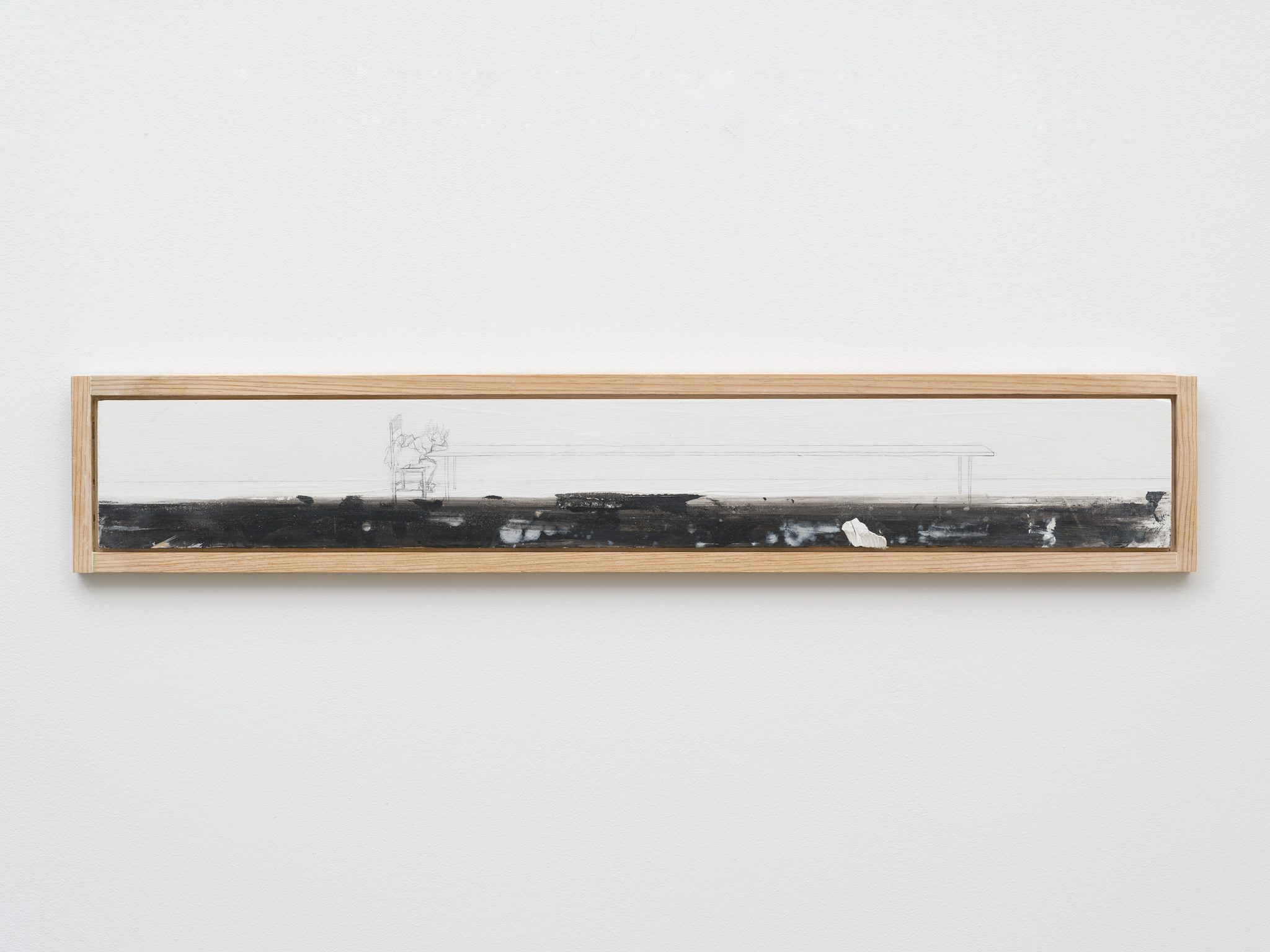 Mary Kelly
"World on Fire Timeline," 2020
Compressed lint, archival mount board, paper, ink, acrylic box frames
40.5 x 195 x 3.25" [HxWxD] (102.87 x 495.3 x 8.26 cm)
Inventory #KEL164
Photo credit: Robert Wedemeyer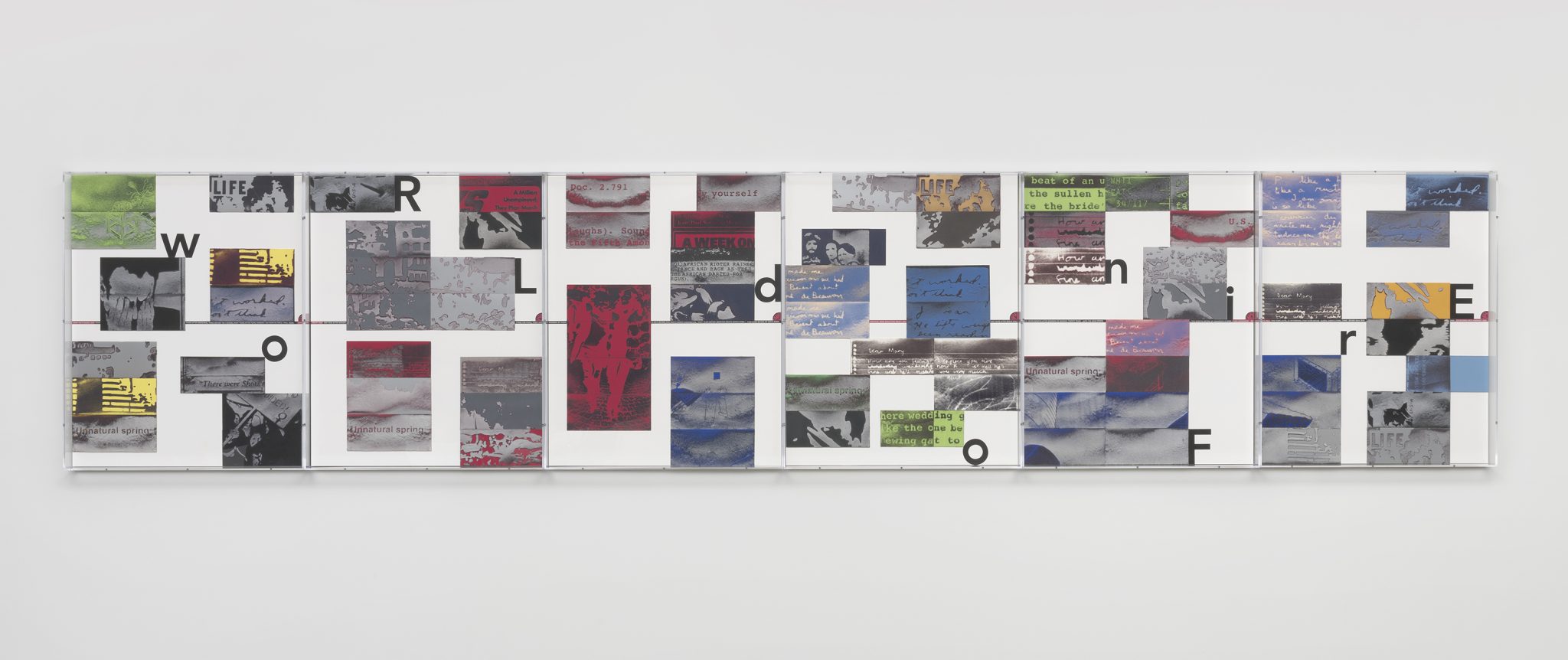 Andrea Bowers
"Petra Kelly's Jacket ("Peace is not just the absence of mass destruction, but a positive internal and external condition in which people are free so that they can grow to their full potential.")," 2020
Pastel, charcoal, graphite, spray paint on paper
14.5 x 12" [HxW] (36.83 x 30.48 cm)
Inventory #BOW567
Courtesy of the artist and Vielmetter Los Angeles
Photo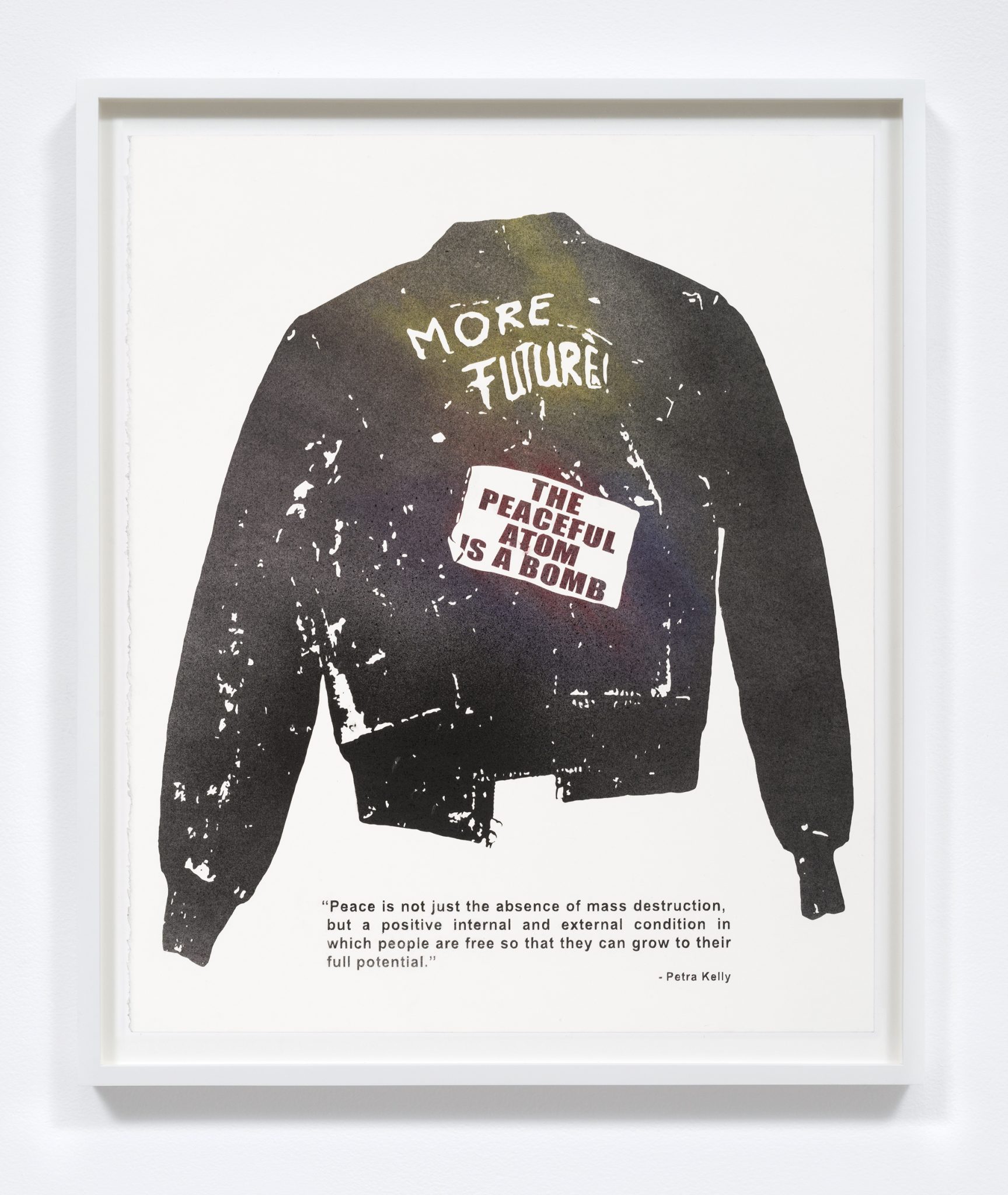 Andrea Bowers
"Petra Kelly's Jacket ("There is a clear and profound relationship between militarism, environmental degradation, and sexism. Any commitment to social justice and nonviolence that does not address the structures of male domination of women is incomplete.")," 2020
Pastel, charcoal, graphite, spray paint on paper
14.5 x 12" [HxW] (36.83 x 30.48 cm)
Inventory #BOW568
Courtesy of the artist and Vielmetter Los Angeles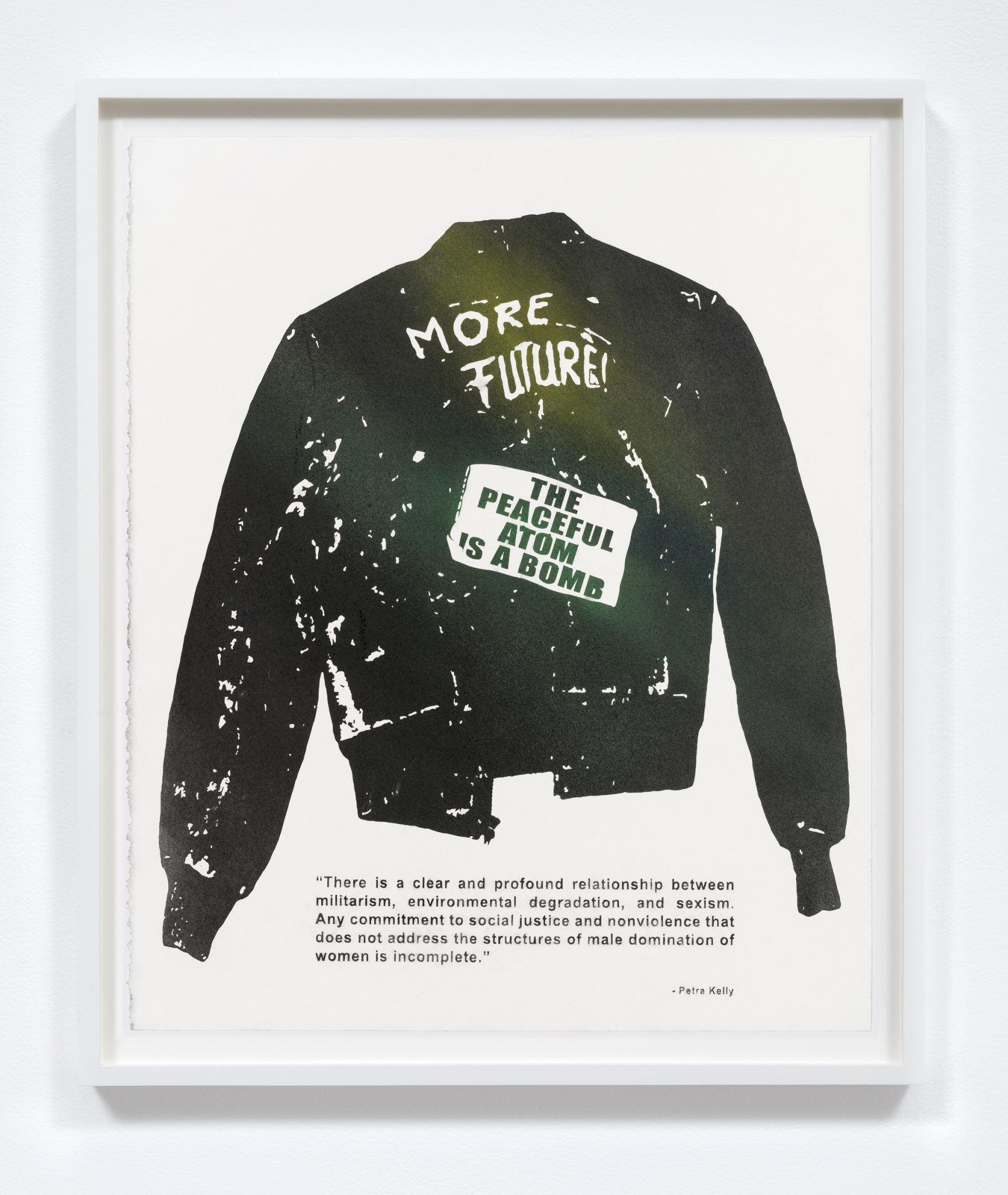 Andrea Bowers
"Petra Kelly's Jacket ("If we trace the myths and metaphors associated with the conquest of nature, we will realize how much we are under the sway of masculine institutions and ideologies.")," 2020
Pastel, charcoal, graphite, spray paint on paper
14.5 x 12" [HxW] (36.83 x 30.48 cm)
Inventory #BOW569
Courtesy of the artist and Vielmetter Los Angeles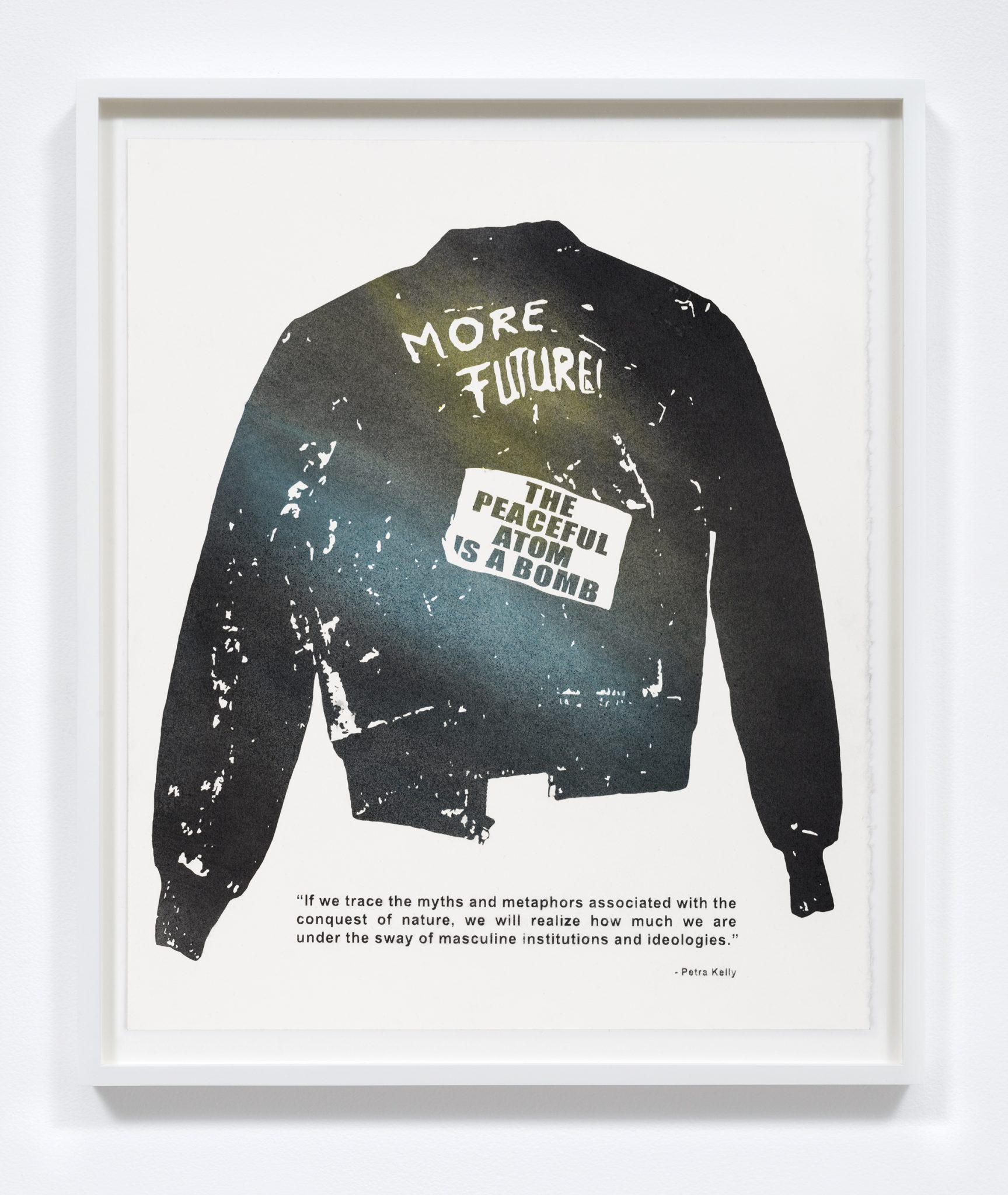 Andrea Bowers
"Petra Kelly's Jacket ("We humans take our Earth for granted and never hesitate to exploit it and its other inhabitants to gratify our immediate wants. We have to understand that we are part of nature, not outside of it. What we do to the Earth, we do to ourselves.")," 2020
Pastel, charcoal, graphite, spray paint on paper
14.5 x 12" [HxW] (36.83 x 30.48 cm)
Inventory #BOW570
Courtesy of the artist and Vielmetter Los Angeles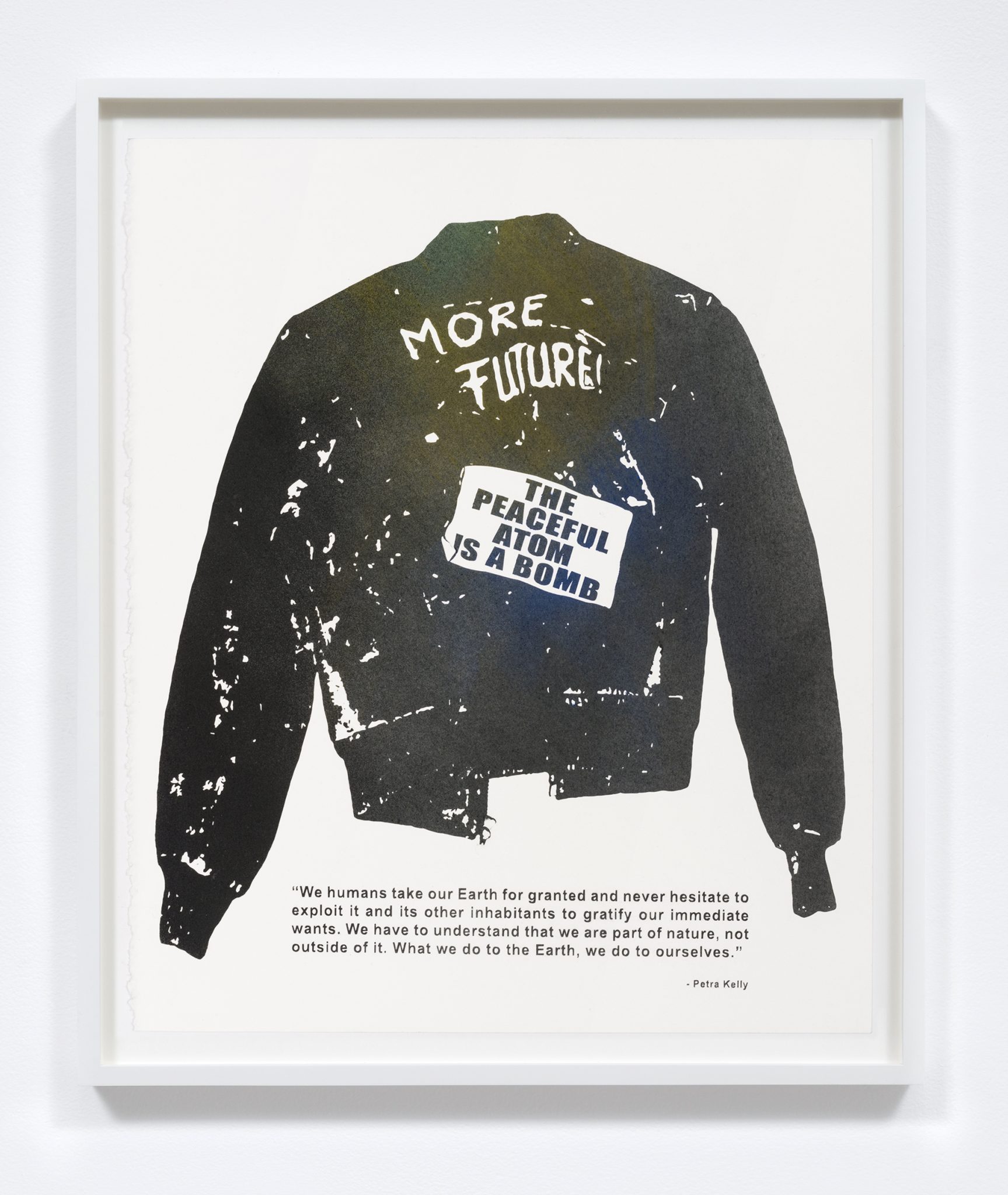 Patrick Wilson
"Disrupted Grid (Election)," 2020
Acrylic on canvas
41 x 37" [HxW] (104.14 x 93.98 cm)
Inventory #WIL585
Courtesy of the artist and Vielmetter Los Angeles
Photo credit: Robert Wedemeyer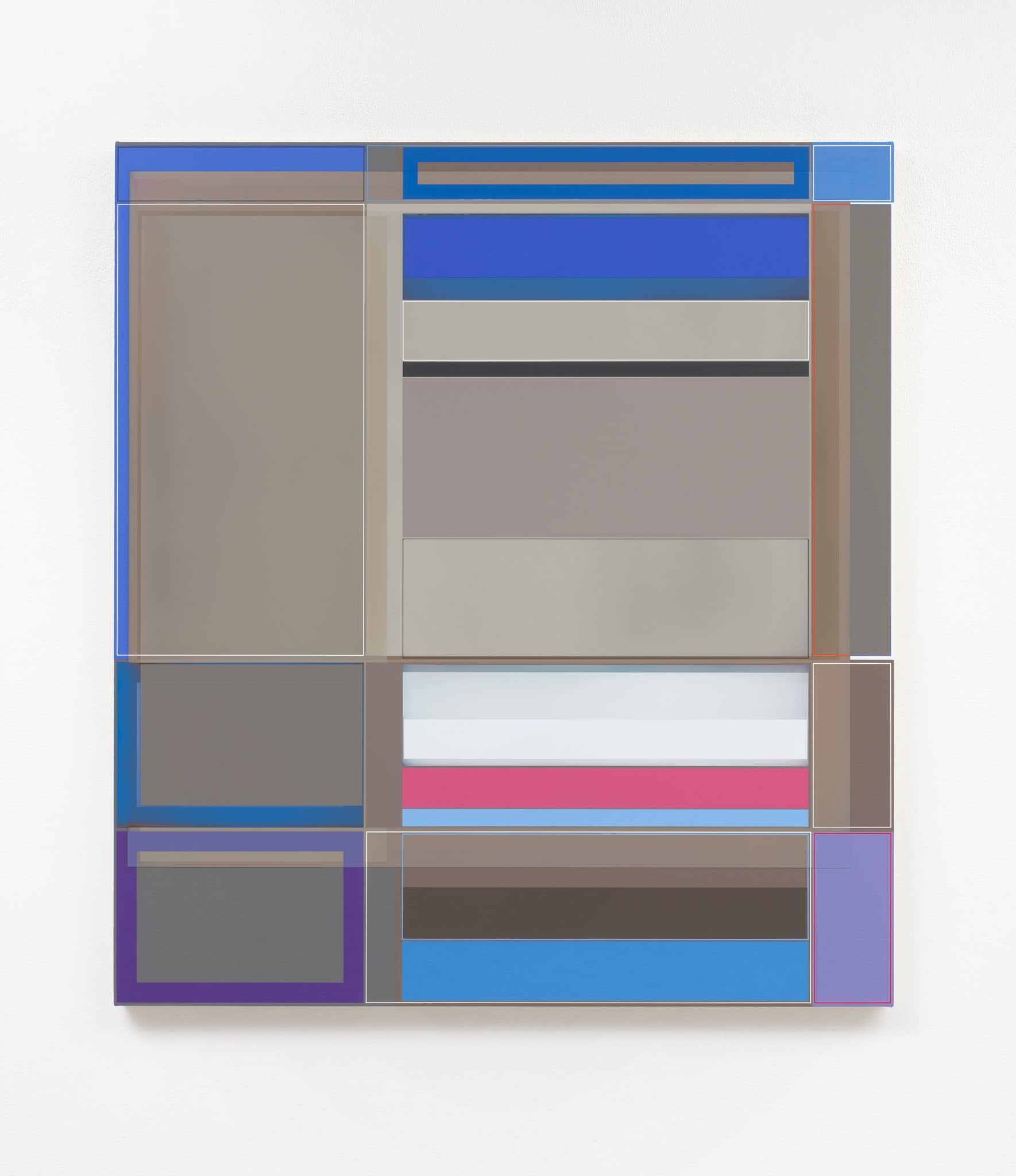 Kennedy Yanko
"Precipice," 2020
Paint skin, metal
31.5 x 43 x 56" [HxWxD] (80.01 x 109.22 x 142.24 cm)
Inventory #YAN1014
Courtesy of the artist and Vielmetter Los Angeles