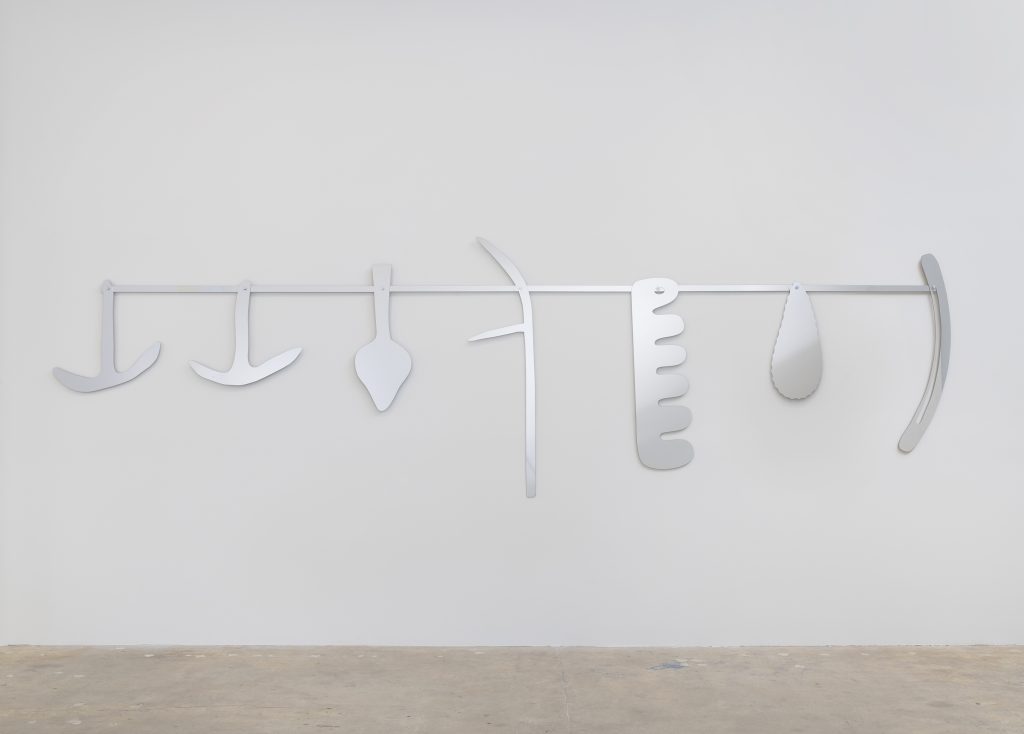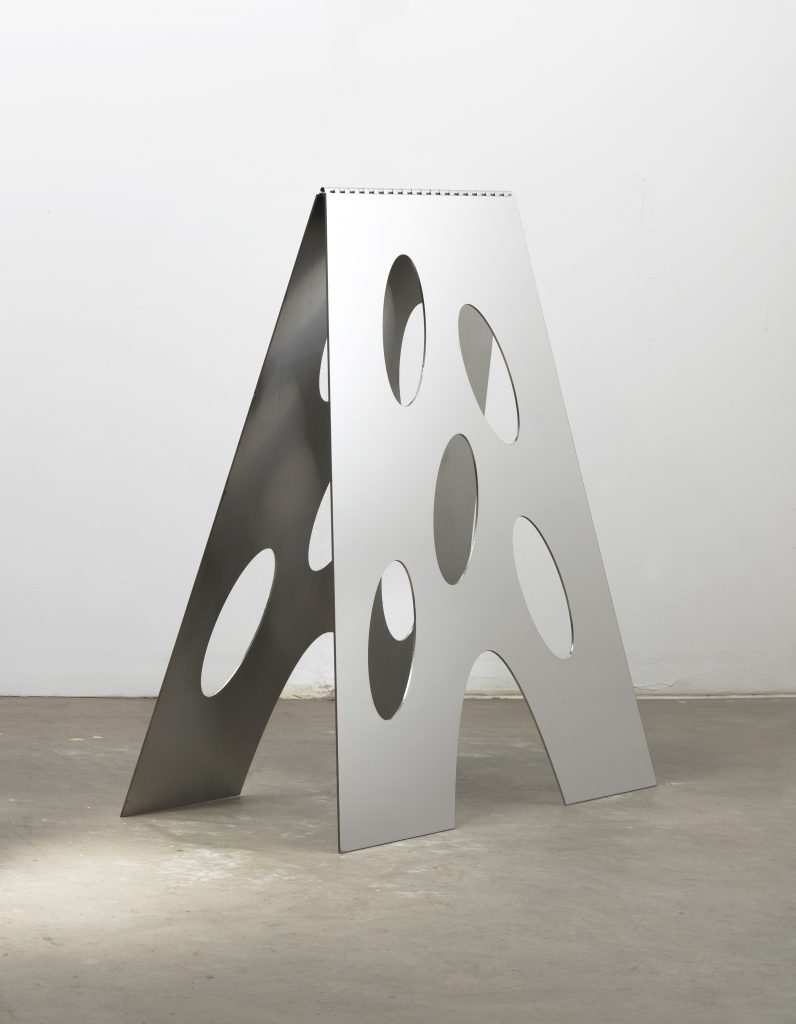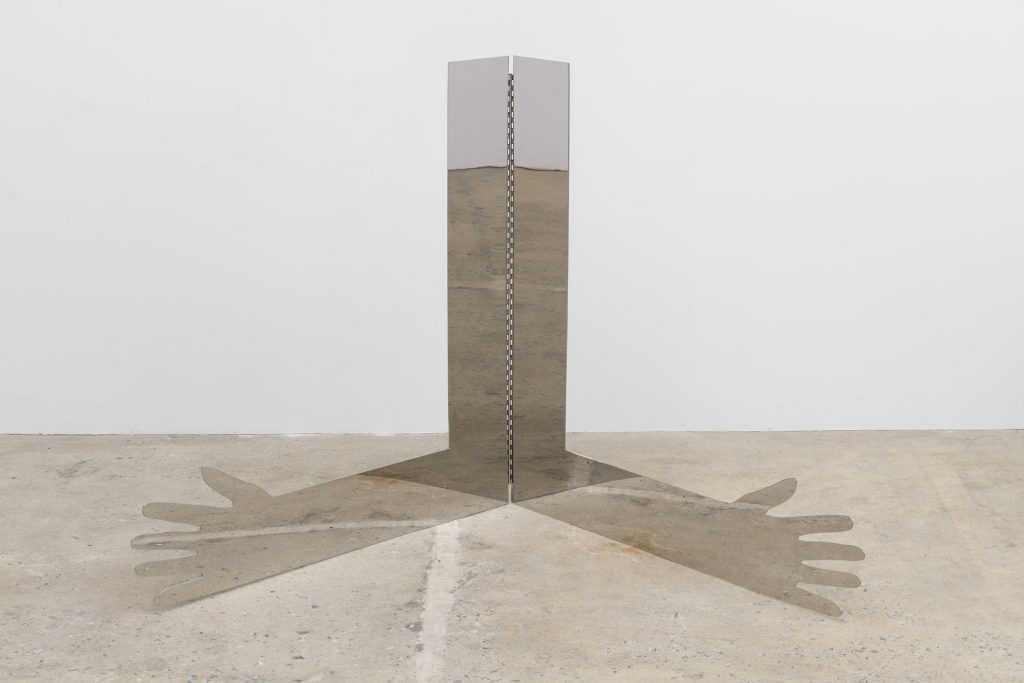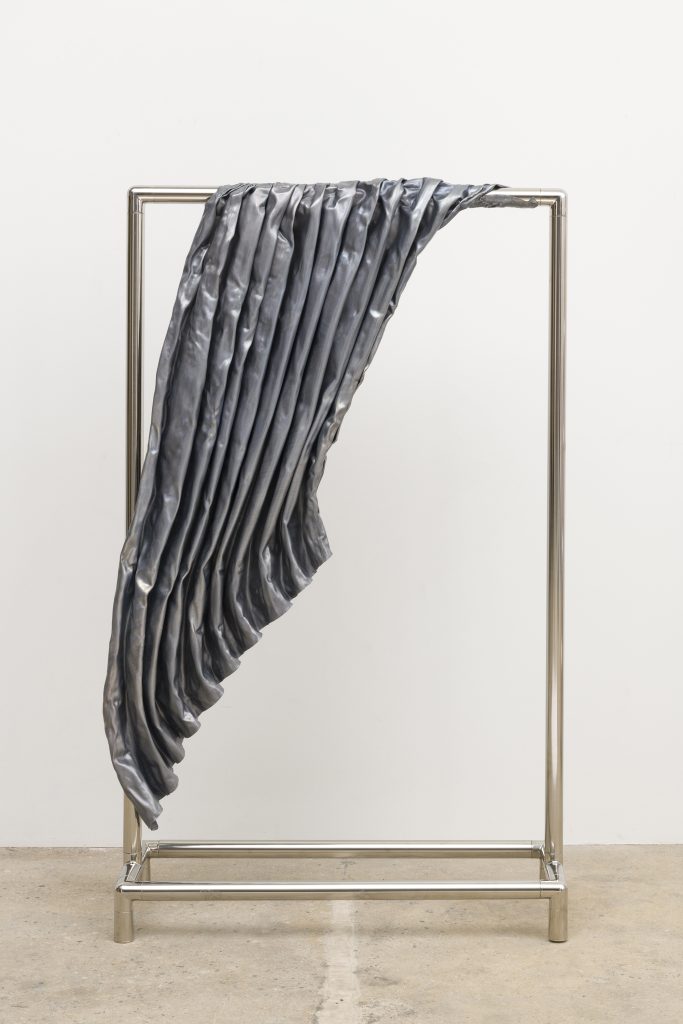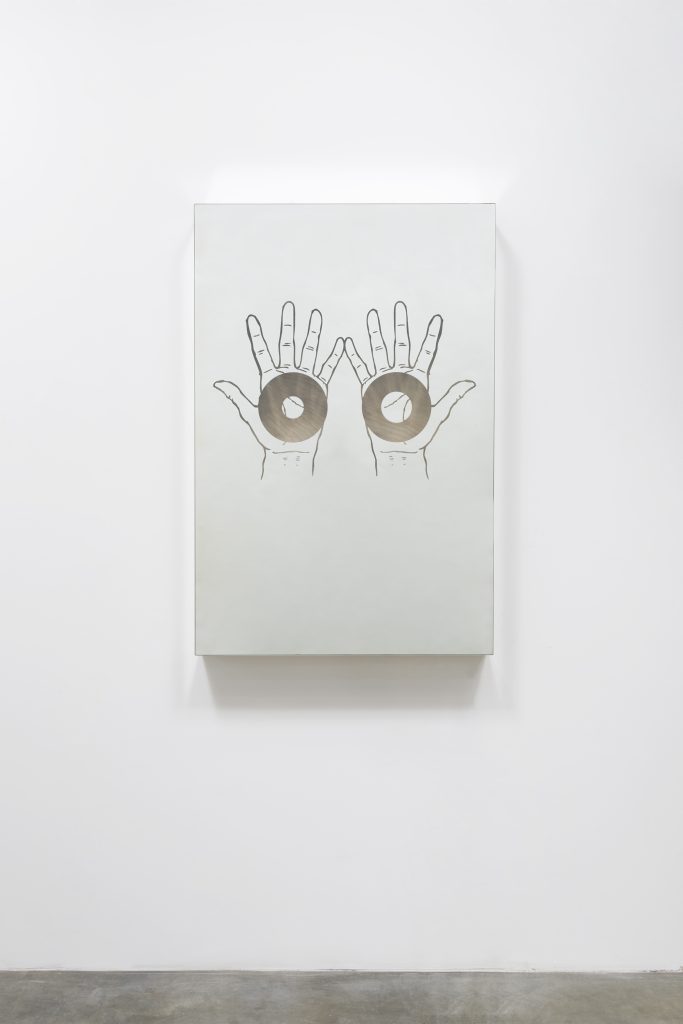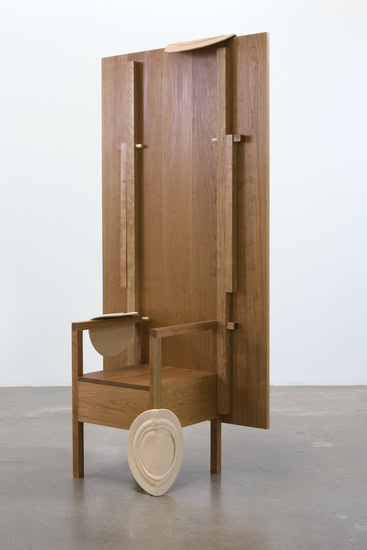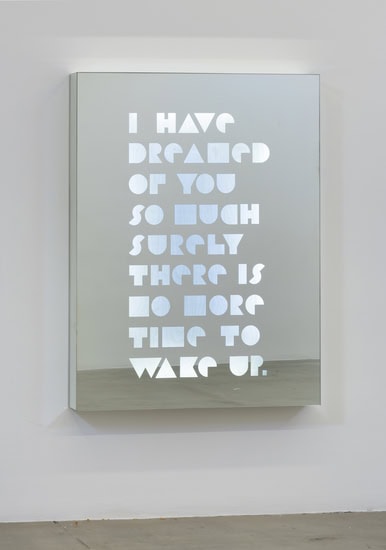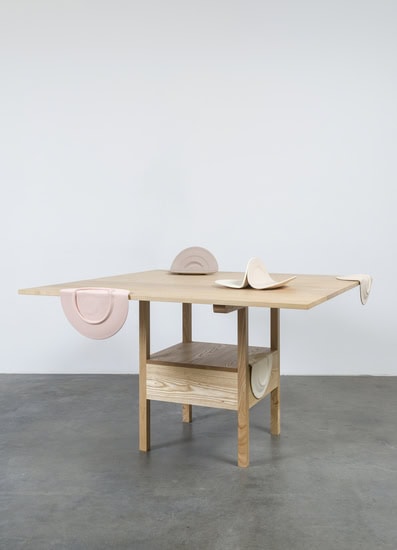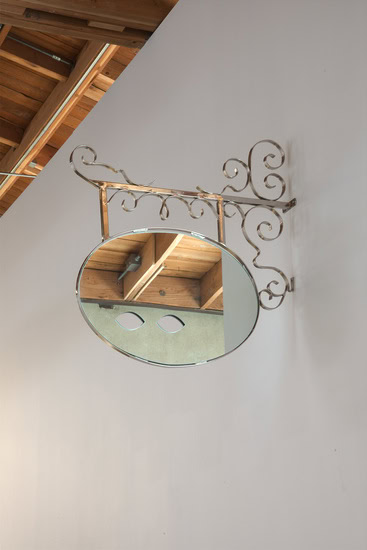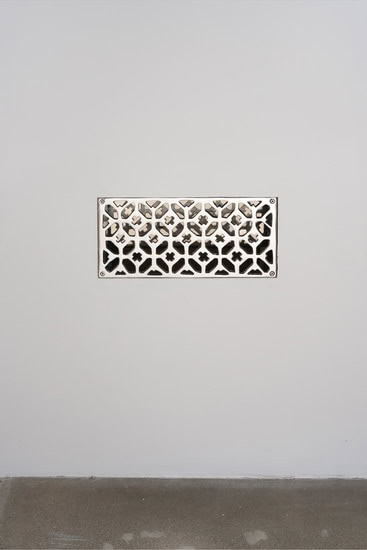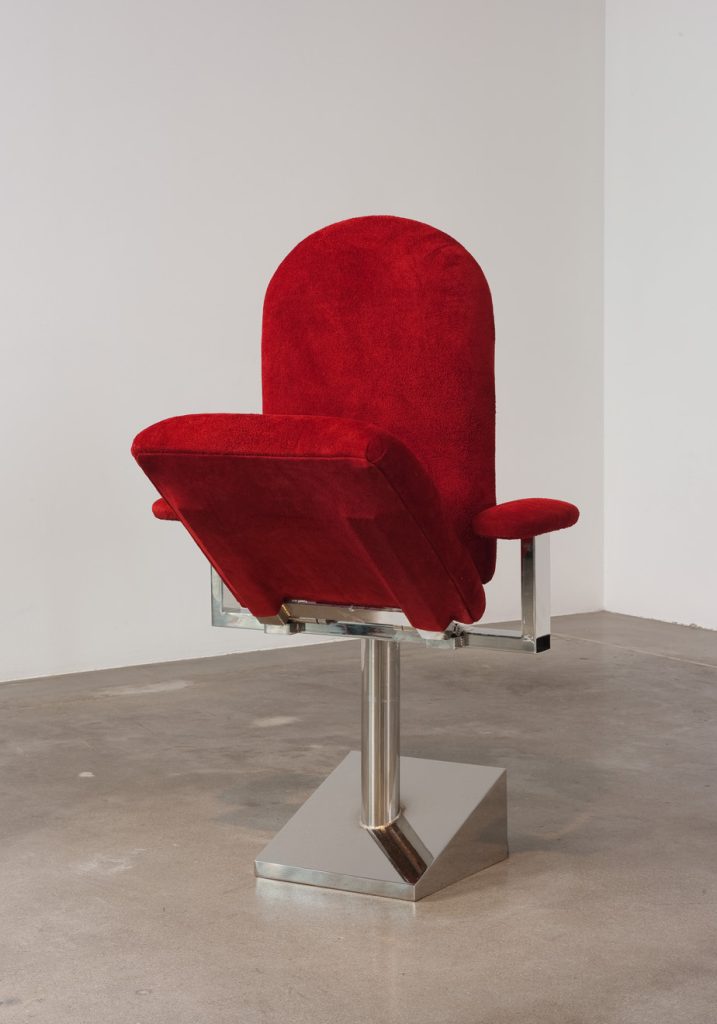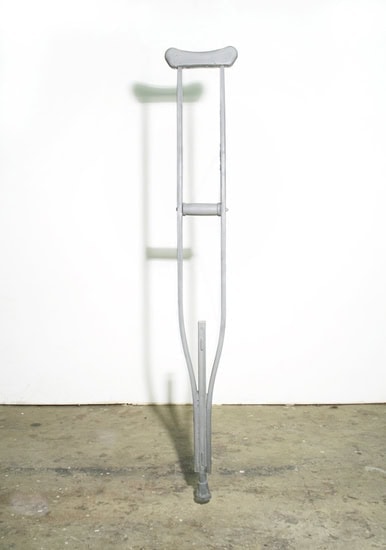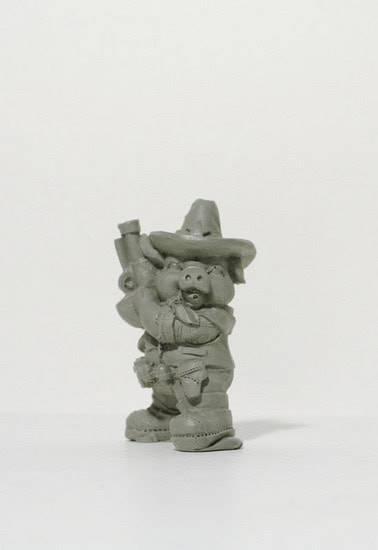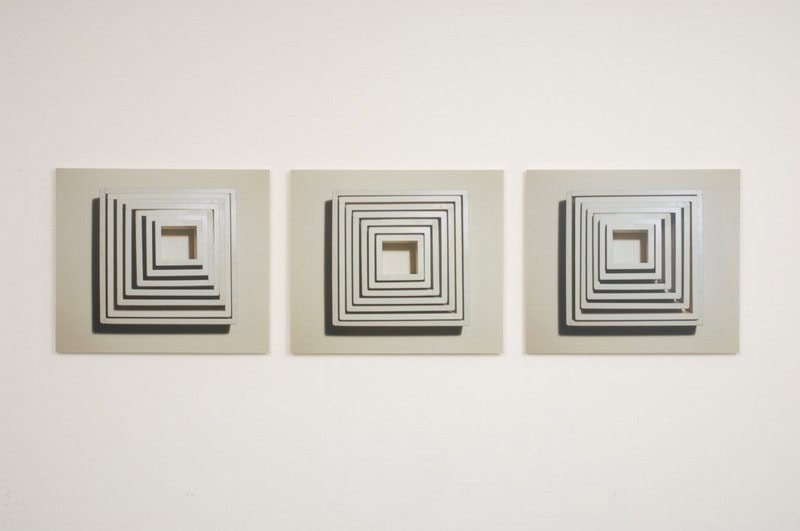 1978

Born in Northport, NY
Lives and works in Los Angeles, CA

2005

MFA, Interdisciplinary Studio, UCLA, School of Art

2000

BA, Visual Art and Modern Culture and Media, Brown University, Providence, RI

1999

Central St Martin's College of Art and Design, Visiting Artist
Selected Exhibitions
2019

"An Analphabet," Vielmetter Los Angeles, Los Angeles, CA

2018

"Phosphorescents, Pheasants and Unpleasants," performance at Art Catalogues LACMA, Los Angeles, CA

2017

"a.k.a. Public Opinion," Susanne Vielmetter Los Angeles Projects, Culver City, CA
"Mutual Admiration," Corbett vs. Dempsey, Chicago, IL
"SNAFU," Barbara Seiler, Zurich, Switzerland

2016

"Scenes from Chapter Four," 18th Street Arts Center, Santa Monica, CA

2015

"Paul, Paul, Paul, and Paul," Susanne Vielmetter Los Angeles Projects, Culver City, CA
"Shana Lutker: Le New Monocle, Chapters 1-3," Hirshhorn Museum and Sculpture Garden, Washington D.C.
"Shana Lutker: Project Gallery," Perez Art Museum Miami, FL
"Shana Lutker: The Raven, The Dove, Paul, and the Peacocks," Barbara Seiler, Zurich, Switzerland

2014

"Realism," LAXART, Hollywood, CA

2013

Susanne Vielmetter Los Angeles Projects, Culver City, CA
"The Blowing Nose," Barbara Seiler Galerie, Zurich, Switzerland

2012

New Research Concerning Fistfights of the Surrealists, The Center For Ongoing Research & Projects, Columbus, OH

2011

A. G. L. & X., Barbara Seiler Galerie, Zurich, Switzerland
Make Knot Meddle, New Positions, Wetterling Gallery, Art Cologne, Germany

2010

H.Y.S.T. et al. Susanne Vielmetter Los Angeles Projects, Culver City, CA
Here It Here, SOMA, Mexico City, Mexico
Reading Seating, Works Sited, Los Angeles Public Library, Los Angeles, CA

2009

"Forever Will a Blockhead Be", Wetterling Gallery, Stockholm, Sweden

2008

Books, 2005-2008, The Suburban, Oak Park, IL
The Commiffioners, Susanne Vielmetter Los Angeles Projects, Culver City, CA
Combined Faulty Acts, Artists Space, New York, NY

2007

CCA Wattis Institute, San Francisco, CA; curated by Jens Hoffman
The Future of an Illusion, Room Gallery, UC Irvine, California; curated by Juli Carson

2006

Excerpts, Wetterling Gallery, Stockholm, Sweden
Group Exhibitions
2020

"20 Years," Vielmetter Los Angeles, Los Angeles, CA
"Cloud 9," Madonna Inn, San Luis Obispo, CA

2019

"Museum of Modern Art and Western Antiquities, Section II Department of Carving and Modeling: Form and Volume," Cristina Guerra Contemporary Art, Lisbon, Portugal (forthcoming)
"CURRENT:LA FOOD," City of Los Angeles Public Art Triennial, Los Angeles, CA
"Enchanted Interior," Laing Art Gallery, Newcastle, England, UK
"Smoke and Mirrors," AF Projects, West Hollywood, CA
"Dreamhouse vs. Punk House (+Cat House)," Serious Tropics, Inglewood, CA

2018

"Virginia Woolf: An Exhibition Inspired by her Writings," Tate St. Ives, UK (Link)
"Twentyfourseven: 40 Years," Wetterling Gallery, Stockholm, Sweden
"EX-CORPSE," AWHRHWAR at OPAF, Battery Leary-Merriam Angels Gates Park, San Pedro, CA
"26 on 3rd," LBMAx, Long Beach Museum of Art, Long Beach, CA
"No. 1," The Magic Hour, High Desert, CA (Link)
"My Kid Could Do That," Project Art Benefit exhibition at The Underground Museum, Los Angeles, CA
"Vision Valley: The Glendale Biennial," organized by The Pit, Brand Library and Art Center, Glendale, CA

2017

"99 Cents or Less," Museum of Contemporary Art, Detroit, MI
"Summer of Love," Wilding Cran, Los Angeles, CA

2016

"IN SITU," EXPO Chicago, curated by Diana Nawi, Chicago, IL
"The Artists' Library," LAXART, Los Angeles, CA
"PDF-OBJECTS," Mana Contemporary, Chicago, IL

2015

"PASSING LEAP," Hauser & Wirth, New York, NY
"F.B.I.," Arturo Bandini, Los Angeles, CA
"The Museum of the Unwanted," Kunstmuseum Olten, Switzerland. Curated by Clare Goodwin

2014

Whitney Biennial, curated by Stuart Comer, Anthony Elms, and Michelle Grabner, Whitney Museum of American Art, New York, NY
"The Outlanders," The Pit, Los Angeles, CA
"Pier 54," curated by Cecilia Alemani, High Line Art, New York, NY
"Unsparing Quality," Diane Rosenstein Fine Arts, Los Angeles, CA, curated by Farrah Karapetian
"Bachelor Machines," ROOM EAST, New York, NY

2013

"Manifest Destiny," Public art project with Los Angeles Nomadic Division, Jacksonville, FL
"The House that Jack Built," Barbara Seiler Galerie, Zurich, Switzerland
"The Nose, The Cane, The Broken Left Arm," Performa 13, New York, NY
"The Unicorn," Transformer Station, The Cleveland Museum of Art, Cleveland, OH (Link)
"subject, answer, countersubject," Disjecta, Portland, OR, curated by Summer Guthery
"The Stand In (or a glass of milk)," Public Fiction, Los Angeles, CA
"The Manifest Destiny Billboard Project," Los Angeles Nomadic Division (LAND), USA (Link)
"A Round World Distorts a Flat Map," 5323 Abbott Place, Los Angeles, CA
"Emmy Moore's Journal," SALTS, Basel, Switzerland
"Works Sited," Cleopatra's, Brooklyn, NY
"Double Life," SculptureCenter, Long Island City, NY
"Cats & Dogs," Sam Francis Gallery, Santa Monica, CA

2012

"Reflections on Form," Barbara Seiler Galerie, Zurich, Switzerland
"Things, Words and Consequences," Moscow Museum of Modern Art, Moscow, Russia
"Perros Negros presents Perros Negros," New Jerseyy, Basel, Switzerland
"A Brand New Baby Carriage Standing There on the Porch," Barbara Seiler Galerie, Zurich, Switzerland
"Barter Show," LAND, West Hollywood, CA
"Eagle Rock Rock and Eagle Shop," Los Angeles, CA
"economy of means: toward humility in contemporary sculpture," Scottsdale Museum of Contemporary Art, Scottsdale, AZ
"Ball of Artists," Greystone Mansion, part of Pacific Standard Time Festival, Beverly Hills, CA

2011

"The Trap Door," Human Resources, Los Angeles, CA
"Two Schools of Cool," curated by Sarah Bancroft, FOCA, Los Angeles, CA
"Greater LA," curated by Benjamin Godsill, Eleanor Cayre and Joel Mesler, New York, NY
"Suelto," curated by Pilar Tompkins Rivas and Adrian Rivas, La Central, Bogota, Colombia

2010

"Lovingly, Rose Peebles," Brand Library Art Galleries, Glendale, CA
"Session_12_Words," Am Nuden Da at Four Boxes Gallery, Skive, Denmark
"Ruins (Los Angeles)," LA><ART Billboard, Los Angeles, CA
"A Torrent of Words," John Michael Kohler Arts Center, Sheboygan, WI
"Territories, Left of Center," The Luckman Gallery, California State University, Los Angeles, CA
"Point to one end, which is always present," Small A Projects, New York, NY

2009

Performa 09, X Initiative, New York, NY
"Words," Am Nuden Da, London, England
"An Object tossed from One Country to Another," Block Party, Highland Park, CA
"In Bed Together," Royal T, Los Angeles, CA
"Veronica", Pitzer Art Galleries, Pitzer College, Claremont, CA, curated by Ciara Ennis
"In Love With Night," Guggenheim Gallery, Chapman University, curated by Max King Cap & Ciara Ennis
"On the Pleasure of Hating", Lisa Cooley Gallery, New York, NY
"Bitch is The New Black," Honor Fraser, Los Angeles, CA, curated by Emma Gray
"Broken English," Seiler + Mosseri-Marlio Galerie, Zurich, Switzerland
"Extra, Extra," China Art Objects, Los Angeles, CA
"This Is Killing Me," Massachusetts Museum of Contemporary Art, North Adams, MA
"The May Show," Olympic Boulevard, Los Angeles, CA
"Put On," Circus Gallery, Los Angeles, CA

2008

California Biennial 2008, Orange County Museum of Art, Newport Beach, CA; offsite performances at Santa Barbara Contemporary Arts Forum, Santa Barbara, CA; and the LAB, Costa Mesa, CA; curated by Lauri Firstenberg
"Shana Lutker, Anna Sew Hoy, Brenna Youngblood," University Art Museum, UCSB, Santa Barbara, CA
"Delusionarium 4," David Salow Gallery and Bonelli Contemporary, Los Angeles, CA
"This Shadow is a Bit of Ideology," Gallery 400, University of Illinois at Chicago, Chicago, IL; curated by Kelly Chen and Anthony Elms
The 30TH Anniversary: PART II, Wetterling Gallery, Stockholm, Sweden
"The Whole World is Watching," The Glendale College Art Gallery, Glendale, CA; curated by Irene Tsatsos
"November Again," Harris Lieberman, New York, NY; curated by Jeffrey Uslip
"The Silence of Infinite Space," Glendale College Gallery, Glendale, CA; curated by Aram Moshayedi
"3 Rooms: Shana Lutker, Sara Greenberger Rafferty," David Kennedy Cutler, DAmelio Terras, New York, NY

2007

Art Perform, Art Basel Miami Beach, Miami Beach, FL; curated by Jens Hoffman
"You Are Here," Glassell School of Art Gallery, Museum of Fine Art, Houston, TX
"Passengers," CCA Wattis Institute, San Francisco, CA; curated by Jens Hoffman
"Abstraction," Michael Kohn Gallery, Los Angeles, CA
"For Sale," Cristina Guerra Contemporary Art, Lisbon, Portugal; curated by Jens Hoffman
"The Pyramid Show," Monte Vista, Los Angeles, CA
"Reality Disorder," Susanne Vielmetter Los Angeles Projects, Culver City, CA
"88:88," The Project, New York, NY
"Big Secret Cache," Angstrom Gallery, Los Angeles, CA

2006

2006 California Biennial, Orange County Museum of Art, Newport Beach, CA
"November," Harris Lieberman, New York, NY; curated by Jeffrey Uslip
"People for a Better Tomorrow," Sweeney Art Gallery, UC Riverside, CA; curated by Meg Cranston
"Re-make/Re-Model," DAmelio Terras, New York, NY
"And Therefore I Am," Tang Museum, Skidmore, Saratoga, NY; curated by John Weber

2005

"Happenstance," Harris Lieberman Gallery, New York, NY; curated by Lauri Firstenberg
"Champion Fine Art 2003-2005," Art 2102, Los Angeles, CA
Public Sculpture for Benevento Citta Spettacolo, Italy, Theater Festival; curated by Demetrio Paparoni
Erzhl mal was, Kunstverein Langenhagen, Langenhagen, Germany
"Supersonic 2," LA Design Center, Los Angeles, CA
"The Paths of Moons and Planets," Crazy Space, Santa Monica, CA; curated by Dawn Kasper

2004

"Faith," Champion Fine Art, Los Angeles, CA; curated by Matt Johnson
"Delusionarium I," Legacy Art Gallery, Santa Ana, CA
"Art and Propaganda," University of Arizona, Tucson AZ

2003

"Record," Art 2102, Los Angeles, CA. Screening; curated by Sharon Hayes
"The Stage," Stray Show 2003, Chicago, IL; special installation project with Matthew Rich
"Instant Installations," Sundown Salon, Los Angeles, CA

2002

"Slumberparty Noire," Municipal, Chicago, IL. Curated by Allison Frey and Casey Gunchel
"Friends and Family," Lombard-Fried Gallery, New York, NY

2001

"Addition|Subtraction," The Carlin Group, New York, NY. Organized by Isca Greenfield-Sanders
"Day Job," Open End Art, Chicago, IL. Organized by Susannah Strang and Joshua Gleason
"Trauma tic," Open End Art, Chicago, IL. Curated by Duncan Anderson
Bibliography
2020

Farago, Jason. "My Weekend Binge Online at Frieze," The New York Times, May 12

2019

Danielson, Jenny, "Den nya konststaden," Axess.se. July (Link)
Frank, Peter, "DOLLHOUSE FUNHOUSE: "Dreamhouse vs. Punk House (+ Cat House)," Whitehot magazine, April (Link)

2018

Horst, Aaron, "Shana Lutker at Susanne Vielmetter Los Angeles Projects," Flash Art, March/April
Stromberg, Matt, "A New Outdoor Art Sapce Sprins from the High Desert East of Los Angeles," Hyperallergic (web), March 13 (Link)
Hudson, Suzanne, "Shana Lutker at Susanne Vielmetter Los Angeles Projects," Artforum, February

2017

Wagley, Catherine, "5 Art Shows to See in LA This Week," LA Weekly (web), December 6 (Link)

2016

Goukassian, Elena, "From Michelangelo to Marden, Seven Fierece Fistfights from Art History," Hyperallergic (web), January 15 (Link)
Spivack, Emily, "One Artist's Fascination with a Giant Old Clamp," The New York Times Style Magazine (web), February 3 (Link)
Campbell, Andrianna, "Shana Lutker at Hirshhorn Museum and Sculpture Garden," Art in America, April (Link)
Yoshitake, Mika, "Humans Have Been Human for So Long: Shana Lutker and Mika Yoshitake in Conversation," Art Journal Open (web), August 2 (Link)
Wagley, Catherine, "Who Threw the First Punch?: Shana Lutker Stages a Surrealist Fight in Los Angeles," ArtNews (web), September 23 (Link)

2015

Wagley, Catherine, A 2,400-Mile Art Exhibit is About to Hit L.A., LA Weekly, March 5
Cheng, Scarlet, Cross-continent highway billboard project is Manifest Destiny, Los Angeles Times, April 4
Wu, Su, A Two-Year, 100-Billboard Celebration of Going West, The New York Times Style Magazine (web), June 23
Sawyer, Drew, Yuta Nakajima and Madeline Warren on Passing Leap at Hauser & Wirth, Document Journal (web), July 24
Heddaya, Mostafa, Shows That Matter: Shana Lutker at the Prez Art Museum Miami, Blouin ArtInfo (web), September 8
Osborne-Bartucca, Kristen, Shana Lutker: Susanne Vielmetter, Artillery, September - October
Civin, Marcus, 500 Words: Shana Lutker, Artforum (web), October 27

2014

Farago, Jason, "Frieze art fair New York review copious consumption and 'crack pie'", The Guardian, May 9 (Link)
Steinhauer, Jillian, "Westward Exhibition: Billboard Art Unfolds Across America," Hyperallergic, June 20 (Link)
Vogel, Carol, "State of Our Art, According to Whitney," The New York Times, February 28 (Link)
Schnadt, Sara, "Artists on the Whitney Biennial", KCET Art Bound, May 8 (Link)
Kinsella, Ellen, LAXART Moves to Hollywood, artnet, September 12
Vankin, Deborah, LAXArt plans Hollywood gallery, citywide project called the Occasional, Los Angeles Times, September 10
Steinhauer, Jillian, Westward Exhibition: Billboard Art Unfolds Across America, Hyperallergic, June 20
Cascone, Sarah, High Line Restaging 1971 Willoughby Sharp Show on Pier 54, artnet, June 19
Russeth, Andrew, Pier Pressure: High Line Art Resurrects Classic Willoughby Sharp Waterfront Show, GalleristNY, June 18
Farago, Jason, Frieze art fair New York review copious consumption and crack pie, The Guardian, May 9
Schnadt, Sara, Artists on the Whitney Biennial, KCET, May 8
Wu, Su, Art Matters | At Frieze New York, Mixing Pleasure with Business, T: The New York Times Style Magazine, May 7
Molesworth, Helen, Review: Whitney Biennial 2014, Artforum, May
Zimmer, Lori, Expansion West: The Manifest Destiny Billboard Project, Mutual Art, April 2
Hutt, John, A Gay Ol Tour of the 2014 Whitney Biennial, Out Magazine, March 14

2013

Heddaya, Mostafa, "Surrealisms Fistfights and Adversarial Culture," Hyperallergic, November 25 (Link)
Gopnik, Blake, A Performance Like a Punch in the Face, The Daily Beast, November 20
Sutton, Benjamin, Performa 13: Shana Lutker Restages Dadas Last Stand, Artinfo, November 20
Zhong, Fan, 7 Strange Spectacles at Performa 2013, W Magazine online, November 14
Matorin, David, Performa 13 Aims to Turn All of New York Into a Stage, November 4
Indrisek, Scott, Performa 13: What Not To Miss, BlackBook, November 1
Momin, Shamim, (Artist) Lunchtime Poll: Shana Lutker, Artsy, October 18
Jovanovic, Rozalia, "Ten Must-Sees at This Year's Performa," ArtInfo, October 9
Bellman, Erica, "On View: Art Comes to the Interstate," T: The New York Times Style Magazine, September 24 (Link)
Litt, Steven, Saturdays opening for The Unicorn exhibition at The Transformer Station promises to be a surreal happening, like the show itself, Cleveland.com, September 3
_____. Shana Lutker, exhibition essay, The Unicorn at The Transformer Station, September
Jovanovic, Rozalia, "Performa Hints at Biennial Theme With Salon on Surrealism, Dating Apps," Artinfo, July 30 (Link)
Frank, Peter, Haiku Reviews: From Alfred Hitchcock To Asian Fairy Tales, Huffington Post, July 9
Ong, Amanda, "The Blowing Nose by Shana Lutker," Frame Web, June 21
Wagley, Catherine, Five Artsy Things to Do in L.A. This Week, Including Fighting Surrealists, LA Weekly, May 1
Chappa, Kristen, Double Life, In Practice, Exhibition Catalogue, Sculpture Center, February

2012

Woods, Melissa Vogley, The Center For Ongoing Research and Projects: An Interview with Ryland Wharton, Temporary Art Review, December 27
Friedman, Julia, economy of means: toward humility in contemporary sculpture, Critics Picks, Artforum.com, March
Griffin, Jonathan, Transcript (Verbatim Ad Nauseam), Exhibition Catalogue from Things, Words, and Consequences, Moscow Museum of Modern Art, Moscow, Russia, pp 5-8

2011

Nys Dambrot, Shana, Hoarders: Art Gallery Edition, LA Weekly, December 1
Latimer, Quinn, Shana Lutker, Barbara Seiler Galerie, Zurich, Frieze, September
Gritti, Flice, Et bliev nix wie et wor, Artnet Magazin, artnet.de, April 11
Bancroft, Sarah, Two Schools of Cool, Exhibition Catalogue, Fellows Of Contemporary Art, DelMonico Books
Lewallen, Constance, Shana Lutker and John Baldessari", essay in Exhibition Catalogue from Two Schools of Cool, Orange County Museum of Art, Prestel, pp 44-47

2010

Holte, Micahel Ned, Top Ten, Artforum, December
West, Kevin, SoCal Cool, W Magazine, August
Tuck, Geoff, Notes on Looking, July 1, 2010, Notes On Looking, July 1
Wu, Cassie, Shana Lutker, Artforum.com Critics Pick, June
Williams-Ng, Stacey, Review: A Torrent of Words, Milwaukee Journal Sentinel, March 1

2009

Uchill, Rebecca, This is Killing Me, Art Papers, November/December
Firstenberg, Lauri, The Talented Ms. Lutker, LA Confidential, September
Myers, Holly, Around the Galleries: Attitude and talent to spare, Los Angeles Times, August 21
Smee, Sebastian, Unflattering Reflection, The Boston Globe, August 1
AJ, The Feminine Artistique, Angeleno Magazine, August
Kley, Elisabeth, On the Pleasure of Hatred, artnet.com, June
Ramani, Donato, Creating amid Passion and Fears, LUomo Vogue, May/June
Ross, David, The Partys Over, Flyp, Flypmedia.com, March 13
Born, Katheryn, This Shadow is a Bit of Ideology, Time Out Chicago, Issue 201, January 1
Ennis, Ciara, Veronica, exhibition catalogue, Pitzer Art Galleries, Pitzer College, Claremont, CA
Haeg, Fritz, The Sundown Salon Unfolding Archive, Evil Twin Books, New York
Grabner, Michelle and Brad Killam, Forrest Nash, Jason Pickleman, Shana Lutker, exhibition catalogue from Can I Come Over To Your House?, The Suburban, Oak Park, IL, pp. 1050-1057
Moshayedi, Aram with Shana Lutker, Forever Will A Blockhead Be, exhibition catalogue, Wetterling Gallery, Stockholm
Nawi, Diana, This is Killing Me, exhibition brochure, Mass MOCA, North Adams, MA
Tsatsos, Irene, Shana Lutker in Common Threads, Shared Spaces: Five Years of Fellowships for Visual Artists from the California Community Foundation, 2004-2008, pp. 78-79
Younger than Jesus/Artist Directory, The New Museum, New York, NY, Phaidon Press

2008

Leong, Stephanie, California Girls, Daily Nexus, University of California, Santa Barbara, November 6
Wahlquist, Grant, O.C. Art Attack!, Riviera, November
Designed by Shana Lutker, Casa Magazine Santa Barbara, October 31
Woodard, Joe, Hear, Hear: Shana Lutker arrives in two capacities this month, Santa Barbara News Press, October 31
Olive, Ashley, Shana Lutker at CAFs Forum Lounge, Santa Barbara Independent, October 30
Mizota, Sharon, Eureka Moments, Los Angeles Times, October 19
OCMA Hits the Road, Jack!, Riviera, October
Schwyzer, Elizabeth, The Art of Now, Santa Barbara Independent, September 25
Martin, Victoria, Shana Lutker at Susanne Vielmetter Los Angeles Projects, Artweek, September
Foss, Paul, Shana Lutker, ArtUS, September
Frank, Peter, The Radiant Mind, The Body Politic: Lee Mullican, Shana Lutker and Olga Koumoundouros, LA Weekly, June 4
Taft, Catherine, Catherine Tafts Round-Up of the Best Shows in LA, Saatchi Online, May 27
Velasco, David, West Side Story, Artforum.com, January 31
Firstenberg, Lauri, Shana Lutker in conversation with Lauri Firstenberg, exhibition catalogue from the 2008 California Biennial, Orange County Museum of Art, pp 146-147
Uslip, Jeffery, Shana Lutker: Combined Faculty Acts, exhibition catalogue, Artists Space, New York, NY
Hoffman, Jens, Fragments of an Analysis of a Case of Art, exhibition catalogue from Passengers 1.4, published by CCA Wattis Institute for Contemporary Arts, San Francisco, CA

2007

Diaz, Karla, A Tour of San Francisco and Oakland, FlashArt Online, October
Beil, Kim, "California Biennial at OCMA," in ArtWeek, Vol 38, February
Carson, Juli, "Shana Lutker's The Future of an Illusion," Room Gallery, January
Ritter, Ben, Shana Lutkers Bizarre Illusion, New University, Vol 40, January 16
Wulffson, Jennifer, California Biennial, 2006, Latinart.com, January

2006

Cotter, Holland, "November" in Art Review, The New York Times, December 22
Armstrong, Elizabeth, "California Above All," Art Review, May
Berwick, Carly, Happenstance, in ArtNews, April
Pollack, Barbara, Happenstance, Time Out New York, Issue 536, January 5
Holte, Michael Ned, "Shana Lutker," Exhibition Catalogue from the 2006 California Biennial, Orange County Museum of Art, pp. 104-107
Myers, Julian, I want to tell you Everything, from Excerpts, produced by Wetterling Gallery, Stockholm

2005

Cotter, Holland, Happenstance in Art in Review, The New York Times, December 30
Awards, Grants and Fellowships
2016

Artist Lab Residency, 18th Street Arts Center, Santa Monica, CA

2014

Smithsonian Artist Research Fellow, Smithsonian Institute, Washington DC,

2013-2014

Artist in Residence, Pioneer Works, Brooklyn, NY

2012

Artist in Residence, Cité des Art Internationales, Paris, France
Artist in Residence, Atlantic Center for the Arts, Florida

2011

Artist in Residence, Sitterwerk, St. Gallen, Switzerland

2010

Artist in Residence, SOMA, Mexico City, Mexico

2008

California Community Foundation Emerging Artist Fellowship

2006

Durfee Foundation Completion Grant

2004-2005

Art Council Award

2004

Elaine Krown Klein Award
Art Council Award
Hoyt Fellowship

2003

Orselli Fellowship, UCLA Department of Art
Clifton Webb Art Award, UCLA Department of Art
Group Exhibition Catalogues and Books
2019

Buhmann, Stephanie. Los Angeles Studio Conversations. The Green Box, Berlin, Germany

2016

Sur, LAXART, Los Angeles, CA, 2016

2014

Whitney Biennial 2014, The Whitney Museum of American Art, New York, NY, 2014
Artist's Writing and Published Projects
2018

Artist's Portfolio, Apricota, Issue no. 1. Secretary Press, New York. pp 34–61.

2016

Madames Electrics, with drawings contributed by Maria Candanoza, Kate Costello, Zoe Crosher, Julian Hoeber, Adriana Lara, and Interior Theatre. Book produced as part of exhibition I curated and organized at The Pit, Glendale, CA. "Notes on the Project X Forums," X-TRA, Volume 18, number 2, pp 85-87.

2014

"A to B to E to F to G to M to N: A conversation wtih Augustine, André Breton, Albert Einstein, Sigmund Freud, Gradiva, Me, and Nadja," Whitney Biennial 2014, pp 369-372.
"Have you ever slapped a dead person?" Cadavere Quotidiano, published by Project X Projects, pp 96-103.

2012

New Research concerning the Fistfights of the Surrealists, 16-page newspaper published by the Center for Ongoing Research & Projects, Columbus, Ohio.
"Some Fistfights of the Surrealists," MATERIAL, no 3, pp. 51-59.
"Kate Costello: Set Ups," X-TRA, Volume 15, no. 1, p. 37.

2010

"Transitional Objects," Lovingly, Rose Peebles, broadsheet published by Brand Gallery, Glendale, CA.
"Index: Studio, 2003-2006," The Studio Reader, edited by Michelle Grabner and Mary Jane Jacob, University of Chicago Press, Chicago, IL.

2009

"Eileen Cowin: Simply Because You're Near Me," Published brochure essay on the occasion
of Cowin'
s exhibition at Pasadena Community College Gallery, March 2009.
"Artists Are Not," thehighlights.com, February issue.
2007 "Confusion, Collateral, and Pain," X-TRA, Winter 2007-8, Vol. 10.2. With Kris Paulsen.

2006

"Notes on Display, Exhibition, and Awe," X-TRA, Winter 2006, Vol 9.1
"Every Garden a Munition Plant," X-TRA, Summer 2006, Vol. 8.4.

2005

"Ghosts of the Public," X-TRA, Fall 2005, Vol 8.1, pp 48-52.

2004

Sourcebook of American Chatter: Issue One (Fragments), contributor.

2003

"Out with the Artist: The poet, the American, and the monster," The 2003 Wight Biennial Catalogue, published on the occasion of the 2003 Wight Biennial, UCLA, p54-61.

2002

"Kristin Lucas and Joe McKay," New Art Examiner, Jan/Feb 2002, Vol. 29 no. 3, p. 67.
Public Collections
Hirshhorn Museum and Sculpture Garden, Washington D.C.
Long Beach Museum of Art, Long Beach, CA