Images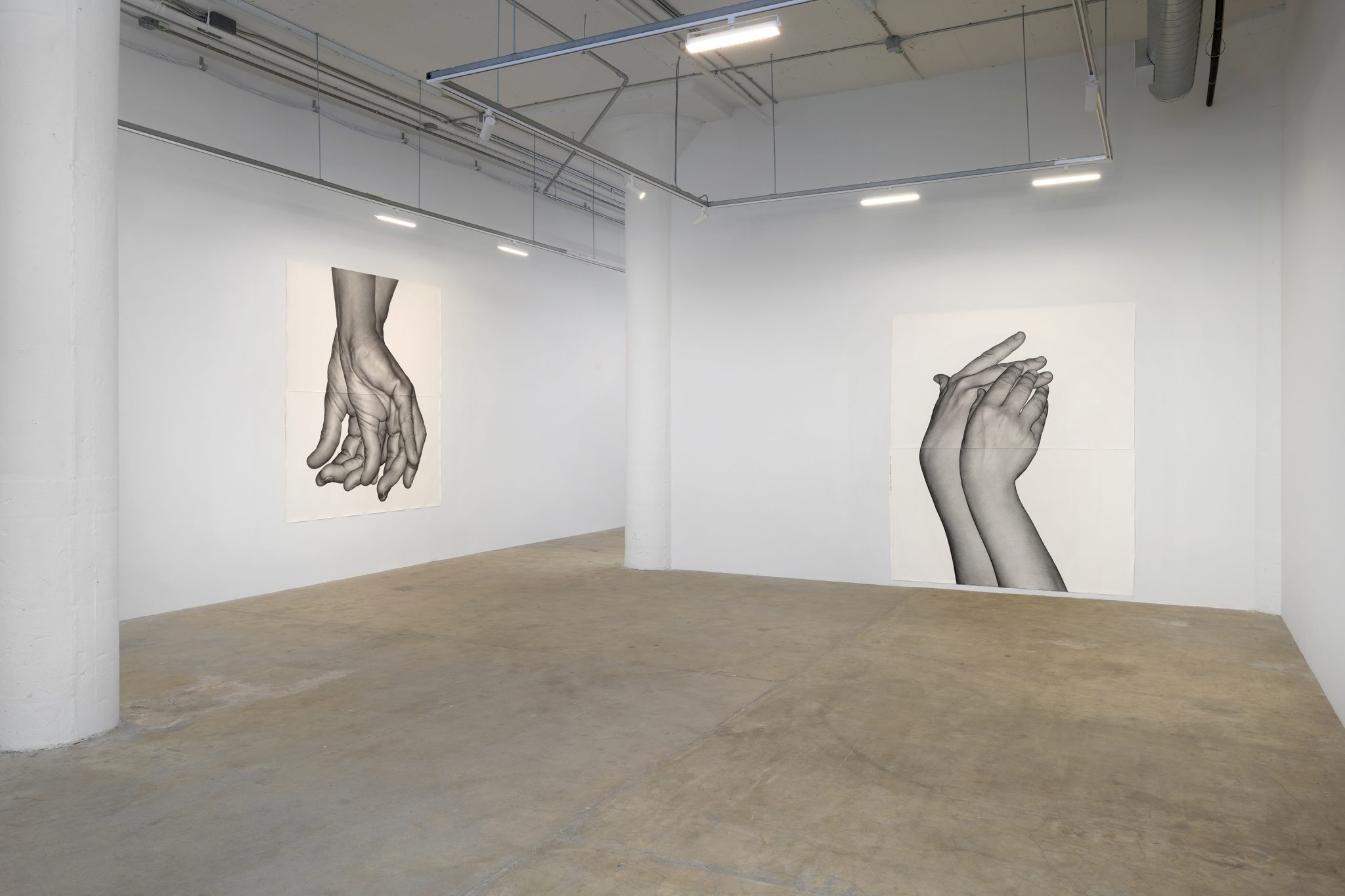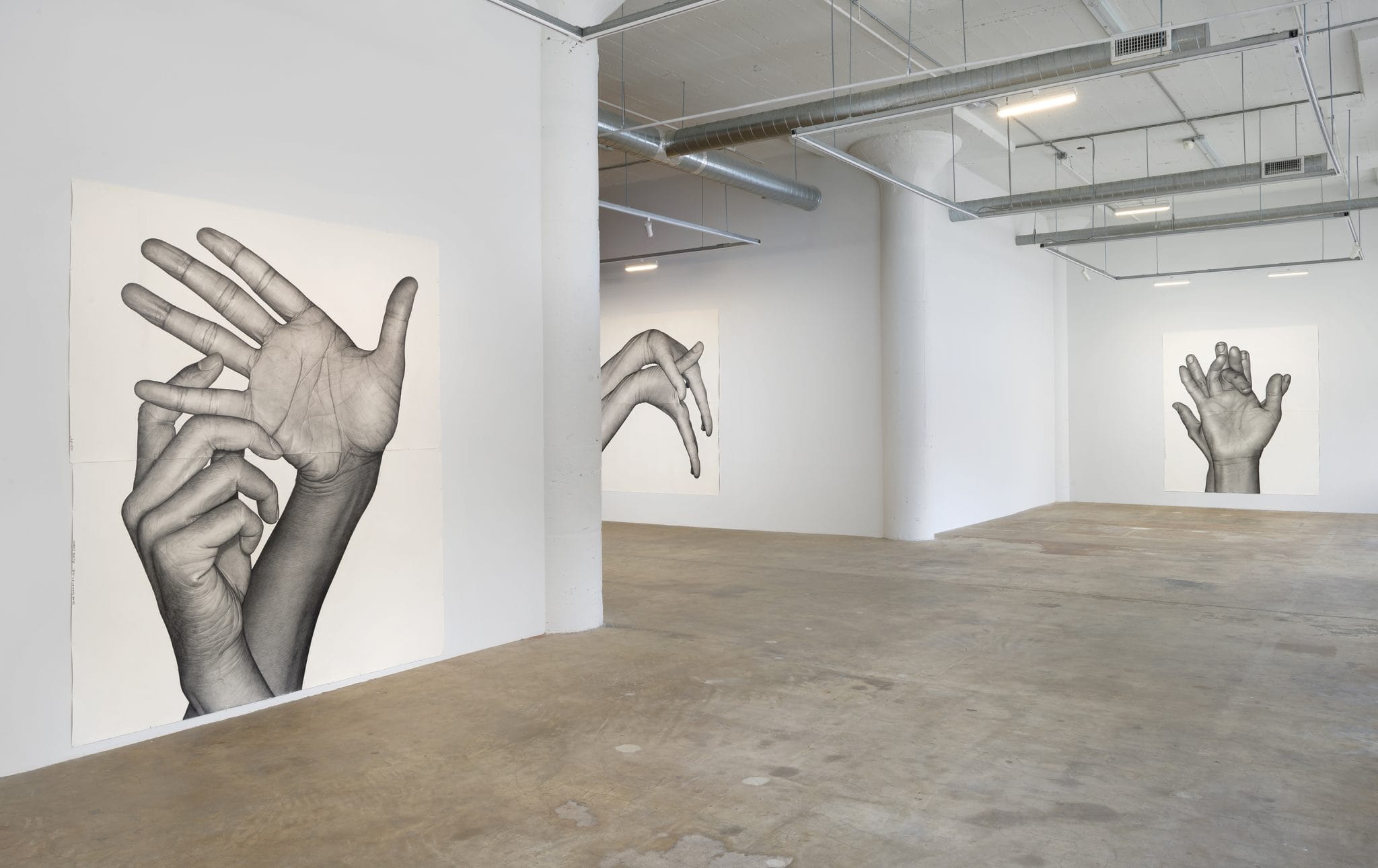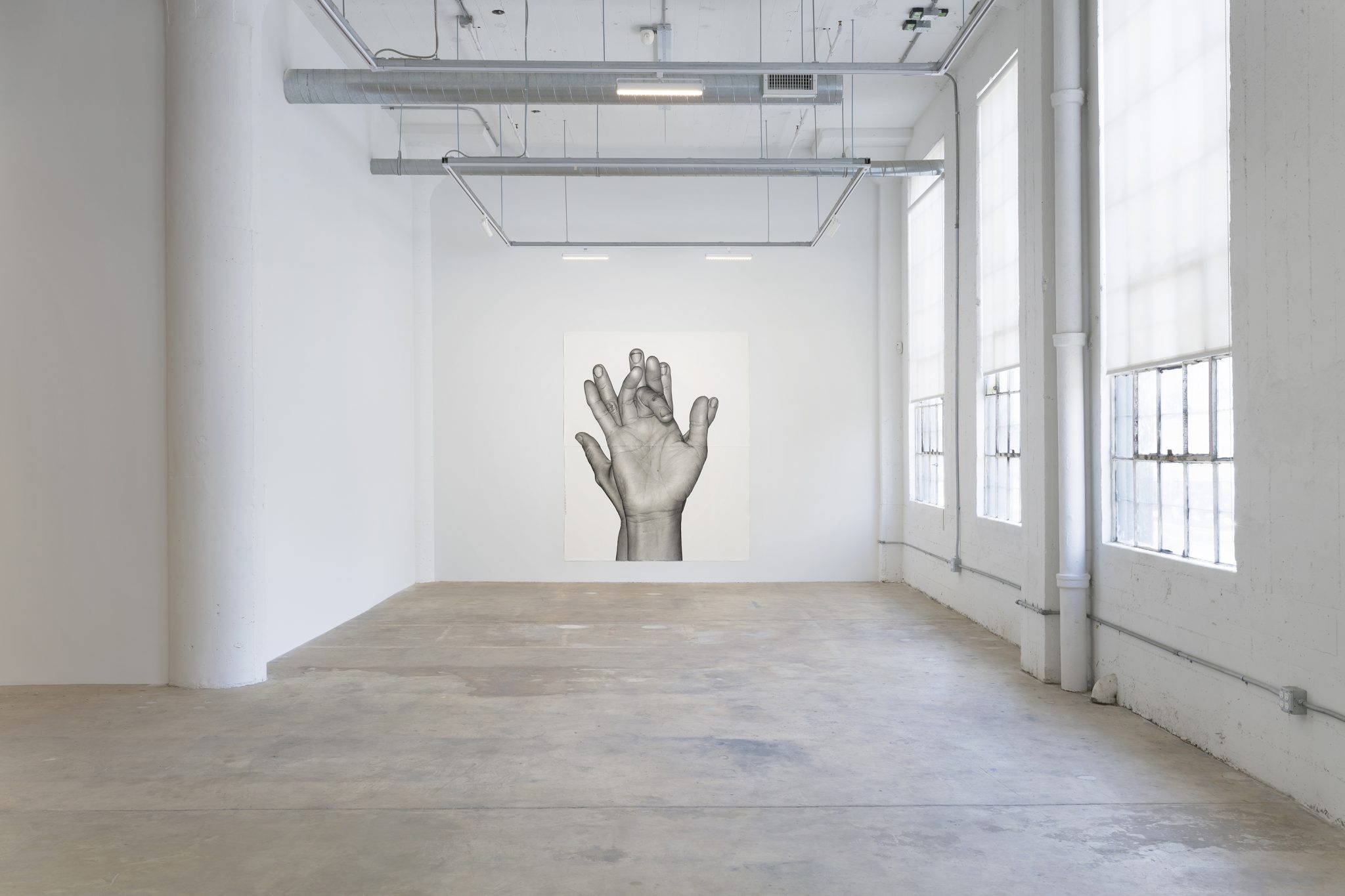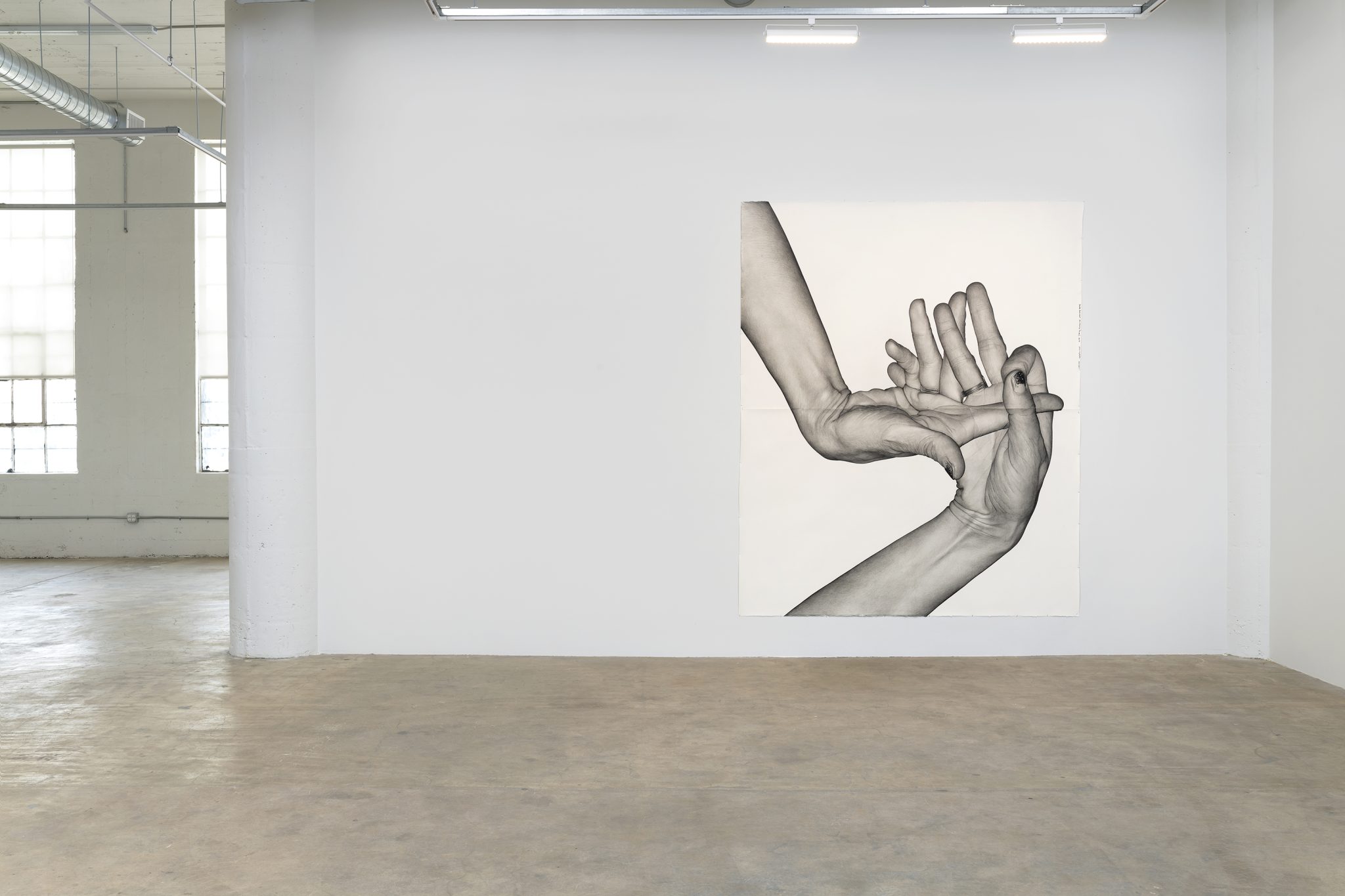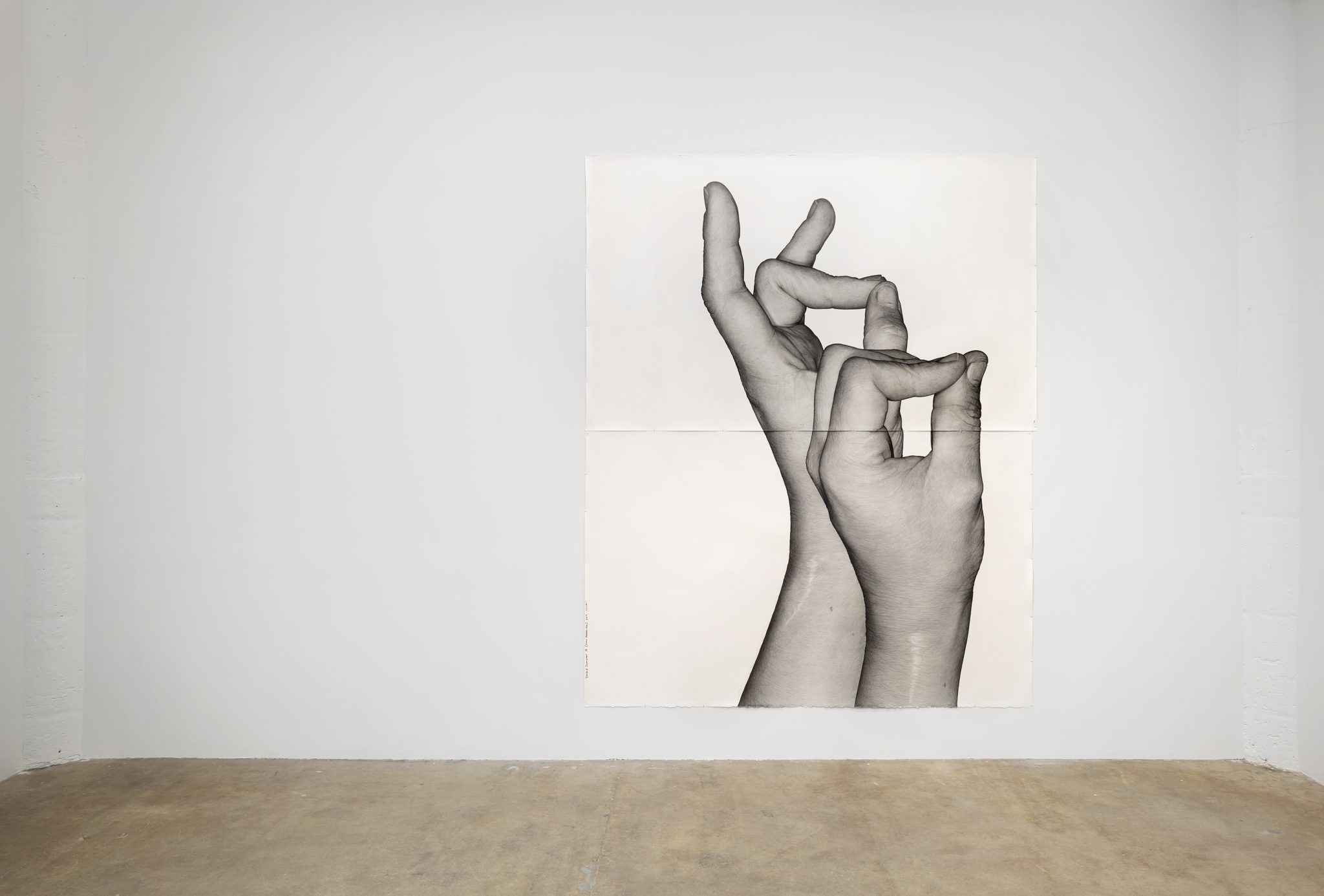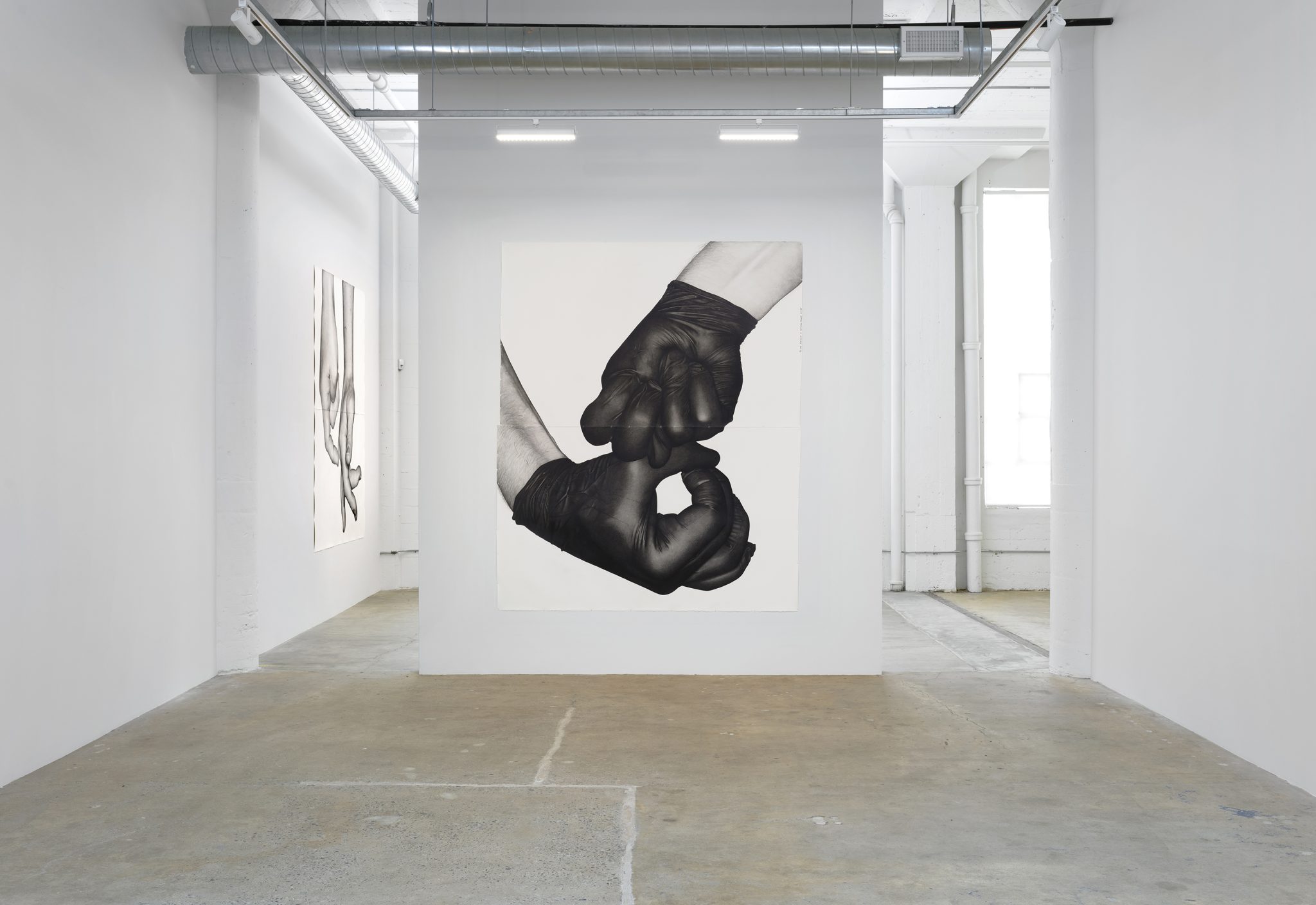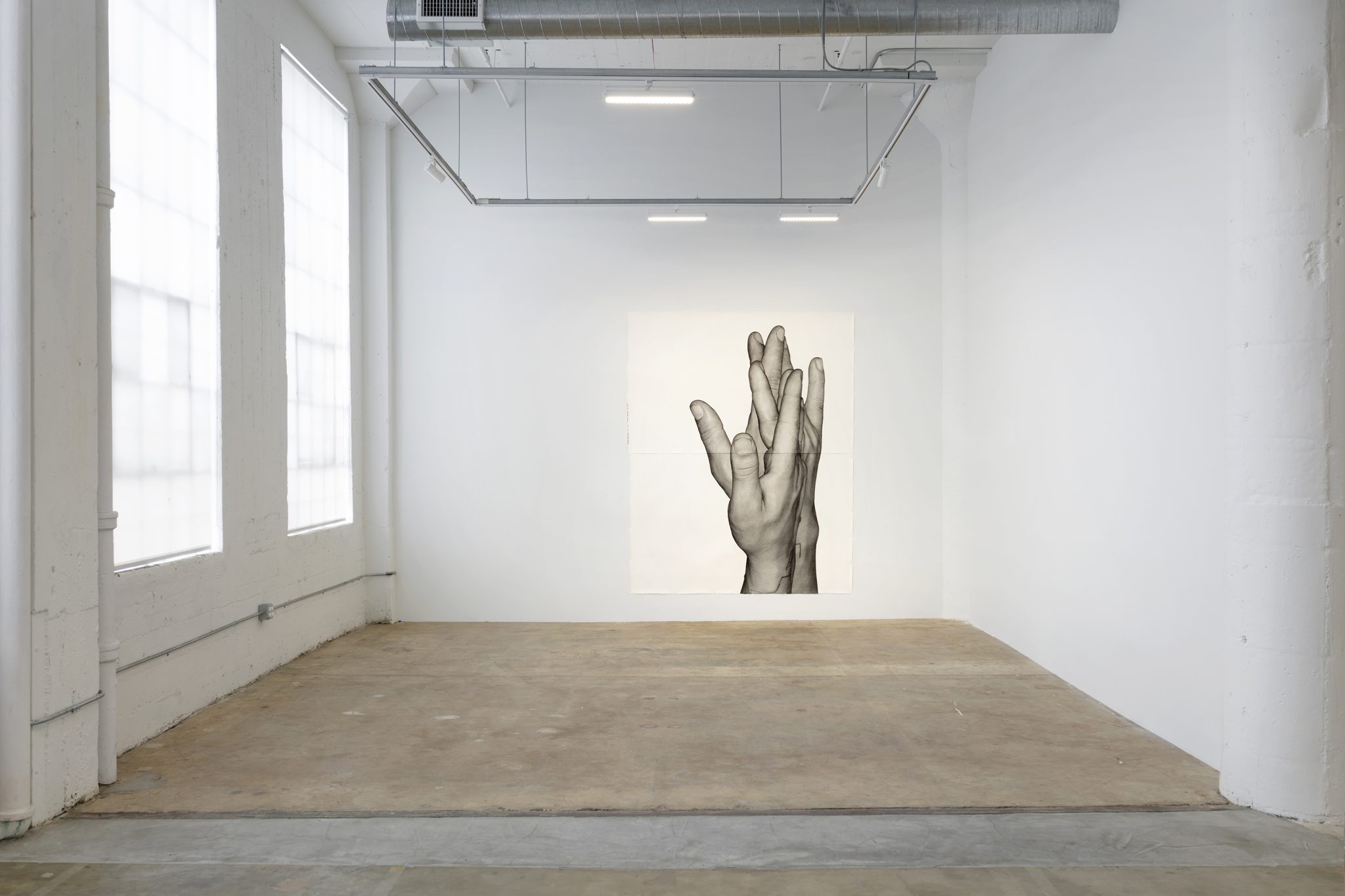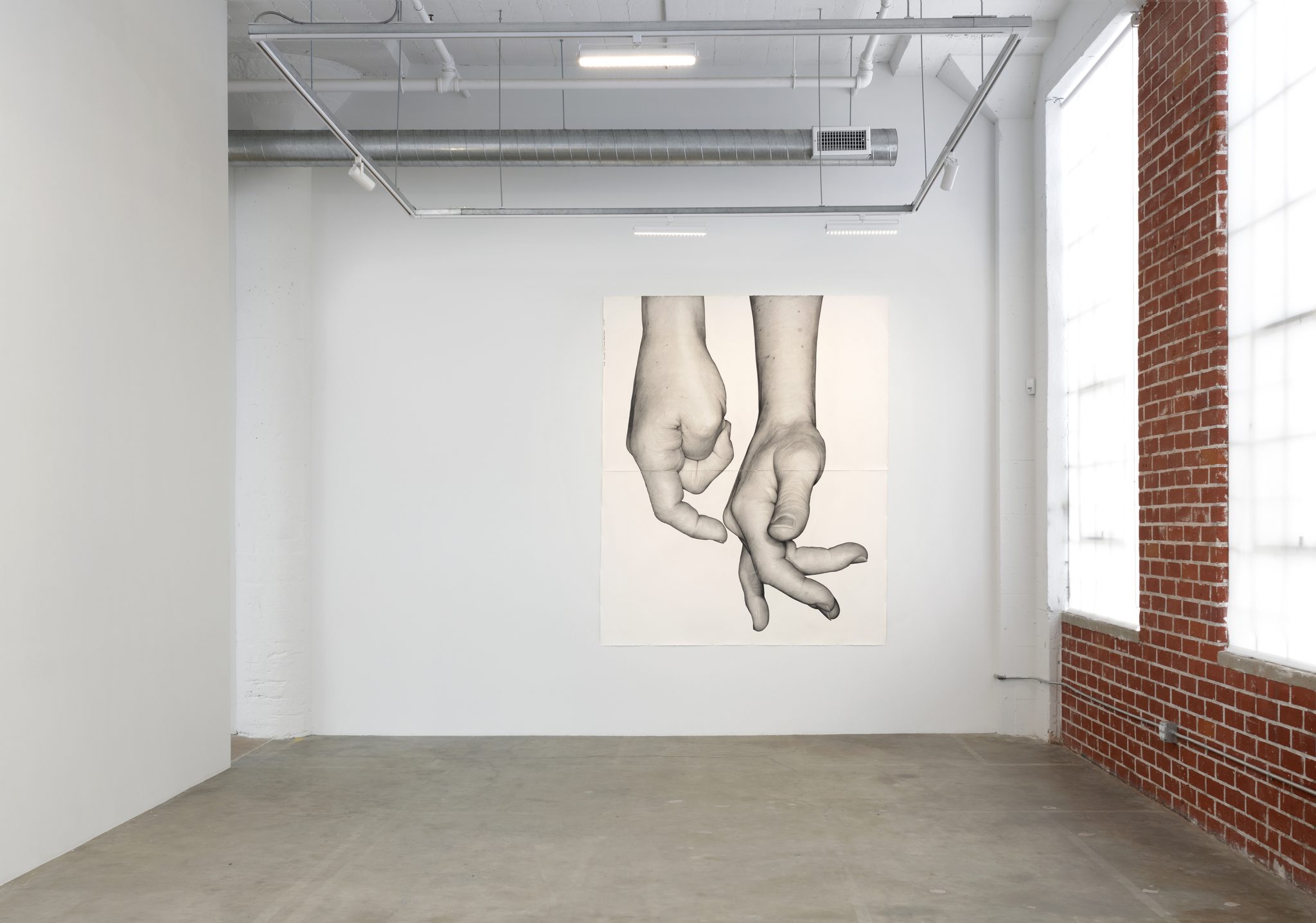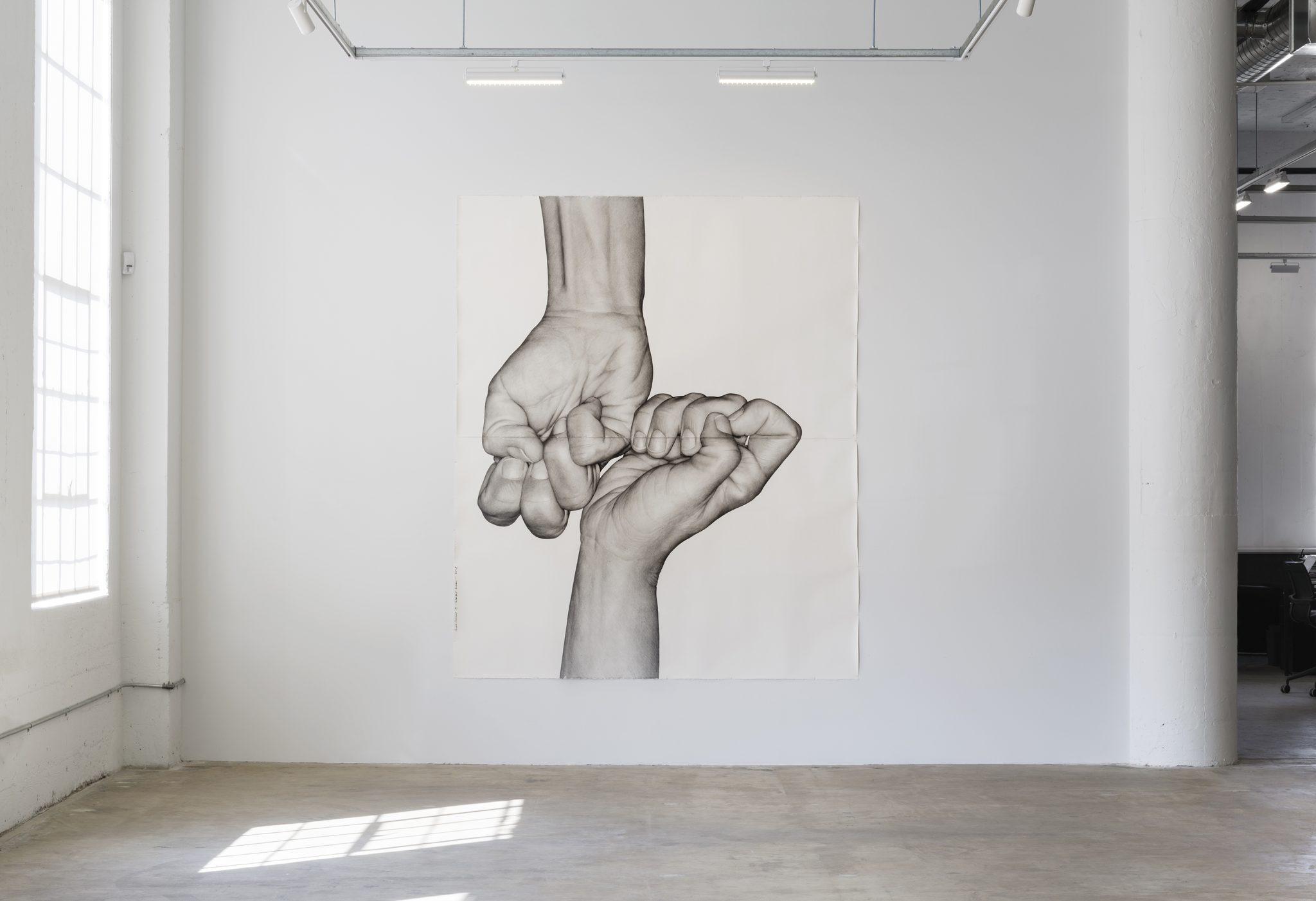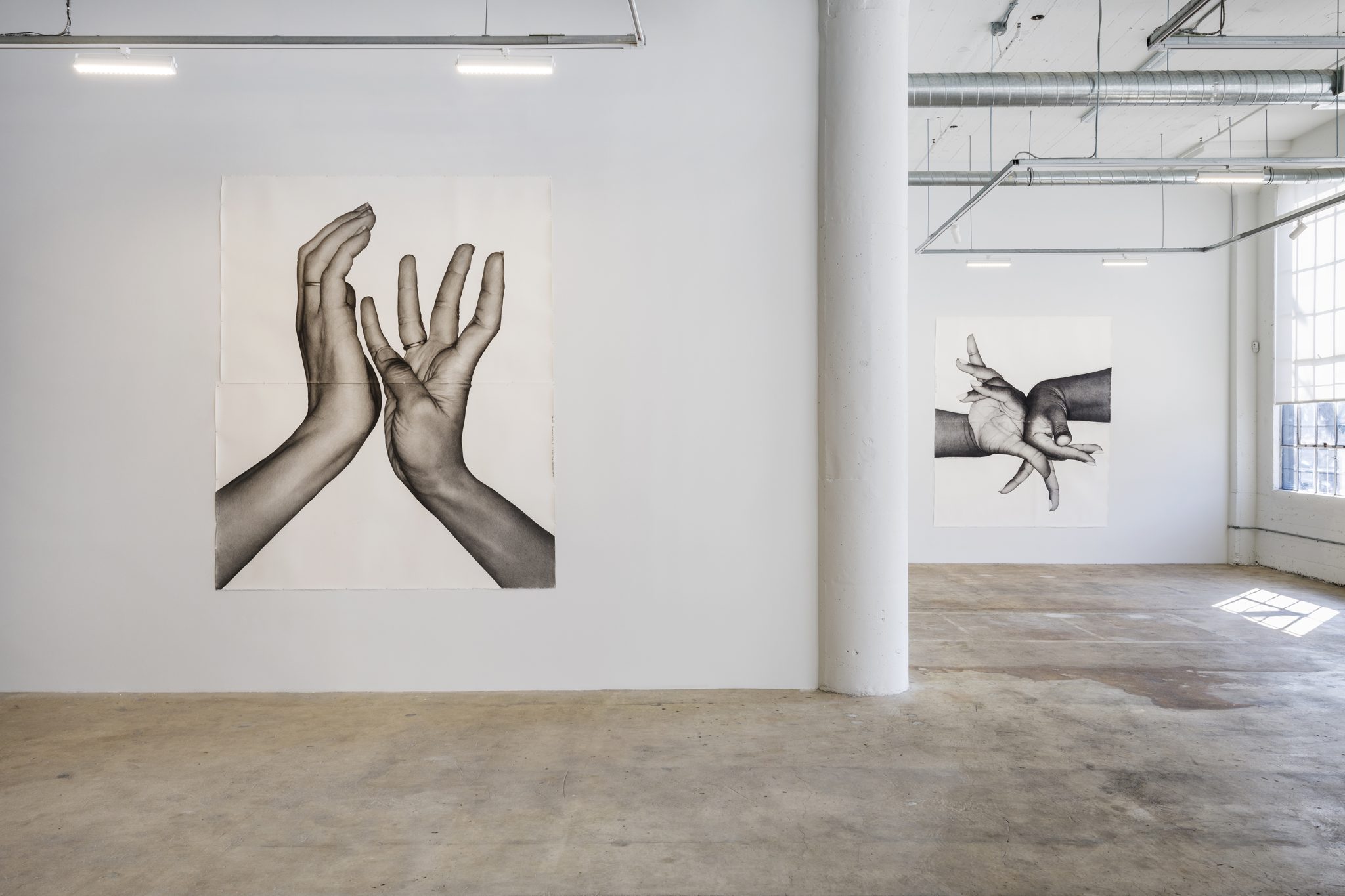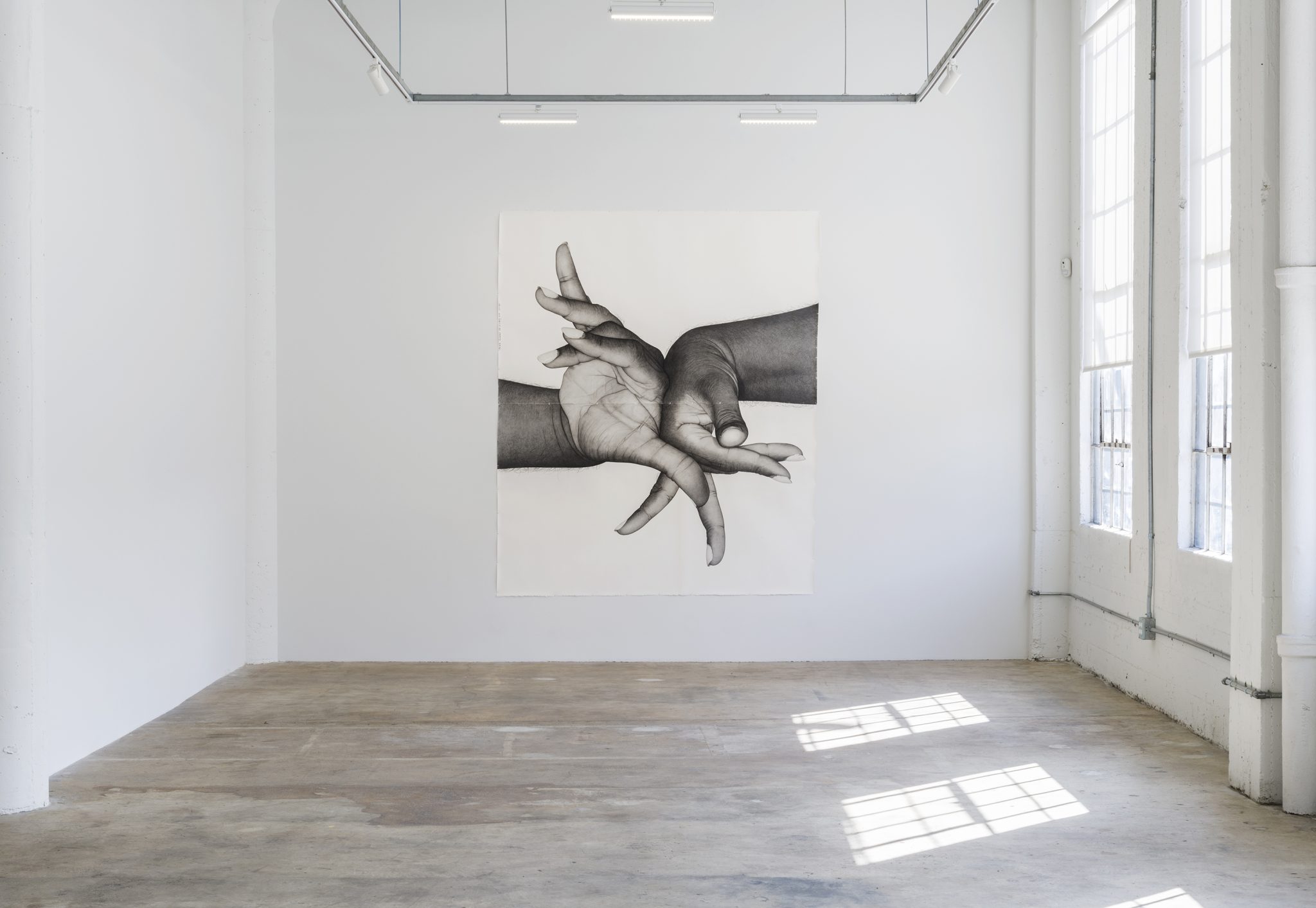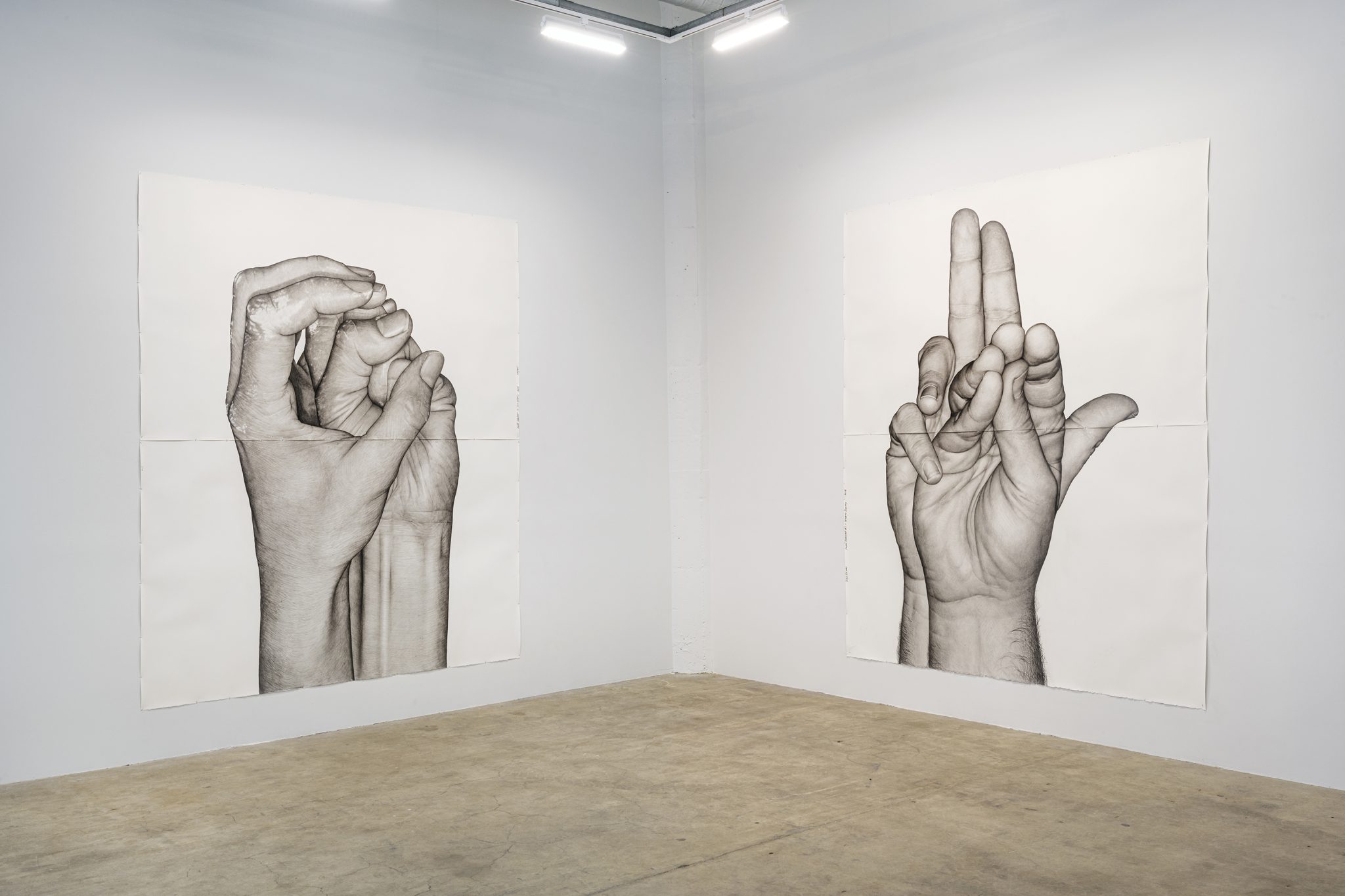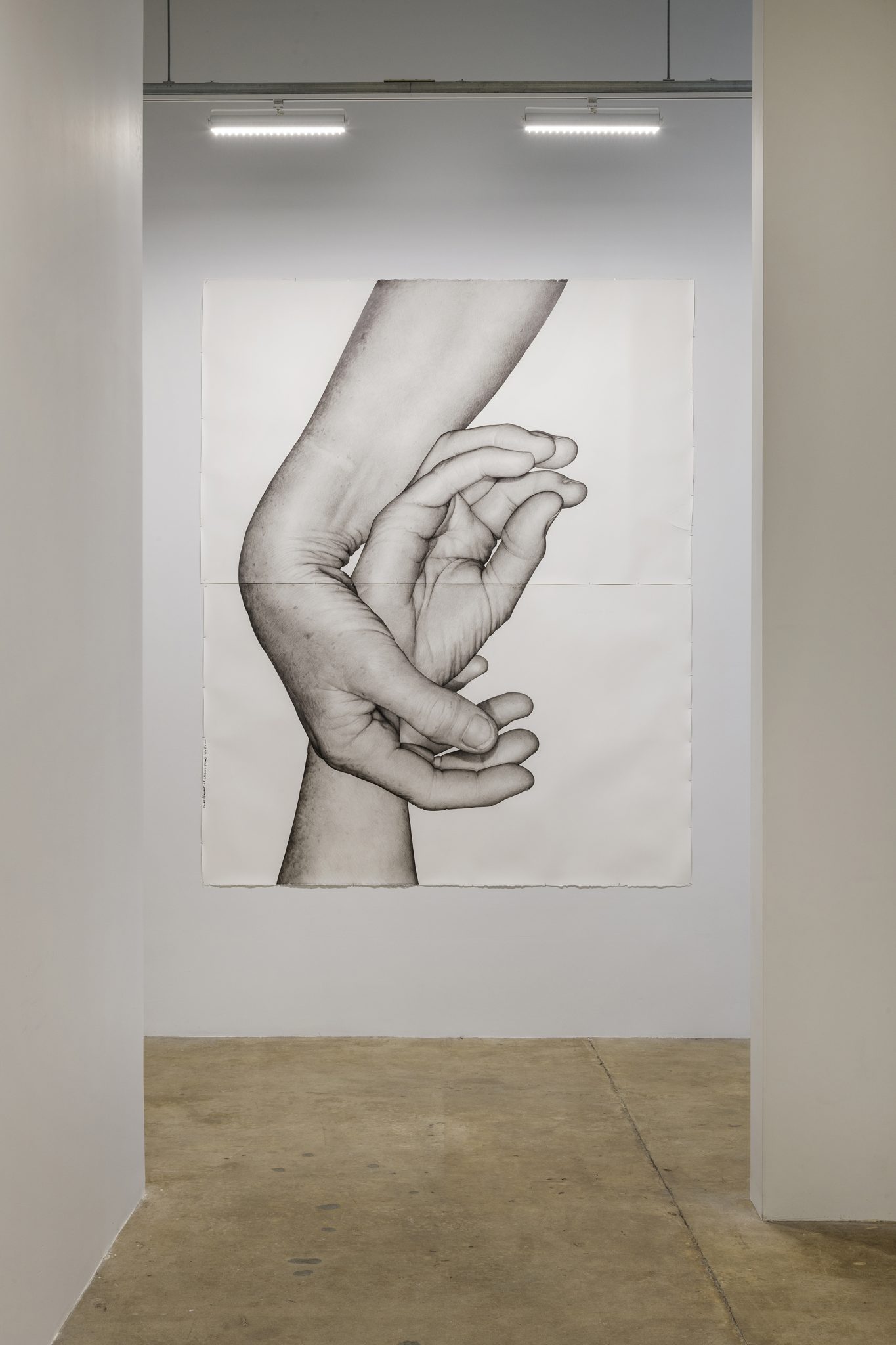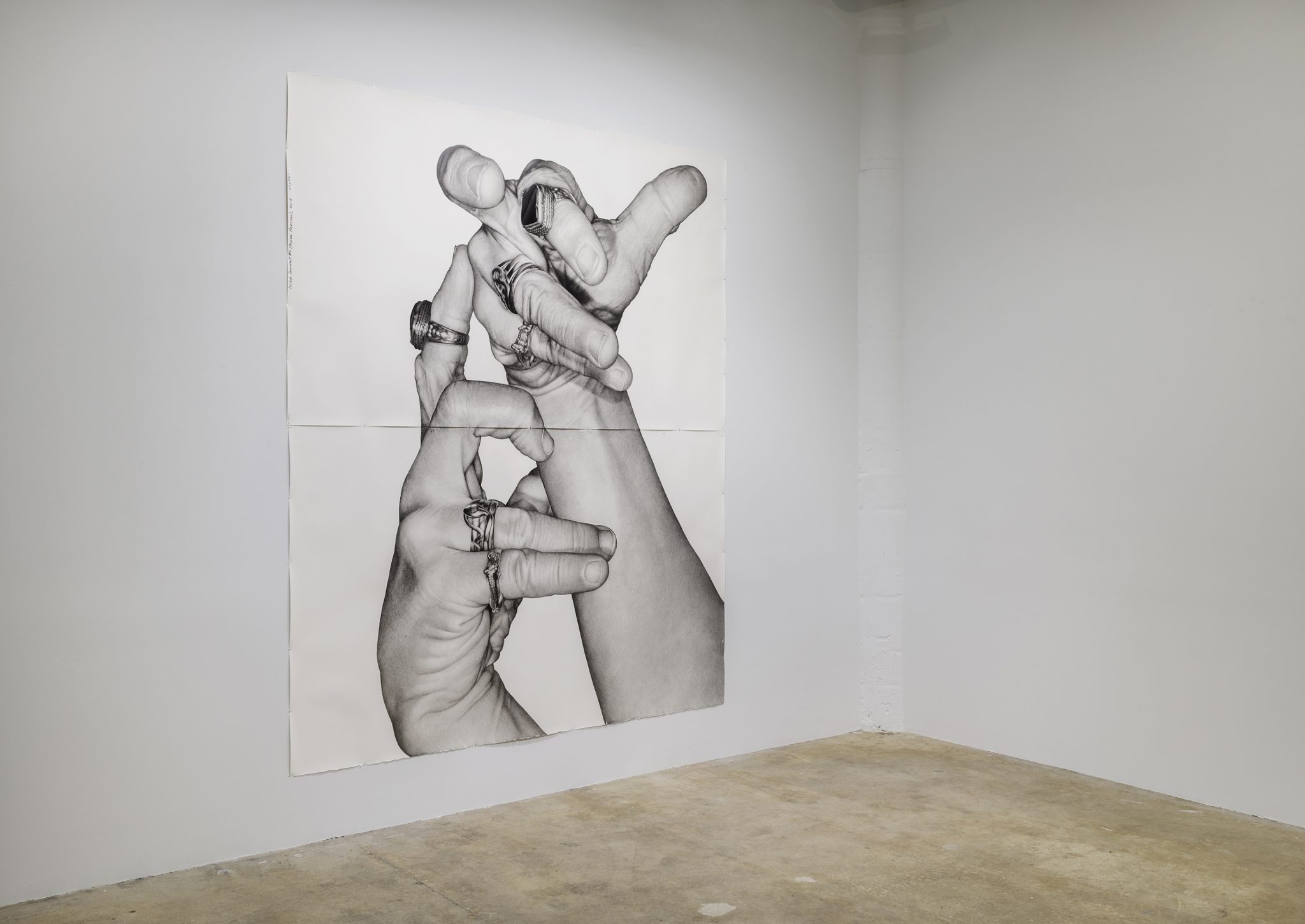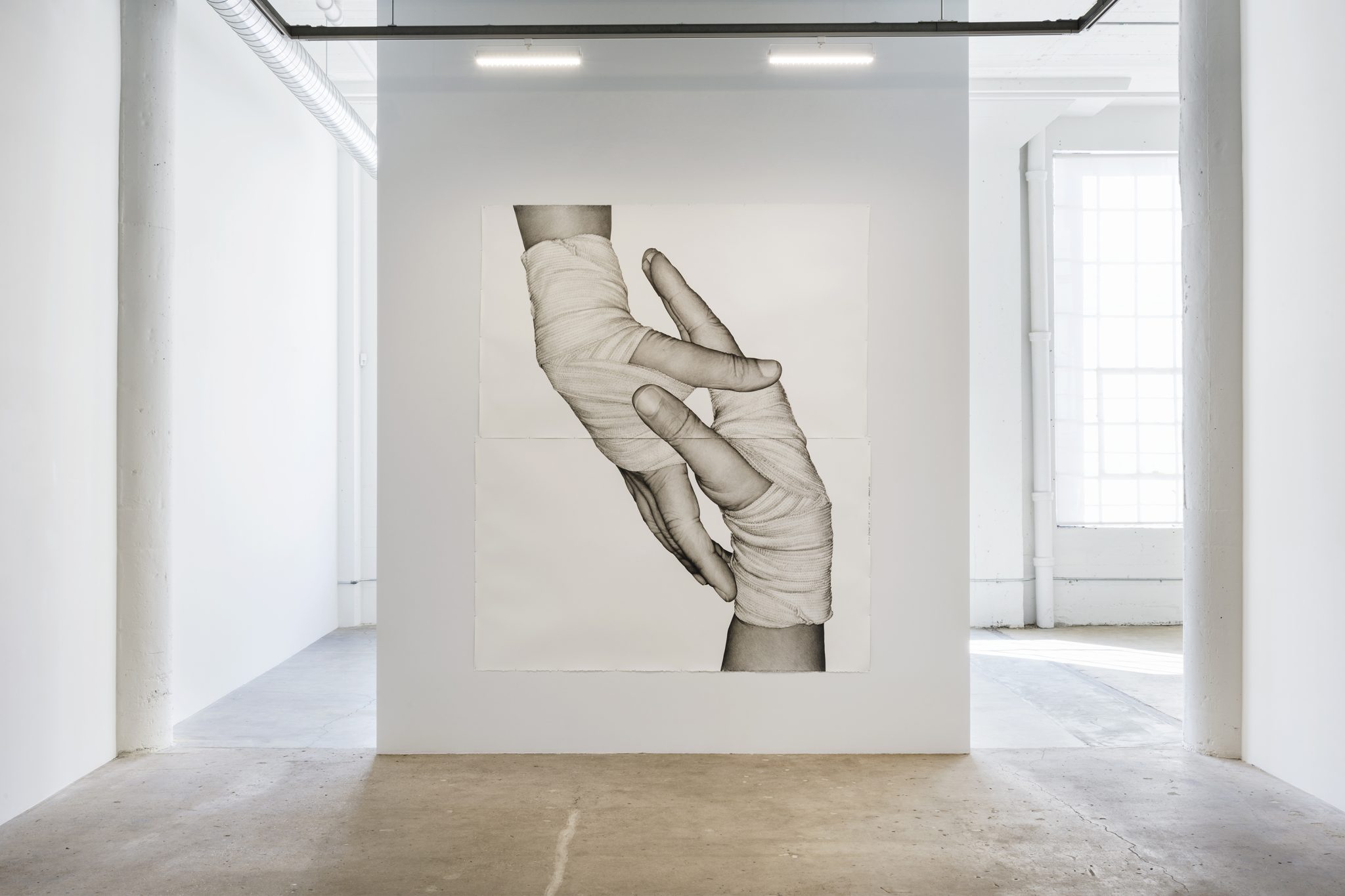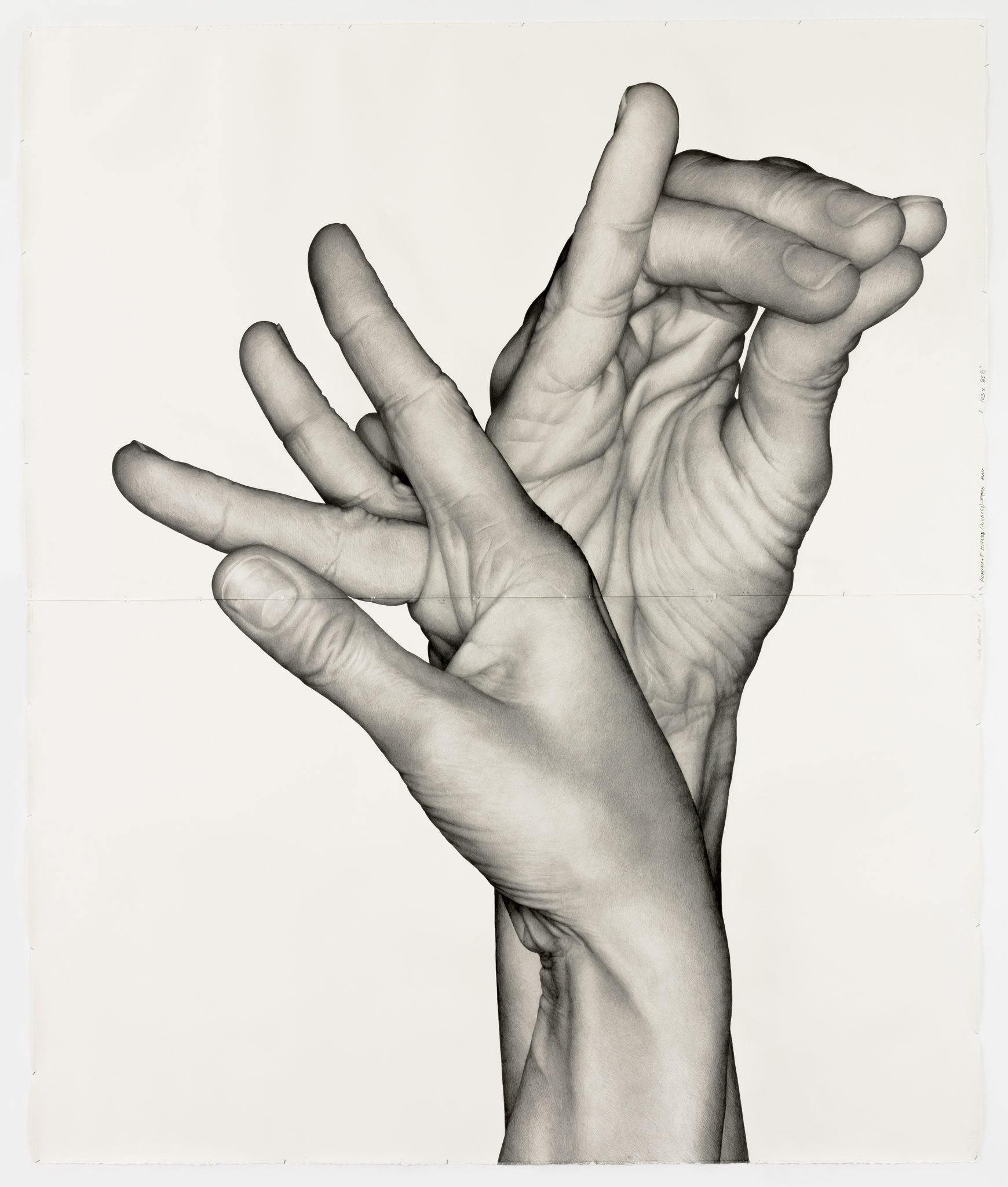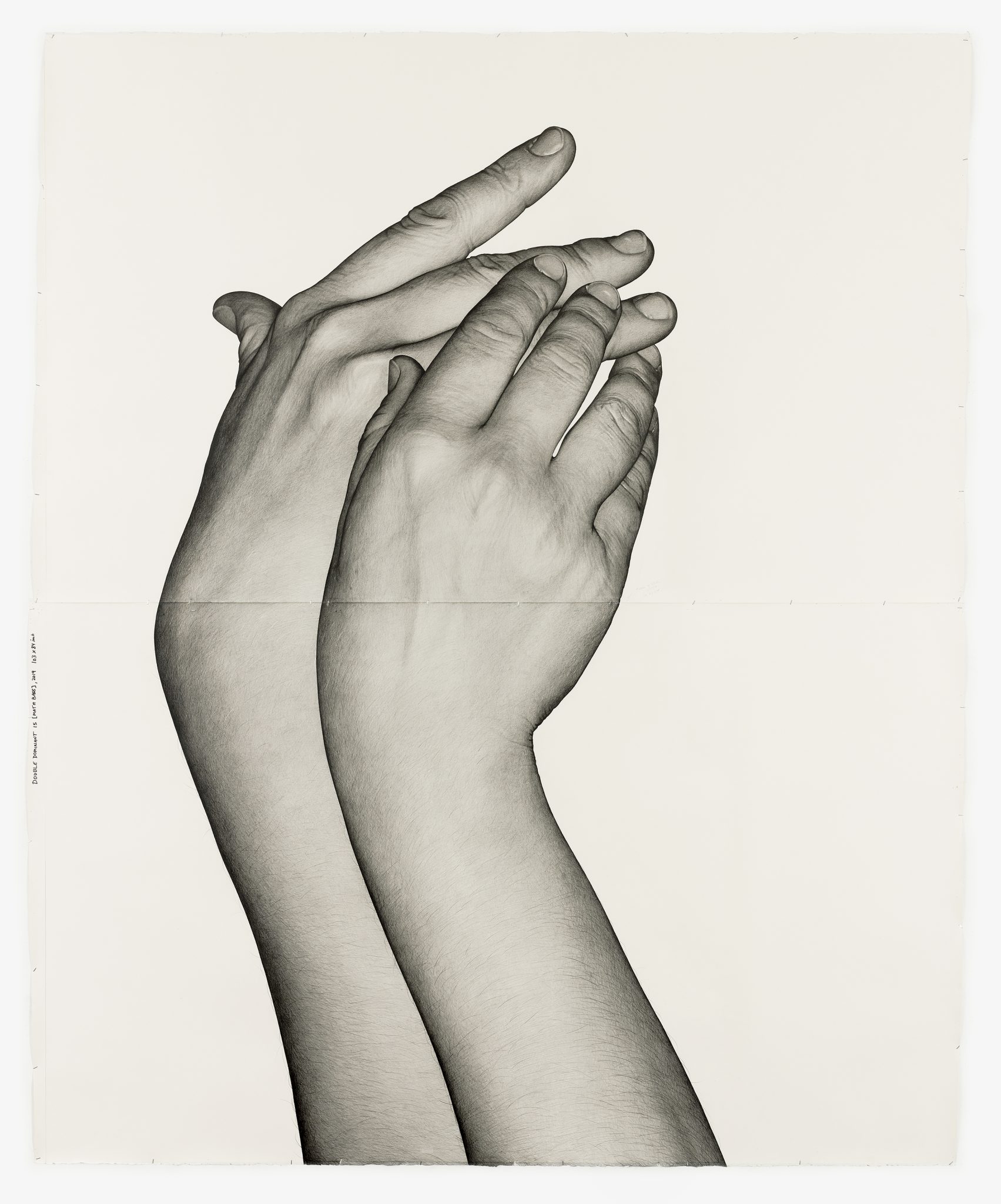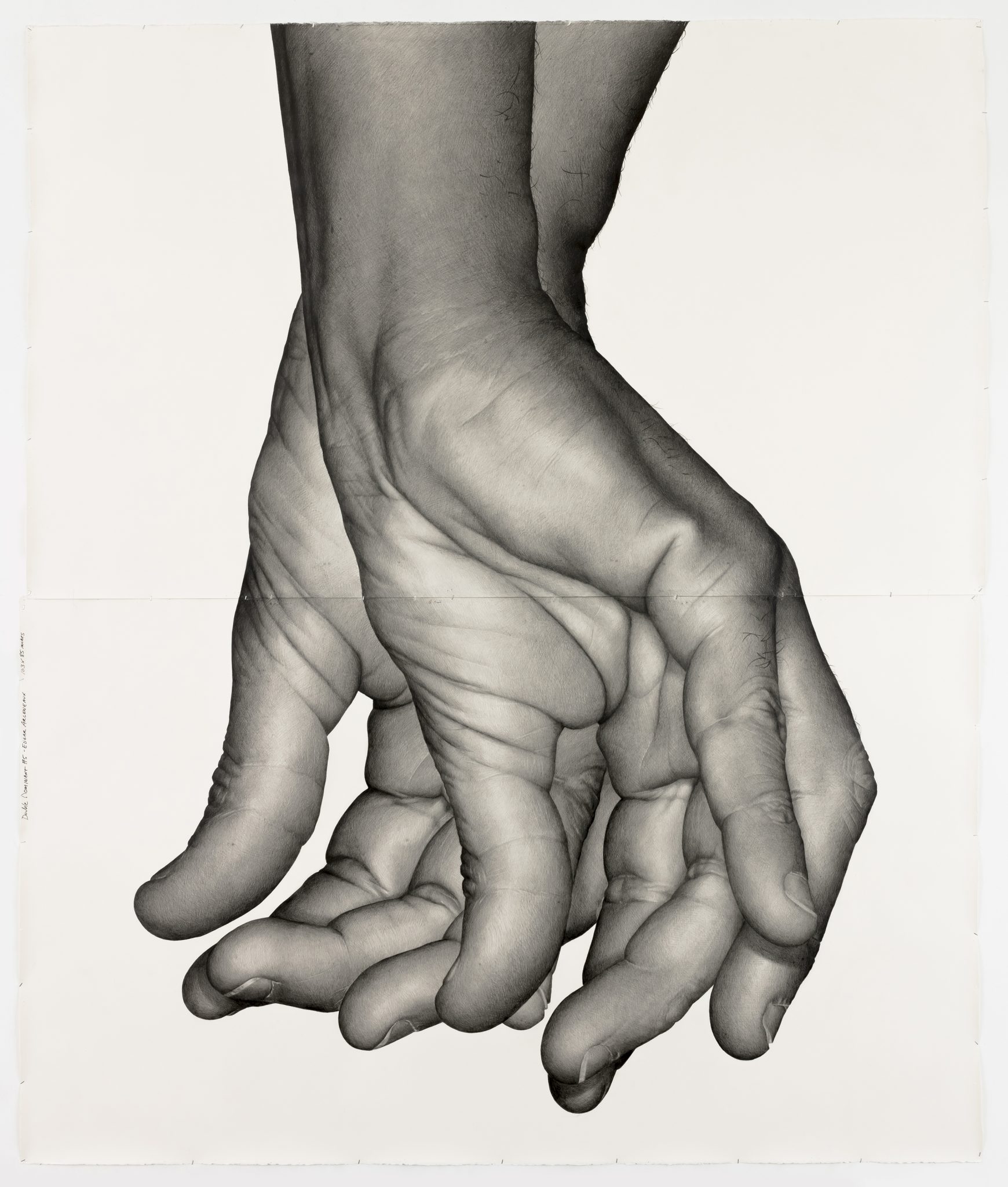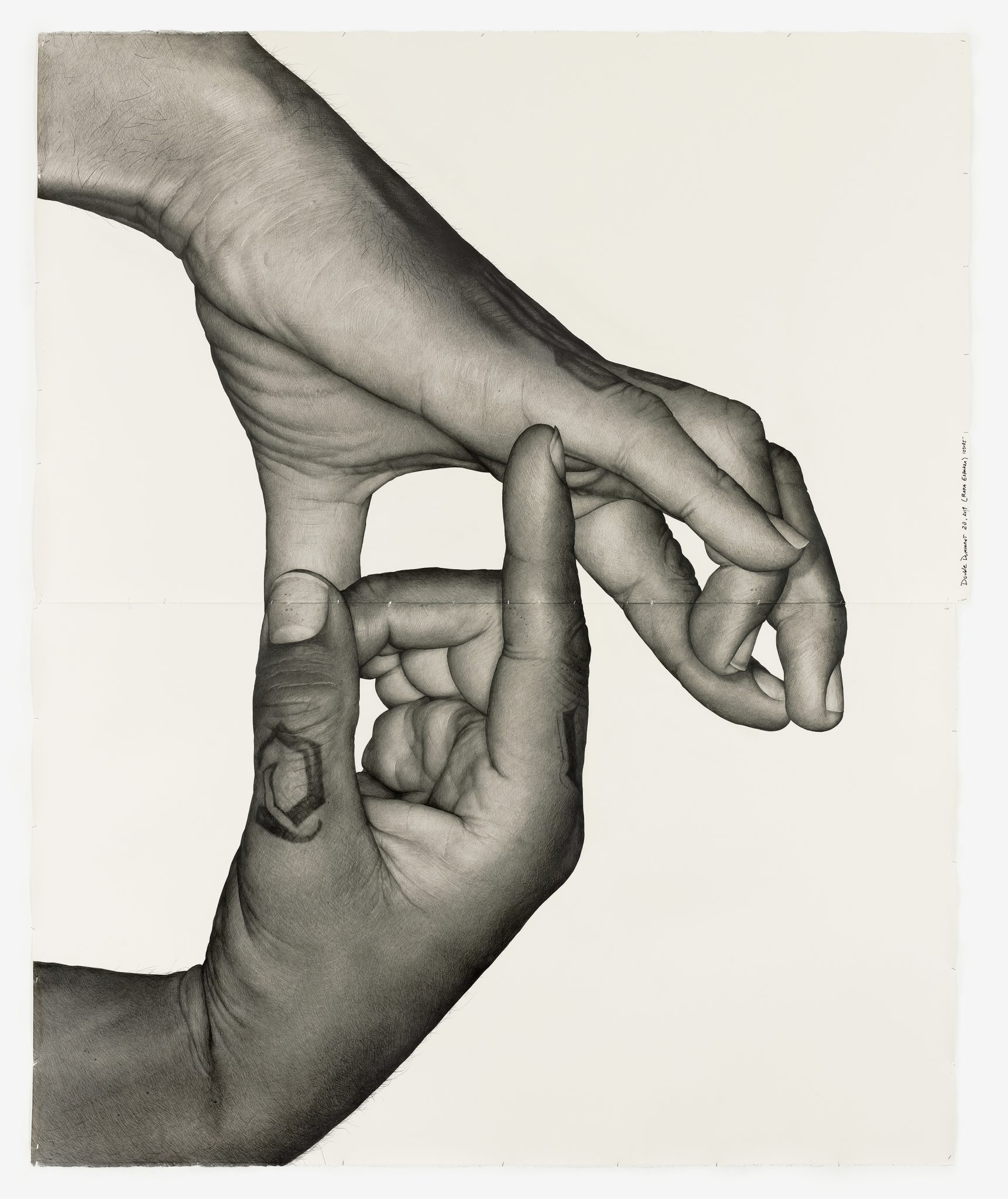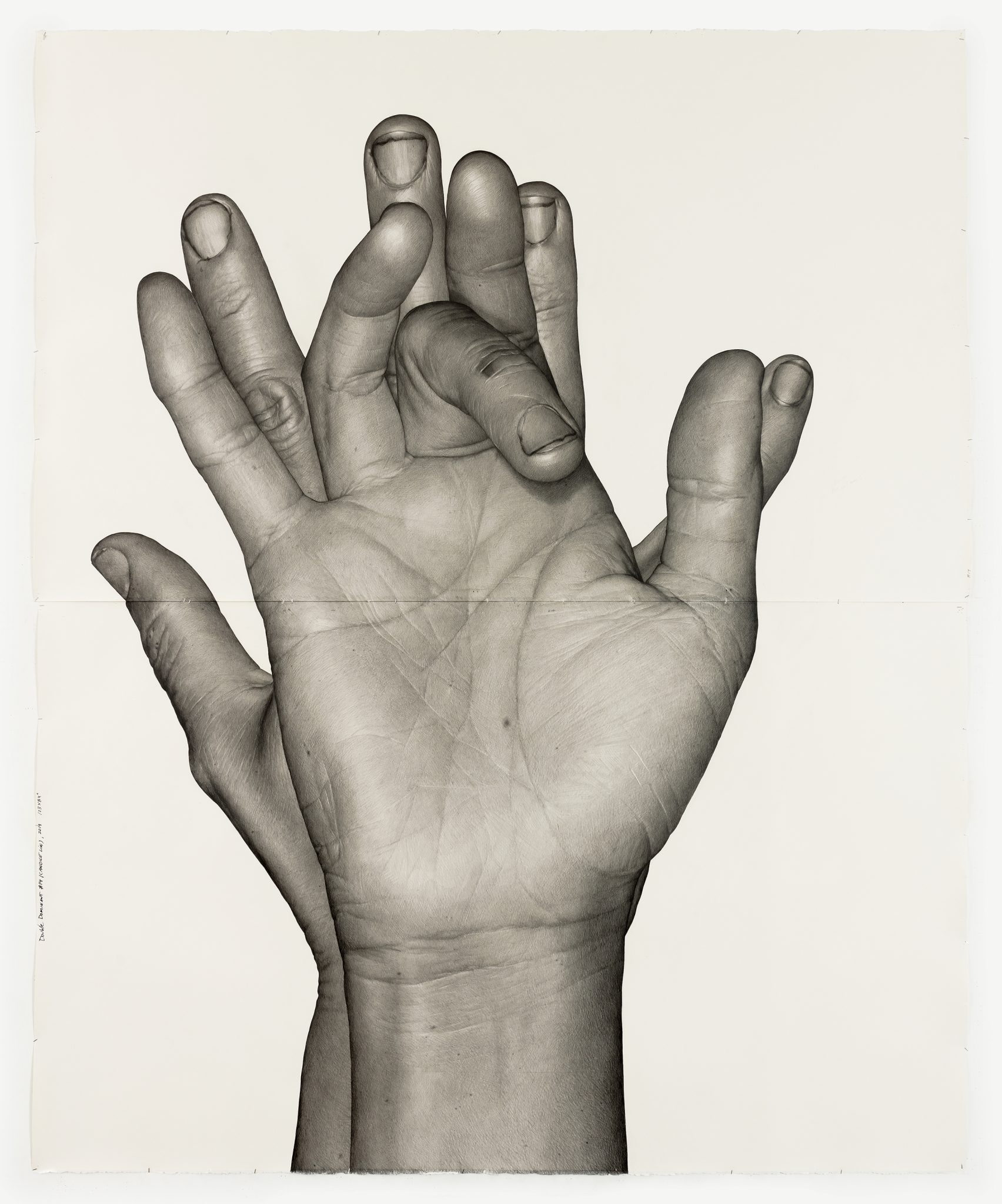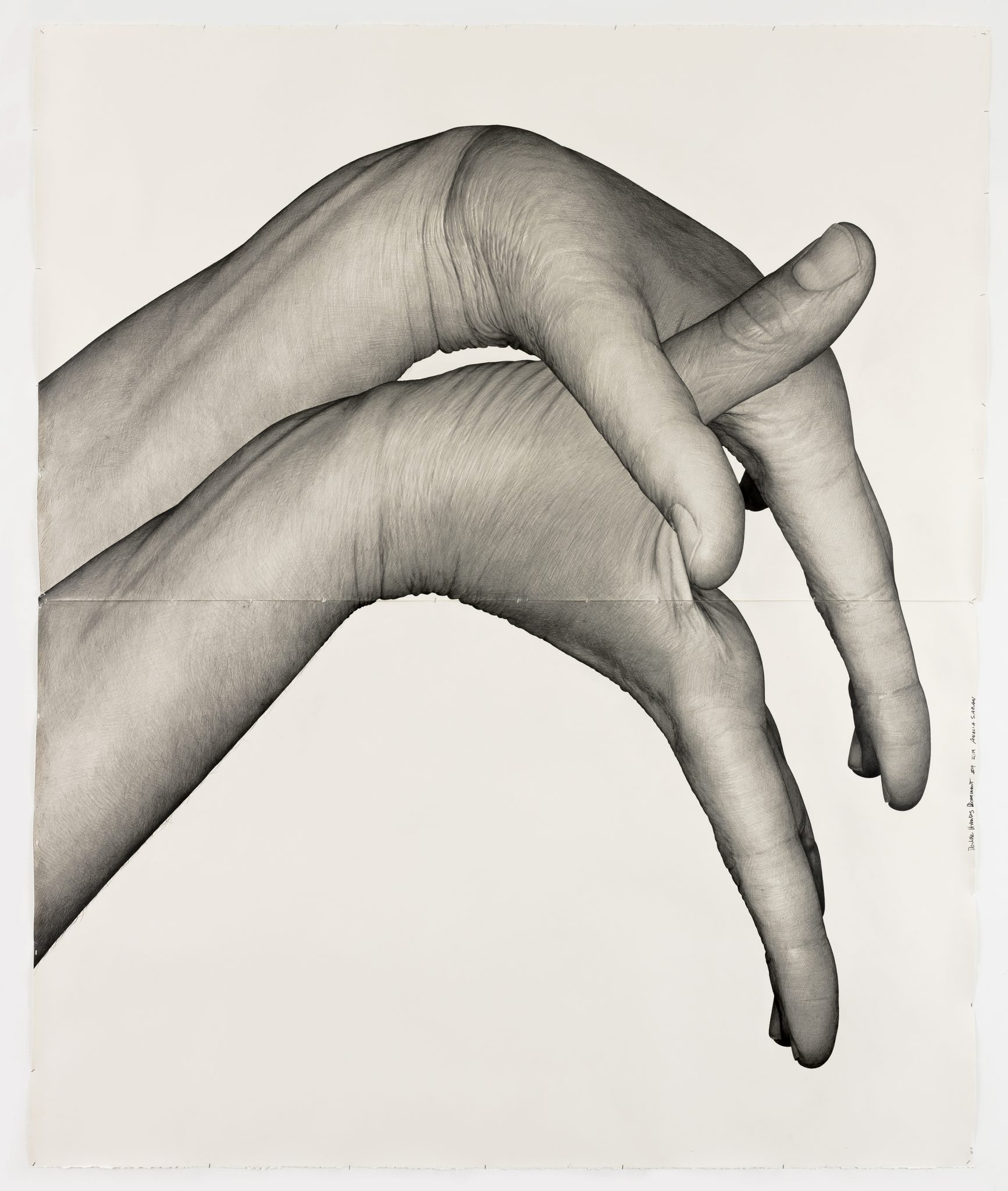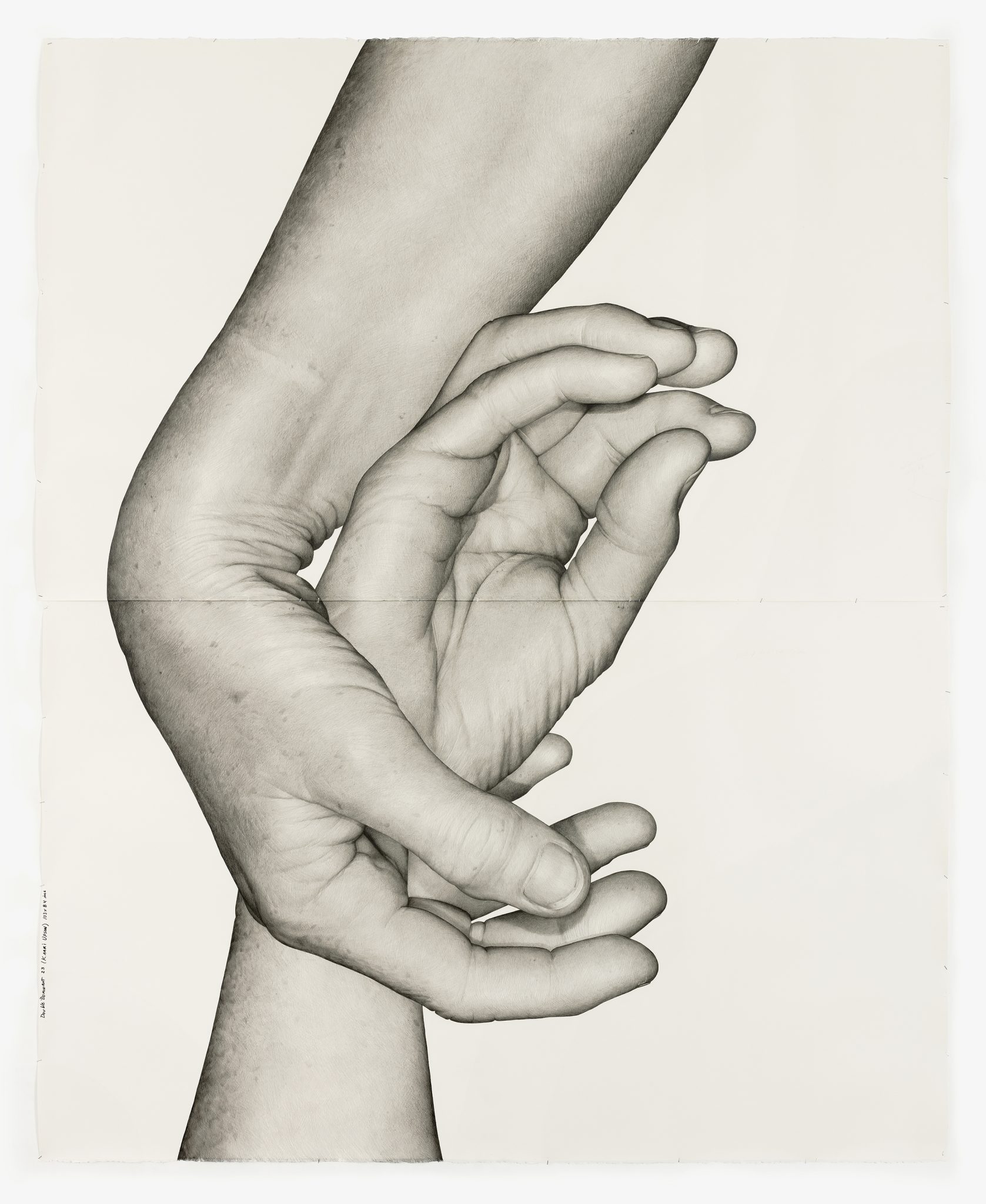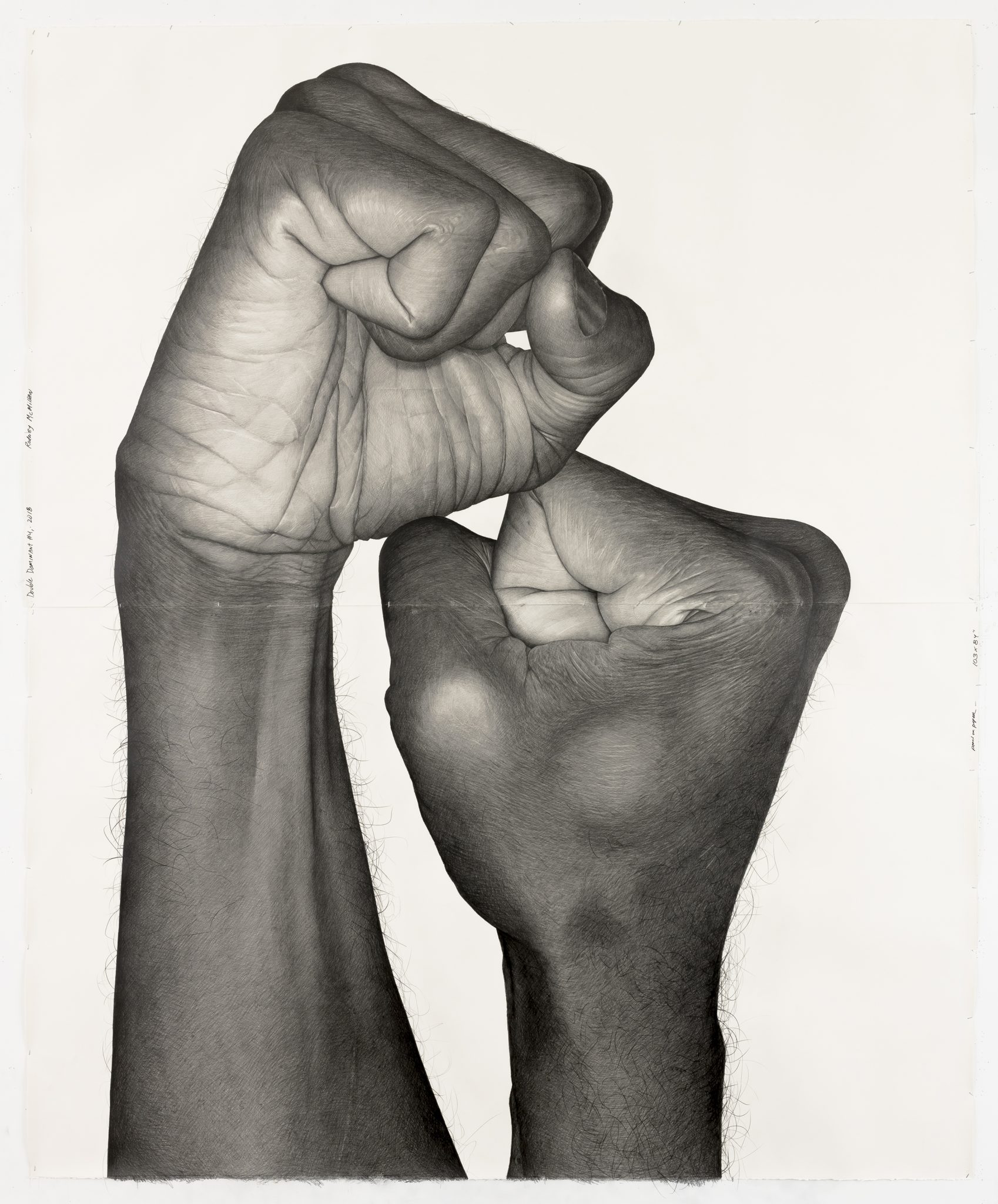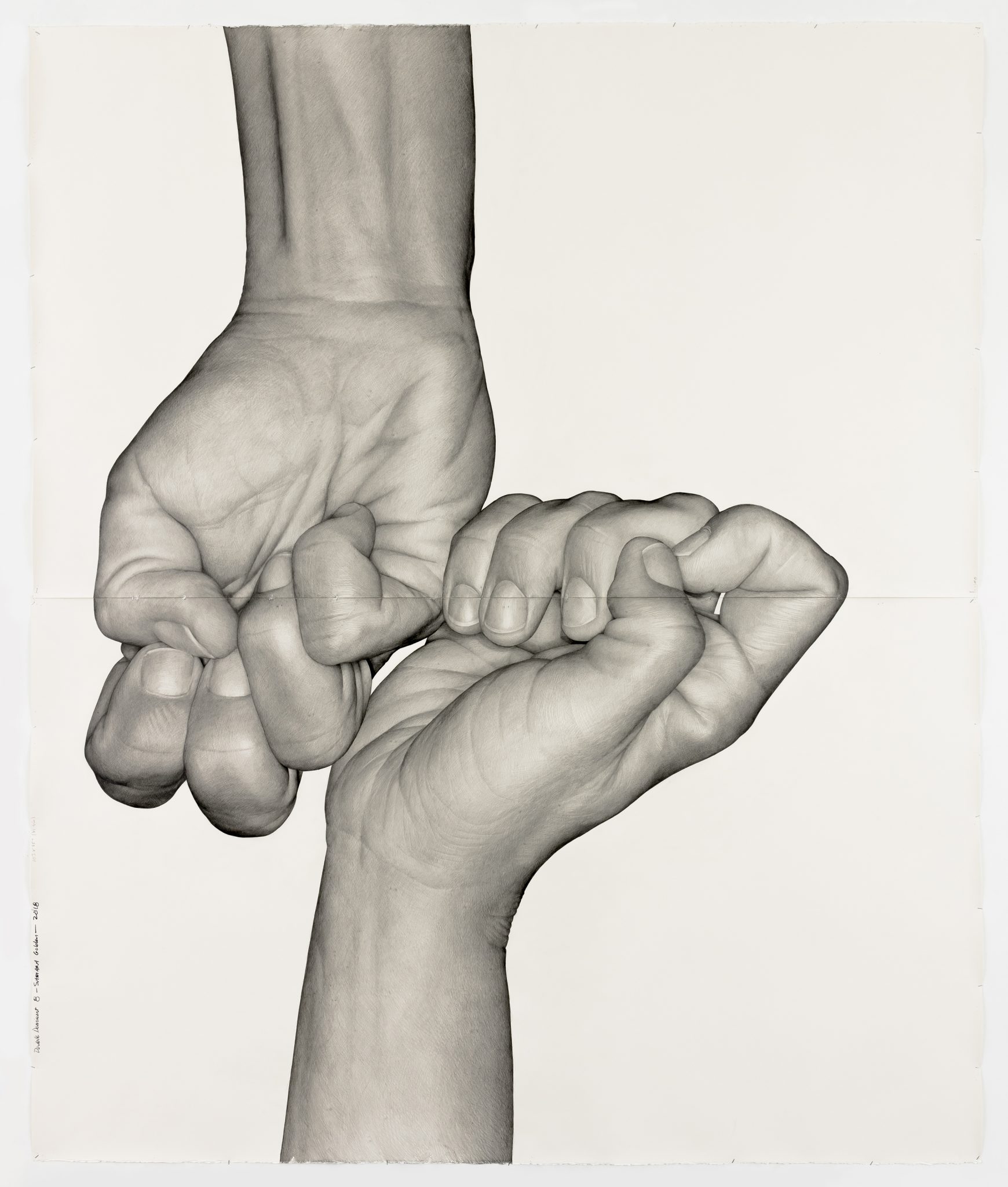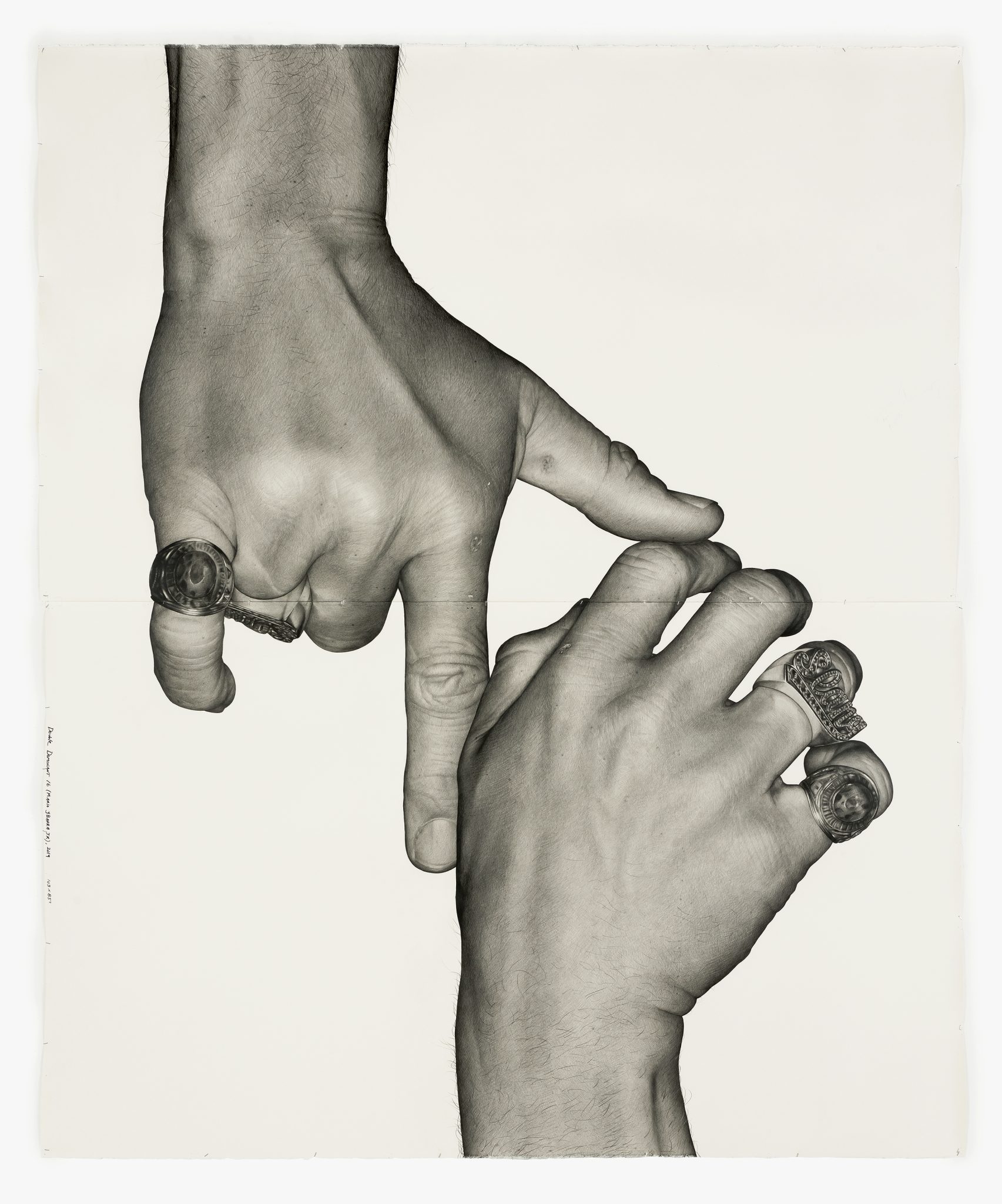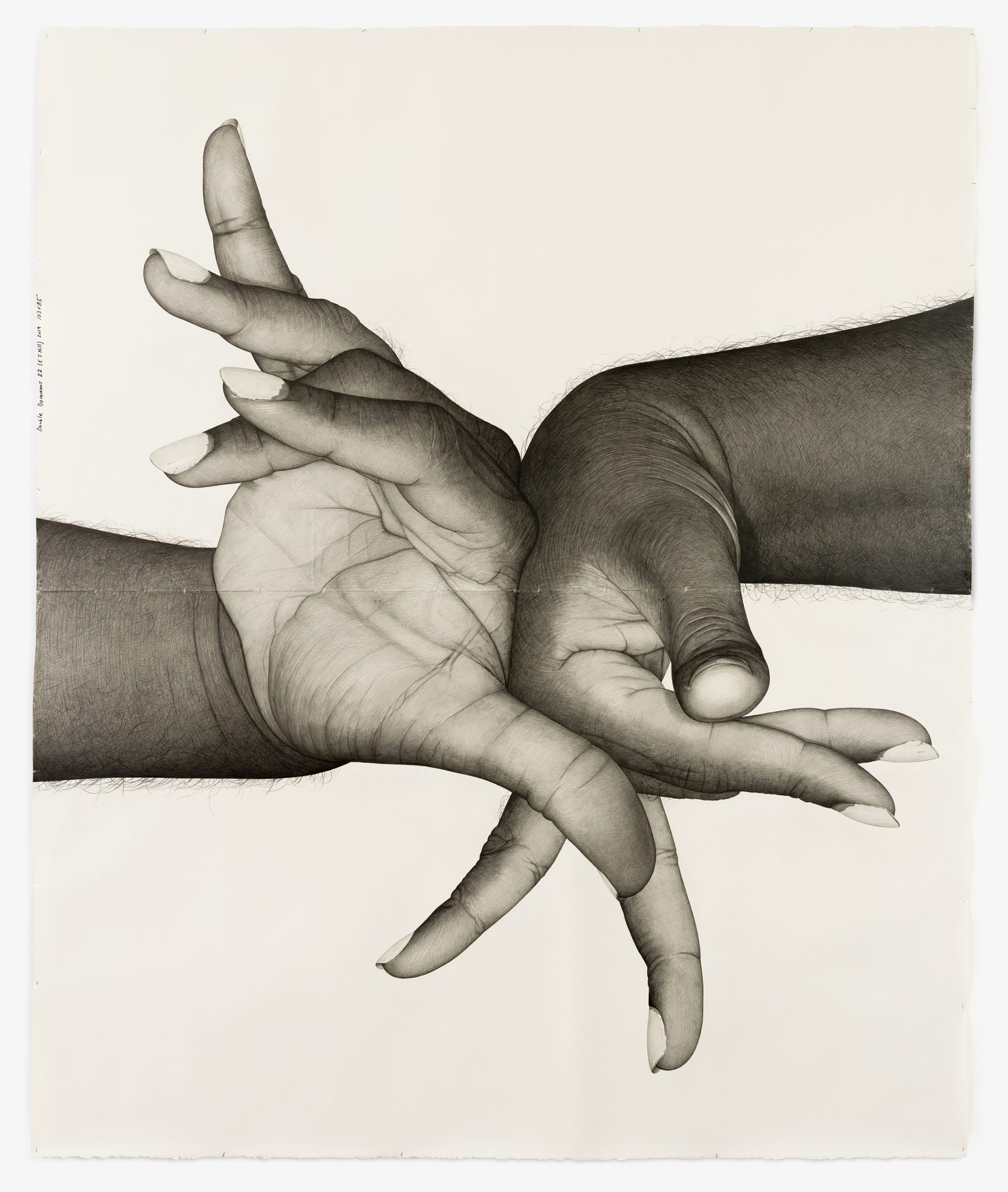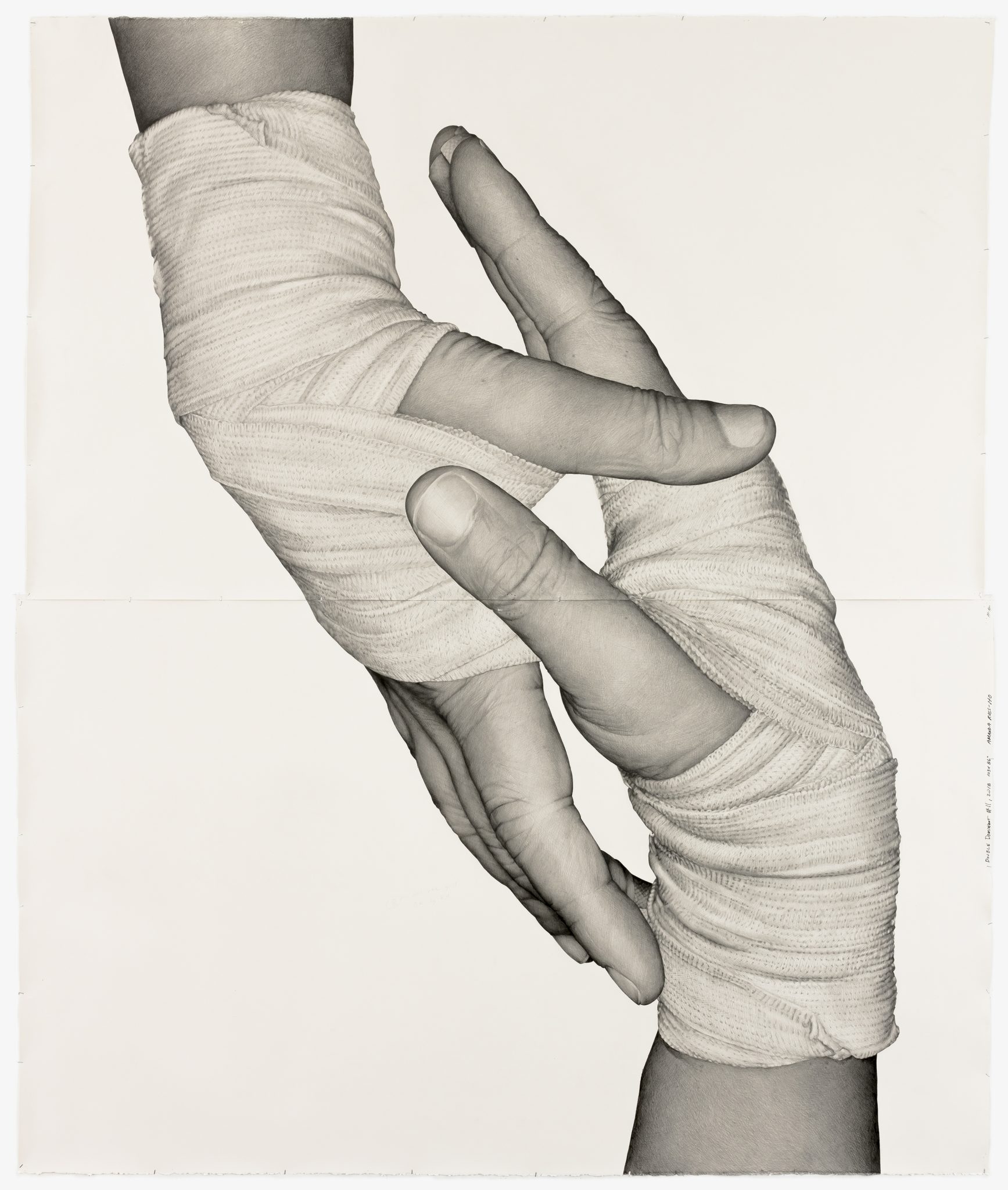 Press Release
Vielmetter Los Angeles is excited to announce Double Dominant, an exhibition of new drawings by Karl Haendel. This suite of 24 monumental drawings will be presented in two parts. Part one, made up of the first twelve drawings, will open January 25 with a reception from 4- 7pm; part two, a re-hang of the show with twelve new drawings, will open on February 15, 2020. A volume reproducing the complete set of works, published by Triangle Books with an essay by Natilee Harren, will accompany the exhibition.
We asked the artist to share his thoughts on the work:
"The first Double Dominant drawing I made was of Emily's hand. I was thinking about intermingling my touch with hers–a kind of shared tactility and intimacy. And I knew drawing my wife's hand (now ex-wife, but that's a long and different story) at this huge scale had something to do with power. Subsuming myself in a sense. When finished, the drawing was a strange force in the room. It was of course a kind of portrait, but it also occupied the room as if it were its own embodied sculptural presence. But the interplay of touch, intimacy, and power that got me to that first drawing was likely not going to transmit to the audience (and not their business anyway–best left for our therapist). It was more exciting as a portrait of an artist, by another artist, as an uncanny personified appendage.

I make art with my dominant hand, and I can represent another artist through the hand that they make their art with. Using my time and labor to honor another's labor, be it physical or intellectual, is a kind of service or homage. Unconsciously, this might have been my motive all along, because from the start I was focused on drawing only Emily's dominant hand only–the hand that makes her work. It was about the two of us as artists.

Soon after this realization, I went to the movies with Miljohn and I brought my camera, fitted with a ring flash, and took some pictures of his dominant hand before the show. The next week I stopped by Walead's studio to chat and did the same. I only spent about 5 or 10 minutes taking the pictures; I was not fussy. So that's how the project began. Just taking quick pictures of my friends' dominant hands to use for drawings. After I had 8 or 9 of these drawings done I realized I was making a group portrait of sorts, all LA artists of roughly the same generation. So then I had to get a little curatorial moving forward, and decided to keep it to artists whose work does it for me–has a kind of grand vision and complexity that I respond to. And with that in mind I expanded the project to include some artists in town who I didn't know that well but whose work inspired me. It seemed as good a reason as any to get in contact, and I'm honored that nearly everybody I contacted was up for being included in the project.

If you take a quick glance at one of these drawings, it looks like a right and left hand. Look more closely and you realize that's not the case–it's the same hand, and it's somehow interleaved with itself. It looks right, but then, it's clearly wrong. To get this effect I digitally cut up the photos and spliced them together to make impossible combinations, and then drew the resultant compositions. I like to make work that seems normal at first glance but on closer inspection is really weird (which isn't a bad description of me).

I don't fetishize artists hands or their touch (although I'm well aware others do). I fetishize their minds. I primarily keep the company of artists because the way they see the world excites and perplexes me. They make me feel like the fucked-up way I see the world is somehow a little less fucked-up. And then I feel less alone. So, I don't make my work for curators or collectors, I make it for other artists. (And sometimes I even make work at artists.) But it's always about that dialog. So, if I couldn't have artists in my life and I couldn't look at their work, I would have no reason to be an artist.

The past few years have been hard for many of us. Just last month I got reclassified with a new nationality, yet all this time I thought I was American. (I know, the trains aren't here yet. And I have it very easy compared to others.) And art, where I have made my spiritual and professional home for the past 20 years, has decided to become a subset of fashion. What has staved off despair has been my relationships with other artists, who inspire, tolerate, entertain and nurture me. This is ultimately what these drawings are about."
Karl Haendel received his BA from Brown University in 1998 before attending the Whitney Museum Independent Study Program and the Skowhegan School of Painting and Sculpture. He received his MFA from the University of California, Los Angeles in 2003. Recent solo and two-person presentations include Mazel Tov Group at the Henry Art Gallery, Seattle, WA; Karl Haendel and Tony Lewis, LAXART, Los Angeles, CA; and Oral Sadism and the Vegetarian Personality, Museo del Arte de El Salvador; and Questions for My Father at the Wexner Center for the Arts, Cincinnati, OH and the Utah Museum of Contemporary Art, Salt Lake City, UT. Haendel was included in the 2015 Biennial of the Americas, Museum of Contemporary Art, Denver; the 2014 Whitney Biennial, Whitney Museum of American Art, New York; the 12th Biennale de Lyon in 2013; and Prospect II, New Orleans in 2011. Haendel's work can be found in the permanent collections of the Museum of Modern Art, New York; the Solomon R. Guggenheim Museum, New York; the Whitney Museum of American Art, New York; the Hammer Museum, Los Angeles; the Museum of Contemporary Art, Los Angeles; the Los Angeles County Museum of Art, Los Angeles; Kadist Art Foundation, San Francisco; Perez Art Museum, Miami; the Fogg Art Museum, Harvard University, Cambridge; Kunsthalle Bielefeld, Bielefeld; the Art Gallery of Ontario, Toronto; La Colección Jumex, Mexico City; and the Astrup Fearnley Museum of Modern Art, Oslo.
This is Karl Haendel's fourth solo exhibition with the gallery and eleventh in Los Angeles.
The gallery is located at 1700 S Santa Fe Avenue, south of the 10 freeway. Parking is available in the south parking lot adjacent to the building. Gallery hours are Tuesday through Saturday from 10 am to 6 pm and by appointment.