Images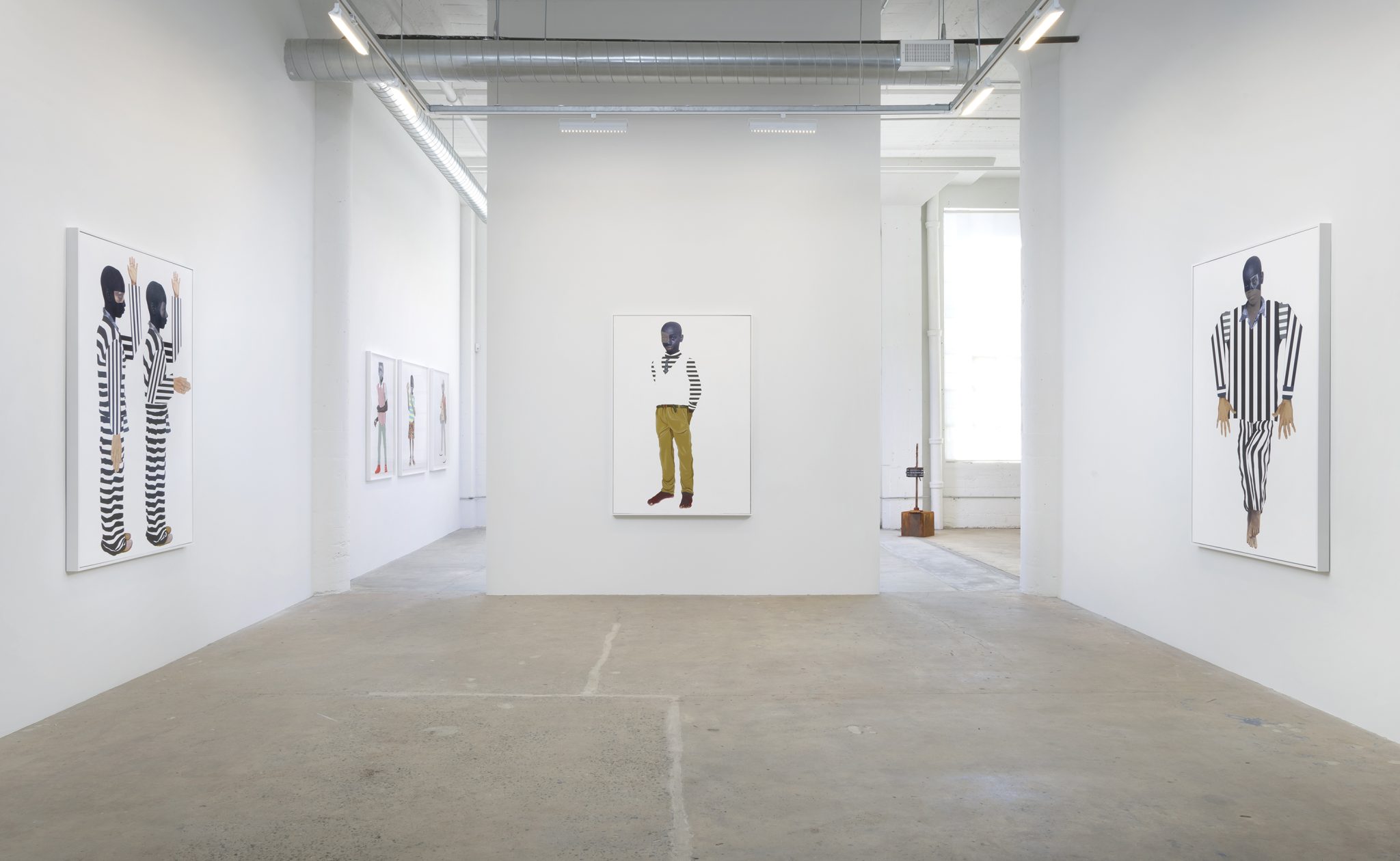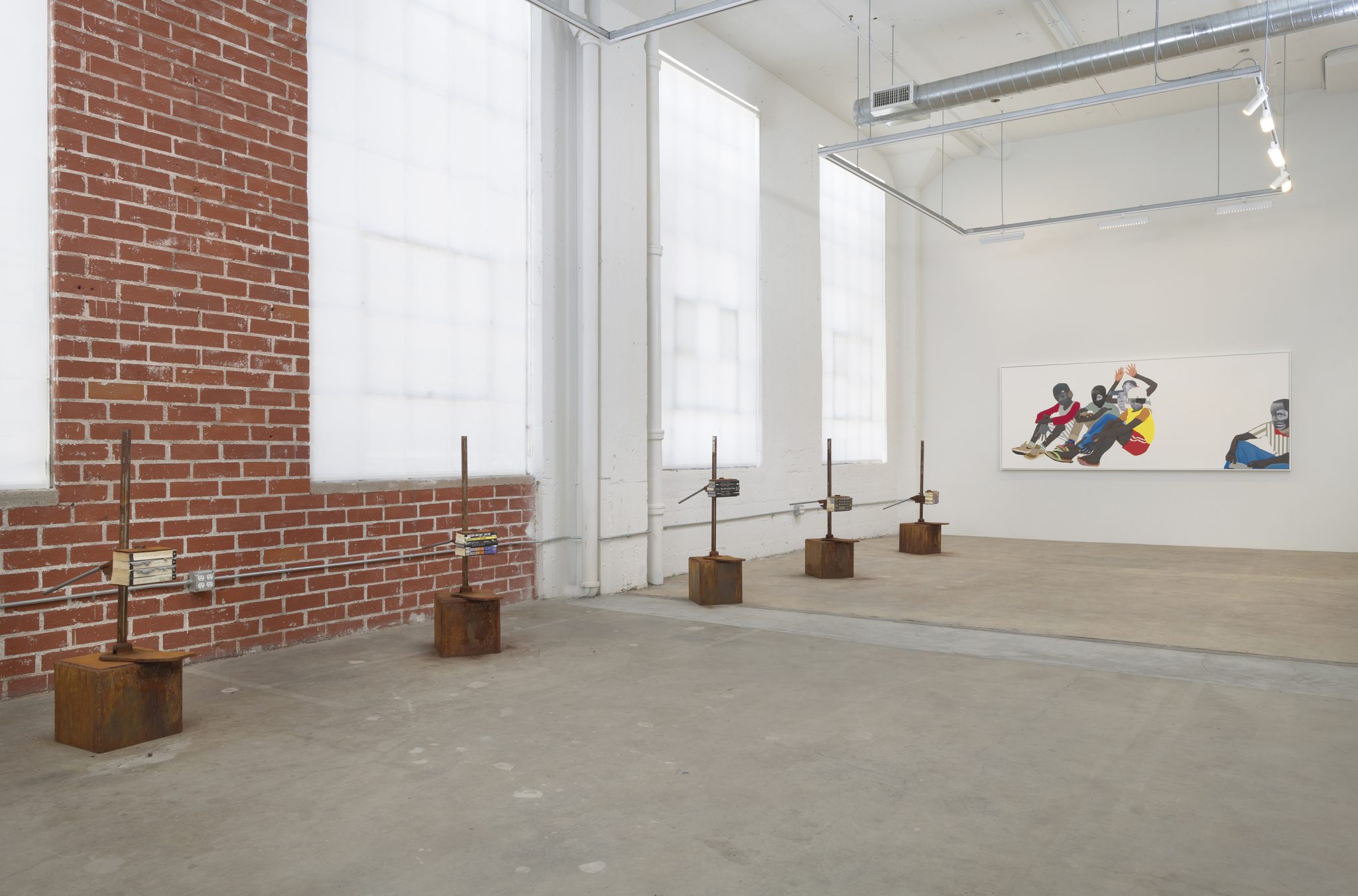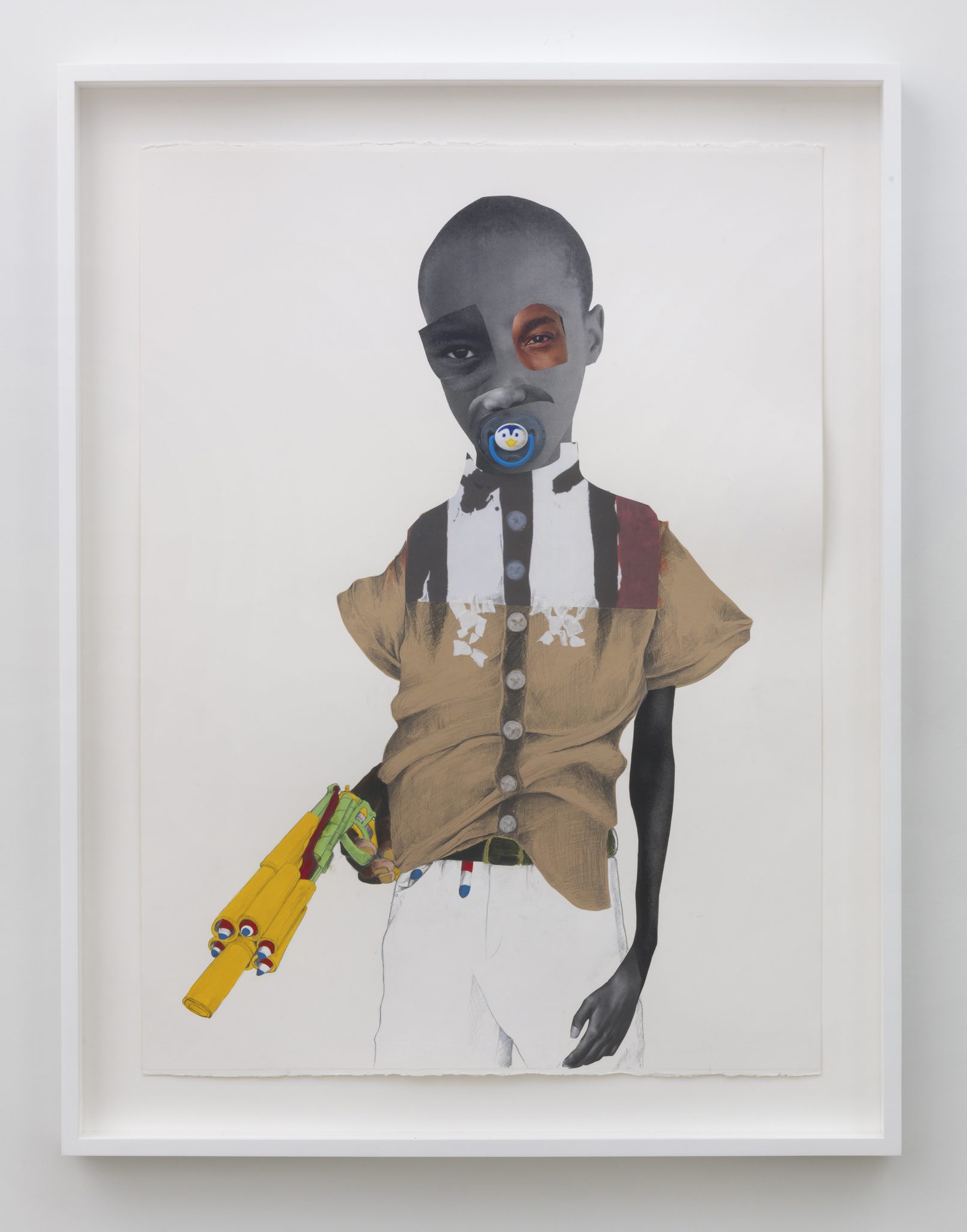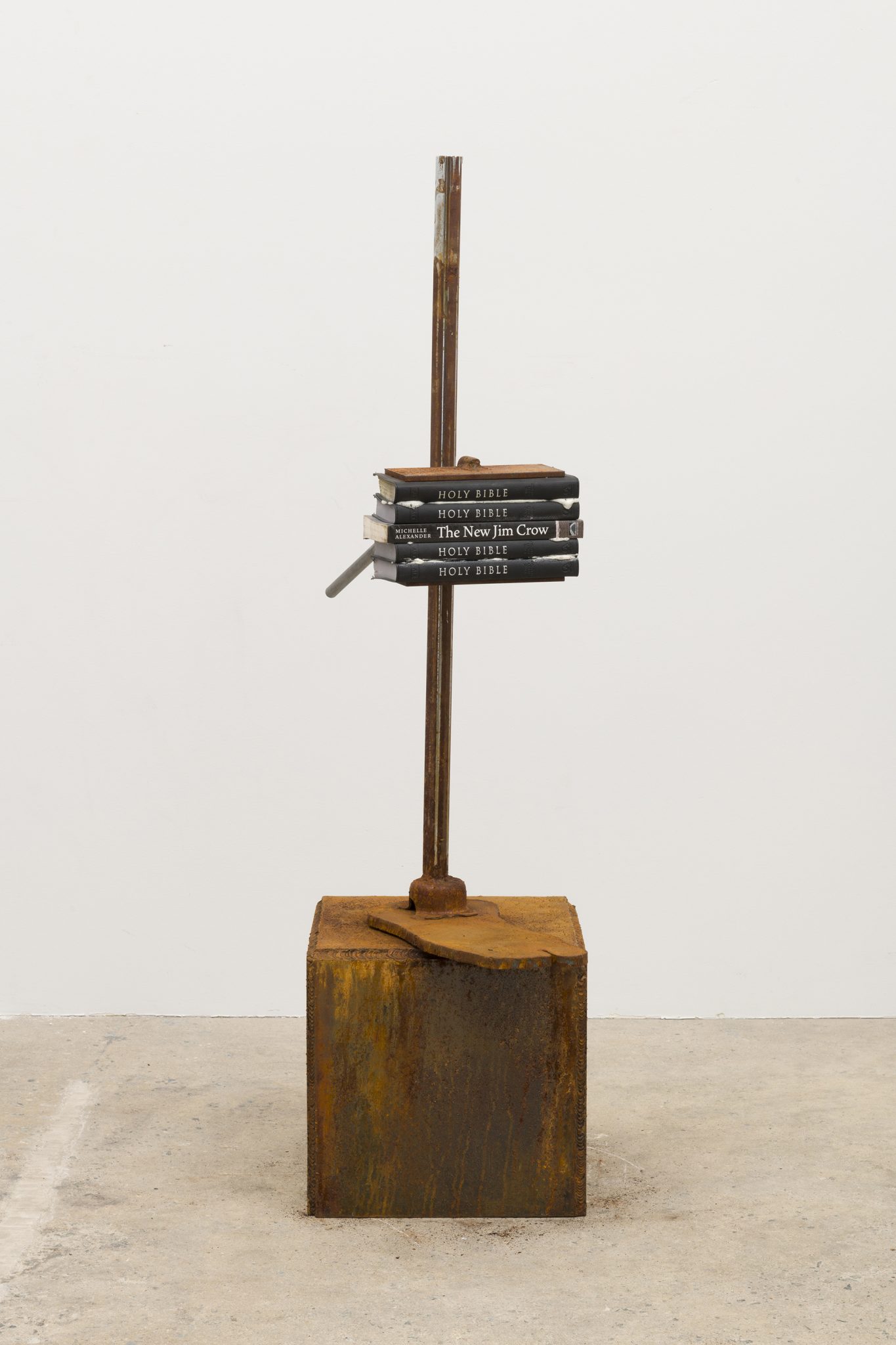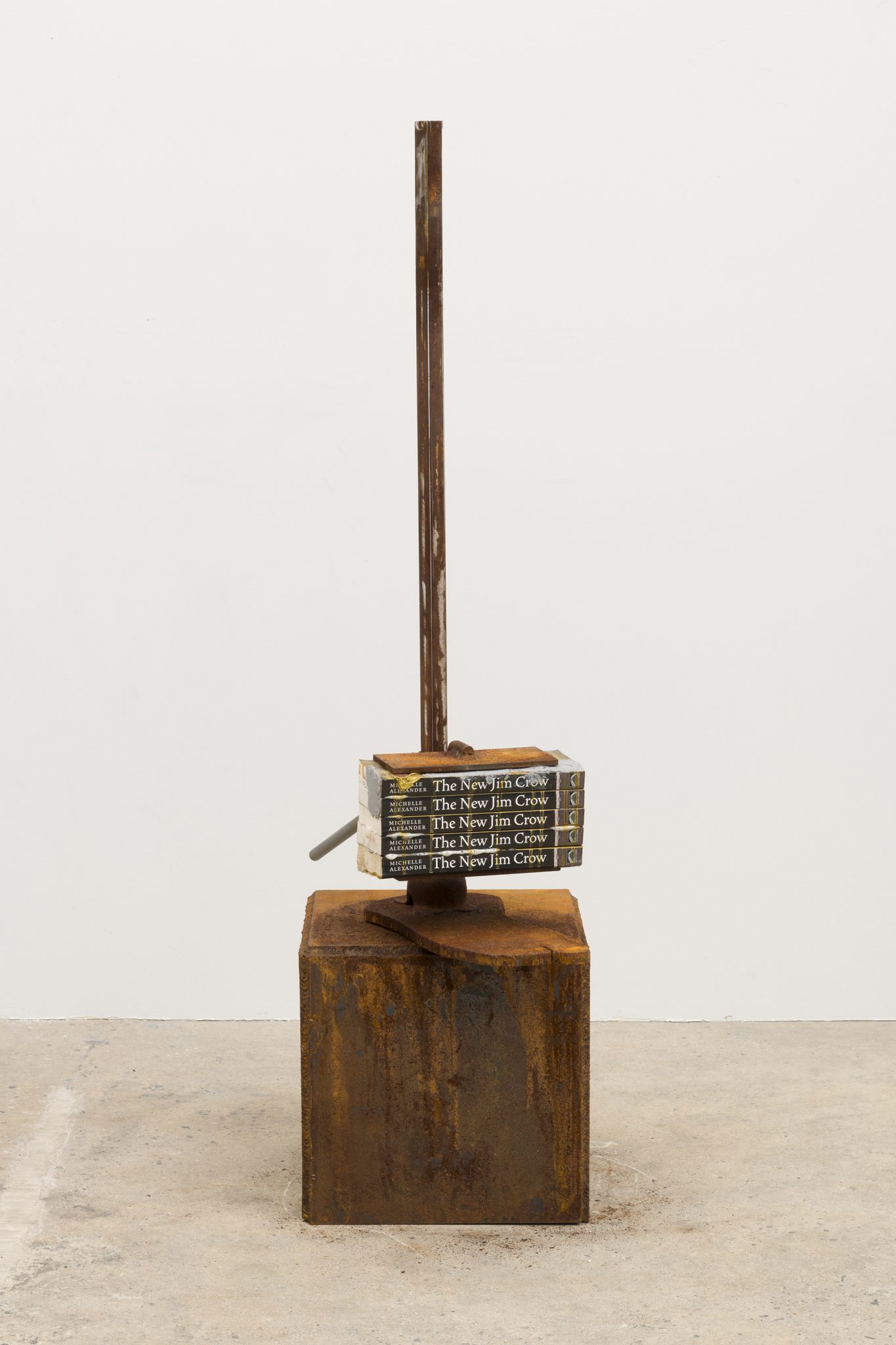 Press Release
Vielmetter Los Angeles is pleased to announce our first solo exhibition by Deborah Roberts in our Downtown gallery entitled Native Sons: Many thousands gone.
Below is an essay commissioned on the occasion of Roberts's exhibition by Dr. Cherise Smith of the University of Texas at Austin:
"The fourteen works on display reflect a shift in Roberts's practice, from collages on paper that depict girls to mixed-media paintings, such as Our Destinies are Bound (2018), in which the artist focuses her gaze on Black boys. In recent years, Roberts has reminded viewers that Black girls are indeed girls whose youth is worthy of protection, whose intelligence is worthy of cultivation, and whose dreams are worthy of fostering, particularly in the moments of #MeToo and #MuteRKelly. In these new works, she turns exclusively to Black boys, whose well being and futures are equally at risk, while deepening her examination of the childhood years of African Americans—an exceedingly treacherous period of our lives.
In Ghost Gun (2018), Roberts pictures a boy who be might lovingly referred to as "Little Man" by his family. He has the oversized head and limbs we associate with little boys, and the pacifier he holds in his mouth signals that he is not finished with babyish things. Yet his facial features, specifically his eyes, are startlingl those of a grown man, just as the crescent-shaped collaged nose hints at a mustache. He carries an oversized toy gun, depicted in the garish yellow, green, and red colors that appeal to kids. The barrel of the toy gun is filled with red, white, and blue foam bullets, as are his pockets. He is playing at being a man.
Lamenting the fact that, all too often, viewers will see the man and not the baby in the boy, Roberts references the tragic case of Tamir Rice in Ghost Gun.[I] On November 22, 2014, the twelve-year-old Rice was playing with a toy gun in a park outside a recreation center when he was shot and killed by Cleveland police officer Timothy Loehmann. Not only were no criminal charges brought against Loehmann and his partner, Frank Garmback, the officers were found not to be at fault at all.[ii]
Rice's death was singularly tragic to his family and to the larger African American community, but unfortunately it was not unique. Sadly, he is one of many others before him. Two years earlier, in 2012, the seventeen-year-old boy Trayvon Martin was killed by the vigilante George Zimmerman in Florida. For many, Martin's case called to mind that of Emmett Till, the fourteen-year-old boy who was lynched in Money, Mississippi, in 1955 for allegedly whistling at a white woman, Carolyn Bryant Donham. Though Roy Bryant and J.W. Milam confessed to Till's murder, they were never convicted and never served time.[iii] Bryant Donham lived long enough to recant her repeatedly shifting story, saying "nothing that boy did could ever justify what happened to him."[iv] Before Till, there was Willie Francis, who was executed for a crime he did not commit in Louisiana in 1947, and countless others.[v]
Roberts's Facing the Rising Sun (2018) also deals with this staggeringly awful history. The mixed-media painting on canvas shows a boy looking directly at the viewer. He wears a black-and-white prison uniform that is clearly too large for his young body. The piece refers back to George Stinney, Jr., whose mug shot serves as the base image for the figure's face.[vi] Three years prior to Till's lynching, Stinney was wrongfully convicted of murdering two white girls in South Carolina. He was sentenced to execution and detained at an adult penitentiary. There, as Roberts suggests in her depiction, he was forced to cover his diminutive frame in men's clothes and to go barefoot because his feet were too small for the prison-issued shoes. Mere months after his conviction, the physically slight fourteen-year-old, more boy than teenager, was executed by electric chair, forced to sit on books so his head could reach the deadly apparatus. One of those books was the Bible.
In Facing the Rising Sun, the artist uses form to add depth to the appalling narratives of Stinney, Till, Martin, and other young Black men. For instance, she employs the collaged facial features of the esteemed author-activist James Baldwin to point toward the adulthoods that were robbed from them. Similarly, Roberts renders the figure's hands in loving detail in paint and pastel crayon, at a different scale than the head and body, perhaps hinting at the creativity they were not allowed to exercise as adults. Finally, she paints the figure's striped uniform against the white ground with a kind of radical flatness, an expression of the limited ways Black boys are often understood.
In addition to paying tribute to the many Black boys who lost their lives to the violence of American racism, the works in the exhibition also articulate the many psychological and spiritual [WM1] burdens placed on Black boys and their parents. The subject of Speak (2018), a boy with a timid smile, expresses himself assuredly. The protagonist in If They Come (2019) has a defensive countenance and posture, while the figure in The Defiant One (2019) seems to weigh a decision to strike out on his own. These collaged paintings merely hint at the emotional range of Black boys, and yet they implicitly refer to the terror of W. E. B. DuBois's notion of double-consciousness: while parents see their beloved boys in their own eyes, as innocent and richly complicated, at the same time they view them through the so-called veil (of whiteness), as threatening to white people.[vii] The caretakers of Black boys are forced to engage their boys in the Talk—not the one about sex, though that will happen, too. No, in this instance, the Talk refers to a series of conversations in which Black boys are counseled on how to behave when, for example, talking to a police officer, pulled over by highway patrol, walking down the street, or riding in elevators—among the directions are to refer to officers as "sir," keep hands in view at all times, and do not make eye contact. The boys in Speak, The Defiant One, and If They Come have not yet been taught to neutralize the imagined threat they pose to white people, and for this reason their portraits resonate with a particularly tragic innocence.
That the bodies of Black people are, in the imaginations of white people, the locus of their fearsome power is one reason Roberts chooses figuration. Her use of the figure also represents an historic commitment to Black people and culture. In her early career, she painted genre scenes that portrayed Black people in mundane situations, and, before attending graduate school, she focused on how the bodies of African American women are abstracted into stereotypes. After studying with Carrie Mae Weems, who is herself deeply committed to the body, Roberts re-invested in figuration, a practice she shares with her fellow Syracuse MFA graduates LaToya Ruby Frazier and Nydia Blas.
Roberts also participates in the larger tradition of African American art through her use of the figure. From Archibald Motley's masterful genre scenes of Chicago's bars to Samella Lewis's images of agricultural workers, to Romare Bearden's collages of a mythical South Carolina and Mickalene Thomas's large-scale paintings of northeastern beauties, the history of Black art has, for better or worse, centered around Black bodies.
There is, perhaps, no (African) American artist who drew the Black figure with more tenderness than Charles White. This year, the centennial year of his birth, has seen the major traveling retrospective of his work close at the Los Angeles County Museum of Art (LACMA), and so, it should come as no surprise that Roberts is now engaging her elder in an artistic dialogue. Speak, in particular, displays evidence of White's influence. It features a boy looking expectantly at the viewer, gesturing with his oversized hands, a signature White motif. Roberts pieced the figure's face together with collage elements—the eye of James Baldwin—and painted his clothes in flat areas of color. But, something different happens in the figure's arms and legs. Roberts began making the limbs with a black under paint, then she layered other colors on top. For the arms, she used a light brown color. She built out the their volume with meticulous hatch and crosshatch marks made in pencil. Along with the fingers that have been modeled with shadow and light, the arms convey a sense of three-dimensionality that stands in contrast to the flat color-blocking of the figure's shirt. With the legs, Roberts started with black underpaint, then sketched and smudged brown, gray, and orange pastel crayons, not just to suggest the realness of a leg in space, but also, and perhaps more importantly, to convey the real and various tones that compose "black" skin. It is through these moments of draftsmanship that Roberts raps with Charles.
With their monochromatic backgrounds, Roberts's mixed-media works also converse with the paintings of Barkley L. Hendricks. In his Noir (1978, in the Rubell Family Collection, Miami), a male figure looks out at the viewer with a sense of confidence. Wearing a three-piece suit and round glasses, he oozes 1970s cool, with one hand on his hip and the other casually holding a cigarette. Hendricks positions his subject in a flat field of luminous yellow, subtly referencing saintly religious icons. From Feet to Wings (2018), a mixed-media painting of a well-dressed boy, finds Roberts playing tag with Hendricks. With hands in pockets and shirt neatly tucked into his pants, he is the epitome of composure. Here, the artist has again used Stinney's mug shot, to give form to her subject's face. She hints at the boy's tragic story by depicting the figure barefooted and in the striped shirt of his prison garb. She also employs the eye of James Baldwin which lends the boy an expression of defiance mixed with resignation. While the face and head of the figure are composed of collage elements, the rest of the work is painted, in two distinct styles of mark-making. For the shirt, Roberts used a technique that emphasizes the flatness of the picture plane, whereas in the pants and feet, she carefully built volume with shading, light, and shadow to communicate a sense of three dimensions. Finally, by placing her subject against a flat white ground that, by the way, creeps over his chest, Roberts suggests flight. This boy, like many of Hendricks's figures, has entered the realm of saintliness.
Facing the Rising Sun, I Do Solemnly Swear (2018), and From Feet to Wings are all part of the Nessun Dorma series. "Nessun Dorma" is an aria by Giacomo Puccini popularized by Luciano Pavarotti in the early 1970s.[viii] Translated as "None shall sleep," the title repeats in the aria, along with the lyrics "My secret is hidden within me/ No one shall know my name/ No one will know his name and we must, alas, die."[ix] These melancholy words certainly relate to the heartbreaking stories associated with Stinney, Till, Martin, and Rice. But what of the aria's final word, "Vincerò!" or "I will win!"?
Roberts's Trumpet of Consciousness (2019) may hazard an answer. The sculpture is composed of an old and rusty jack, its base shaped like Stinney's bare foot. Its clamp is filled with a load of books, including Michelle Alexander's The New Jim Crow, Frantz Fanon's The Wretched of the Earth, Lezley McSpadden's Tell the Truth and Shame the Devil, and Sybrina Fulton's and Tracy Martin's Rest in Power.[x] These volumes—the last two were written by the mothers of Michael Brown and Trayvon Martin, respectively—represent the intellectual flowering of postwar writers of the African Diaspora, who sought to address the continuing realities of racial oppression. The sculpture itself references African American labor and the physical and psychic freight we carry due to white supremacy. The work's title derives from a series of five orations delivered by Martin Luther King, Jr., in 1967 and collectively called "The Trumpet of Conscience."[xi] In the speeches, King addresses his continued dedication to non-violence, radical politics, and ending the Vietnam War, as well as to the ongoing need to eradicate racial inequality and end poverty in general. Noting that he is "personally the victim of deferred dreams, of blasted hopes," he vows, "I still have a dream. I have a dream that one day men will rise up and come to see that they are made to live together as brothers."[xii] King's book, as well as those in the accompanying bricks, written by the likes of James Baldwin, Richard Wright, Toni Morrison, Cornel West, and Claudia Rankine, speak not only to the knowledge that Roberts herself has gained, but also to the hard work that must continue in order for Black bodies to be fully enfranchised."
[i]Tamir Rice was killed on November 22, 2014.
[ii]Adam Ferisse, "Cleveland's Critical Incident Review Committee found no violations in officers' response in Tamir Rice Shooting," Cleveland.com. https://www.cleveland.com/metro/2017/04/clevelands_critical_incident_r.html. Loehmann was, eventually, fired for ethical violations relating to his hire.
[iii]"Getting Away with Murder," American Experience, PBS, http://www.pbs.org/wgbh/americanexperience/features/emmett-biography-roy-carolyn-bryant-and-jw-milam/.
[iv]Alan Blinder, "U.S. Reopens Emmett Till Investigation Almost 63 Years after His Murder," New York Times, July 12, 2018, https://www.nytimes.com/2018/07/12/us/emmett-till-death-investigation.html.
[v]Gilbert King, "The Two Executions of Willie Francis," The Washington Post, July 19, 2006. See also Gilbert King, The Execution of Willie Francis: Race, Murder, and the Search for Justice in the American South(Philadelphia: Civitas Books, 2009).
[vi]Lindsey Bever, "The rush-job conviction of 14-year-old George Stinney, Jr., exonerated 70 years after execution" in The Washington Post(December 18, 2014).
[vii]W.E.B. DuBois, The Souls of Black Folk. (Chicago: A.C. McClurg and Company, 1903).
[viii]Luciano Pavarotti, "Nessun Dorma!," by Giacomo Puccini, MP3 audio, Spotify, track 1 on Nessun Dorma: Puccini's Greatest Arias, Decca Music Group Limited, 1993. See also Jan Daley, "The Life of a Song: 'Nessum Dorma,'" Financial Times, November 6, 2015, https://www.ft.com/content/c799f976-814d-11e5-8095-ed1a37d1e096.
[ix]"What Are the Lyrics to 'Nessun Dorma'?," classicfm.com, November 1, 2017, https://www.classicfm.com/discover-music/periods-genres/opera/guides/nessun-dorma-translation/.
[x]Michelle Alexander, The New Jim Crow(New York: New Press, 2010); Frantz Fanon, The Wretched of the Earth(New York: Grove Atlantic, 1963); Lezley McSpadden, Tell the Truth and Shame the Devil(New York: Simon and Schuster, 2016); and Sybrina Fulton and Tracy Martin, Rest in Power: The Enduring Life of Trayvon Martin(New York: Spiegel and Grau, 2012).
[xi]The speeches were part of the Canadian Broadcast Corporation's Massey Lectures and were published in book form following King's assassination. Martin Luther King, Jr., The Trumpet of Conscience(New York: Harper and Row, 1968). See also "The Trumpet of Conscience," in The King Encyclopedia, The Martin Luther King, Jr. Research and Education Institute, https://kinginstitute.stanford.edu/encyclopedia/trumpet-conscience.
[xii]King, Jr., 76-77.
Dr. Cherise Smith is chair of the department of African and African Diaspora Studies (AADS) and associate professor of art history and AADS at the University of Texas at Austin where she is the Founding Executive Director of the Art Galleries at Black Studies.
Deborah Roberts work has been included in numerous exhibitions including, "Deborah Roberts: The Evolution of Mimi," Spelman Museum, Atlanta, GA; "Plumb Line: Charles White and the Contemporary," Californian African American Museum (CAAM), Los Angeles, USA; "Still I Rise," MASS MoCA, North Adams, Massachusetts, USA; "Go Figure," Pizzuti Collection, Columbus, OH; "Reclamation! Pan- African from the Beth Rudin DeWoody Collection," Taubman Museum of Art, Roanoke, VA; "Legacy of the Cool: A Tribute to Barkley L. Hendricks," Mass Art, Boston MA; "Fictions," Studio Museum of Harlem, New York, NY. Her work is included in several public collections including, Block Museum of Art, Evanston, IL; Brooklyn Museum, Brooklyn, NY; The Frances Young Tang Teaching Museum and Art Gallery, Saratoga Springs, NY; Los Angeles County Museum of Art, Los Angeles, CA; Pérez Art Museum Miami (PAMM), Miami, FL; Pizzuti Collection, Columbus, OH; The Studio Museum in Harlem, NY; Whitney Museum of American Art, New York, NY. Roberts will also have a solo exhibition at Stephan Friedman Gallery, London later this year.
A catalogue of Deborah Roberts work is currently being published by the Spelman Museum, to preorder the catalogue please click here or email info@vielmetter.com
Vielmetter Los Angeles is located at 1700 S Santa Fe Ave in downtown Los Angeles. Gallery Hours are Tuesday through Saturday from 10 am – 6 pm and by appointment.