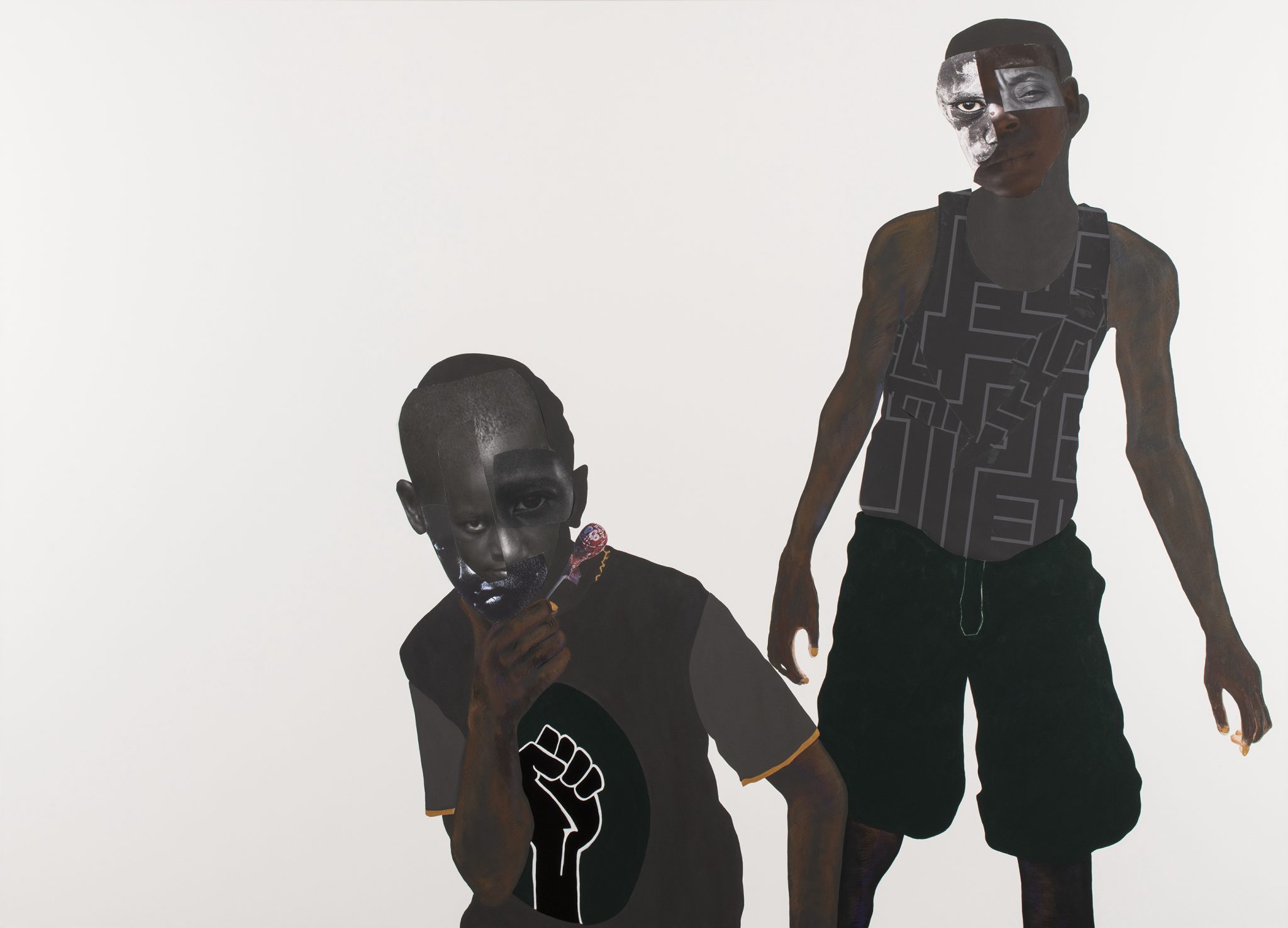 January 23 — August 15, 2021
The Austin Contemporary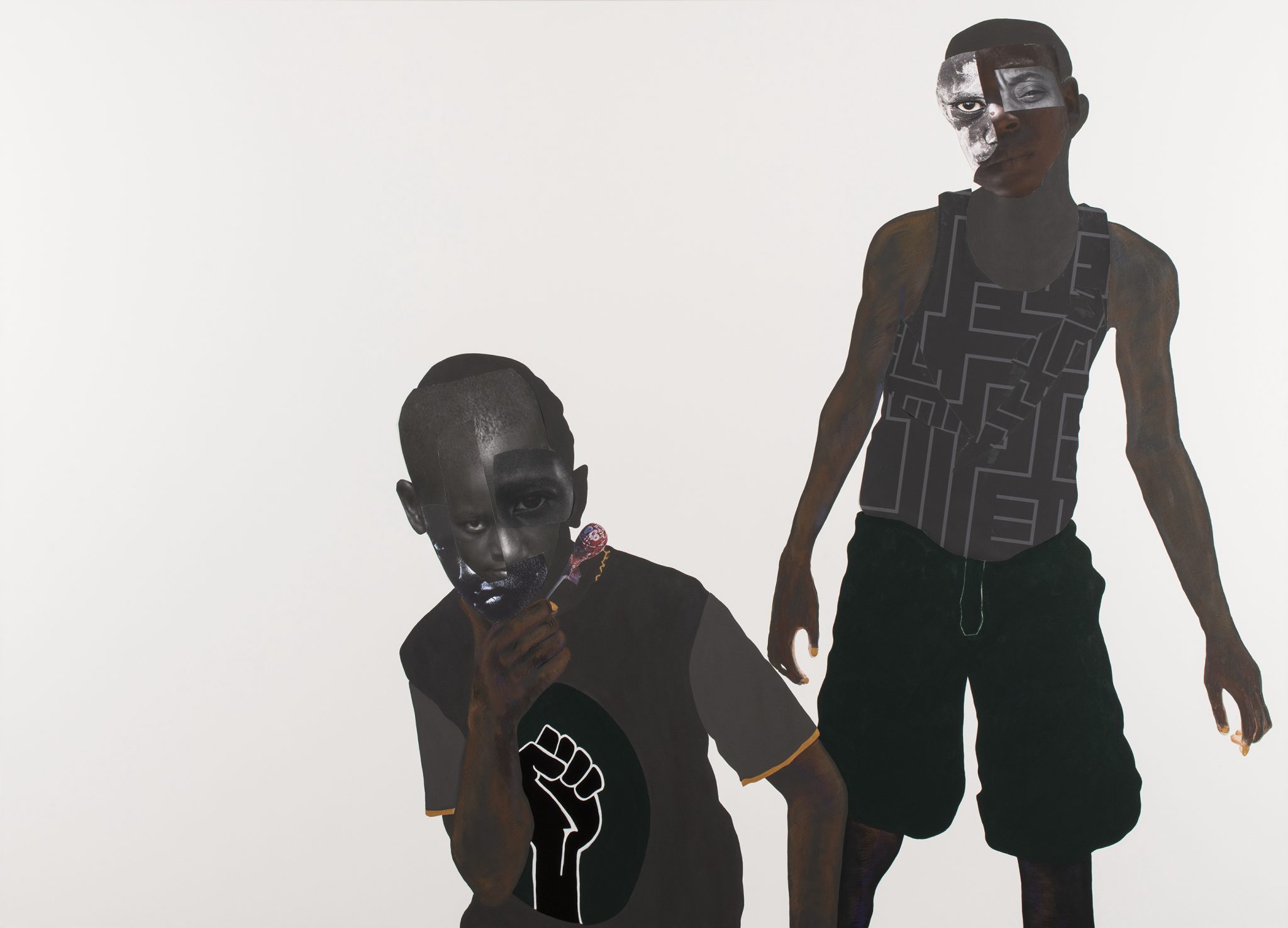 ---
Deborah Roberts (American, born 1962 in Austin, Texas) critiques notions of beauty, the body, race, and identity in contemporary society through the lens of Black children. Her first solo museum presentation in Texas, I'm, is part of The Contemporary Austin's participation in the Feminist Art Coalition, a nationwide initiative of art institutions to generate awareness of feminist thought, experience, and action through exhibitions and events.
Roberts's mixed media works on paper and on canvas combine found images, sourced from the Internet, with hand-painted details in striking figural compositions that invite viewers to look closely, to see through the layers. She focuses her gaze on Black children—historically, and still today, among the most vulnerable members of our population—investigating how societal pressures, projected images of beauty or masculinity, and the violence of American racism conditions their experiences growing up in this country as well as how others perceive them. Simultaneously heroic and insecure, playful and serious, powerful and vulnerable, the figures Roberts depicts are complex, occasionally based on actual living or historical persons.
As the artist noted in an interview for her 2018 exhibition at the Spelman College Museum of Fine Art, "What I want as an artist is for the viewer to see that face, first and foremost, as the face of a child because that's the image I think you need to come to. I tell my audiences that this is the idea—to 'see' that little girl! I am also hoping they see vulnerability, strength, and beauty. If you can find yourself in her face, then you can see and embrace your own humanity. Once you see me as human, then we can coexist equally. That's the basis of the work."
In addition to representational imagery, the artist also makes text works, juxtaposing words in ways that expose racism and racial biases entrenched in language and linguistic systems. For example, in her series of prints entitled Pluralism, 2016, the artist typed out in Microsoft Word a list of names commonly given to Black females (e.g., Denisha, Latifah, Mikayla, Shemika). The works show the result, as the software automatically underlined these names in red, signifying their incorrectness or unrecognizability. These text works, like her collages and paintings, fit within the artist's broader dialogue engaging American history, art history, black culture, and popular culture.
Roberts has long created images featuring young, Black female subjects. Dressed in brightly colored clothing, including children's fashions and African textiles, the figures have assumed various poses, some of them improbable and surreal, with arms outstretched and, occasionally, oversized boxing mitts on one or both hands. Red, White, and Blue, 2018, for example, portrays two young female figures standing back to back, one in a hijab, both wearing Converse-style sneakers and sharing a pair of boxing gloves, a powerful image that suggests partnership while alluding to beauty standards perpetuated through media and popular culture. More recently, the artist has begun depicting young Black males, in addition to females, exposing the specific burdens and traumas confronting this population. Facing the Rising Sun (Nessun Dorma Series), 2018, depicts a young boy in prison clothing fit for an adult. The work references George Stinney, Jr., who as a fourteen-year-old, in 1944, was wrongfully convicted and executed for the murder of two white girls, ages seven and eleven, in South Carolina. Moments like this in our past resonate with recent incidences of Black children being fatally targeted and criminally prosecuted as adults.
For her exhibition at The Contemporary Austin – Jones Center on Congress Avenue, Roberts presents a selection of new collages and paintings, as well as a new interactive sound, text, and video sculpture on the museum's first floor. In tandem, the museum has commissioned the artist to create a new figurative mural on the exterior of the Jones Center building. Deborah Roberts: I'm represents the first solo museum exhibition in Texas of Roberts's work. In September 2021, the exhibition will travel to The Museum of Contemporary Art Denver.
ARTIST BIOGRAPHY
Deborah Roberts (American, born 1962 in Austin, Texas) is a mixed media artist whose work challenges notions of ideal beauty. Her work has been exhibited internationally across the US and Europe. Roberts's work is in the collections of the Whitney Museum of American Art, New York; Brooklyn Museum, New York; The Studio Museum in Harlem, New York; and Los Angeles County Museum of Art, California. Roberts was selected to participate in the Robert Rauschenberg Residency (2019) and is a recipient of the Anonymous Was A Woman Grant (2018), the Pollock-Krasner Foundation Grant (2016), and the Ginsburg-Klaus Award Fellowship (2014). She received her MFA from Syracuse University, New York. She lives and works in Austin, Texas. Roberts is represented by Stephen Friedman Gallery, London, and Vielmetter Los Angeles.
 
This exhibition is curated by Heather Pesanti, Chief Curator & Director of Curatorial Affairs, with text also by Pesanti.
Deborah Roberts: I'm is funded in part by the Ford Foundation and the National Endowment for the Arts, with additional support from Rachel and Jeff Arnold, Annette DiMeo Carlozzi and Dan Bullock, Joyce Christian and Rudolph Green, Fotene and Tom Coté, Stephen Friedman Gallery, London, Kathleen Irvin Loughlin and Chris Loughlin, Susan and Richard Marcus, Suzanne McFayden, Guillermo Nicolas and Jim Foster, and Vielmetter Los Angeles.