Images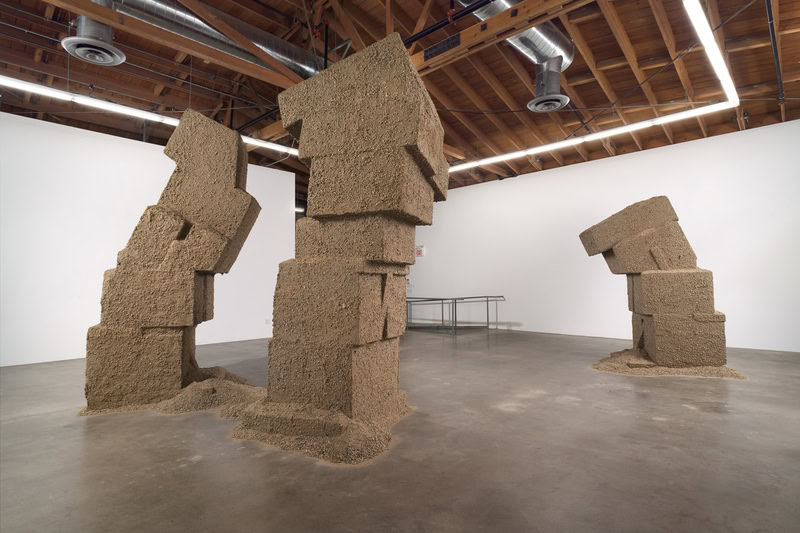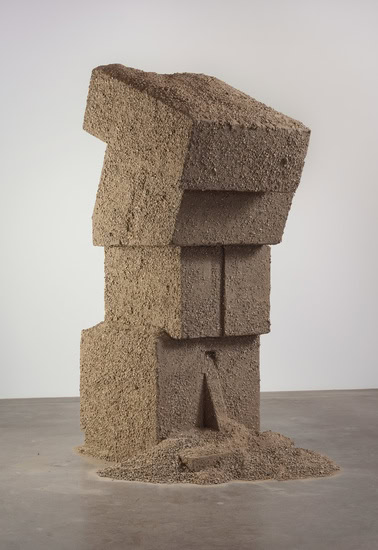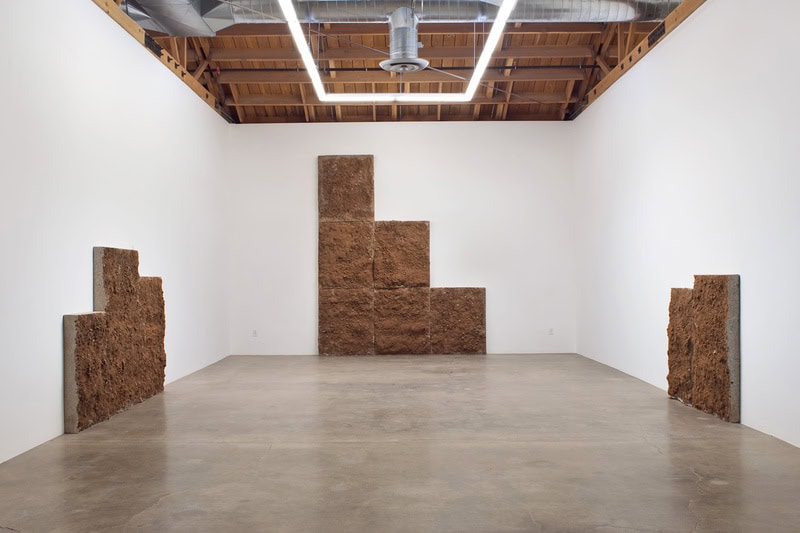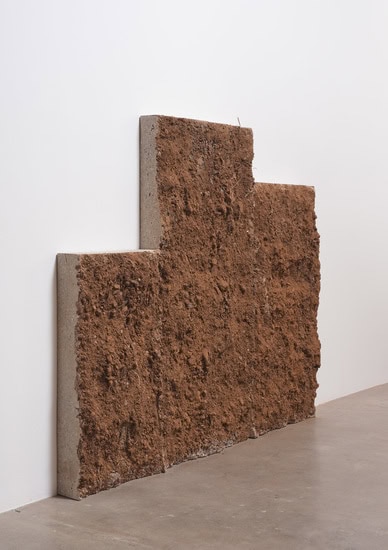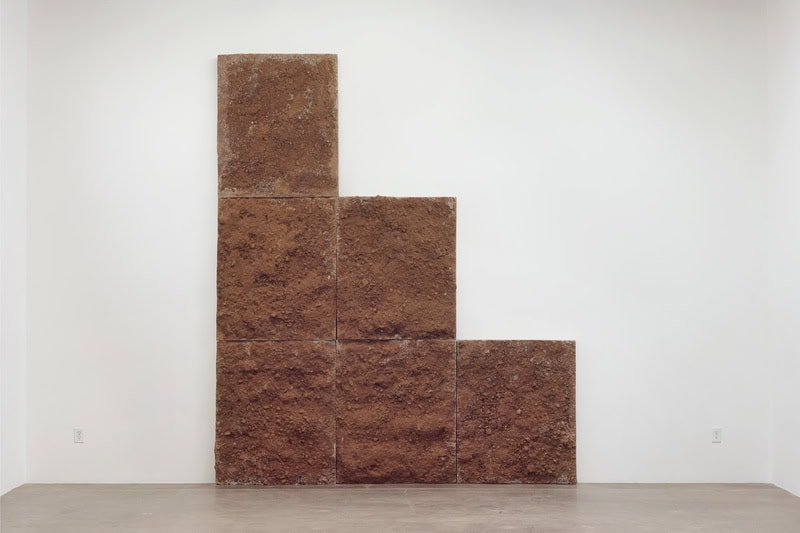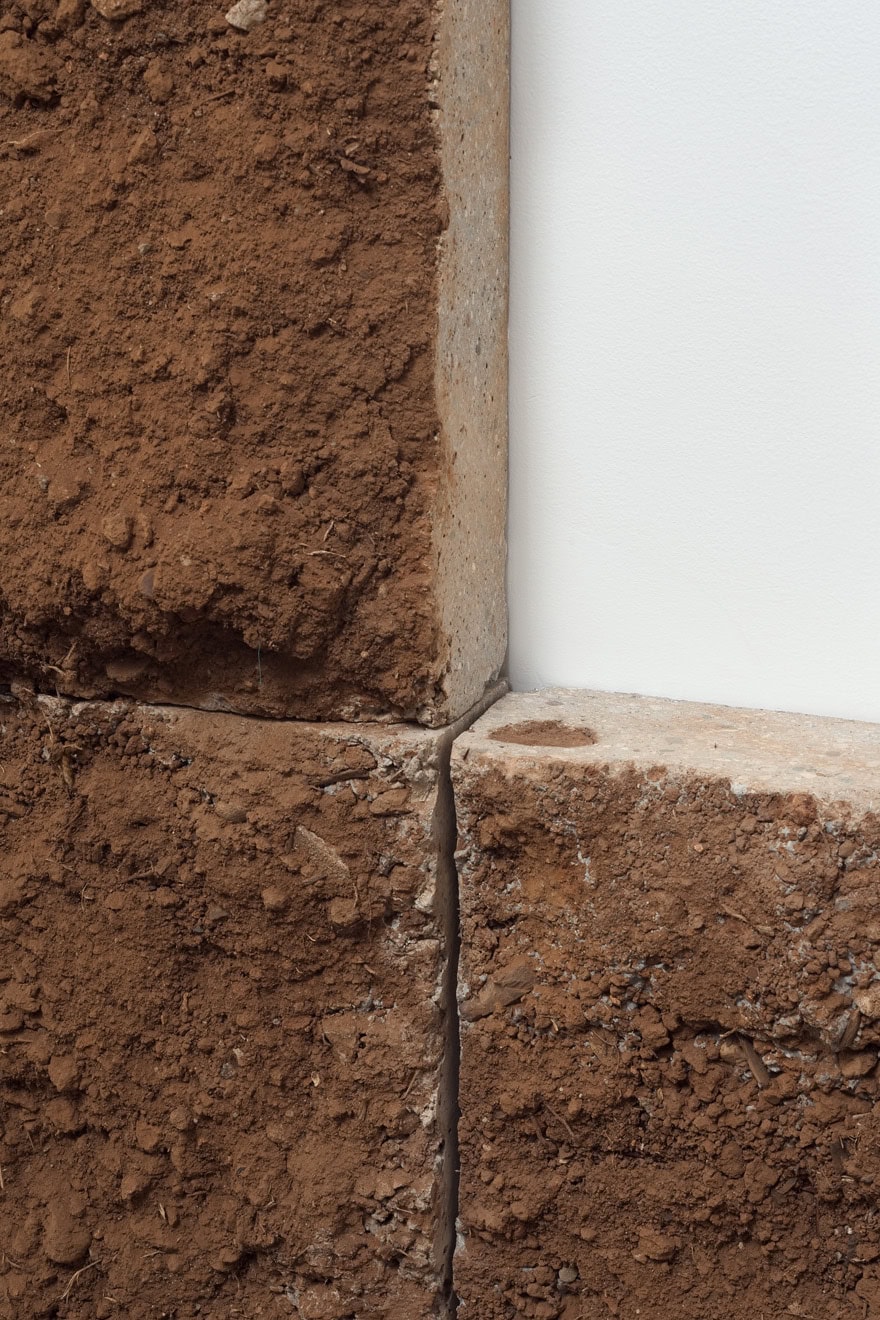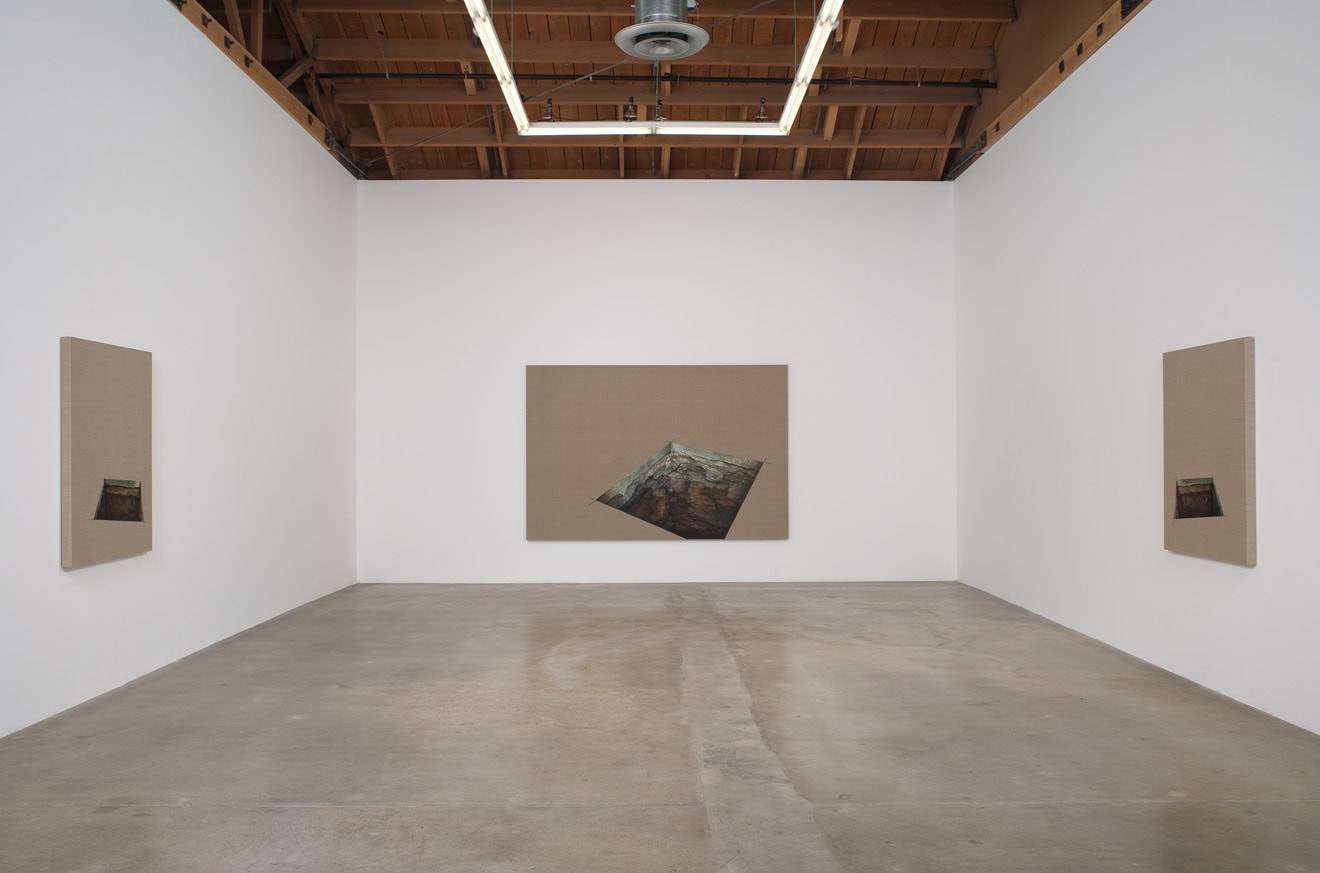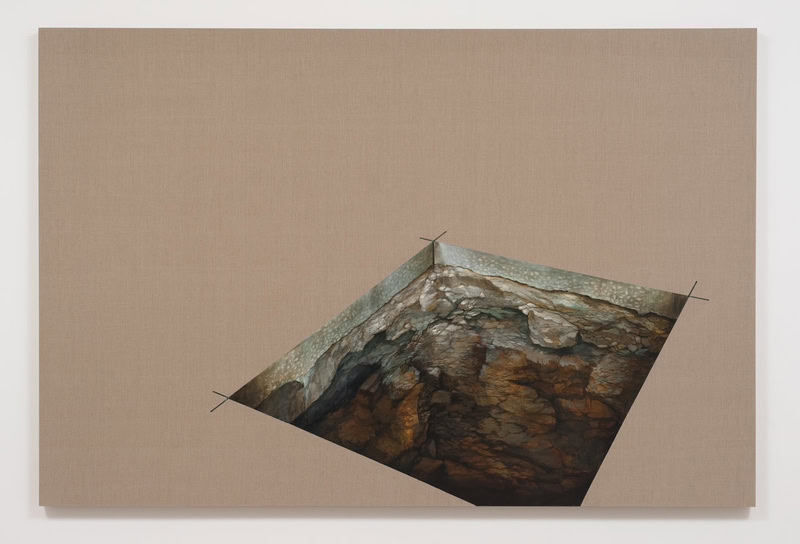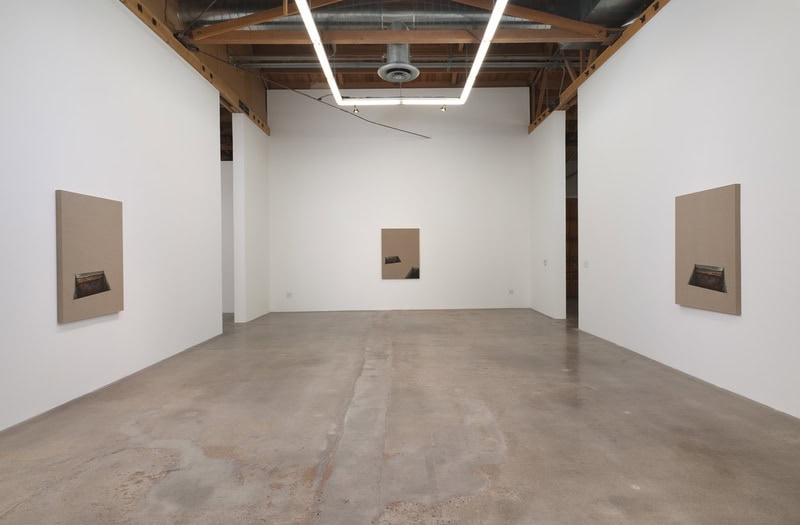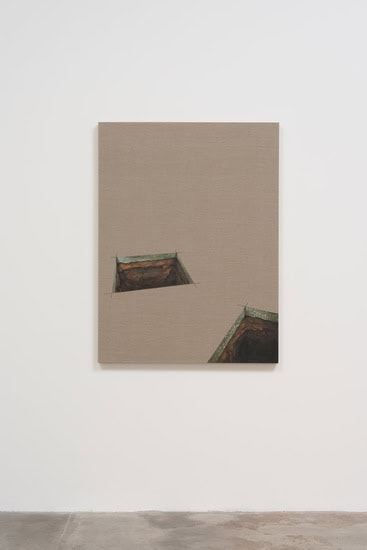 Press Release
Susanne Vielmetter Los Angeles Projects is pleased to announce the opening of Ruben Ochoa's solo exhibition, "Dislocated Masses," on November 9, 2013. A continuation of Ochoa's interest in the poetic potential of vernacular materials and urban signifiers, "Dislocated Masses" is composed of three distinct groups of work. "Extruded Masses," large, columnar cast-dirt and concrete sculptures; "Overturned Foundations," wall-mounted grids of concrete and earth; and "Negatives," a series of cross-sectional paintings of the earth beneath concrete sidewalks or foundations on raw linen. The paintings emphasize Ochoa's interest in formalism and his exploration of the vocabulary of minimal, post-minimal, and land art.
Each series of work is a material permutation of Ochoa's interest in volumetric space, relative space, and figure-ground relationships. In Gallery 1 a trio of "Extruded Masses," large vertical sculptures that appear as though the concrete floor of the gallery has been pulled up, bringing all the dirt and sub-strata with it, will dominate the space. These sculptures invert Carl Andre's statement that each of his floor pieces was, in a sense, a column: "Each one, like any area on the surface of the earth, supports a column of air…in a sense, that might represent a column. It's not an idea, it's a sense of something you know, a demarked place."[1] Instead of merely implying the extension of the floor into the air, Ochoa's "Extruded Masses" physically present the extension of the floor into the earth, and the earth into the sky.
In Gallery 2, Ochoa's "Overturned Foundations," begin to transform this investigation of space into two dimensions. The grids of extracted cement foundations, or rather sculptures that are made to resemble extracted cement foundations, climb the gallery walls in regular geometric patterns. Like the "Extruded Masses," these wall-mounted sculptures transform our relationship to the ground beneath our feet, and also to the ground (or in this case wall) on which they stand. Both sets of sculptural objects delineate space not by containing a specific area, but through their relationship to the other objects—gallery visitors, floor, walls, lights, ceiling beams, and other sculptures—that occupy the space. This relational delineation of space articulates Liebniz's theory, popular with social geographers, that space exists in the relationship between objects, an idea that resonates within Ochoa's choice of materials. These concrete and dirt objects are inextricably tied to the urban environment, a built space where movement and the potential for interaction is almost entirely determined by the relationships between objects.
Finally, as one enters Gallery 3 the transition to two-dimensions is completed with a series of paintings that manage to simultaneously reference Malevich's "Black Square," Luciano Fontana's Slashed Canvases, and Michael Heizer's "Double Negative." Rendered on small areas of large, untreated linen, the paintings, like Ochoa's sculptures, emphasize "inappropriate" or unexpected approaches to foundation materials. While the expanses of untreated and unpainted linen assert the flatness of the painting ground, the representation of these cuts in the ground replaces the figure on the surface of the canvas with an illusion of what might lie beyond the canvas. Instead of revealing the space behind the surface like Fontana, Ochoa creates an illusion of space beneath a different flat surface illustrating that sidewalks, roads, and foundations are only as ineluctable in their flatness as we build them.
Ruben Ochoa graduated from the University of California, Irvine, with an MFA in 2003. A new monumental sculpture, "Flock in Space," will be featured in the October 2013 exhibition, "Nasher XCHANGE: 10+ Celebration," curated by Jeremy Strick at the Nasher Sculpture Center, Dallas, TX. Ochoa will also show work alongside B.J. Vogt for the inaugural exhibition of Duet St. Louis, curated by Daniel McGrath and Dana Turkovic. His work has been featured in solo exhibitions at Locust Projects, Miami, FL; the Museum of Contemporary Art San Diego, CA; at the Charles H. Scott Gallery at Emily Carr University, Vancouver, British Columbia, Canada; and at SITE Santa Fe, Santa Fe, NM. Group exhibitions include "The Artist's Museum: Los Angeles Artists 1980-2010", at the Geffen Contemporary, MOCA, Los Angeles; "Lustwarande 2011" at the Fundament Foundation, Tillburg, The Netherlands; "The Future Generation Art Prize @ Venice" Pinchuk Art Centre, Venice, Italy; the 2008 Whitney Biennial, Whitney Museum of American Art, New York, NY; and exhibitions at the Los Angeles County Museum of Art, Los Angeles, CA; Miami Art Museum, Miami, Florida; Instituto Cervantes, Madrid, Spain; Haubrok Foundation, Berlin, Germany; The Center for Contemporary Arts, Tel Aviv, Israel; and the 2004 California Biennial at the Orange County Museum of Art, Newport Beach, CA, among others. He was received a John Simon Guggenheim Memorial Fellowship in 2008 and the Pinchuk Art Centre's Future Generation Art Prize in Venice, Italy in 2011. In 2014 Ochoa will have a solo exhibition as part of the Wadsworth Atheneum's prestigious MATRIX program. This is Ochoa's third solo show with the gallery.
Susanne Vielmetter Los Angeles Projects is located at 6006 Washington Blvd in Culver City, 1 block west of La Cienega at Sentney Avenue. Gallery Hours are Tuesday through Saturday from 10 am – 6 pm and by appointment.
[1] "Artists talks 1969 – 1977" ed. Peggy Gale, The Press N.S.C.A.D, Nova Scotia, Canada 2004, p. 12