Sarah Cain
The possibility of overcoming negative thought
September 19 — October 31, 2020
---
Vielmetter Los Angeles is pleased to announce our first exhibition with Los Angeles based artist, Sarah Cain. Cain, who joined the gallery in 2019, paints exuberant abstractions that often extend beyond the canvas into installations, site- specific painting, stained glass and furniture that play with and meld references from throughout visual art, music, and our culture at large.
Sarah Cain
"The possibility of overcoming negative thought," 2020
Acrylic, latex, on rope and canvas
60 x 48 x 2.5" [HxWxD] (152.4 x 121.92 x 6.35 cm)
Inventory #CAS127
Courtesy of the artist and Vielmetter Los Angeles
Photo credit: Jeff McLane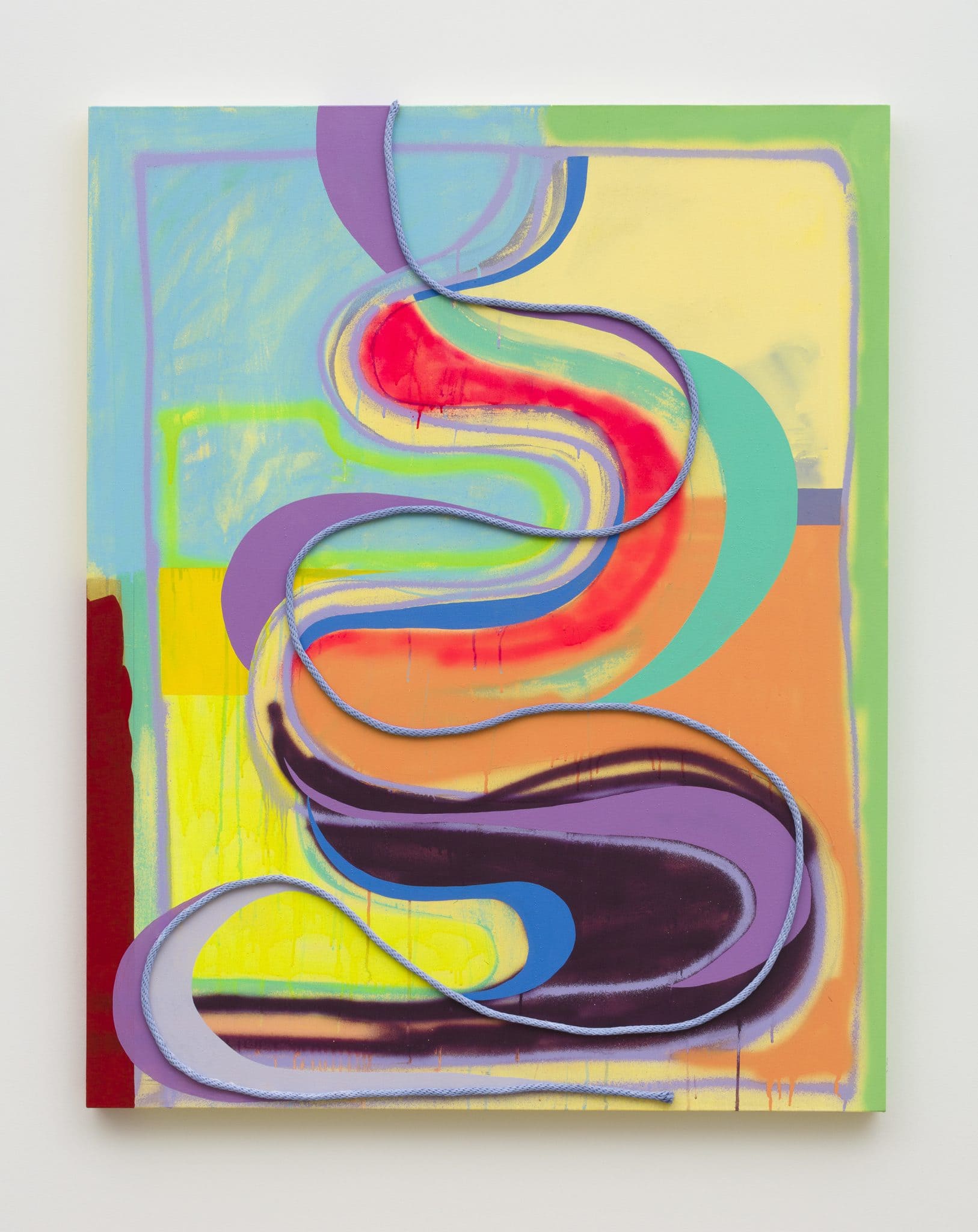 Titled The possibility of overcoming negative thought, the work in this exhibition radiates an urgent and necessary optimism in a moment where we seem to be collectively teetering between infinite possibility and absolute despair. In her new paintings, stained glass work, and collages, Cain is weaving bits of her life into color, abstraction, and spatial intervention. She describes the work as follows:
The possibility of overcoming negative thought
I found this sentence last year on the back of an envelope deep in a box in my parents' basement. An artist friend wrote it to me 20 years ago. I had sent her the same sentence, and she returned these words in her beautiful script as a dual reminder.
I was struck with time, movement forward, backwards, stationary, and extreme. I brought the envelope home with me, pinning it on the studio wall — a daily reminder.
In these new paintings, positivity is the starting point. As the months passed on in their making, they moved out into the larger world — the personal turning collective through this very specific place in time.
These paintings refuse to flinch. They say a loving fuck you to everything that no longer serves us. They declare that we can and will eclipse negativity. They summon an intuitive force of light to fight off the shadows. They want us to trust ourselves to listen to those sixth sense whispers.
Sarah Cain
"a ton of new," 2020
Acrylic, gouache, latex on rope and canvas
61 x 49 x 2.5" [HxWxD] (154.94 x 124.46 x 6.35 cm)
Inventory #CAS128
Courtesy of the artist and Vielmetter Los Angeles
Photo credit: Jeff McLane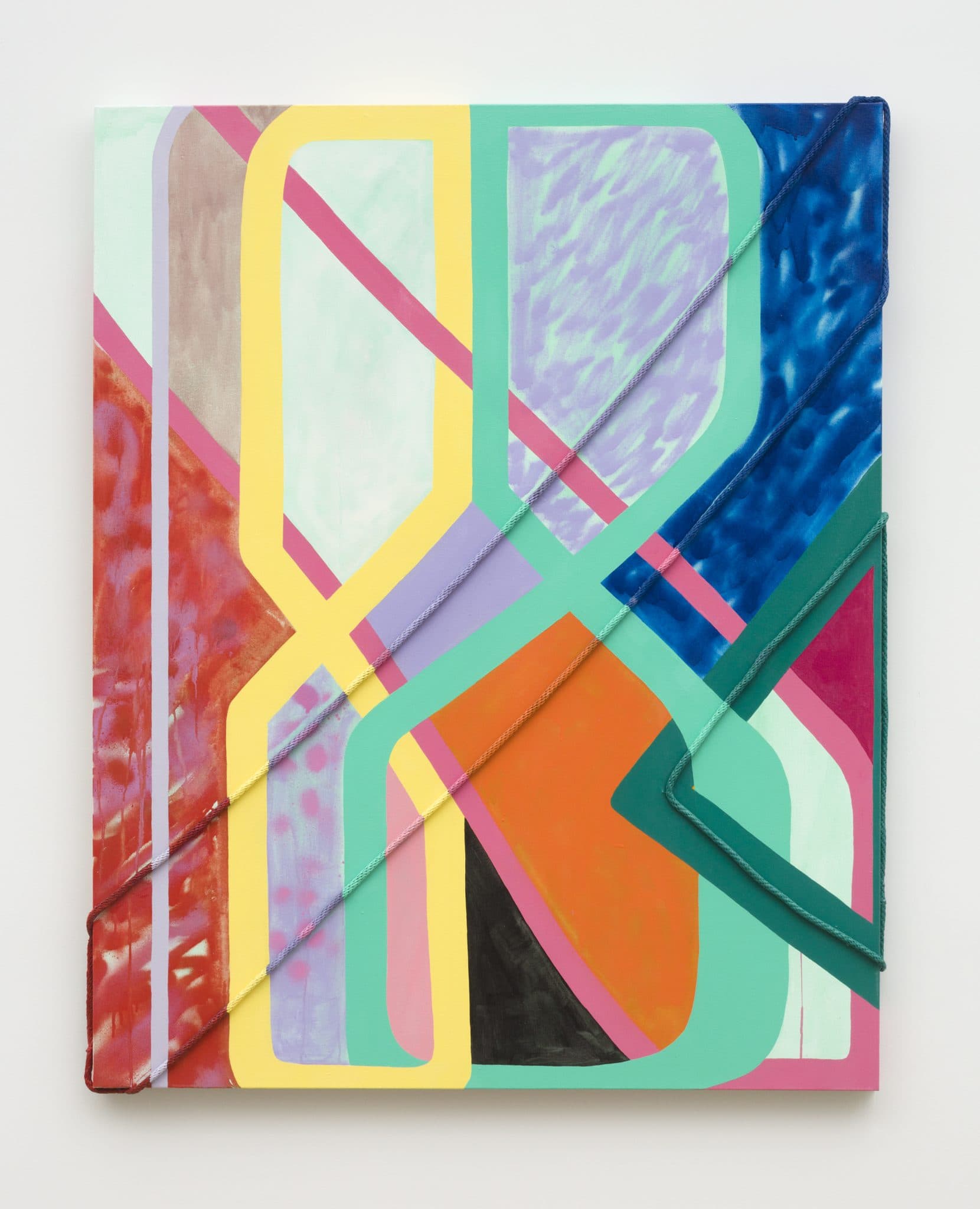 In December 2020, Cain will install a new 44' long painting, commissioned by the National Gallery of Art in their East Wing Atrium. Hers will be the first temporary commission of contemporary art to occupy the Atrium and the work will be on view through October 2021. In February 2021 she will open a solo exhibition at the Momentary in Bentonville, Arkansas to be followed by a solo exhibition at the Tang Museum at Skidmore College in Saratoga Springs, New York. The Tang Exhibition will be accompanied by two catalogs. Cain, who received her MFA from UC Berkeley, installed a permanent, massive wall of stained glass titled We Will Walk Right Up To The Sun at the San Francisco International Airport in 2019. Other recent solo exhibitions include Mountain Song, Aspen Art Museum at the Elk Camp on Snowmass Mountain, CO; Now I'm going to tell you everything, Institute of Contemporary Art, Los Angeles (ICA LA), CA; Sarah Cain: The Imaginary Architecture of Love, Contemporary Art Museum Raleigh, Raleigh, NC; and Sarah Cain: blue in your body, red when it hits the air, Museum of Contemporary Art San Diego, La Jolla, CA. She is also represented by Anthony Meier Fine Art in San Francisco and Galerie Lelong in New York.
The gallery is located at 1700 S Santa Fe Avenue, south of the 10 freeway. Parking is available on the north parking lot adjacent to the building. The Gallery is currently open by appointment only. Please book an appointment here.
Sarah Cain
"Self Portrait," 2020
Acrylic, gouache, latex, prism beads, plastic thread
90 x 90 x 3" [HxWxD] (228.6 x 228.6 x 7.62 cm)
Inventory #CAS129
Courtesy of the artist and Vielmetter Los Angeles
Photo credit: Jeff McLane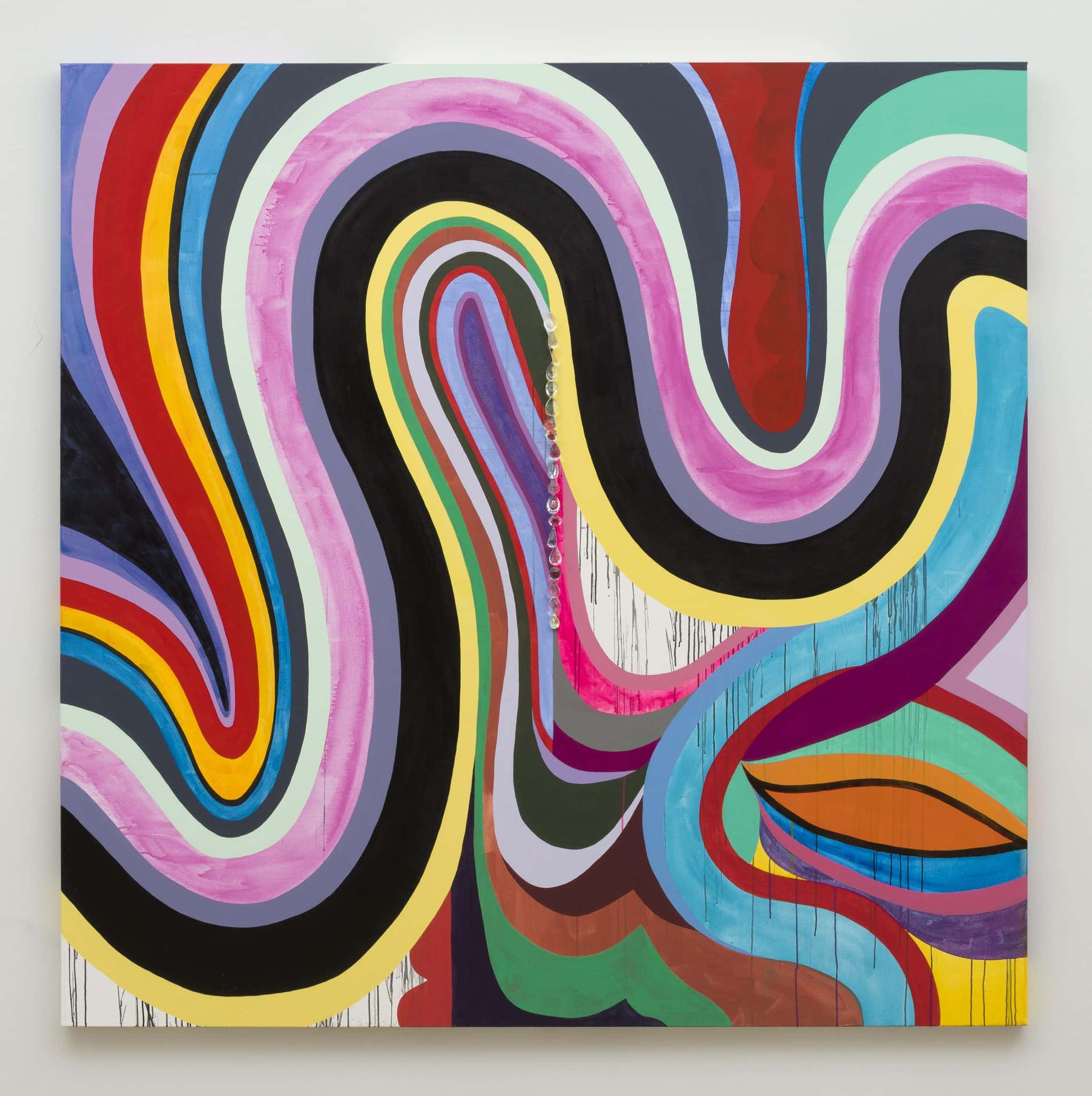 Sarah Cain
"ribbons & plants," 2020
Gouache, latex, acrylic and color copies on paper
30 x 22" [HxW] (76.2 x 55.88 cm)
Inventory #CAS131
Courtesy of the artist and Vielmetter Los Angeles
Photo credit: Jeff McLane
Sarah Cain
"Ghosting," 2020
Rope acrylic on canvas
69 x 49 x 5" [HxWxD] (175.26 x 124.46 x 12.7 cm)
Inventory #CAS133
Courtesy of the artist and Vielmetter Los Angeles
Photo credit: Jeff McLane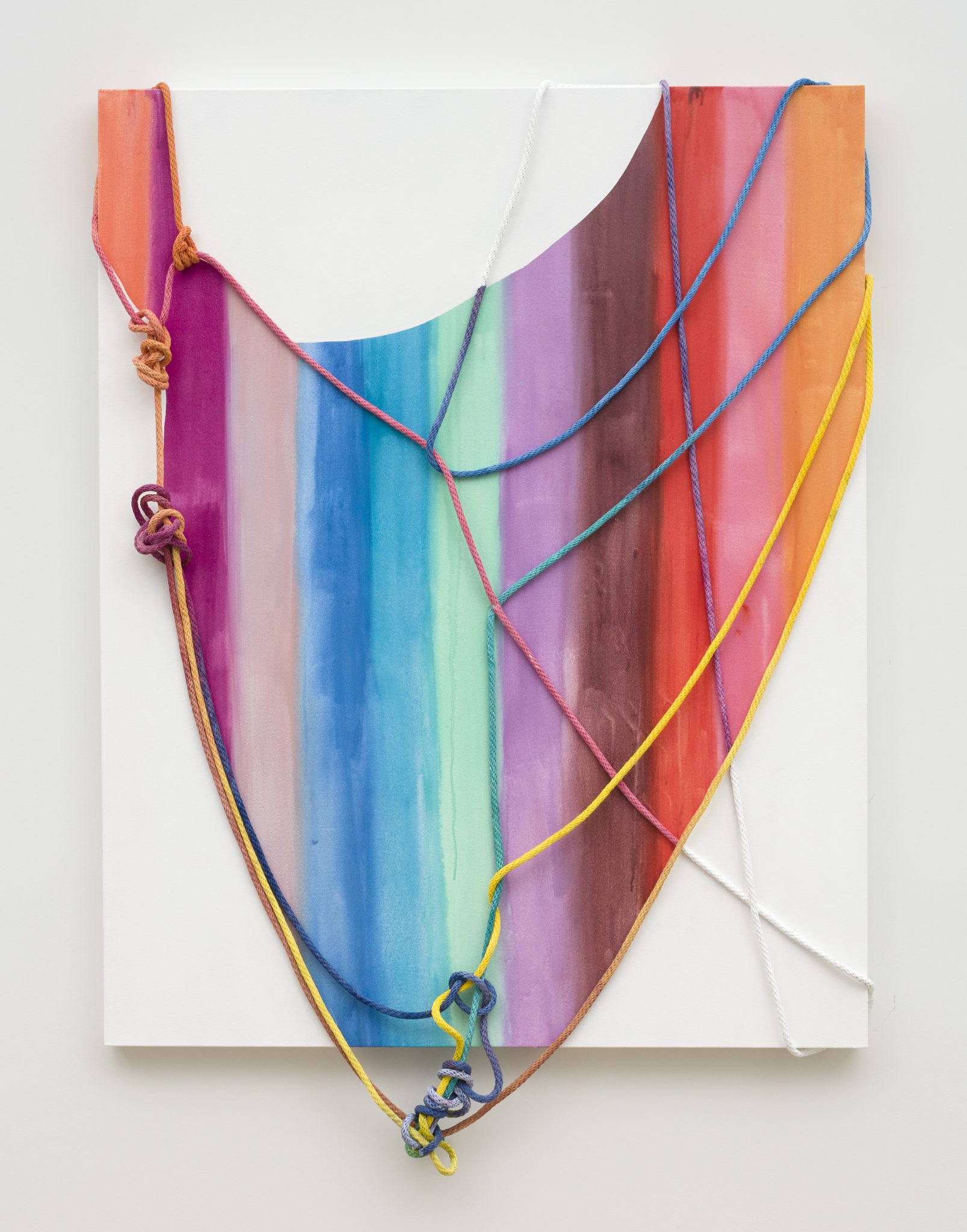 Sarah Cain
"Goodbye's too good of a word babe," 2020
Gouache, beads, string, sealed imitation silver leave, uv seal
49 x 33.5 x 2" [HxWxD] (124.46 x 85.09 x 5.08 cm)
Inventory #CAS134
Courtesy of the artist and Vielmetter Los Angeles
Photo credit: Jeff McLane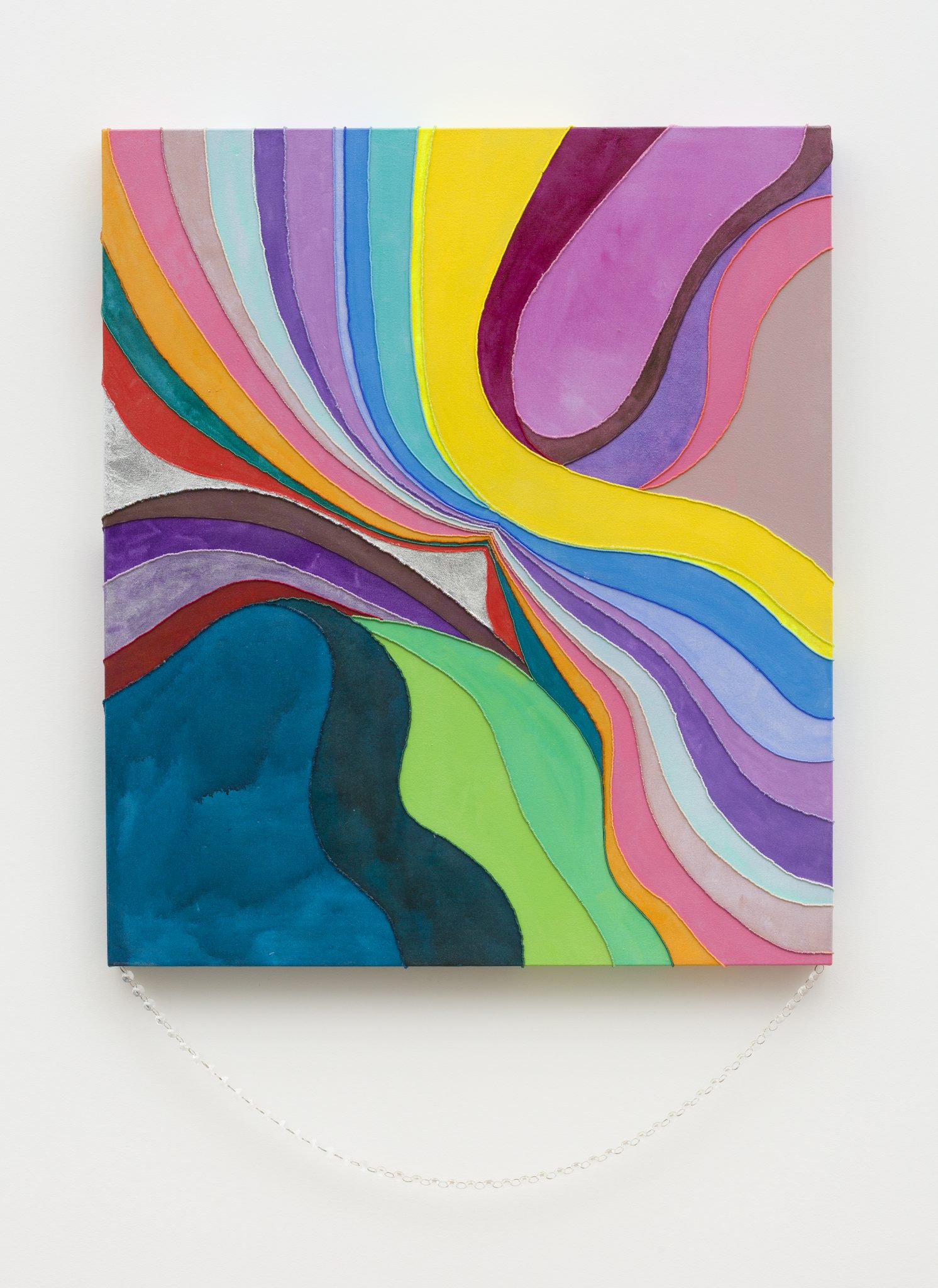 Sarah Cain
"When you get right down to the heart of the matter," 2020
Acrylic, latex, beads and thread on canvas
72 x 60 x 2" [HxWxD] (182.88 x 152.4 x 5.08 cm)
Inventory #CAS135
Courtesy of the artist and Vielmetter Los Angeles
Photo credit: Jeff McLane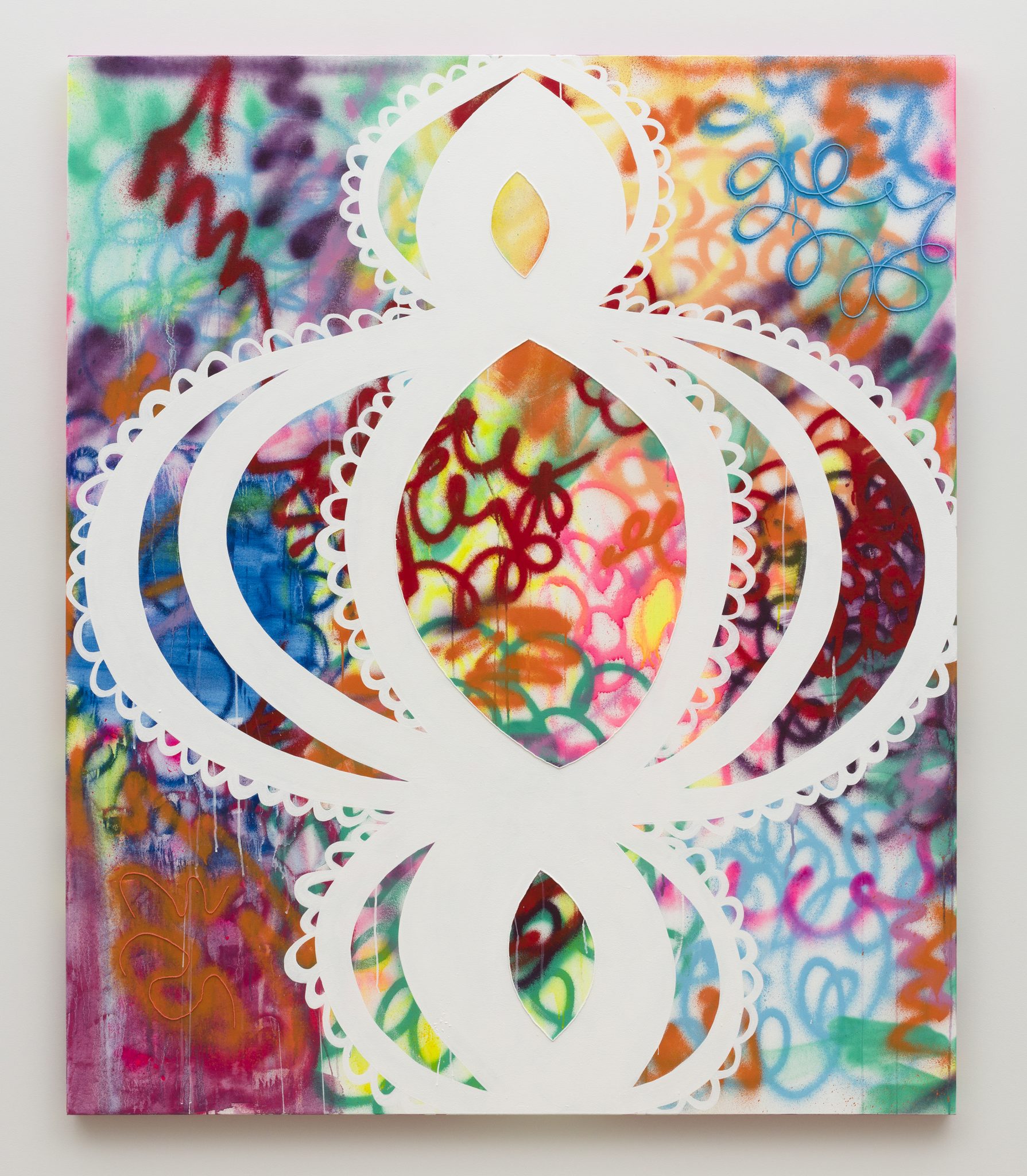 Sarah Cain
"Untitled," 2020
Acrylic, latex, beads, plastic thread
90 x 60 x 3" [HxWxD] (228.6 x 152.4 x 7.62 cm)
Inventory #CAS136
Courtesy of the artist and Vielmetter Los Angeles
Photo credit: Jeff McLane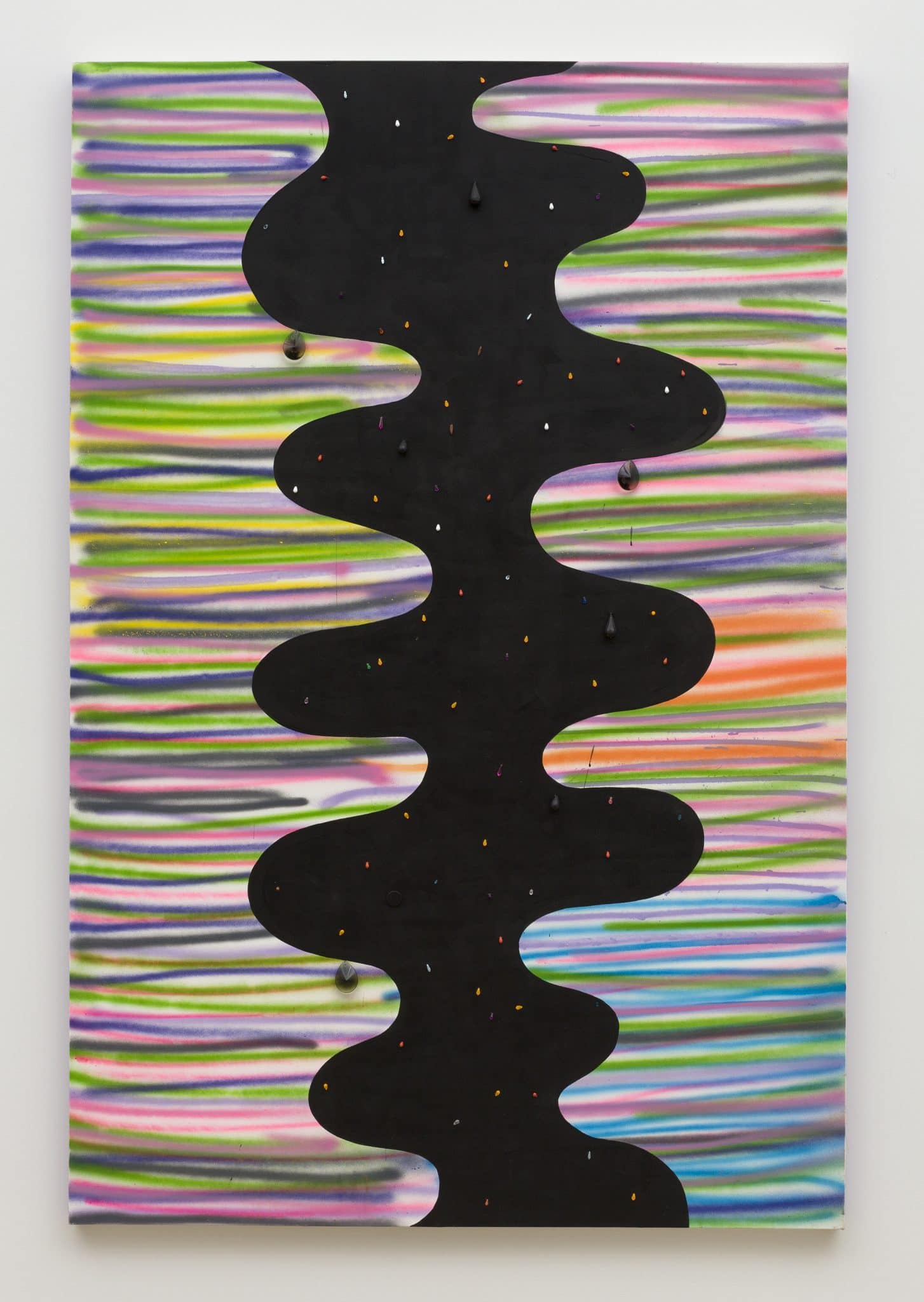 Sarah Cain
"the possibility," 2020
stained glass, fused glass, prisms, lead and wood
24.25 x 23.25" [HxW] (61.6 x 59.06 cm)
Edition 1 of 5, 1 AP
Inventory #CAS137.01
Courtesy of the artist and Vielmetter Los Angeles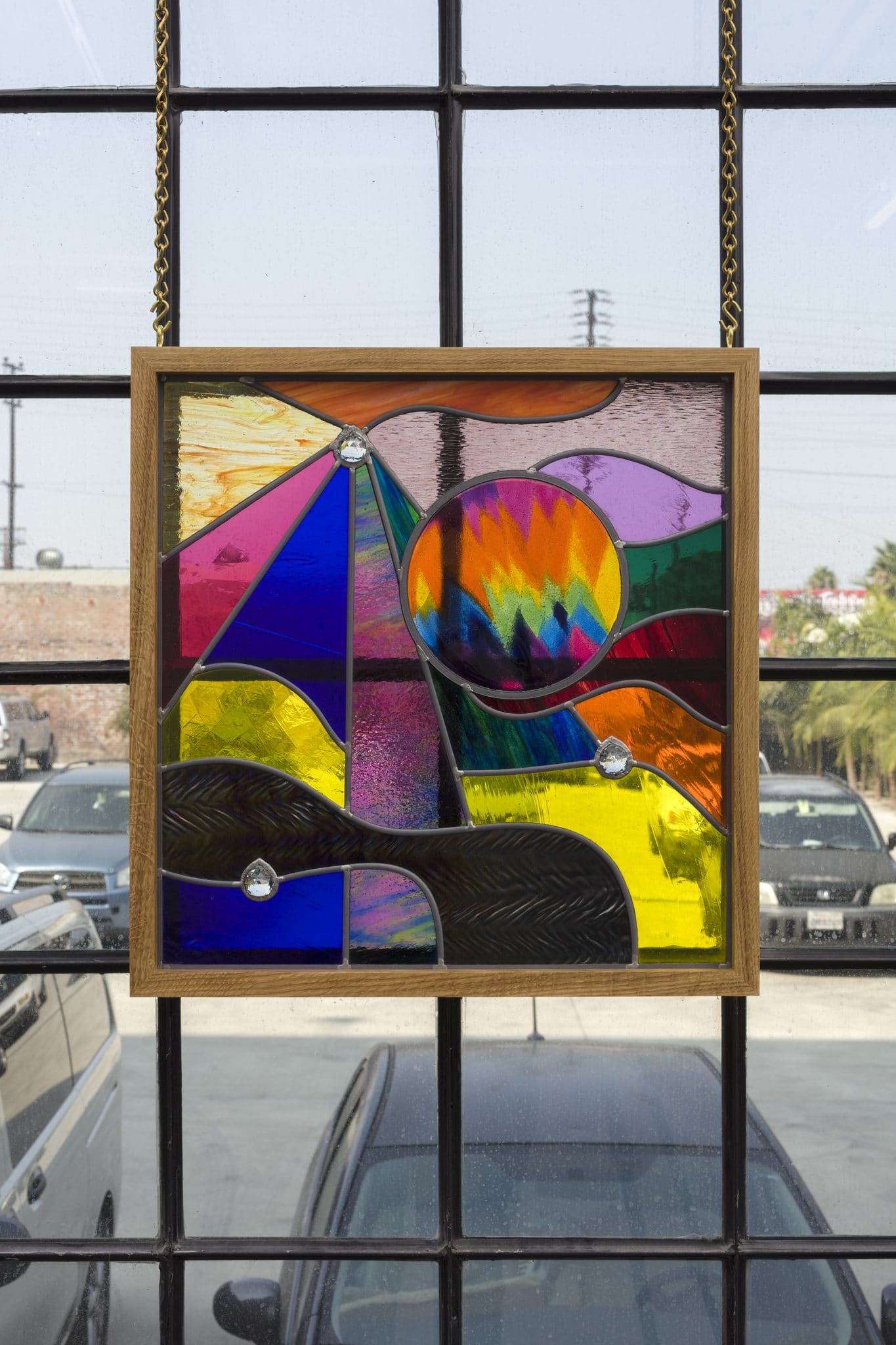 Sarah Cain
"$ talisman," 2019
Acrylic on two-dollar bill
9.5 x 6.25 x 1.75" [HxWxD] (24.13 x 15.88 x 4.45 cm)
Inventory #CAS138
Courtesy of the artist and Vielmetter Los Angeles
Photo credit: Jeff Mclane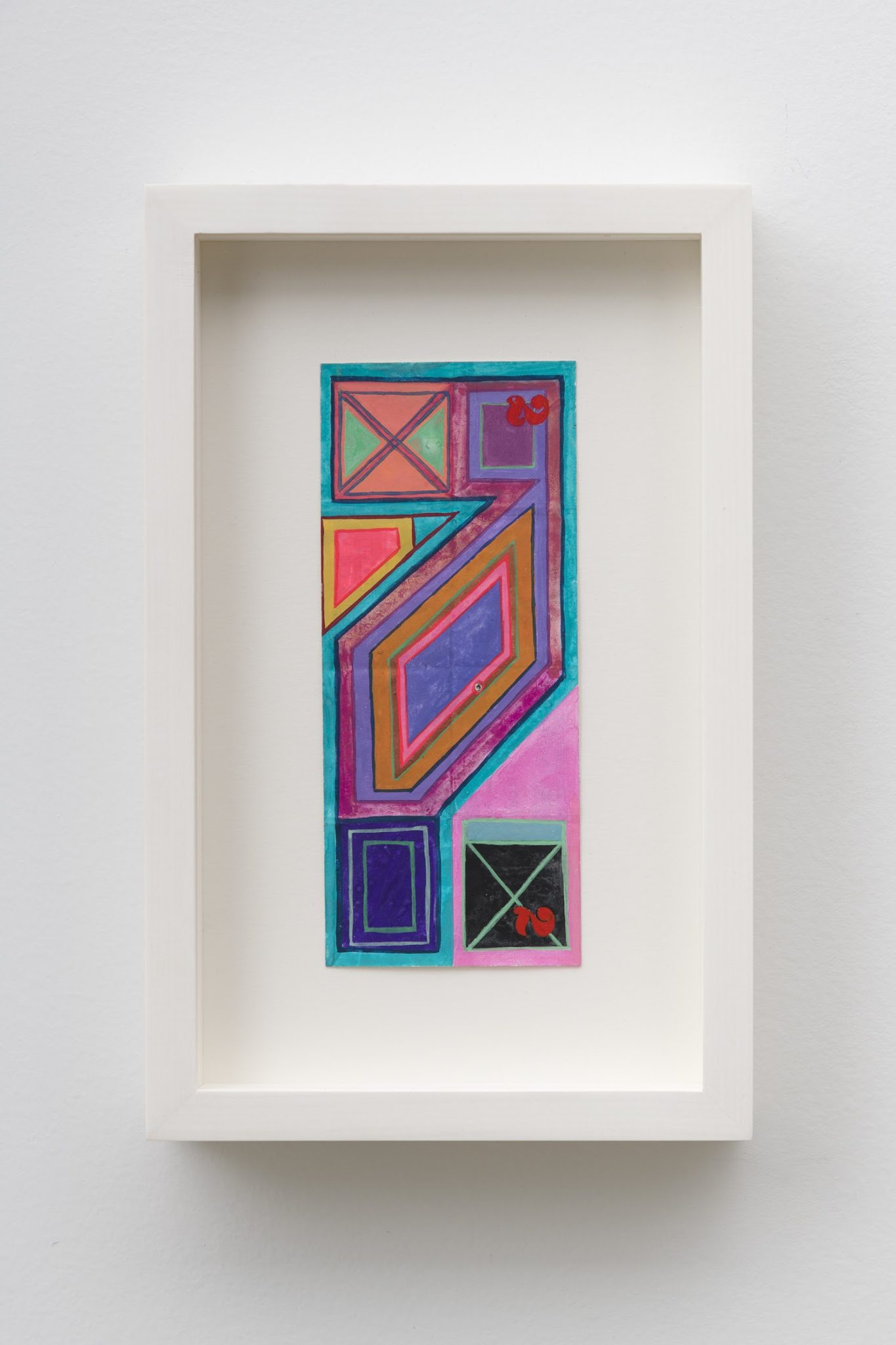 Sarah Cain
"$ talisman," 2019
Acrylic on dollar bill
9.5 x 6.25 x 1.75" [HxWxD] (24.13 x 15.88 x 4.45 cm)
Inventory #CAS139
Courtesy of the artist and Vielmetter Los Angeles
Photo credit: Robert Wedemeyer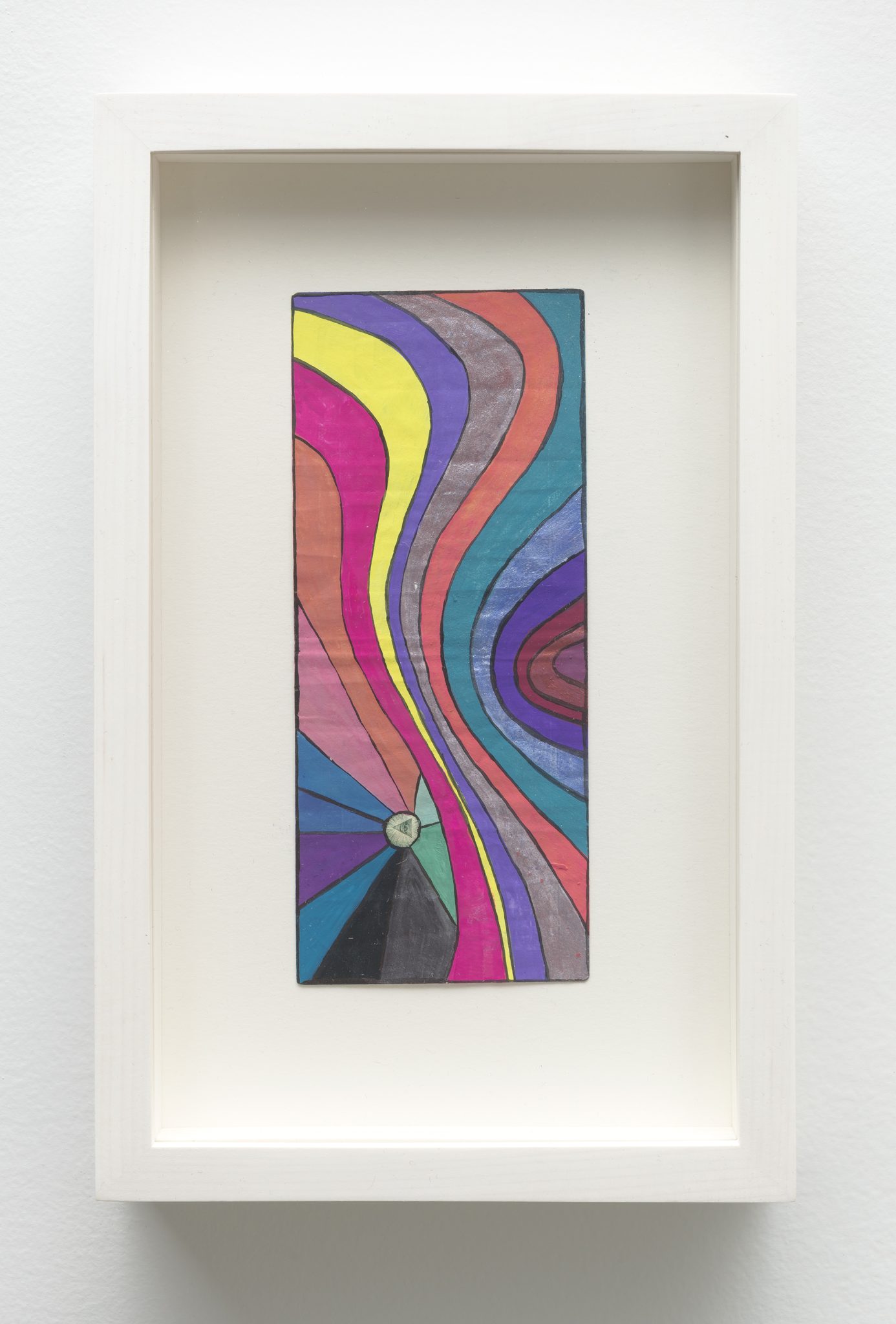 Sarah Cain
"$ talisman," 2019
Acrylic on dollar bill
9.5 x 6.25 x 1.75" [HxWxD] (24.13 x 15.88 x 4.45 cm)
Inventory #CAS140
Courtesy of the artist and Vielmetter Los Angeles
Photo credit: Robert Wedemeyer