Images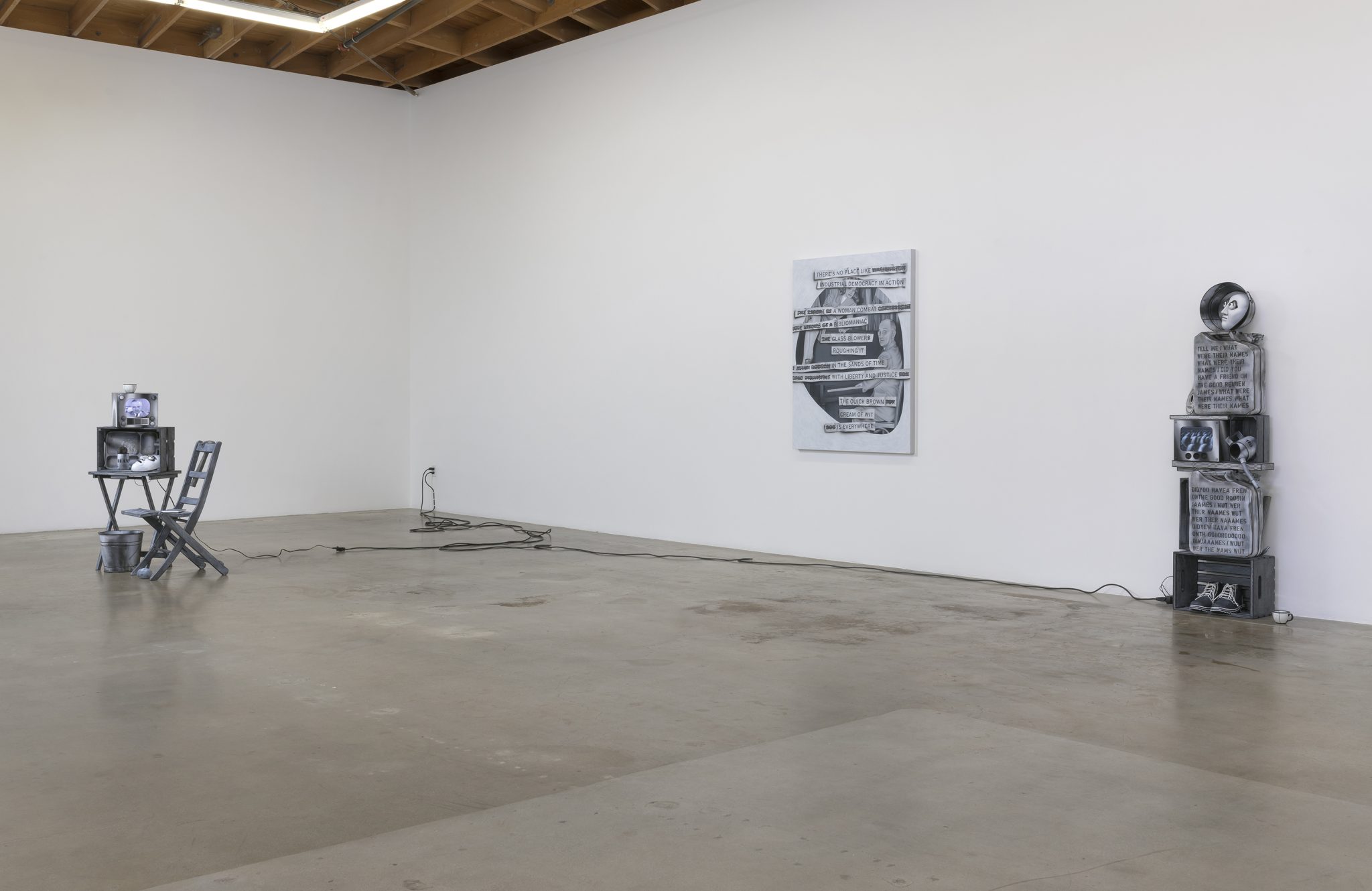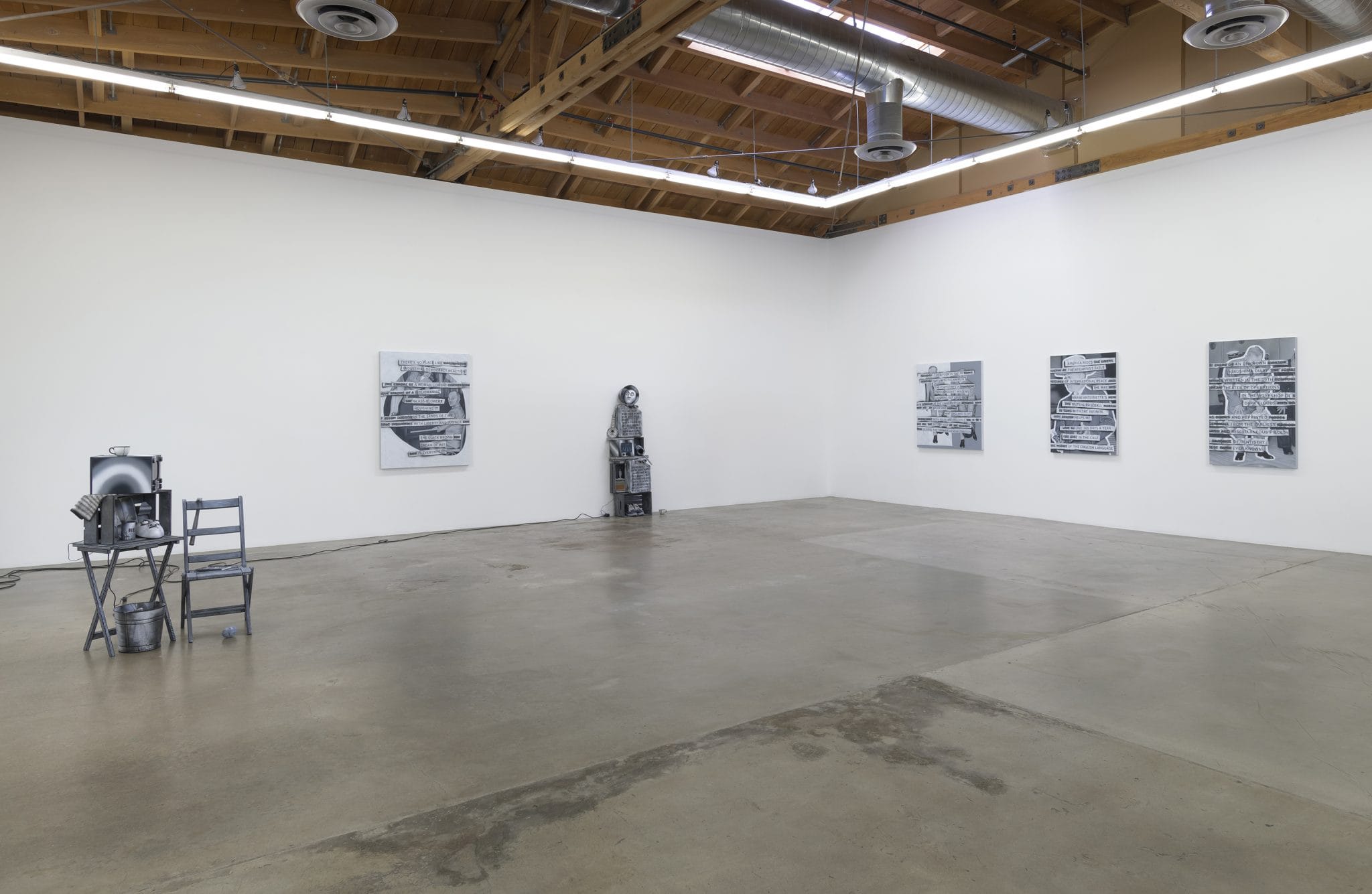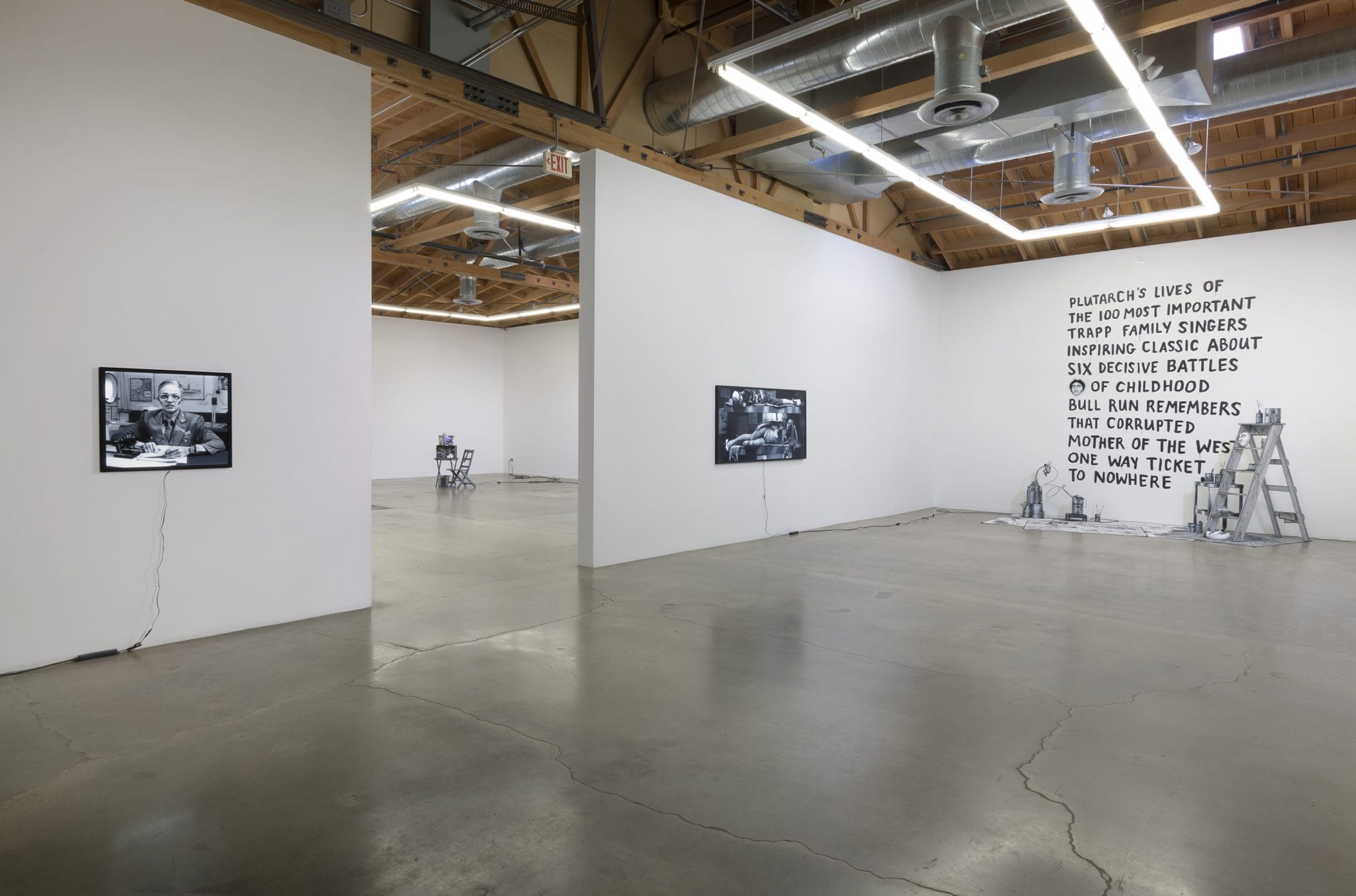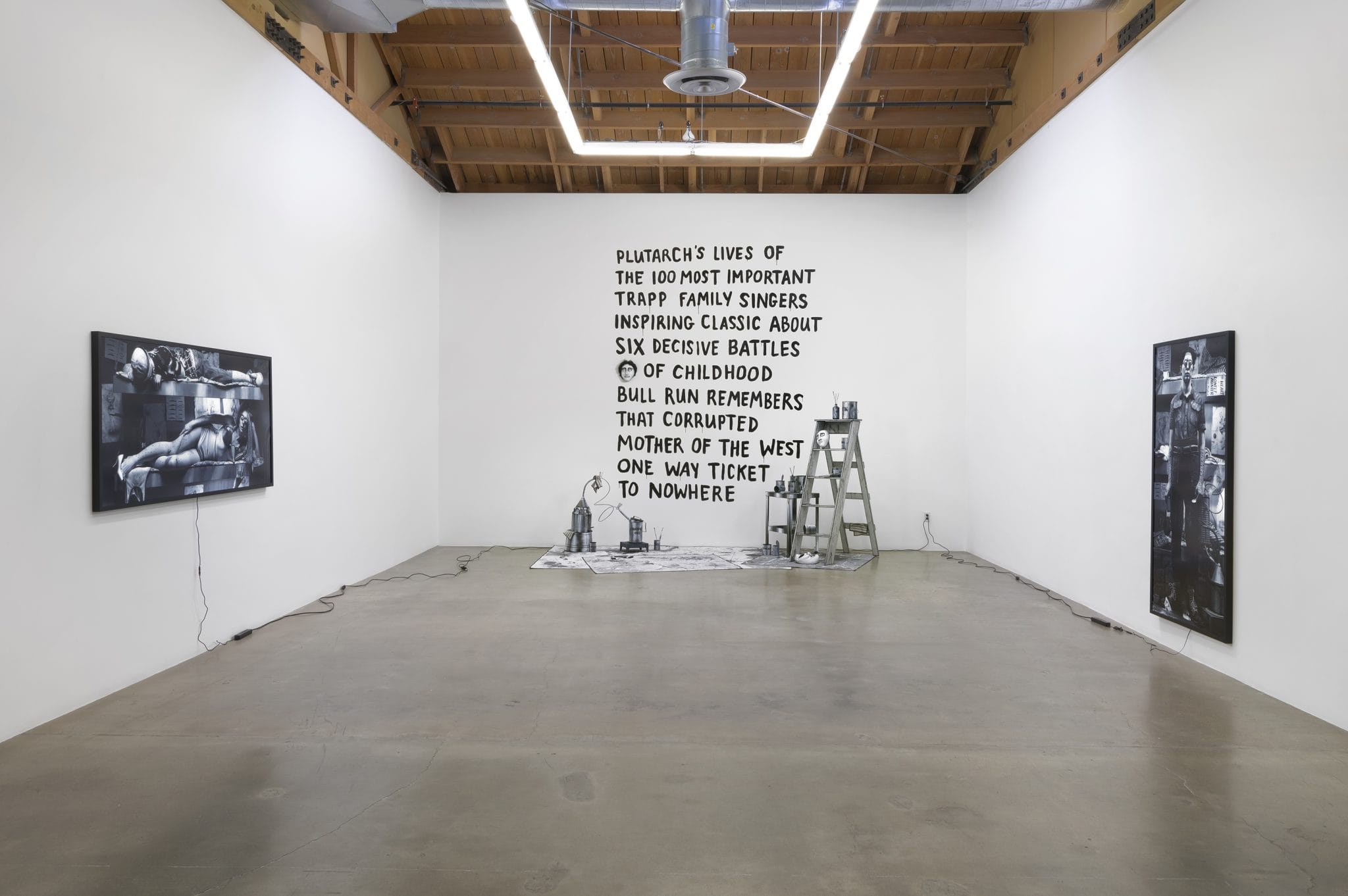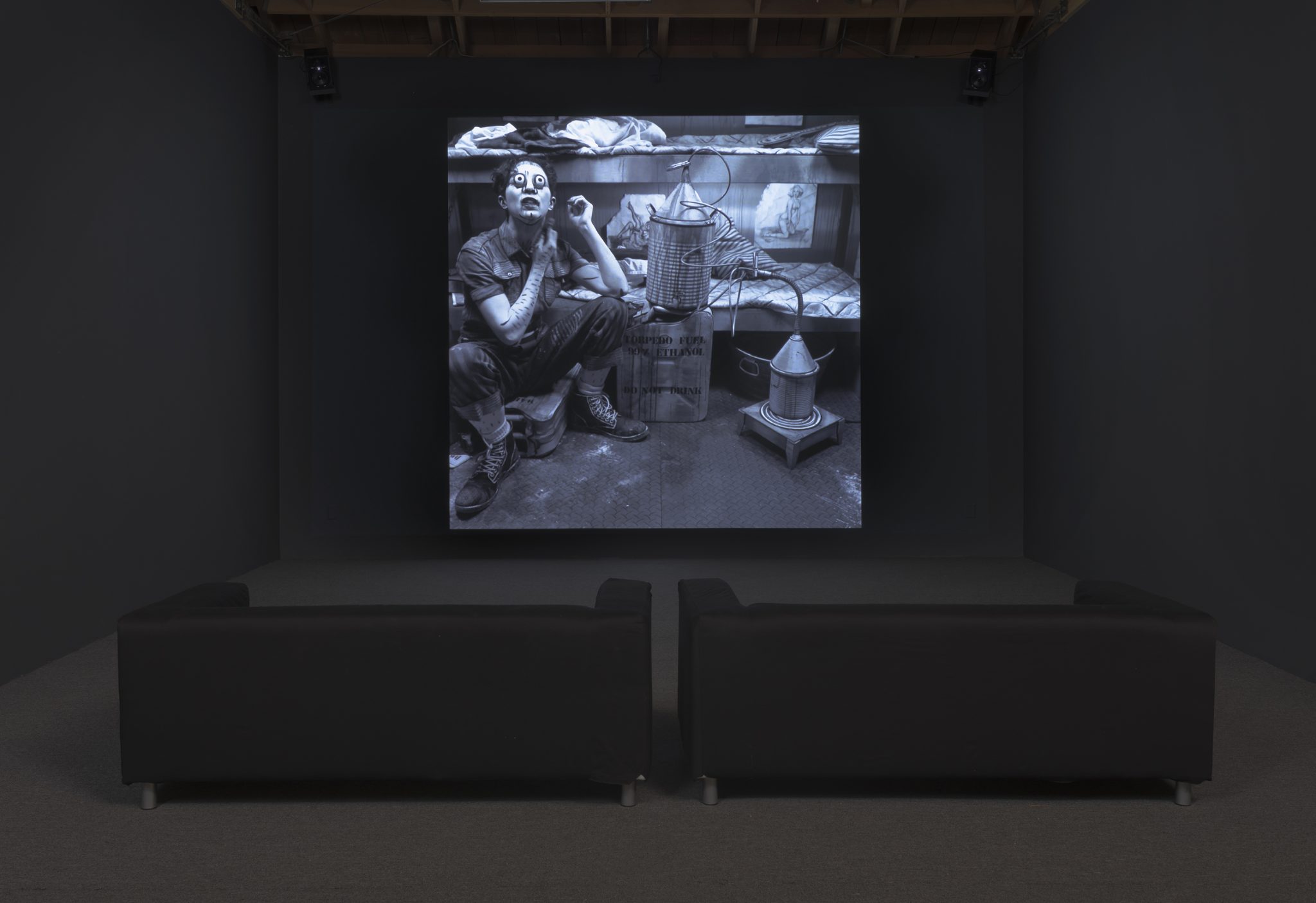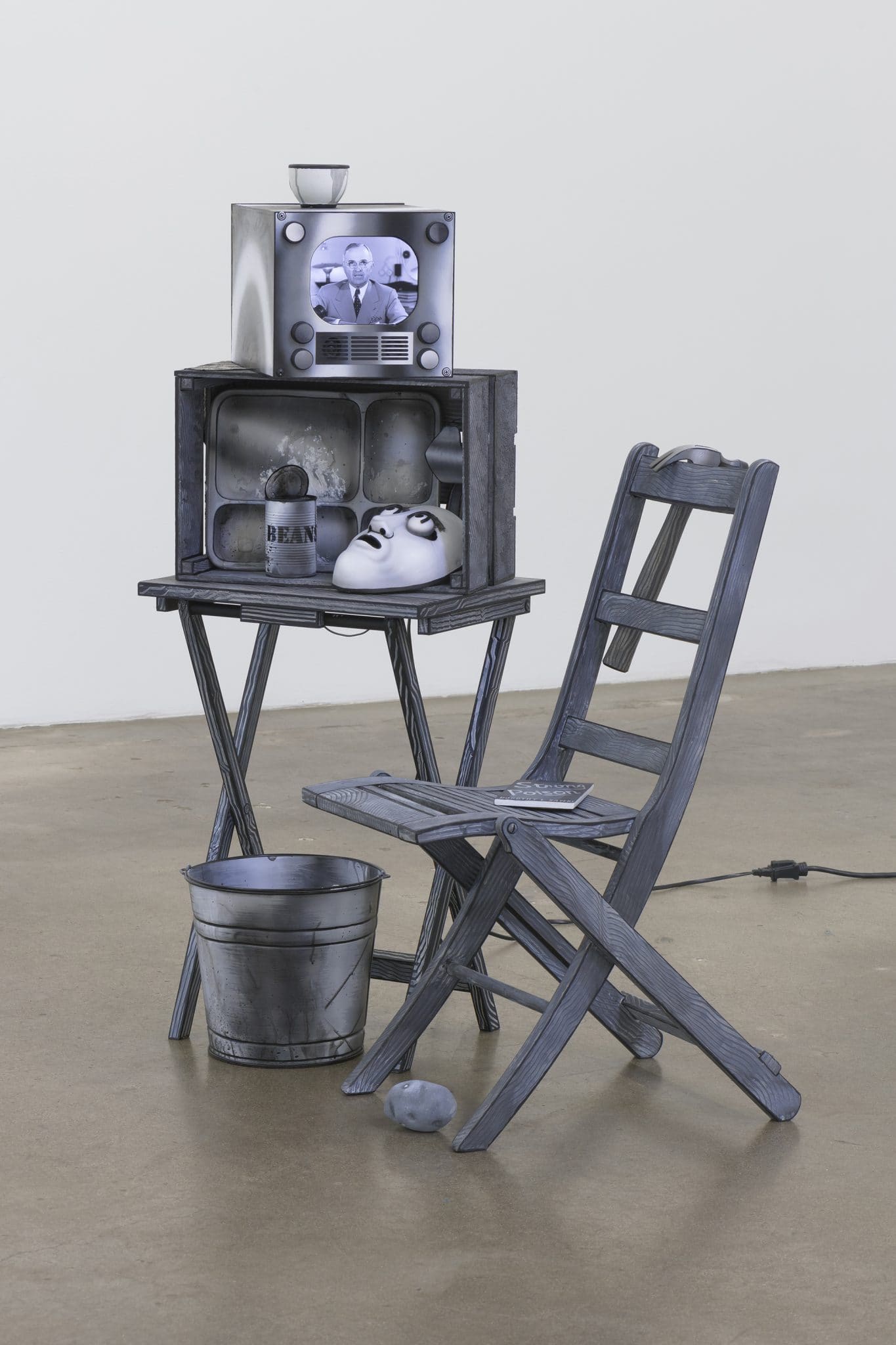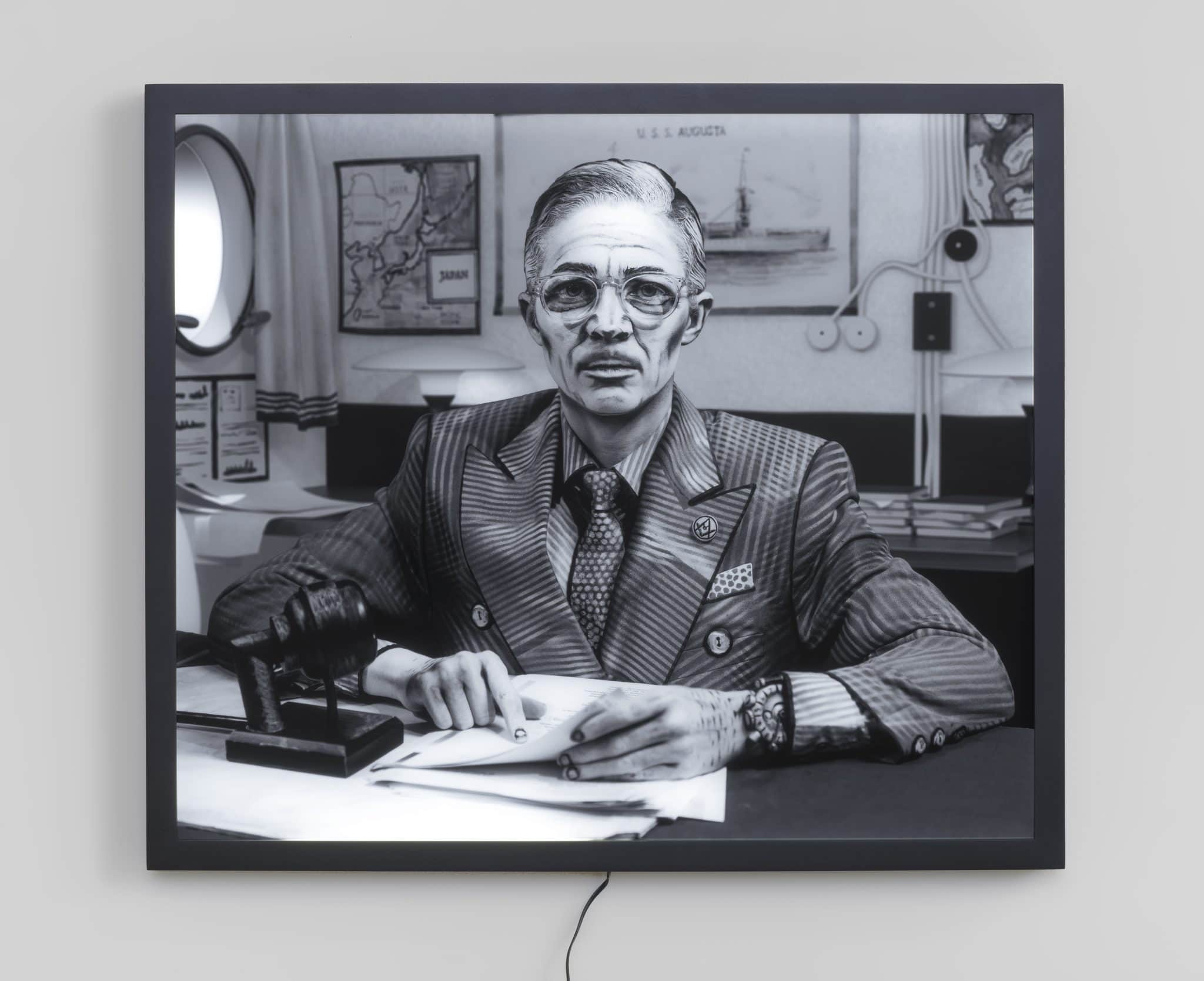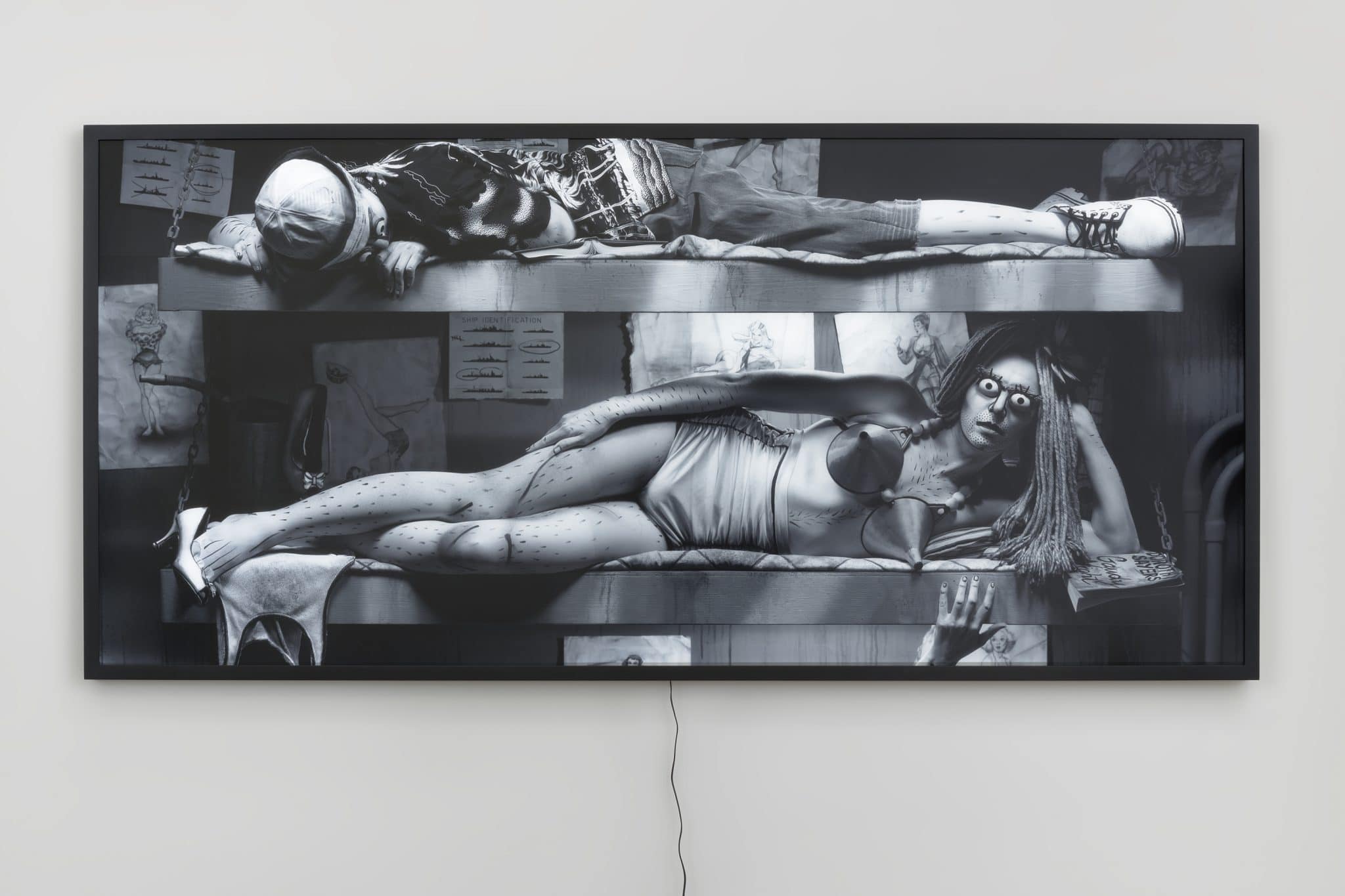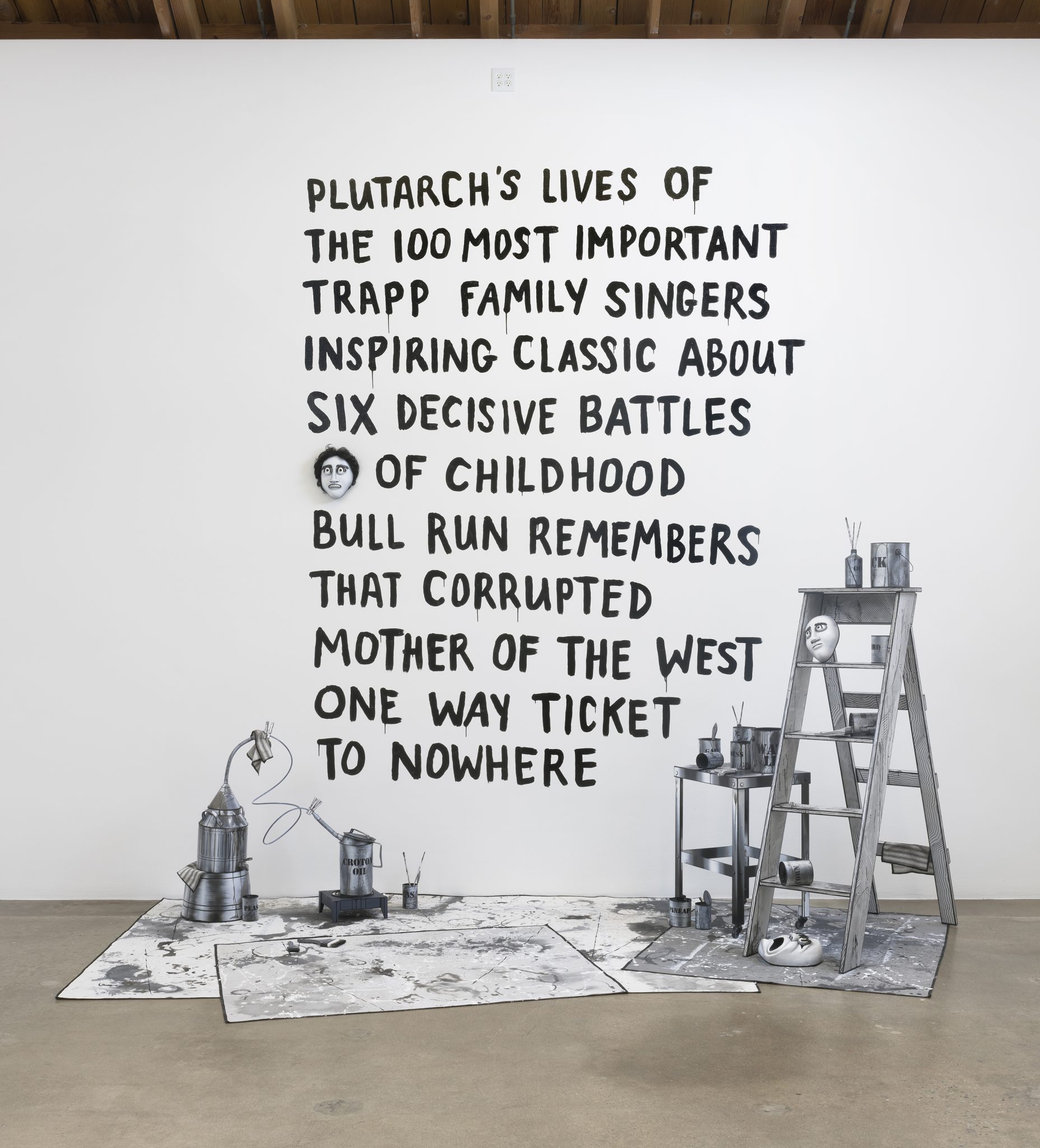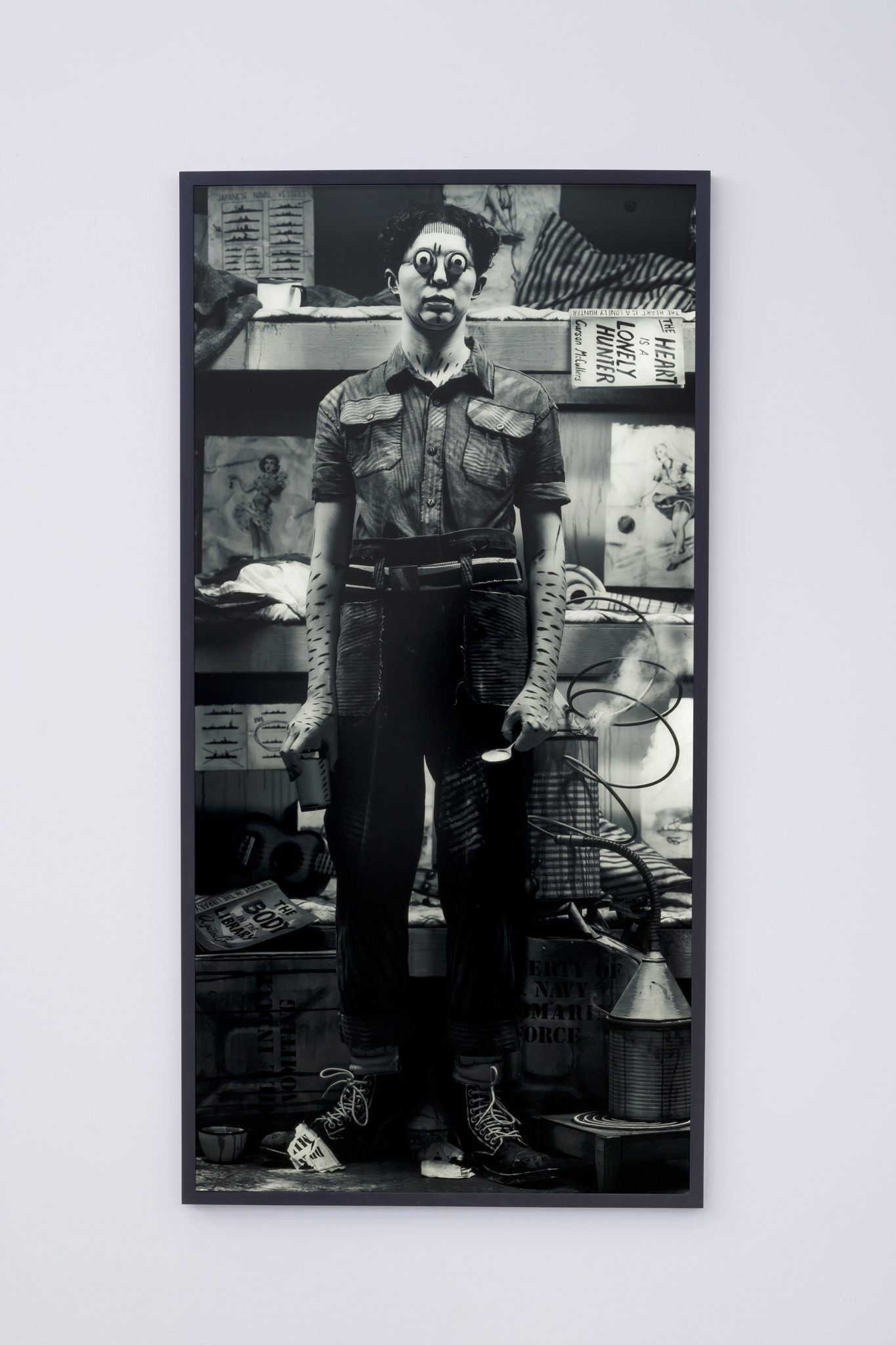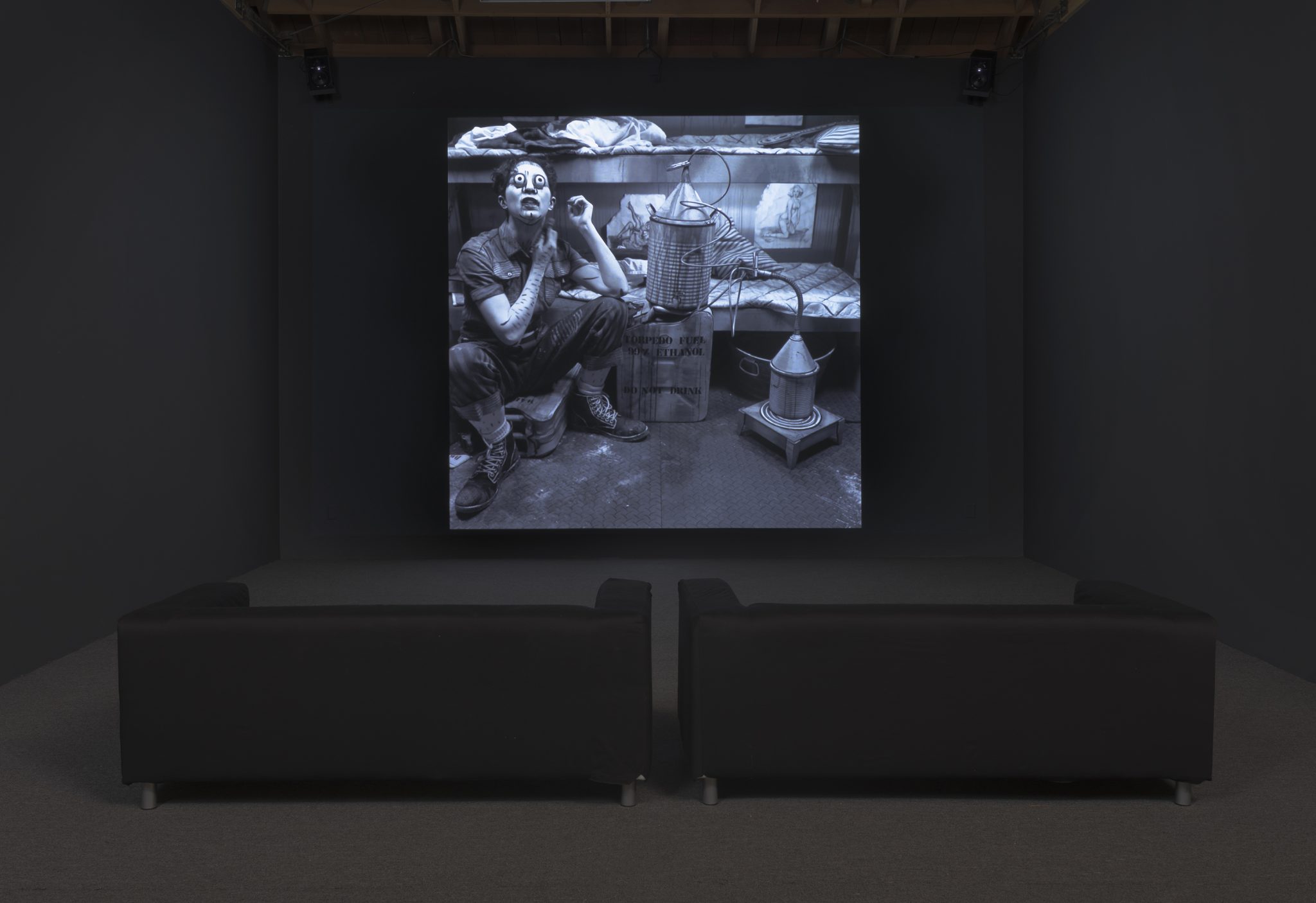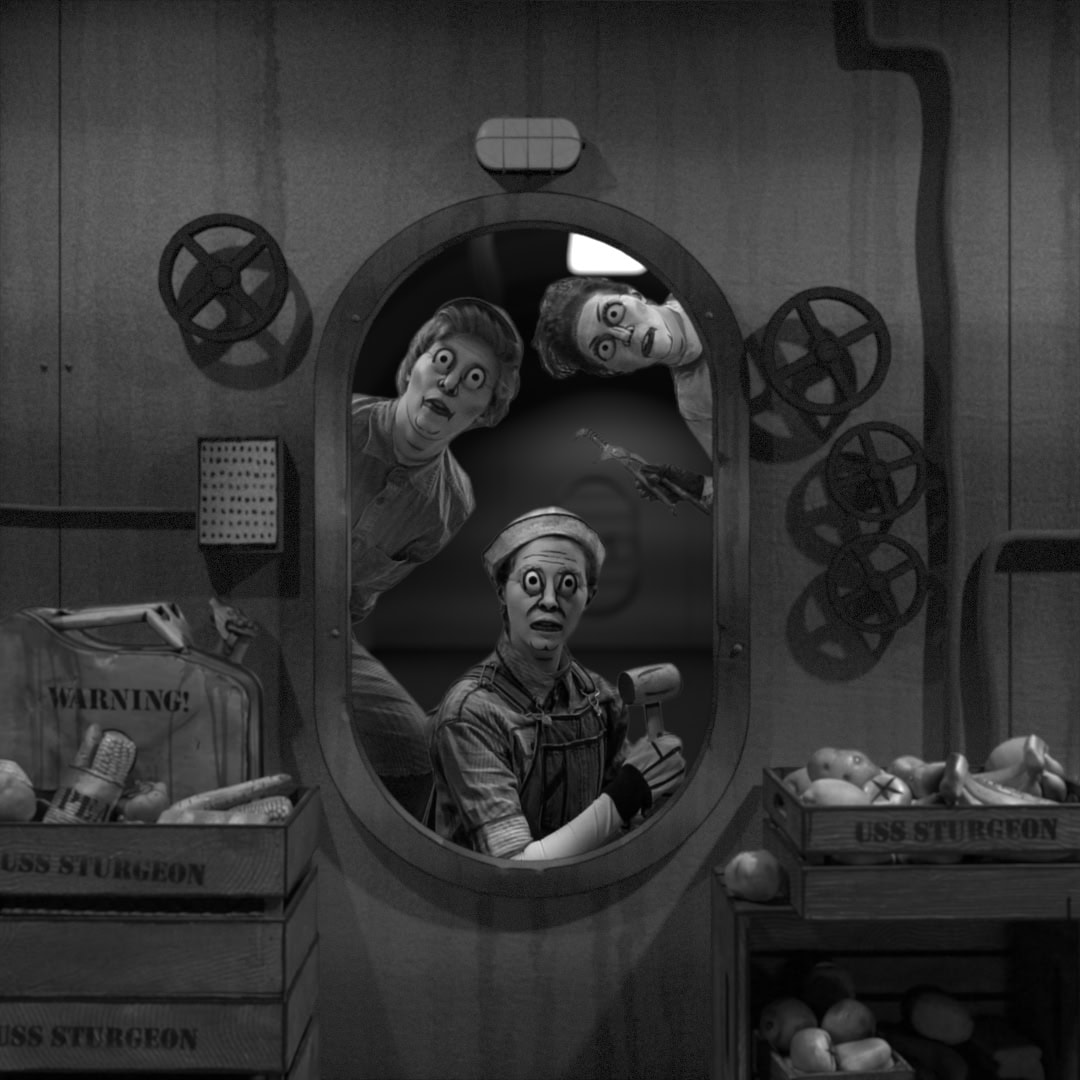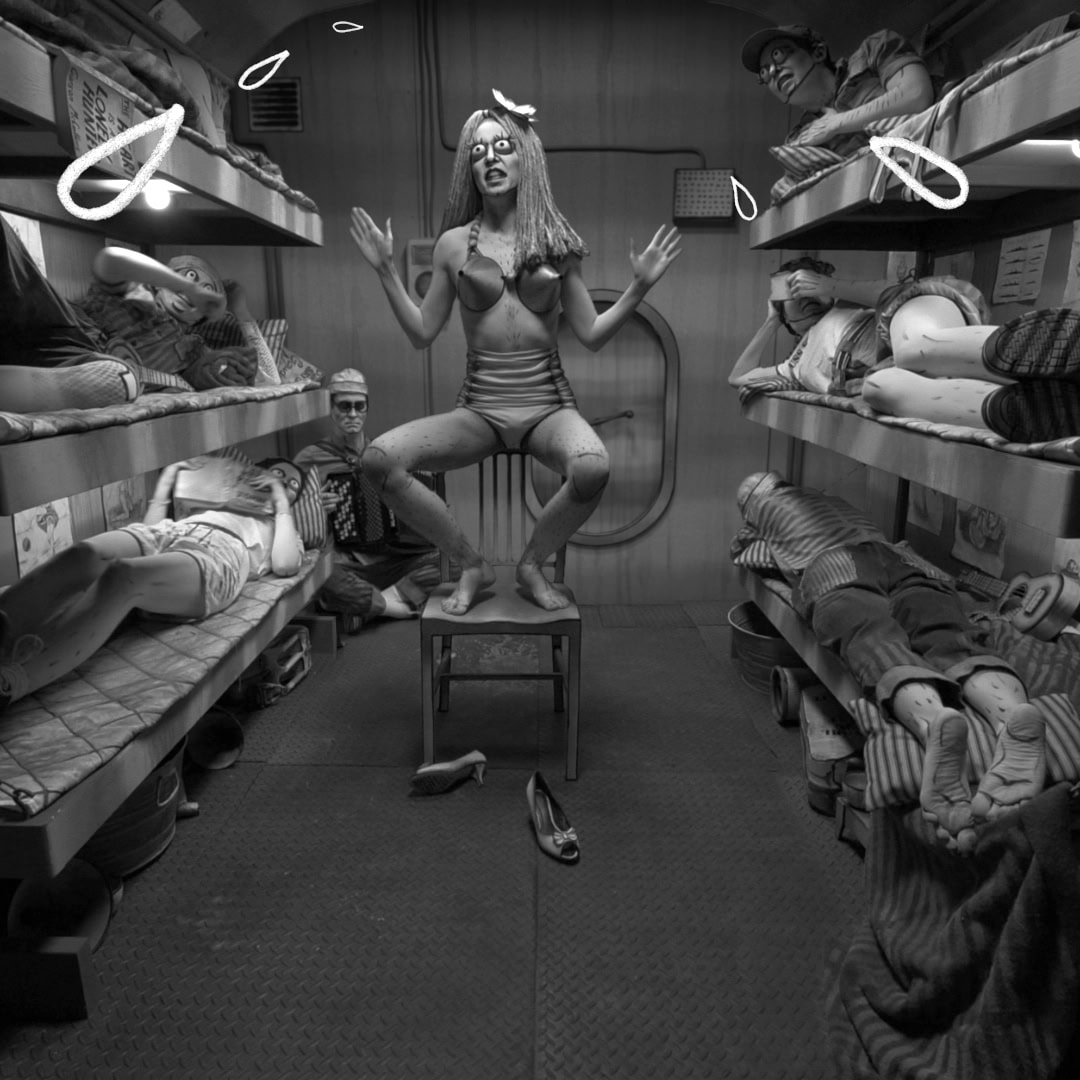 Press Release
Susanne Vielmetter Los Angeles Projects is pleased to announce our third solo exhibition of work by Mary Reid Kelley and Patrick Kelley, "America Rides the Breakfast Table."
Centered around a presentation of Mary and Patrick's most recent video project, In The Body of The Sturgeon (2017), this exhibition brings gallery visitors into the world of the video through new paintings and photographic lightboxes that spotlight key vignettes. New sculptures, some with embedded video elements, materialize the graphic qualities of the video and memorialize its themes. In The Body of The Sturgeon depicts the final days of a submarine crew (performed entirely by Mary Reid Kelley, with a brief cameo by Patrick Kelley) aboard a submarine in the Pacific Theater in 1945. The crew drinks bootleg "torpedo juice," puts on a bawdy show in the bunks, and hears President Harry S. Truman's announcement of the bombing of Hiroshima. Mary Reid Kelley's anachronistic script is her most ambitious to date. The text is a cento – each line of the text is extracted and then re-composed from Henry Wadsworth Longfellow's epic colonial fantasy about pre-industrial Native American life, The Song of Hiawatha. This re-appropriation forces Longfellow's phrases of pastoral nationalism through the gears and wheels of industrial warfare, disorienting the narratives' mutual themes of youth, violence, tenderness, and erasure.
Mary Reid Kelley's new paintings cast Harry Truman as muse, considering his unique position in the history of the atomic age, his role in the creation of the now-crumbling postwar order, and his image as an "everyman" president. Pop-grisaille images of Truman are overlaid with trompe l'oeil texts of book titles from his personal library, redacted to write fresh verse: "AMERICA RIDES THE / BREAKFAST TABLE / OF INTERNATIONAL PEACE / THE WAY / MARIE ANTOINETTE'S / MUTUAL BASEBALL / WITH THE INFINITE / HELPS ME / LIVE 356 DAYS A YEAR / IN THE CAGE / OF THE ENGLISH LANGUAGE". The paintings distill the wordplay, historical research, and bold graphic aesthetic of Mary Reid Kelley's video work into two dimensions.
Mary Reid Kelley is a 2016 MacArthur Fellow. She and Patrick Kelley live and work in upstate New York. Their video work has recently been exhibited in solo presentations at the Tate Liverpool, The Baltimore Museum of Art, MUDAM, Luxembourg, the Kunsthalle Bremen, Museum Leuven, and the Hammer Museum. Mary Reid Kelley's works are in the collections of the Frances Young Tang Teaching Museum and Art Gallery at Skidmore College, the Hammer Museum, the Kadist Foundation, Kunsthalle Bremen, MUDAM Luxembourg, the Rose Art Museum, and the Whitney Museum of American Art among others. In addition to the "Genius" award, Reid Kelley has received the 2016 Baloise Prize at Art Basel, a 2014 Guggenheim Fellowship, and a 2011 Rome Prize Fellowship.
We thank Laumont printing and Fine Art Frameworks in New York for their work producing the lightboxes for this exhibition.