Images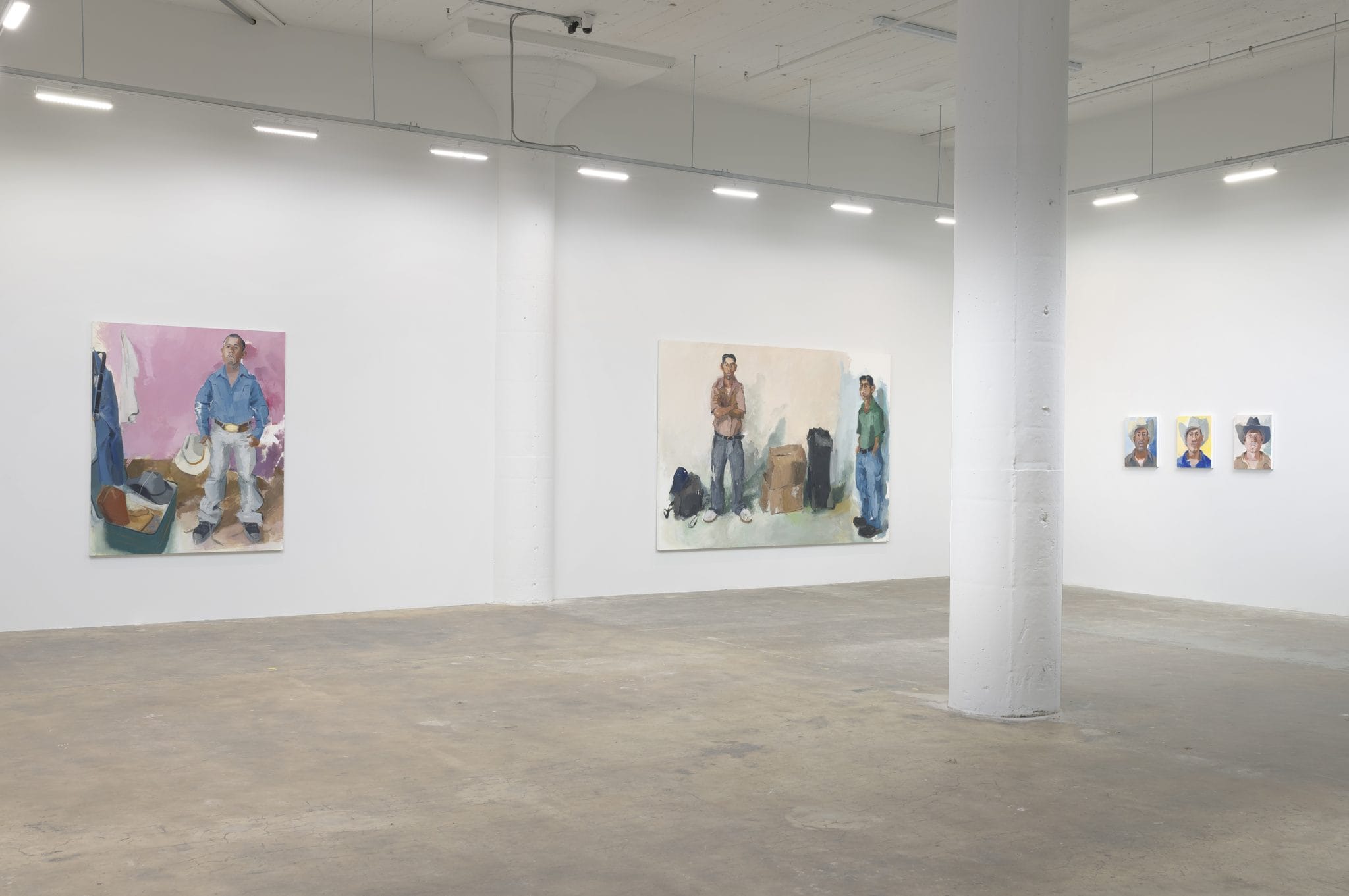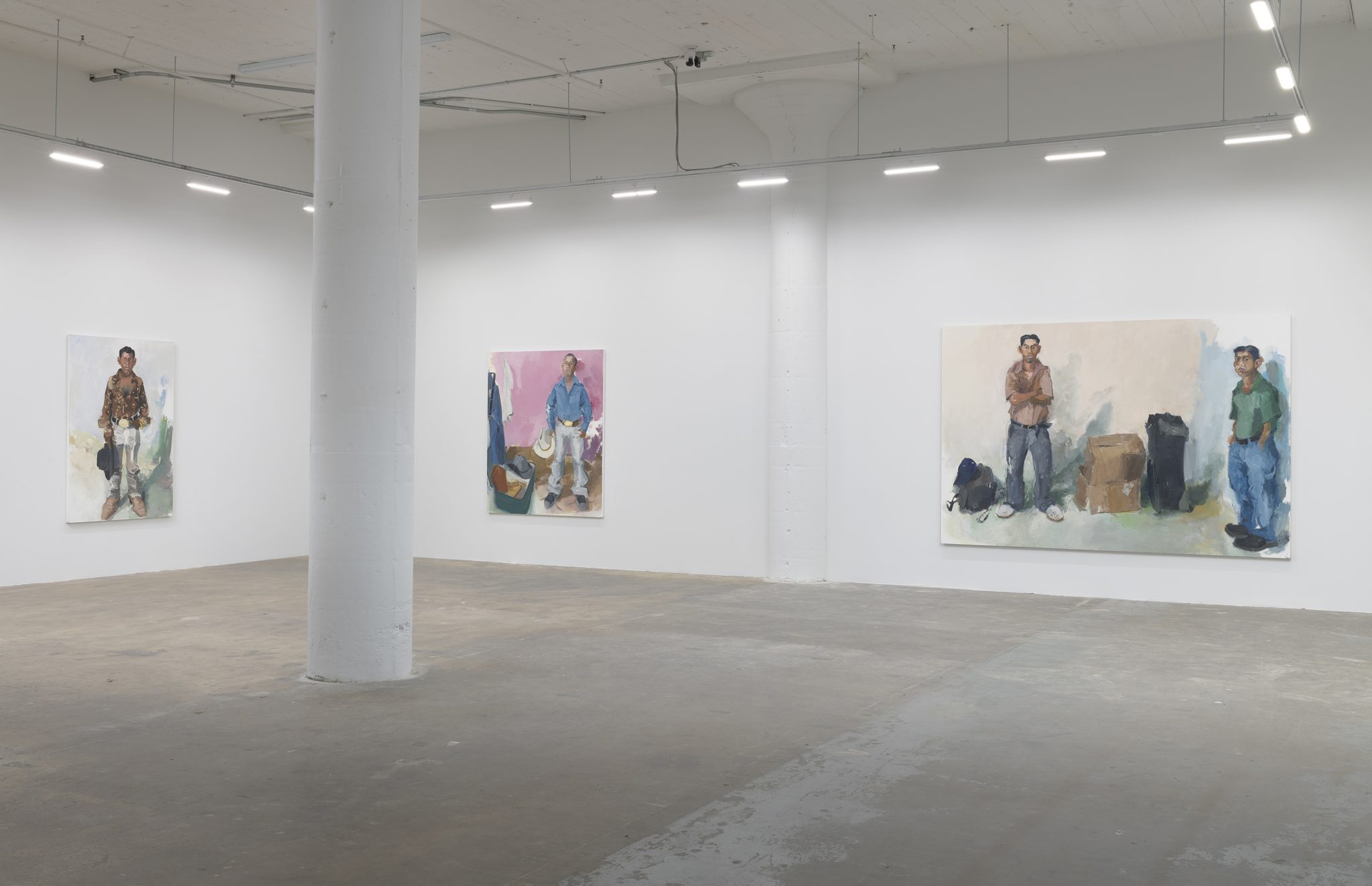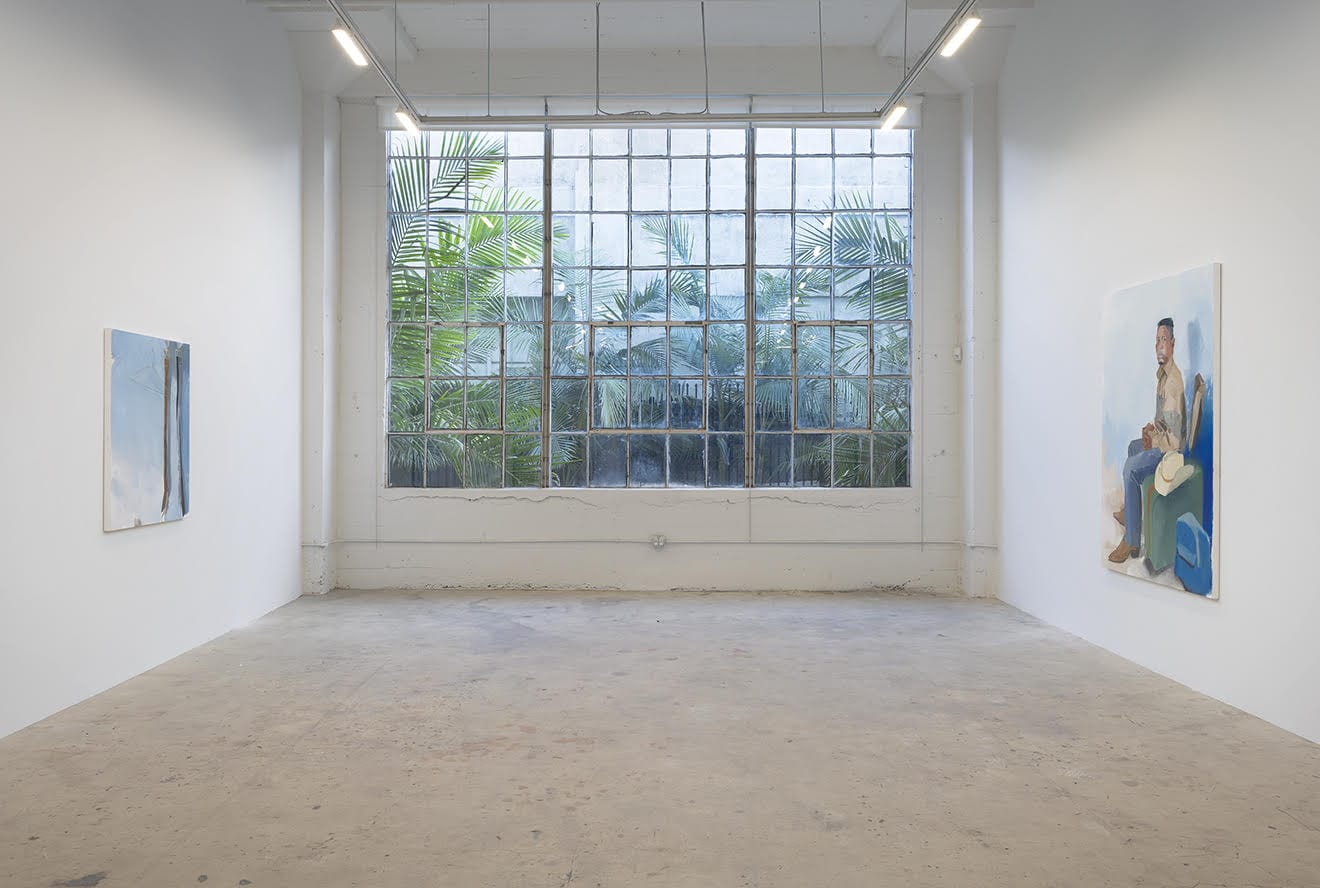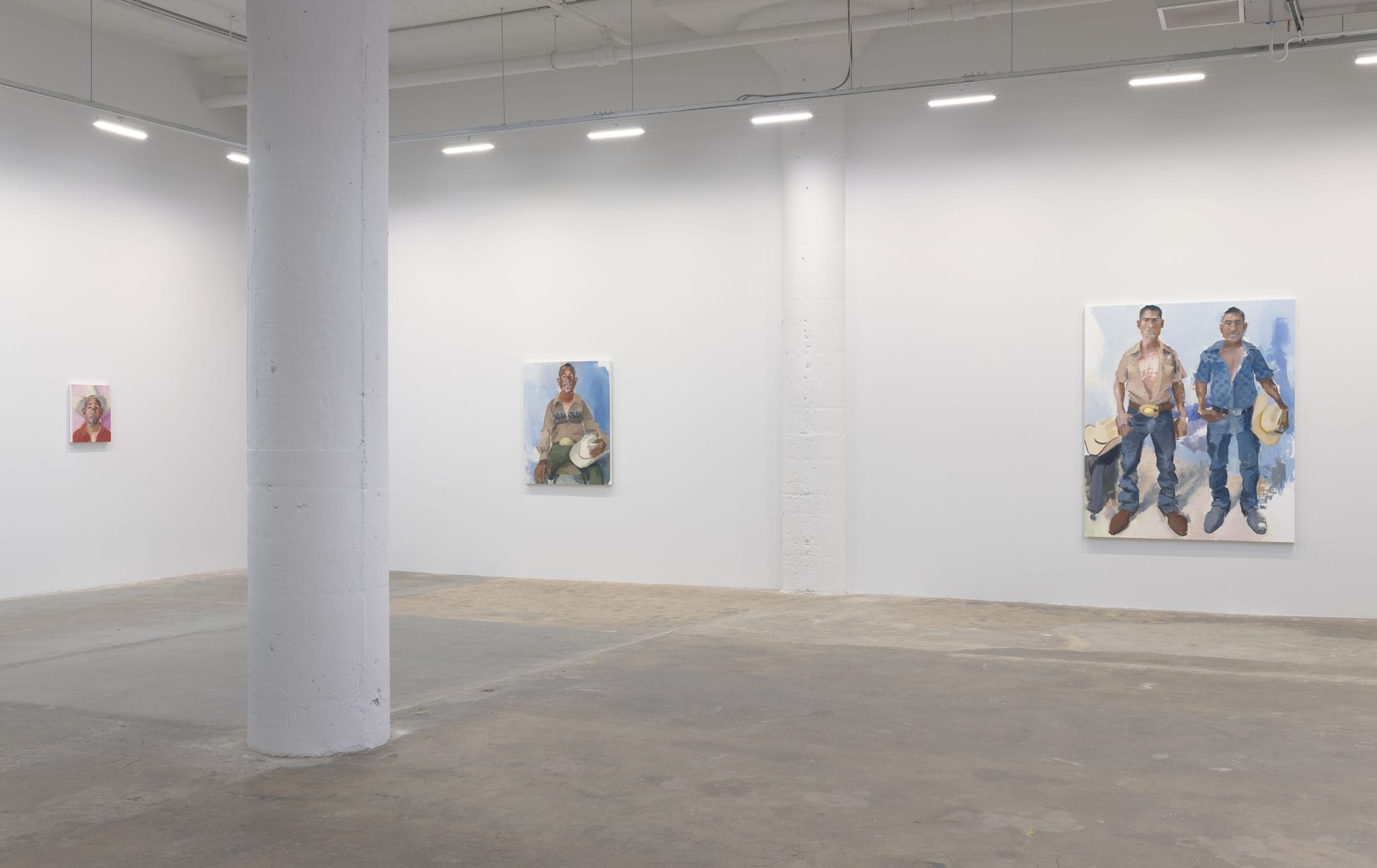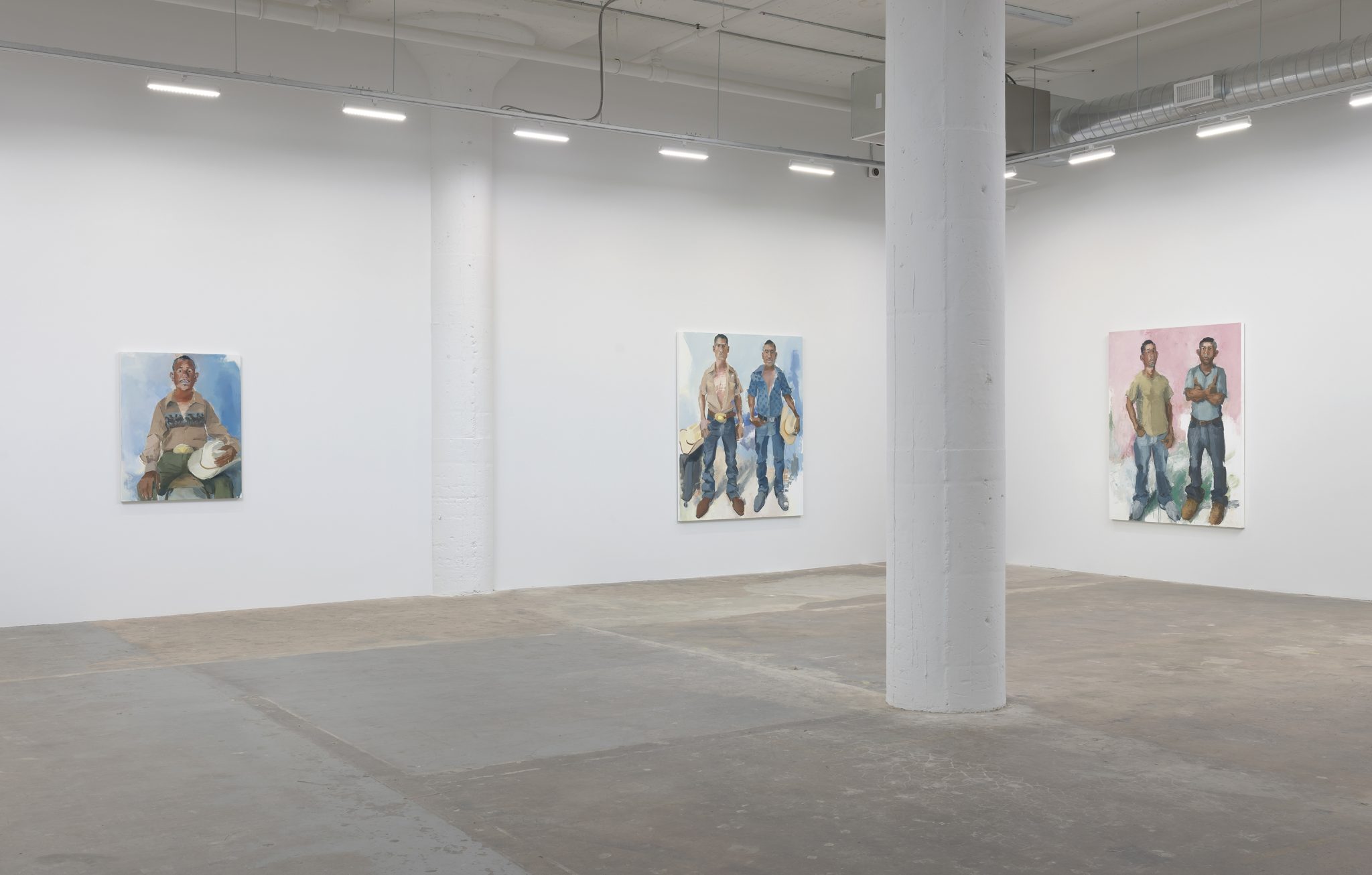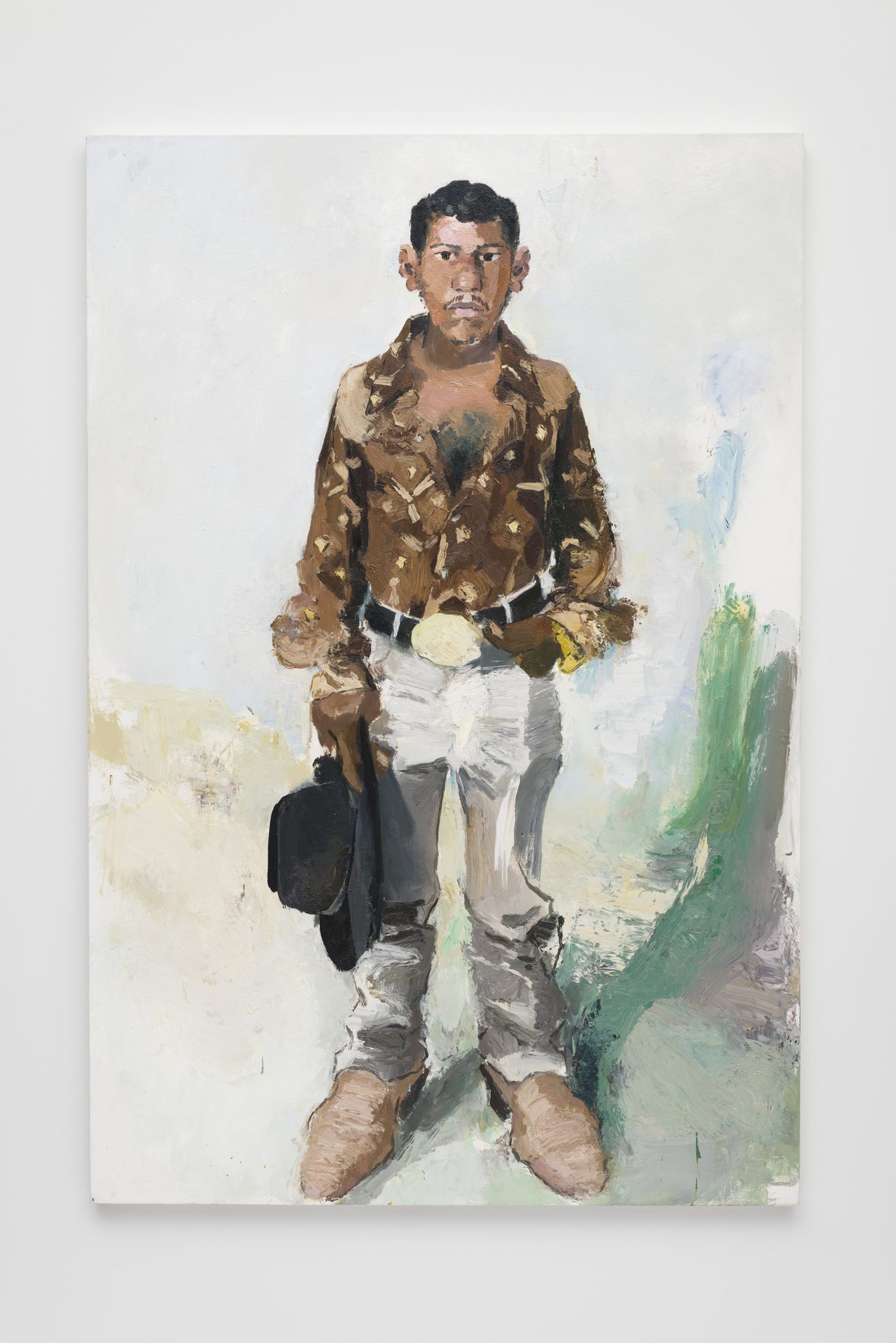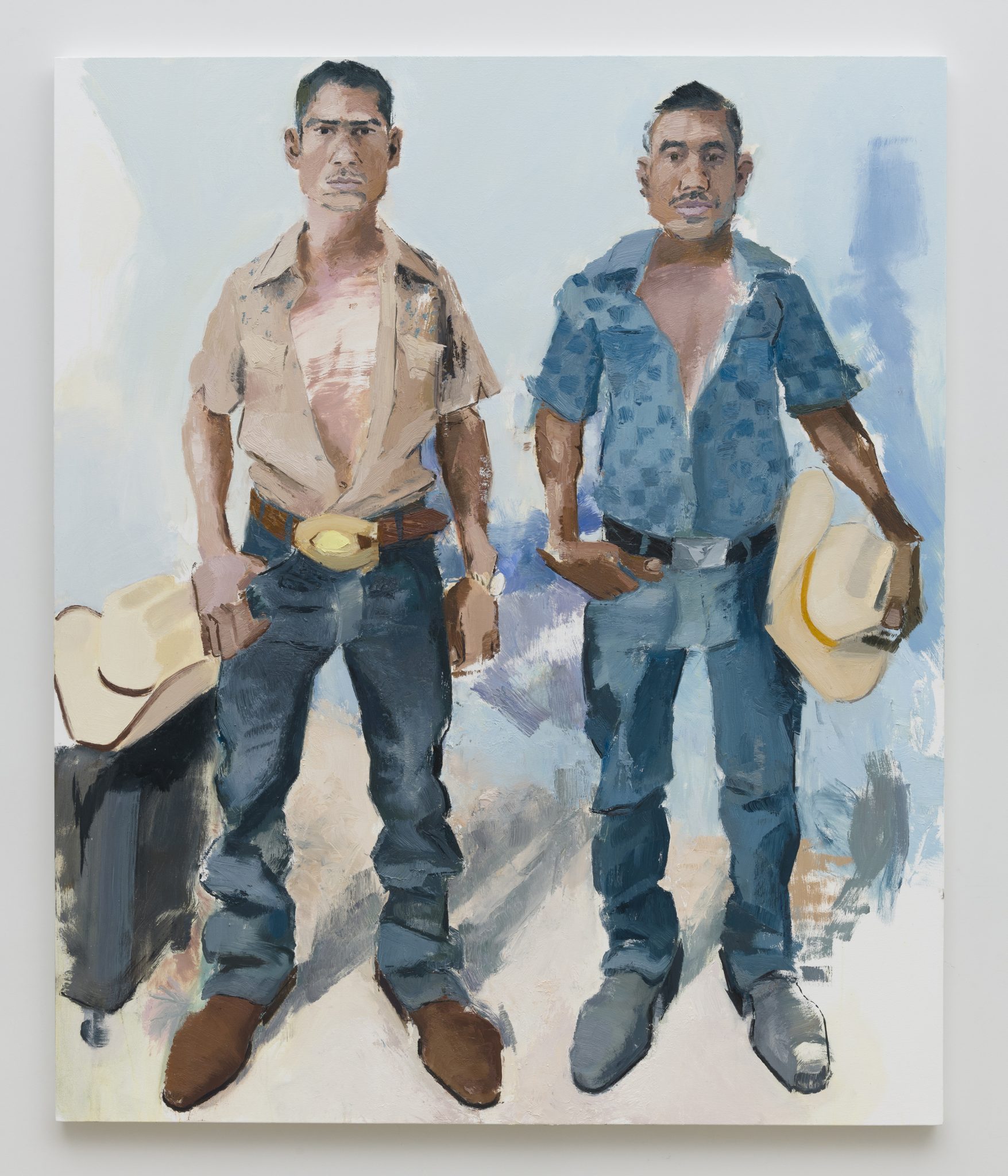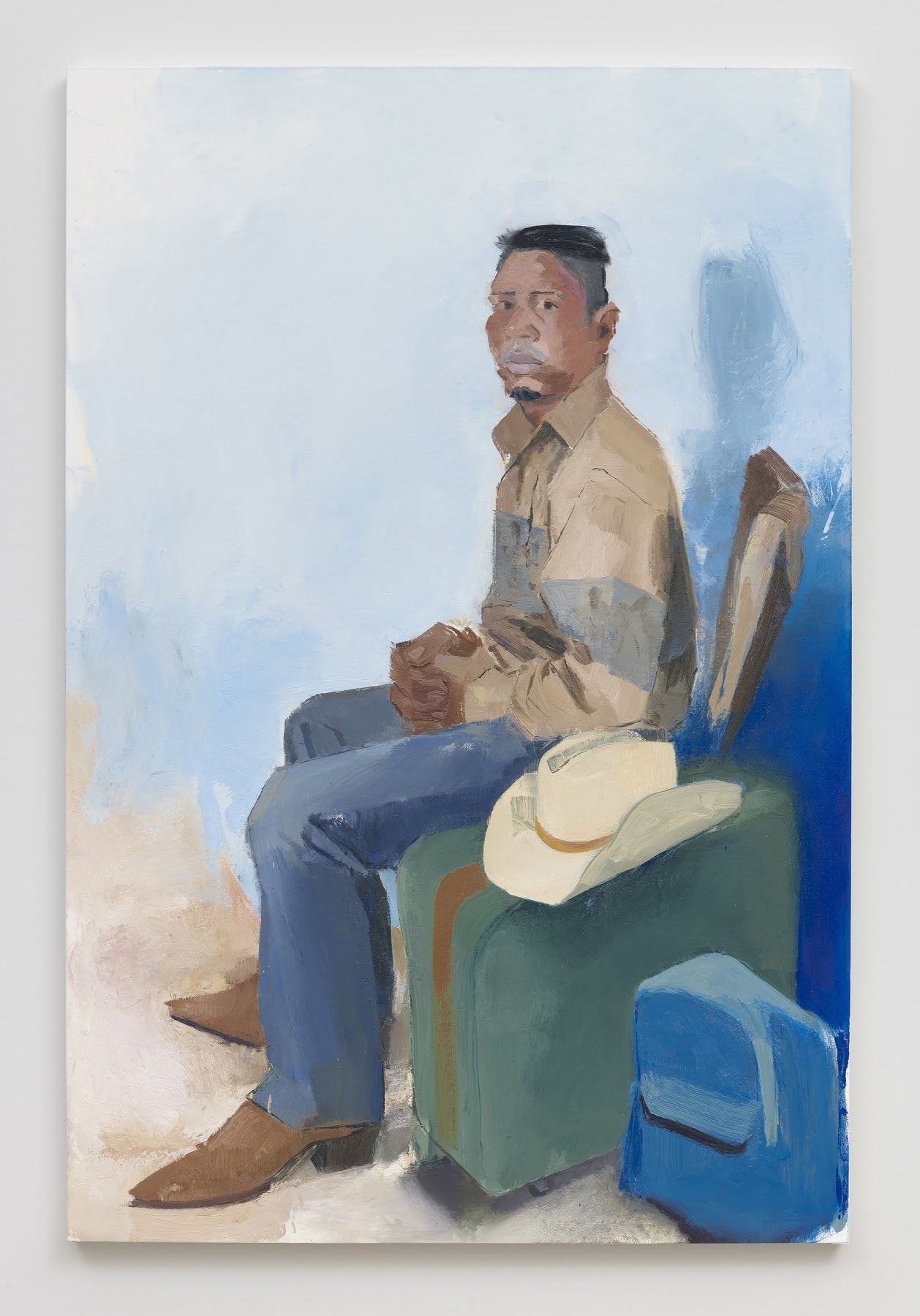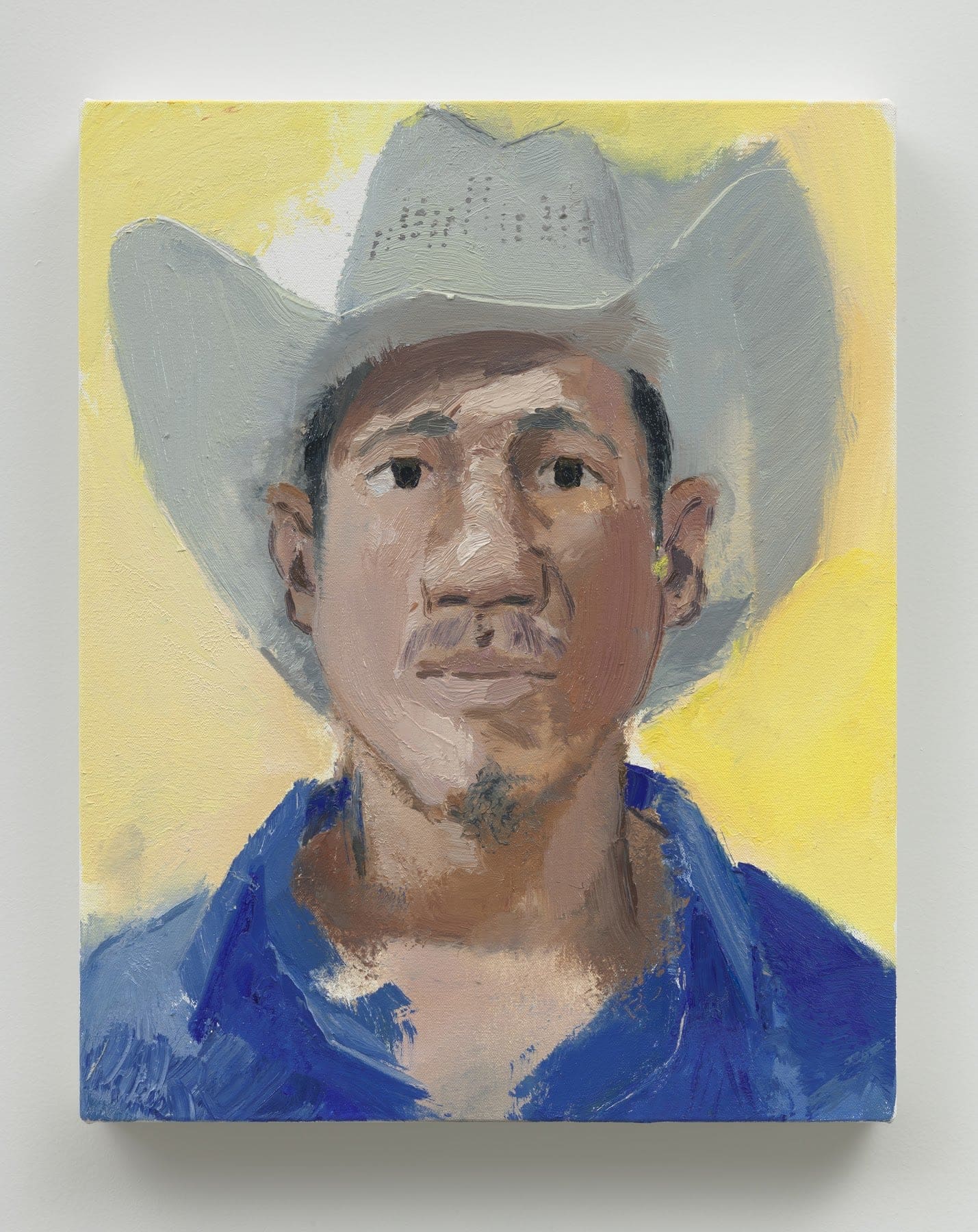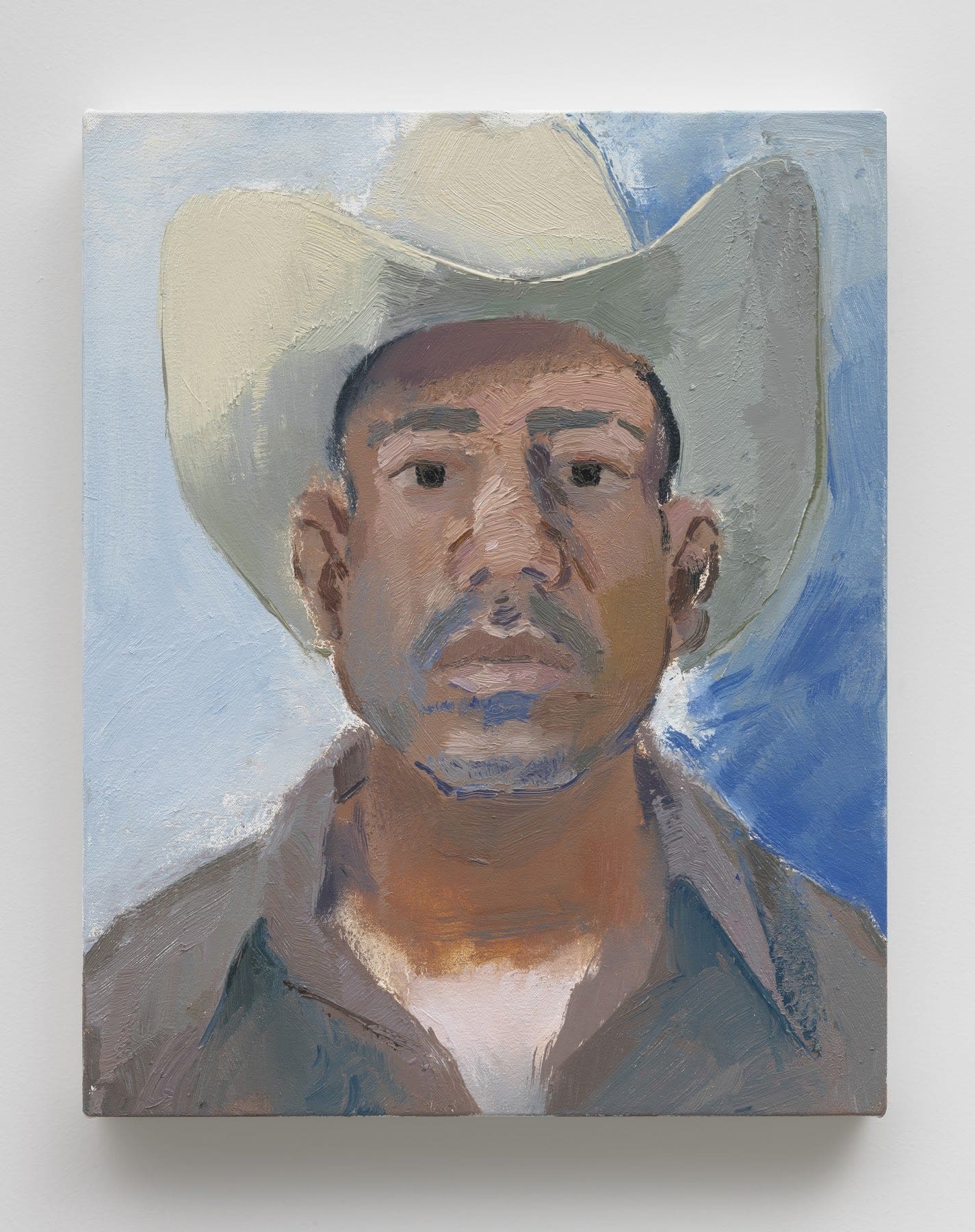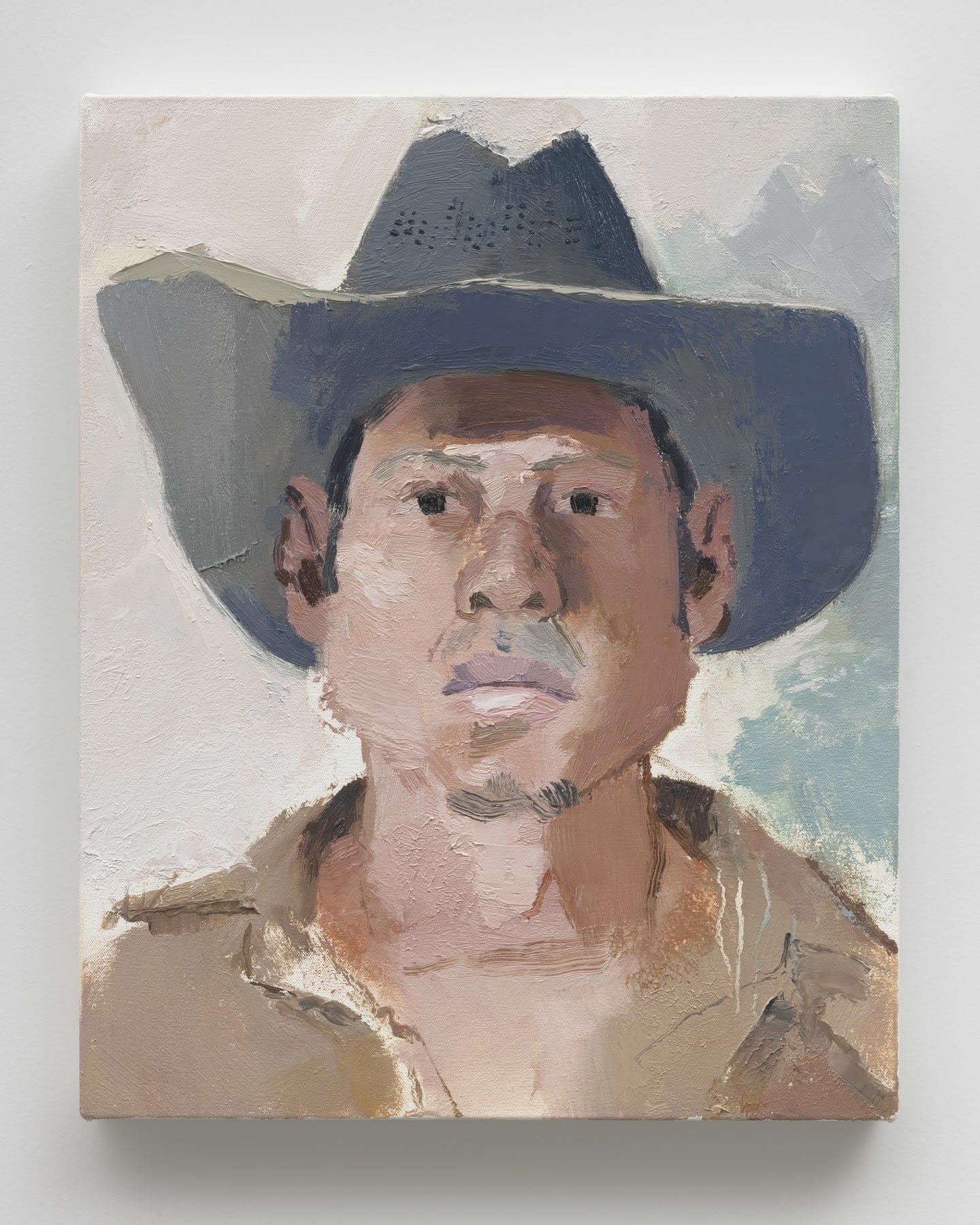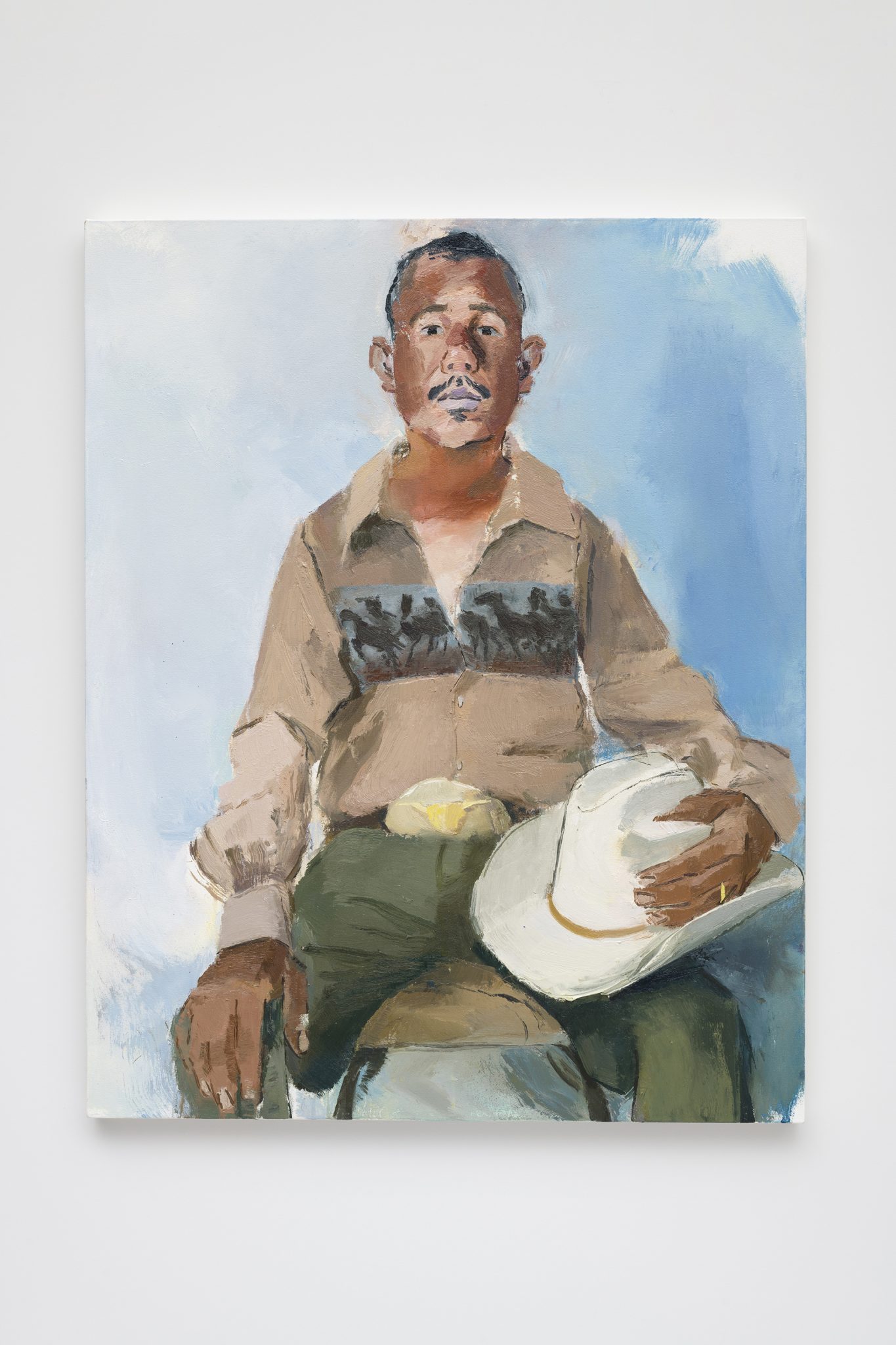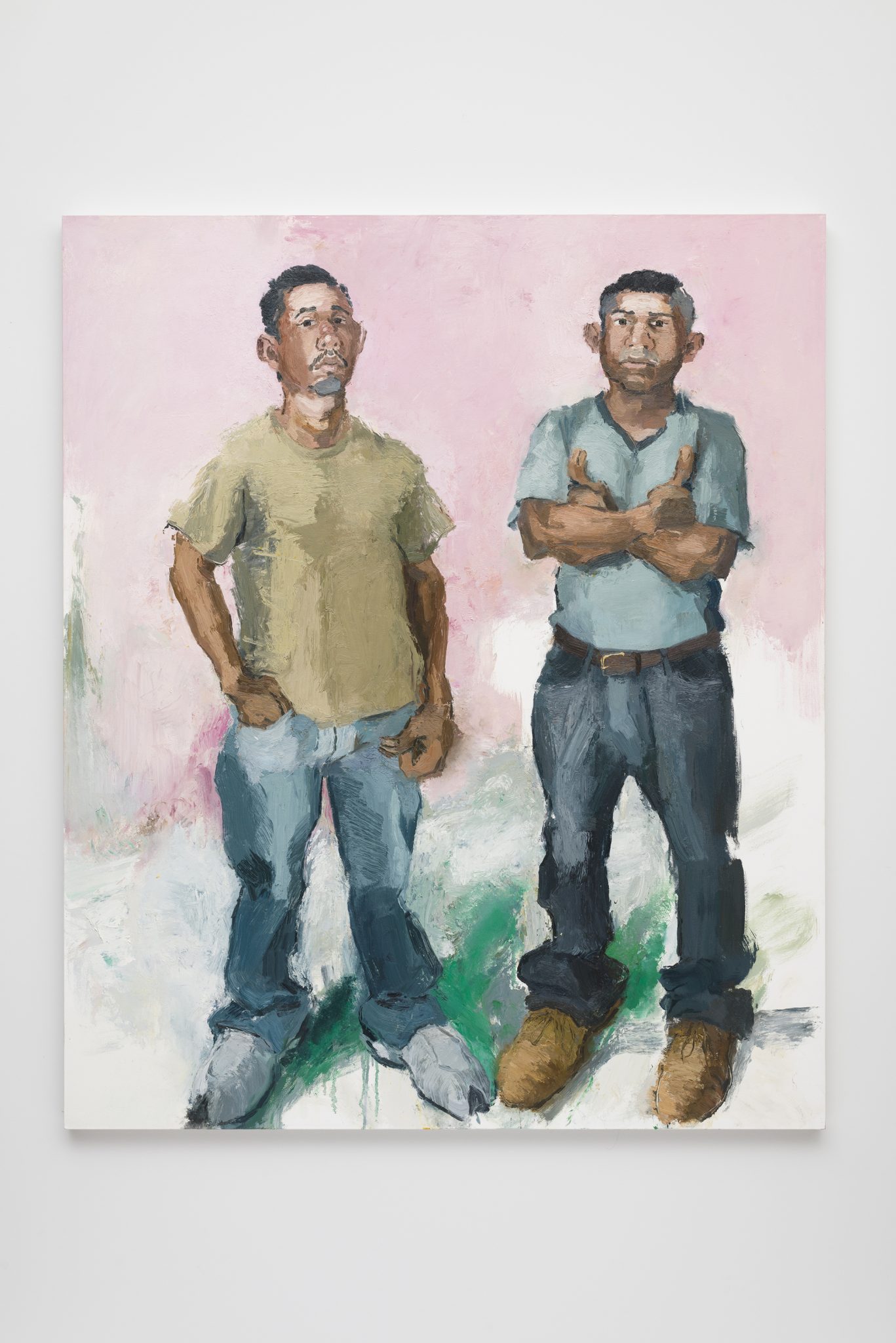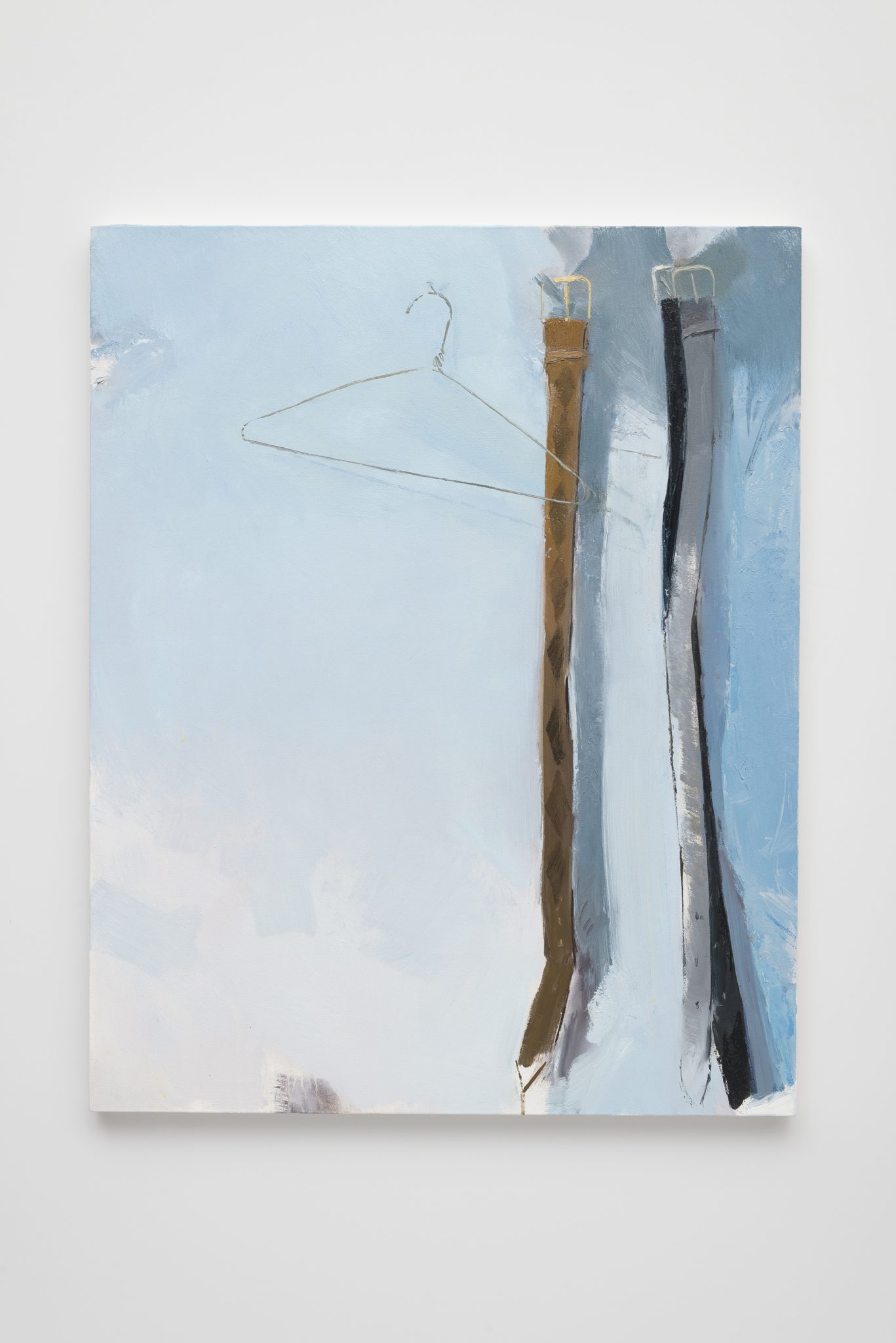 Press Release
Vielmetter Los Angeles is pleased to present the gallery's first exhibition with Los Angeles based portrait painter John Sonsini. Comprised of full-length figures, bust portraits, and still lifes, the exhibition, Cowboy Stories & New Paintings, centers on the theme of cowboys living in Mid City Los Angeles. Emblematic of Sonsini's 50 yearlong practice, his all-male portraits oscillate between the intimacy of depicting a specific person's likeness and more generally addressing broad issues of gender mythology. In "Francisco", we see the sitter exchanging his street clothes for the western clothing he's unpacked from a suitcase, thus witnessing the transition from the everyday to the performative.
Sonsini's textured brushwork foregrounds the directness of his specific style of observational realism, deeply influenced by his time working with the legendary photographer Bob Mizer and the Athletic Model Guild studio. Akin to the photograph, Sonsini's paintings capture the likeness of his subjects with raw immediacy. Sonsini's practice emphasizes the process of painting specifically from life, purposefully rejecting the aid of painting from captured images. He creates his work in several five-hour-long sessions with his sitters­–this durational aspect of his process and the candidness of his sitters create both a physical and psychological charge in the paintings.
Staged in his studio, the figures are removed from their day to day contexts and set against tonal backdrops devoid of detail allowing the focus to lay solely on the subjects. Items such as suitcases, bags, and boxes occasionally populate the compositions suggestive of a story, though Sonsini evades specificity in terms of locating his subjects within a defined narrative, leaving interpretation open to the viewer. Sonsini's use of a tilted perspective places a characteristically unique emphasis on the details of these painted men's visages and features such as their hands and shoes, bringing their individual features into sharp focus. Sonsini's visual language and nuanced mannerism combine to mark an important place in the lineage of Southern California portrait painters.
John Sonsini was born in Rome, NY in 1950, he received his BA from California State University Northridge in 1975. Recent solo exhibitions include Miles McEnery Gallery, New York, NY; "A Day's Labor: Portraits by John Sonsini," Art Design & Architecture Museum, University of California, Santa Barbara, CA; "Daywork: Portraits," Long Beach Museum of Art, Long Beach, CA; Recent group exhibitions include "The Warmth of Other Suns: Stories of Global Displacement," The Phillips Collection, Washington, D.C.; "Collecting on the Edge," Nora Eccles Harrison Museum of Art, Utah State University, Logan, UT; "Modern and Contemporary," Cantor Arts Center, Stanford University, Stanford, CA; "The Sweat of Their Face: Portraying American Workers," National Portrait Gallery, Washington, D. C.; "Human Interest: Portraits from the Whitney's Collection," Whitney Museum of American Art, New York, NY; "Us is Them," Pizzuti Collection, Columbus, OH. His work can be found in such institutions as the Autry Museum of the American West, Los Angeles, CA; ADA Museum, University of California, Santa Barbara, CA; Addison Gallery of American Art, Philips Academy, Andover, MA; Birmingham Museum of Art, Birmingham, AL; The Broad Art Foundation, Los Angeles, CA; Bronx Museum of the Arts, New York, NY; Cornell University, Ithaca, NY; The Frances Young Tang Museum, Skidmore College, Saratoga Springs, NY; Hammer Museum, University of California, Los Angeles, CA; Henry Art Gallery, University of Washington, Seattle, WA; High Museum of Art, Atlanta, GA; Long Beach Museum of Art, Long Beach, CA; Los Angeles County Museum of Art, Los Angeles, CA; Minneapolis Institute of Art, Minneapolis, MN; The Mulvane Art Museum, Washburn University, Topeka, KS; Museum of Contemporary Art, Los Angeles, CA; Museum of Contemporary Art, San Diego, CA; Nerman Museum of Contemporary Art, Johnson County College, Overland Park, KS; Nora Eccles Harrison Museum of Art, Utah State University, Logan, UT; Palm Springs Art Museum, Palm Springs, CA; Portland Art Museum, Portland, OR; San Francisco Museum of Modern Art, San Francisco, CA; The Smithsonian American Art Museum, Washington, D.C.; The Solomon R. Guggenheim Museum, New York, NY; The Whitney Museum of American Art, New York, NY; The Weatherspoon Art Museum, University of North Carolina, Greensboro, NC; The McNay Art Museum, San Antonio, TX.
The gallery is located at 1700 S Santa Fe Avenue, south of the 10 freeway. Parking is available in the north and south parking lots adjacent to the building. Gallery hours are Tuesday through Saturday from 10 am to 6 pm and by appointment.