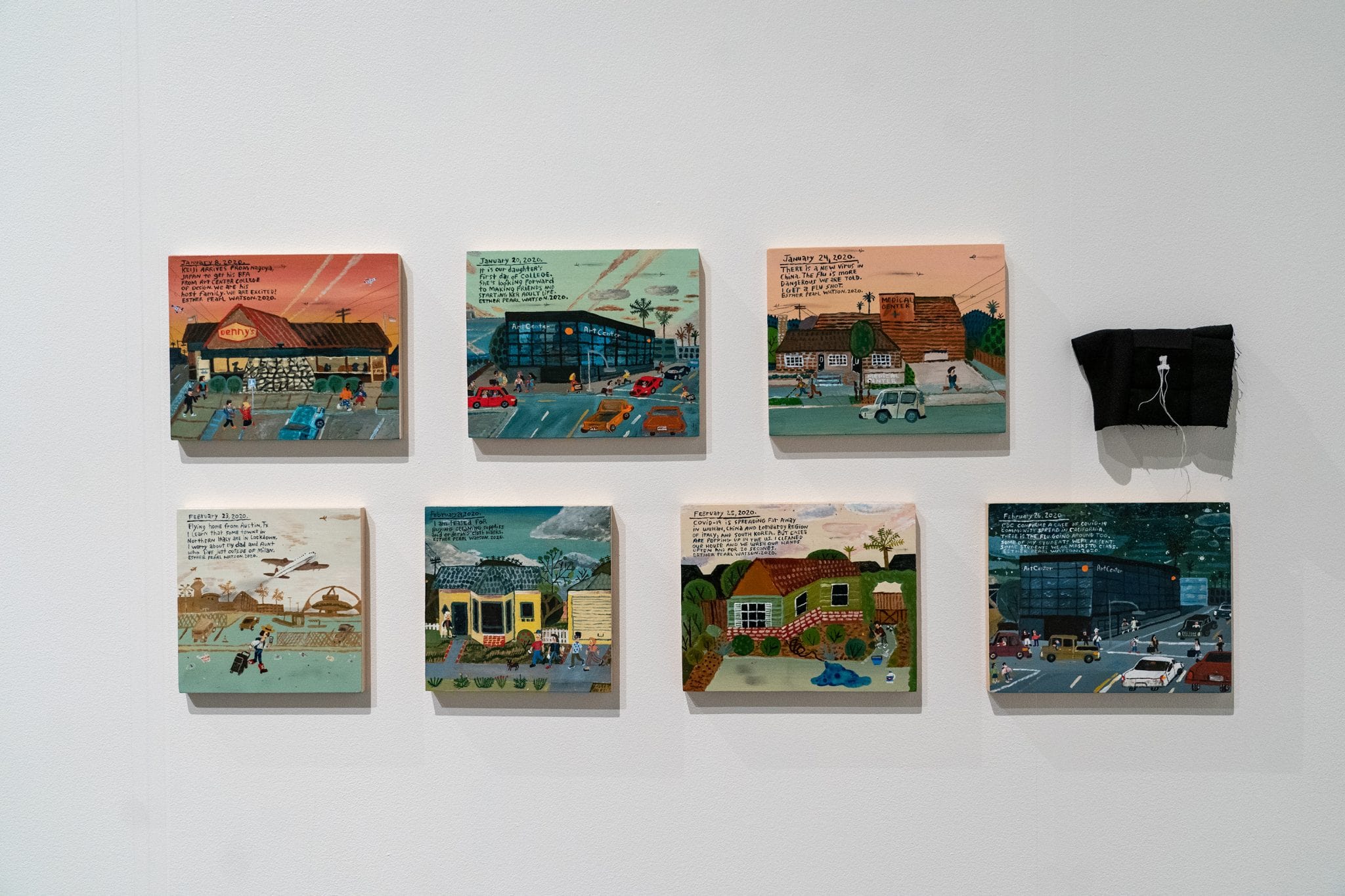 Esther Pearl Watson
Safer at Home: Pandemic Paintings
September 23 — November 14, 2021
Richmond Center for Visual Arts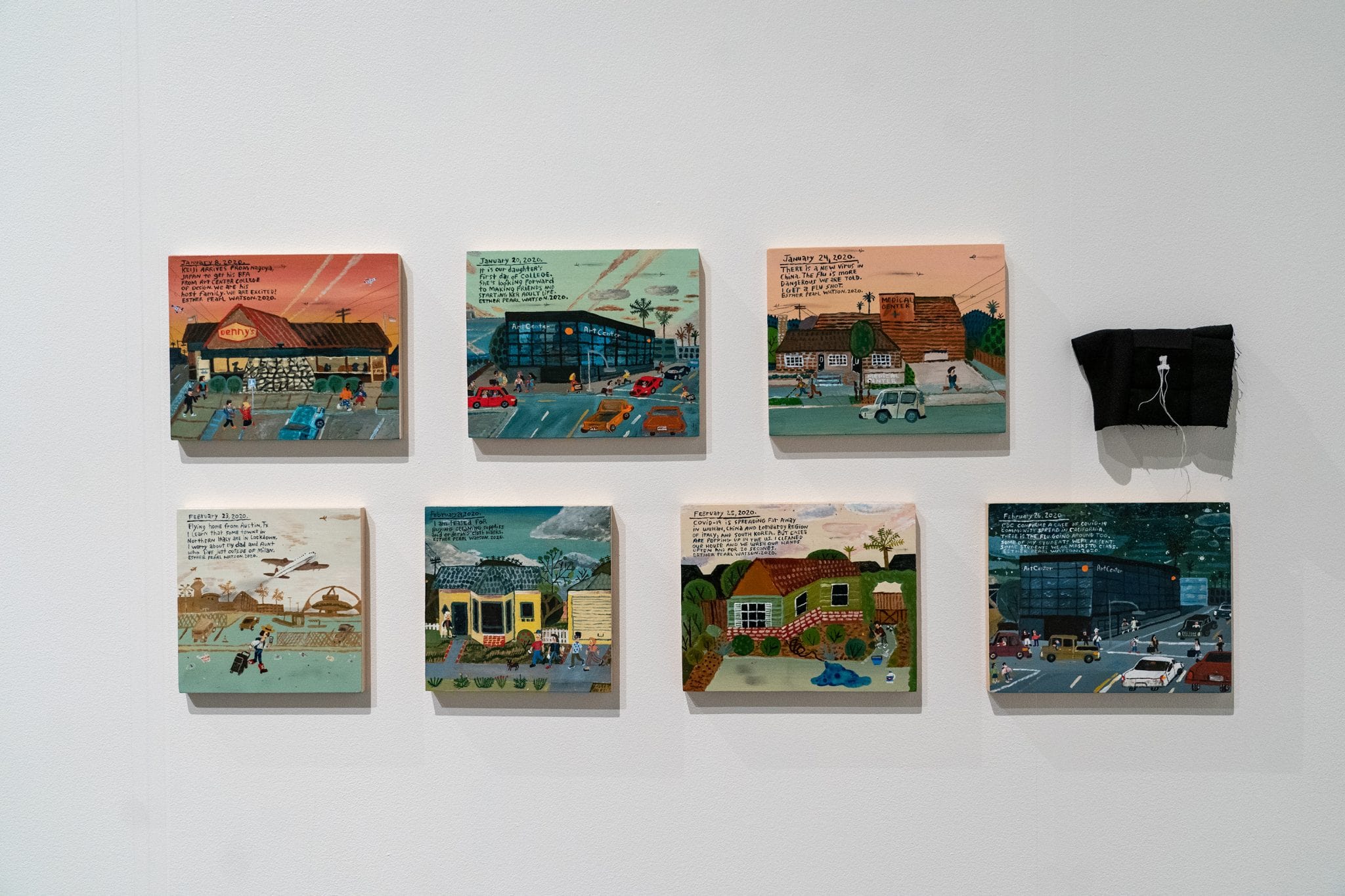 ---
Western Michigan University's Richmond Center for Visual Arts announces a major exhibition of Los Angeles-based artist Esther Pearl Watson's newest body of work, Safer at Home: Pandemic Paintings. Coolly observational and poignantly confessional, a chronology of more than one hundred intimately-scaled paintings capture the circumstances of life in 2020 during the onset of COVID-19. Premiering at Vielmetter Los Angeles in January of 2021, Esther Pearl Watson's Safer at Home: Pandemic Paintings will open at the Richmond Center on September 23rd and remain on view through November 14th, 2021.
Revered for her "memory paintings," Watson's Safer at Home series is based not only on the artist's personal experience of pandemic life in Los Angeles, but also on meticulously researched news articles that report the year's cascade of historic events. From the heart-wrenching consequences of quarantine and isolation to the sense of doom ignited by California's forest fires, Safer at Home documents enormous shifts in accepted realities of daily life. A painting dated July 12, 2020, for example, declares that, "The new normal feels like an alternate version of an earlier life." Creating the first paintings in March, Watson's Safer at Home series begins with cautious recollections from January and February and ends with the hope of new era—the promise of a vaccine and the election of a new president and vice president.
Throughout Safer at Home, Watson documents personal adjustments—separation from family members living in group homes, for example—in tandem with how the pandemic exposed and magnified systemic inequities. Scenes of mourning and protest over the death of George Floyd and countless Black Americans at the hands of police invoke emotionally-charged and historic events, while other observations focus on issues of health care or impromptu moments of shared humanity.
As if reporting the nightly news while also privately journaling, written announcements in the upper left quadrant of each panel position the work in relationship to language. More than a catalog of diaristic entries, however, Watson's Pandemic Paintings call to mind matters elemental to painting as a medium, in particular the relationship between the painter, the painting (as object or image), and the physical act of painting itself. Without appealing directly to theoretical concerns, Watson's work also amplifies tensions between different kinds of images—painted and digital ones especially, as well as how visual images are remembered more broadly; several scenes in the series are based on snapshots made by the artist from a moving car. At times, the result emphasizes the shape of each small panel as a window or a screen—two types of planes that gained new cultural value given the volume of video calls and distance visits resulting from numerous shelter-in-place orders.
Celebrated for her vivid approach to storytelling, Watson is widely known for painting flying saucers which her father built obsessively in her family's backyard during her upbringing in small towns across Texas. While this time, Watson's Safer at Home series largely omits spacecraft iconography so prevalent in other bodies of work, her quintessential approach to animating individual frames—in this instance, primarily cityscapes—continues with urgency. Both individually and as a cohesive timeline, the artist's Pandemic Paintings invoke active forms of reflection and remembrance, as well as a sense of mutually shared vulnerability and participation in understanding the surreal and significant events of 2020.
View Safer at Home: Pandemic Paintings at Vielmetter Los Angeles here. Check out Esther Pearl Watson's website here and listen to her speak about her studio practice and this body of work here.