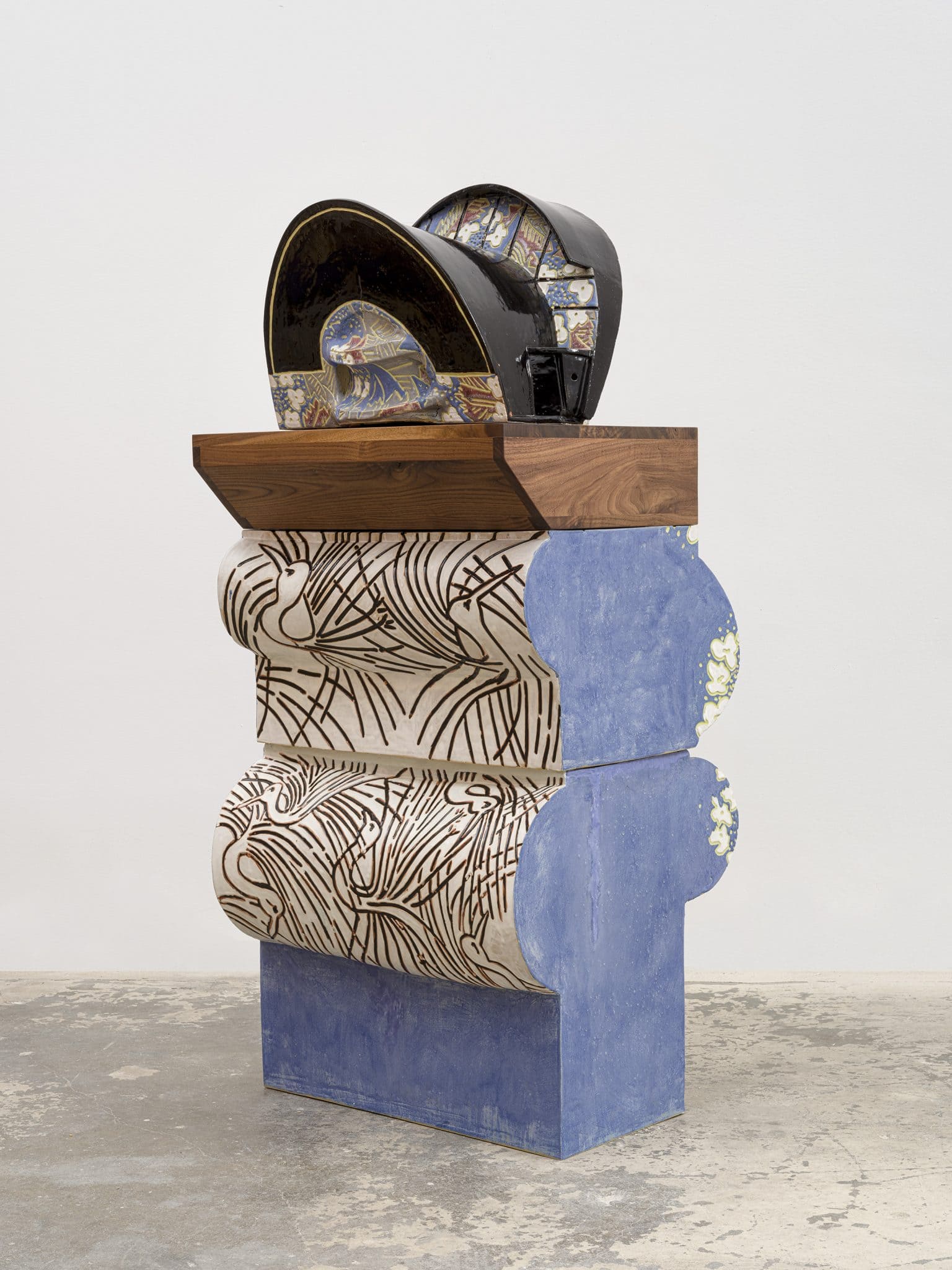 Bari Ziperstein
Patterns for Models
February 5 — March 19, 2022
Greenhouse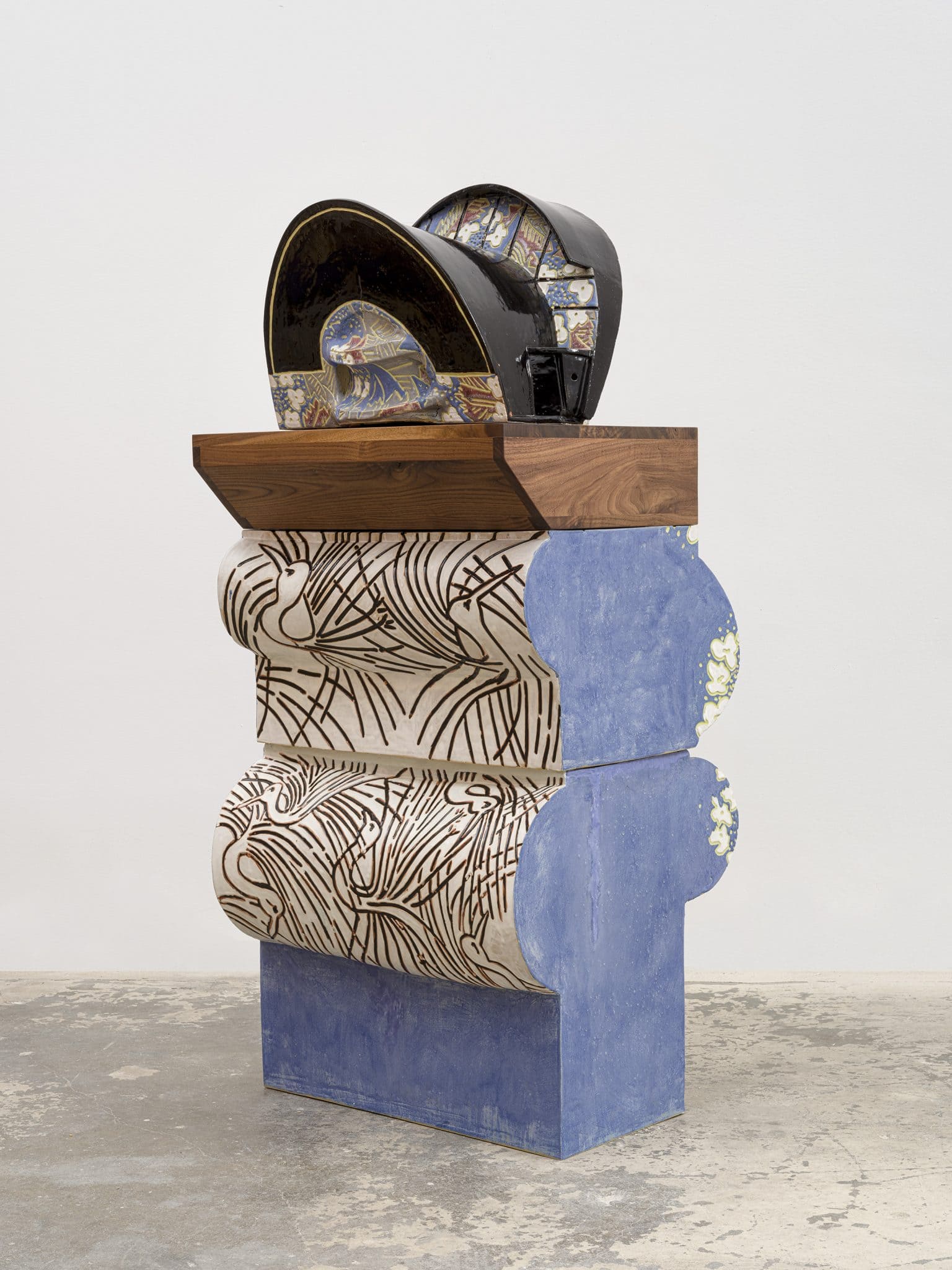 ---
Bari Ziperstein
"Flowers for Ashes (Kiev)," 2022
Stoneware, underglaze and glaze
65" x 27" x 26 ¹⁄₂" [HxWxD] (165.1 x 68.58 x 67.31 cm)
Inventory #ZIP1005
Courtesy of the artist and Vielmetter Los Angeles
Photo credit: Jeff McLane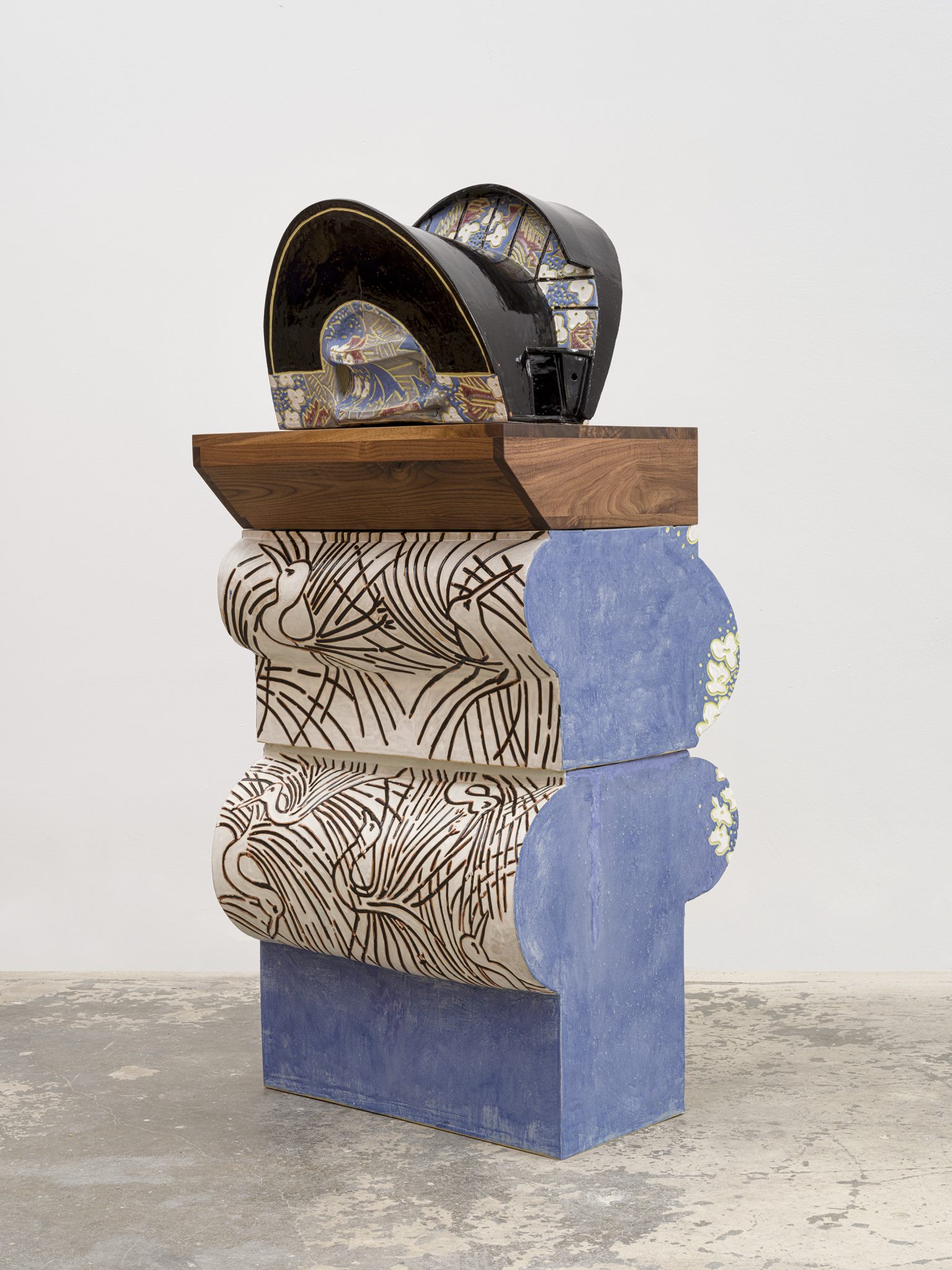 Vielmetter Los Angeles is pleased to present Patterns for Models, an exhibition of new large-scale ceramic sculptures by Los Angeles-based artist Bari Ziperstein. The exhibition will open on February 5, 2022 in the Greenhouse Gallery.
Over the past 20 years, Bari Ziperstein (b. 1978; Chicago, IL, USA) has developed a mastery of ceramics that allows her to push the limits of scale, experiment with color and finish, and use the shapes and surfaces of her sculptures to tell stories and convey ideas. Her work is materially experimental but conceptual and research-based at its core. She approaches her work from an intersectional feminist position, asking questions about how women and women's work are positioned within societal frameworks, and her work reflects her interest in the ways that art and other visual and spatial materials convey meaning. Ziperstein's process often starts with archival materials to explore the ways that visual culture and the built environment signal repressive social and political ideologies.
Bari Ziperstein
"Stacked Horizons," 2022
Stoneware, underglaze and glaze
70 ¹⁄₂" x 34" x 24" [HxWxD] (179.07 x 86.36 x 60.96 cm)
Inventory #ZIP1006
Courtesy of the artist and Vielmetter Los Angeles
Photo credit: Jeff McLane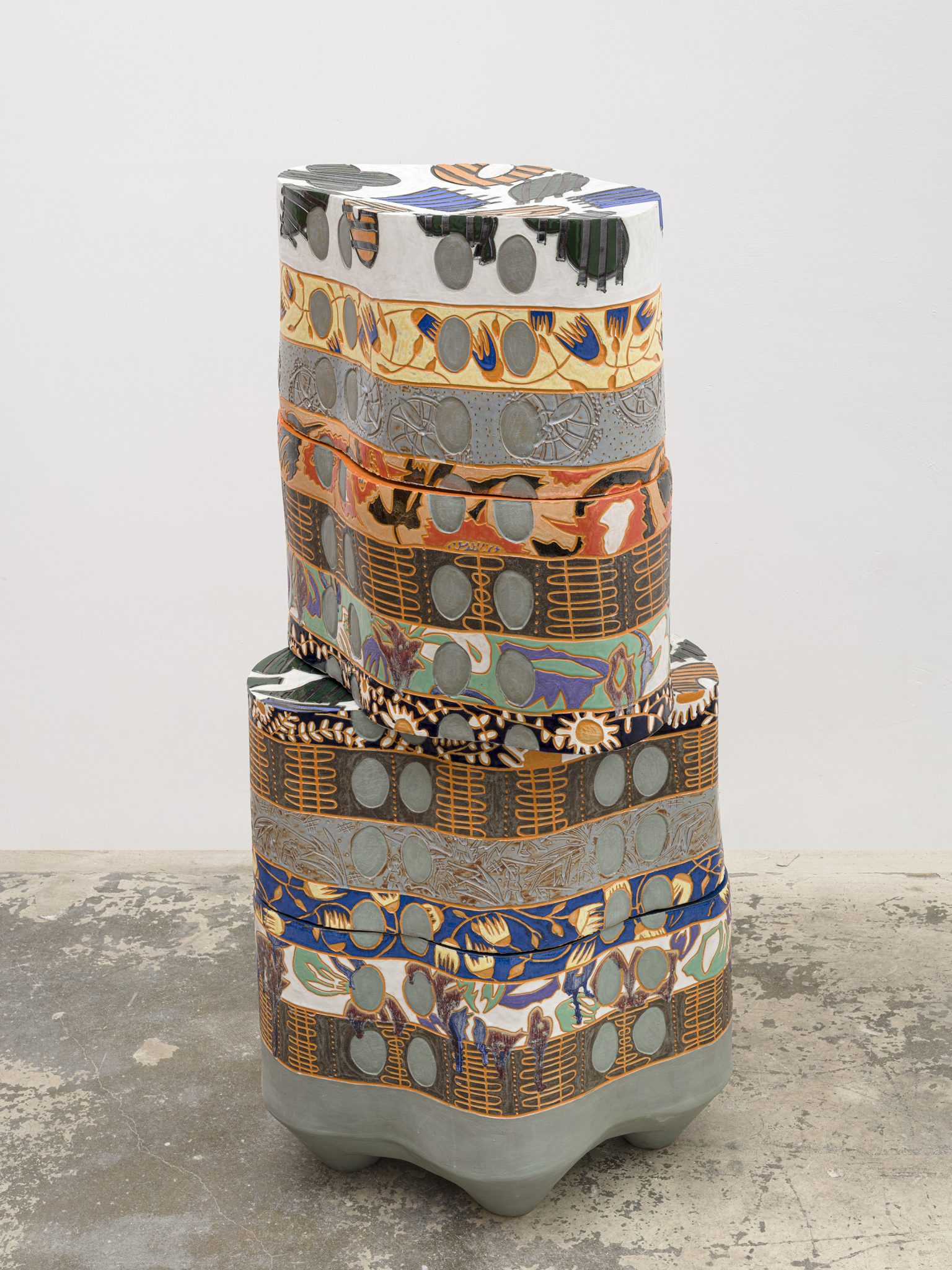 Ziperstein's research of Brutalist architecture eventually led her to the Wende Museum of the Cold War in Culver City. On a research residency there in 2015-2016, she immersed herself in the aesthetics and strategies deployed in Soviet propaganda through posters, textiles, and everyday domestic items. As a student of women's studies and ardent feminist, she found the messages of social control and conformity embedded in the Soviet propaganda she was researching rhymed with contemporary discussions of gender roles and geopolitics. With present-day nationalism continuing to rise around the globe, the connections between our present sociopolitical moment and Cold War-era Europe struck her as urgent reminders of a not so distant past.
The large-scale ceramic sculptures in Patterns for Models build upon several concurrent and progressive bodies of work related to this ongoing line of inquiry and involve research into Brutalist architecture and the concepts and uses of political propaganda; experimenting with the possibilities and limitations of clay and glaze; and creating serial bodies of work that expand and deepen Ziperstein's visual and conceptual language. The forms are inspired by Brutalist buildings and monuments in the United States and abroad, including countries such as Russia and Poland, to which Ziperstein traces her own familial origins. The surfaces are covered in sgraffito drawings based on archival Soviet-era textile designs. The juxtaposition of the architectural forms and the abstract patterns raises questions about narrative, decoration, and the political messages that are embedded in our aesthetic choices.
Bari Ziperstein
"Corporate Abandonment," 2022
Stoneware, underglaze and glaze on walnut base
55 ¹⁄₂" x 23" x 24" [HxWxD] (140.97 x 58.42 x 60.96 cm)
Inventory #ZIP1007
Courtesy of the artist and Vielmetter Los Angeles
Photo credit: Jeff McLane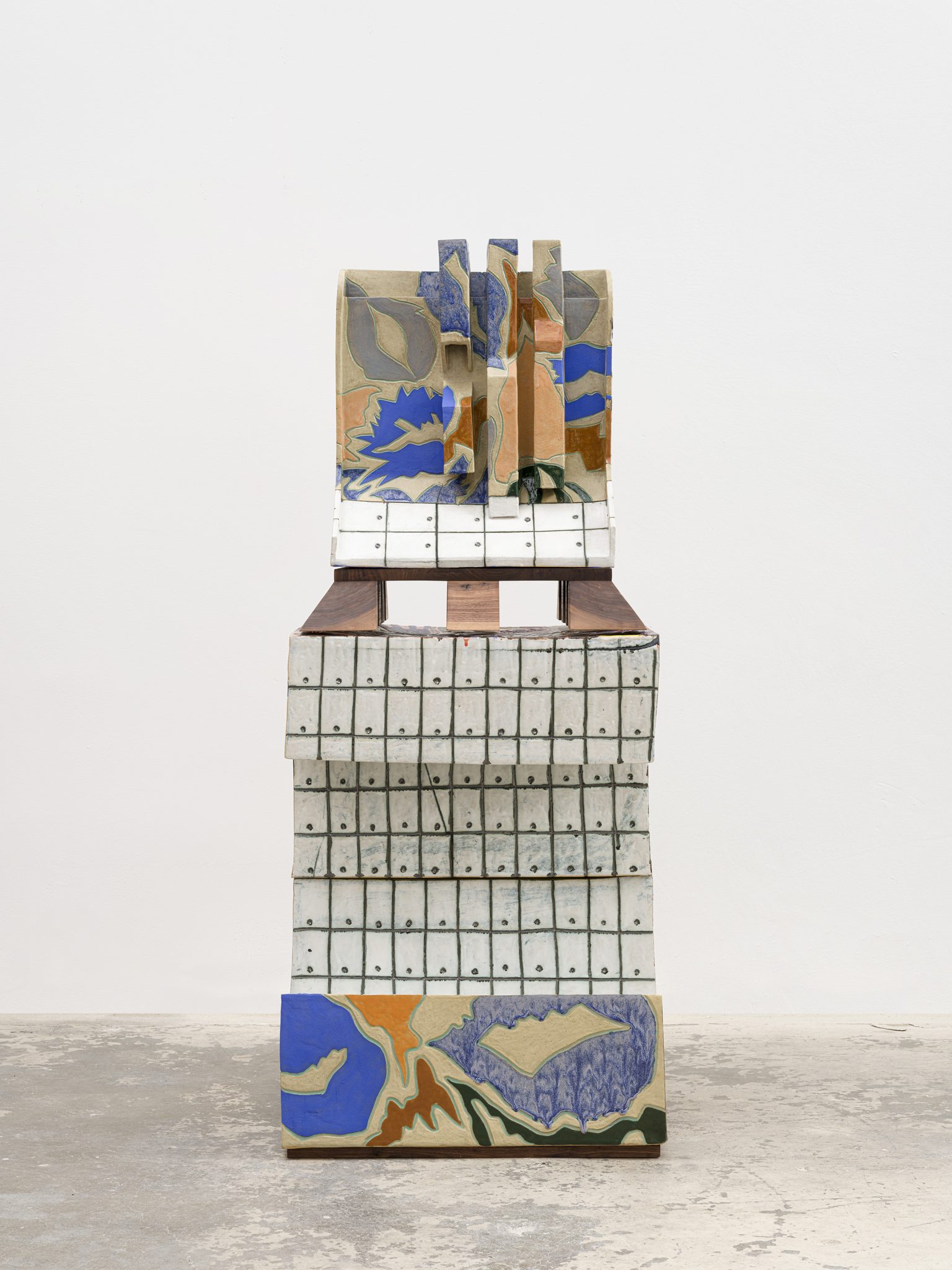 Ziperstein sees her role as an animator of sorts, working with two-dimensional source material overlaid onto a three-dimensional context to create visual juxtapositions that recontextualize forms and images that were not initially conceived to be presented in combination. This intentional clashing of forms, patterns, concepts, and time periods heightens the criticality of the work: Why were these forms and patterns made in the first place, what do they communicate, and to whom? Ziperstein is inclined to follow her research back to original architectural drawings to create scale models of actual buildings and monuments and to the original hand-drawn textile designs made by artists who are largely lost to history, many of whom were female. Her gesture of miniaturizing imposing Brutalist buildings proposes a rejection of totalitarian alienation, trading in authoritarianism for a politics more humanly–and humanely–scaled. There is both an intimacy to learning about the personal human origins of what ultimately becomes a machine-made design meant to indoctrinate the masses and a poetic commentary on the social and economic position of women as working artists. By decorating forms inspired by an architectural genre that was characterized by its resistance to ornament and by physically shrinking them down to architectural models or dollhouse versions, Ziperstein "feminizes" them as a way to allow something new and beautiful to emerge.

The gallery is located at 1700 S Santa Fe Avenue, south of the 10 freeway. For further information and press inquiries, please contact Olivia Gauthier at Olivia@vielmetter.com.
Bari Ziperstein
"The Flat Iron," 2022
Stoneware, underglaze and glaze
56" x 25" x 16" [HxWxD] (142.24 x 63.5 x 40.64 cm)
Inventory #ZIP1008
Courtesy of the artist and Vielmetter Los Angeles
Photo credit: Jeff McLane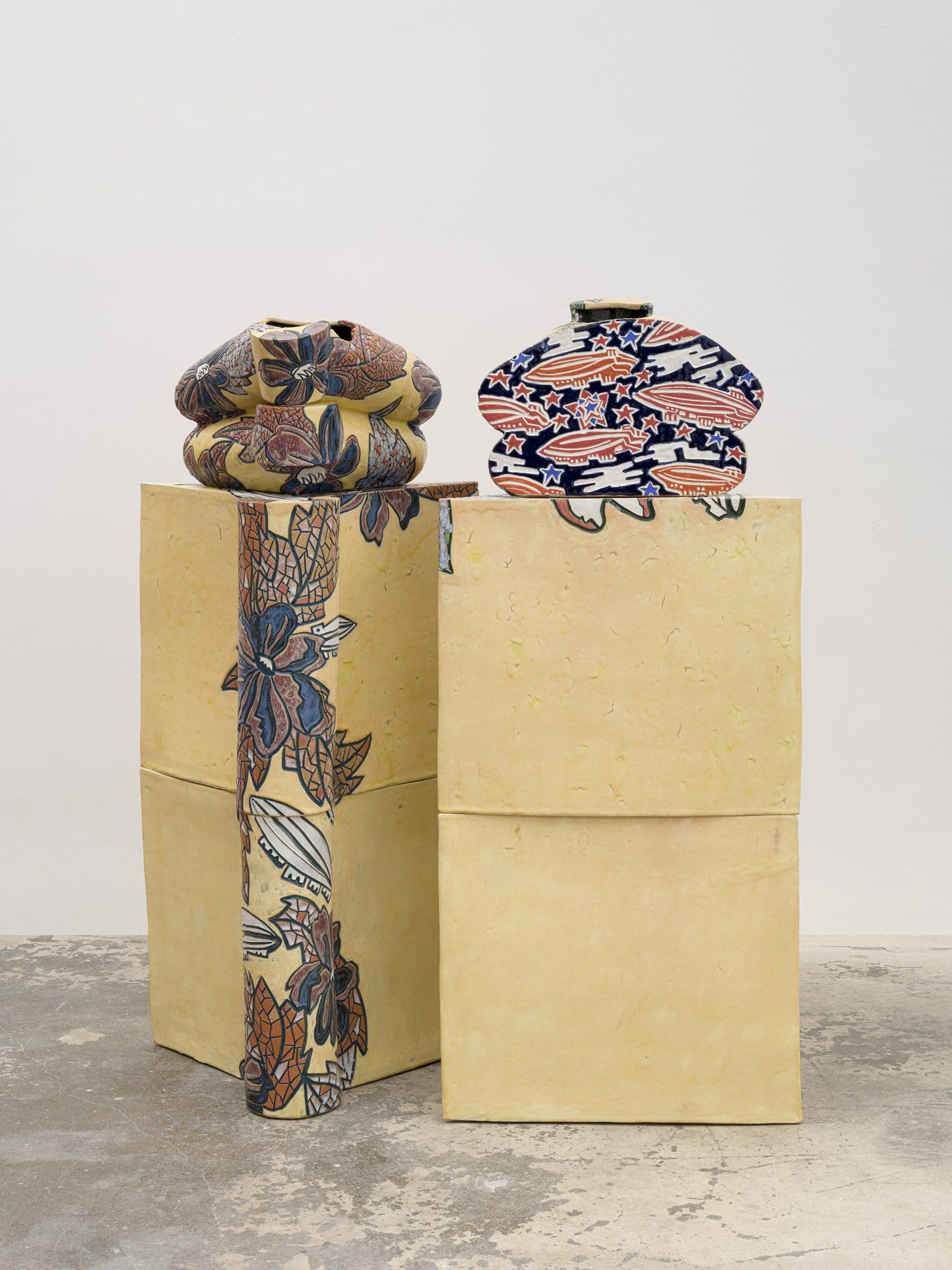 Bari Ziperstein was born in 1978 in Chicago, IL and lives in Los Angeles, CA. She received a Master of Fine Arts from the California Institute of the Arts, Valencia, CA in 2004 and a Bachelor of Fine Arts with a certificate in Women's Studies from Ohio University, Athens OH in 2000. One-person exhibitions of her work have been presented at Bethel University, Minneapolis, MN (2018); Museum of Art, Architecture, and Design, Santa Barbara, CA (2017); Wignall Museum of Contemporary Art, Rancho Cucamonga, CA (2010); Long Beach City College Project Space, Long Beach, CA (2009); The Harris Art Gallery, University of La Verne, La Verne, CA (2007); and the San Francisco Arts Commission, San Francisco, CA (2005) and recent one-person gallery exhibitions include Patterns of Propaganda, Charles Moffett Gallery, New York, NY (2019); and Propaganda Pots, Mier Gallery, Los Angeles, CA (2018). 
 
Her work has been included in thematic exhibitions such as Transformations: Living Room -> Flea Market -> Museum -> Art, Wende Museum, Culver City, CA (2020); The Body, The Object, The Other, Craft Contemporary, Los Angeles, CA (2020), of Designing Women II, Egg Collective, New York, NY (2019); All Hands on Deck, Ben Maltz Gallery, Otis College of Art & Design, Los Angeles, CA (2018); Making It Work: Production by Design, American Museum of Ceramic Art, Pomona, CA (2018); Corporeal Impulse, Vincent Price Art Museum, Los Angeles, CA (2015); Interior Forest, 18th Street Projects, Santa Monica, CA (2013); The Open Daybook, Los Angeles Contemporary Exhibitions, Los Angeles, CA (2011); Drama of the Gifted Child: The Five Year Plan, Armory Center for the Arts, Pasadena, CA (2009); Truthiness: Photography as Sculpture, California Museum of Photography, Riverside, CA (2008); Multiple Vantage Points: Southern California Women Artists, 1980-2006, Los Angeles Municipal Art Gallery, Los Angeles, CA (2007); and Pareidolia, Orange County Center for Contemporary Art, Santa Ana, CA (2004). Ziperstein's work is included in recent exhibitions at Nina Johnson, Miami, FL; and Jeffrey Deitch, New York, NY and a forthcoming solo exhibition at Vielmetter, Los Angeles.
Bari has been recognized by grantmaking organizations such as the Los Angeles County Arts Commission, Los Angeles, CA (2013); Center for Cultural Innovation, Los Angeles, CA (2012); Philip and Muriel Berman Foundation, Los Angeles, CA (2011); Arts Council of Long Beach, Long Beach, CA (2011); and the City of Pasadena Department of Cultural Affairs, Pasadena, CA (2010) and has been awarded residencies such as Anderson Ranch, Snowmass Village, CO (2012) and the Vermont Studio Center, Johnson, VT (2001).