Images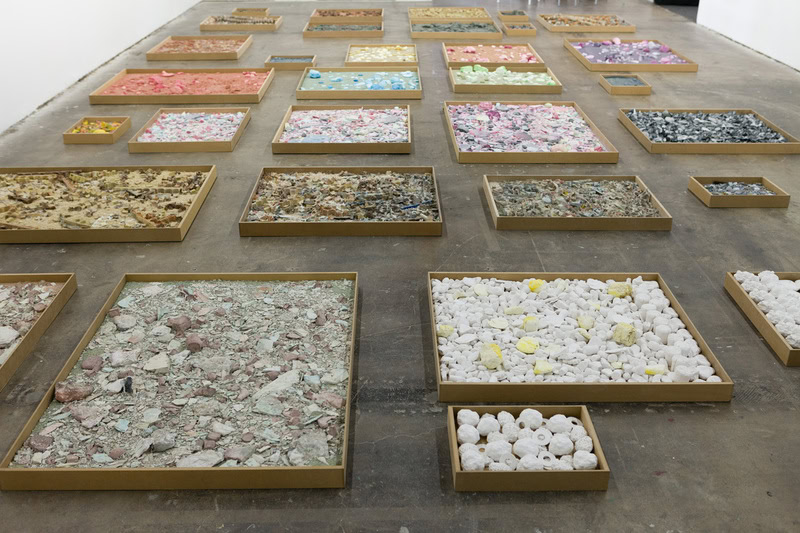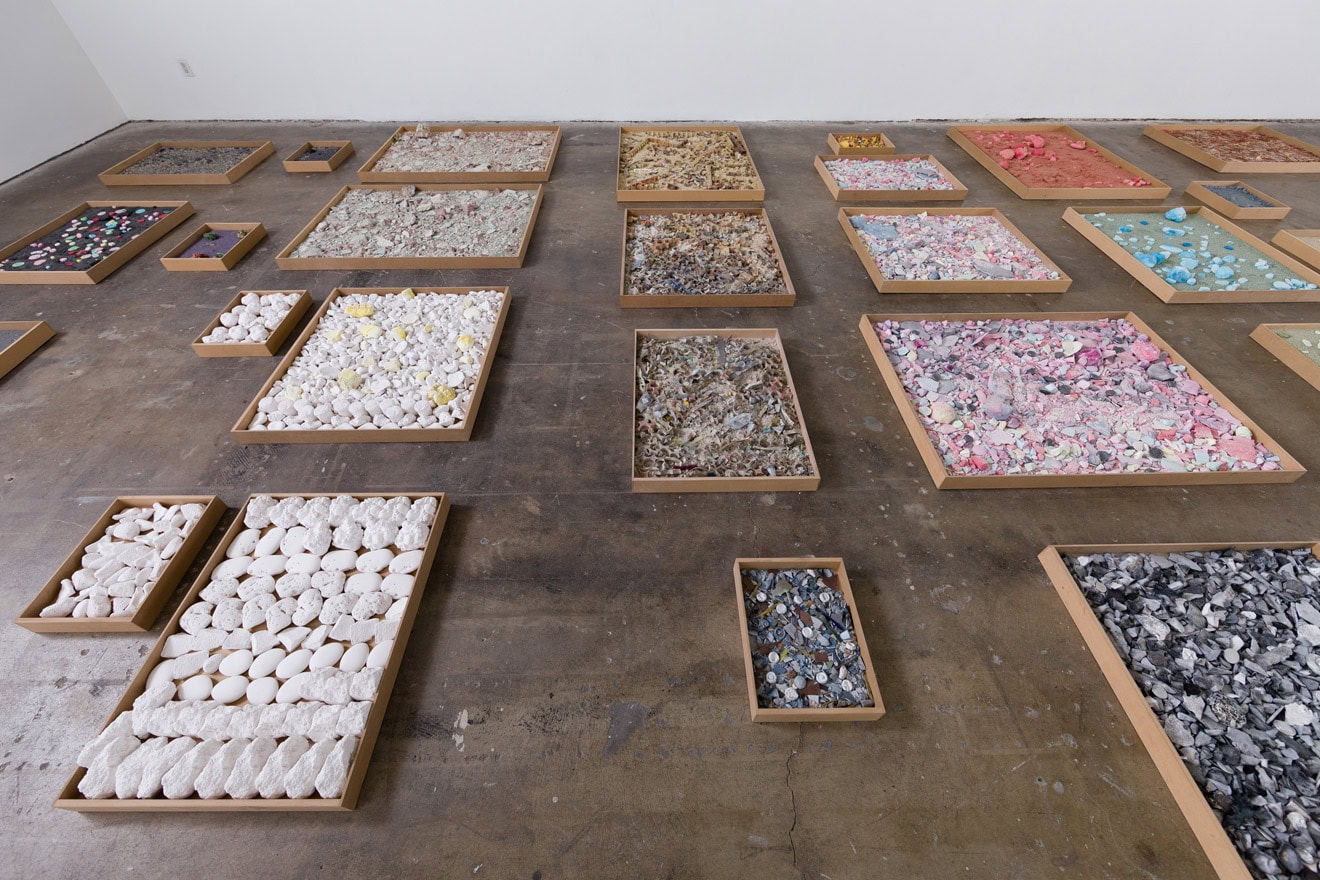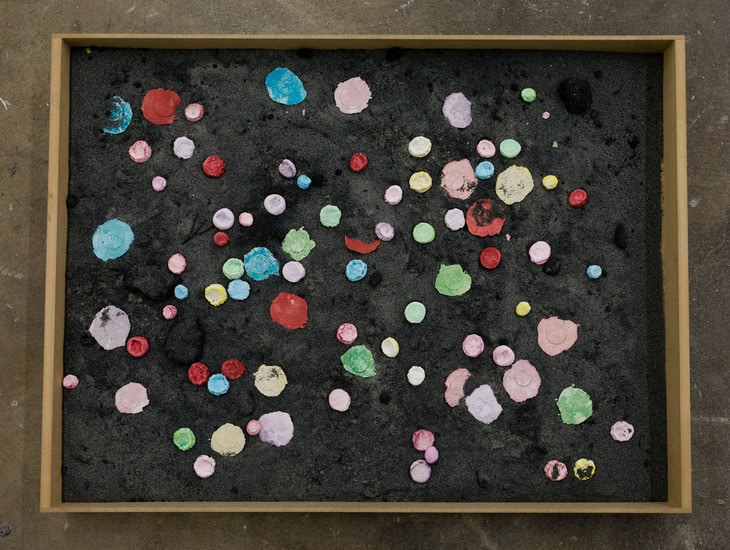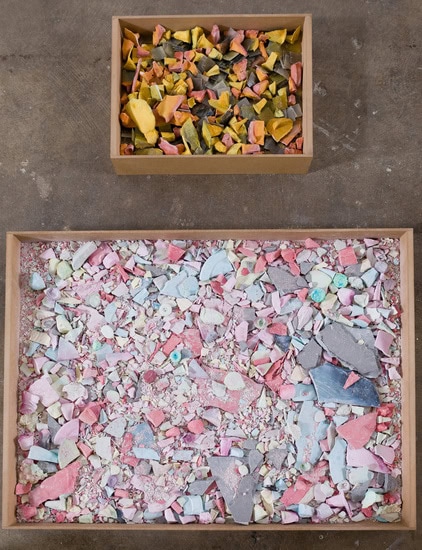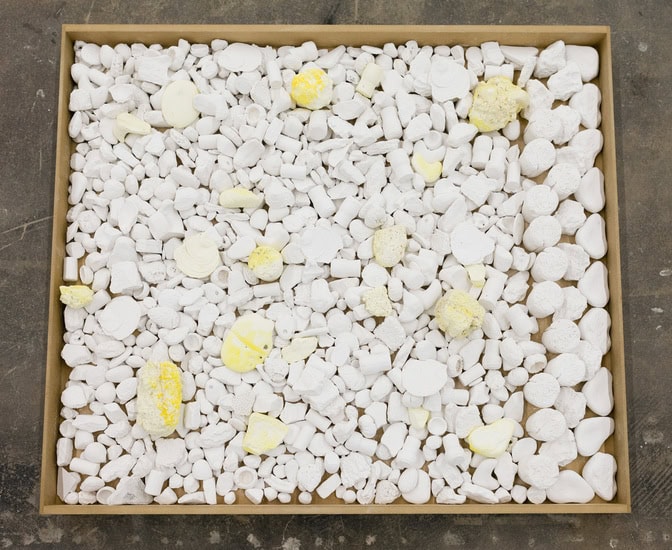 Press Release
For his exhibition at LA><ART, Jedediah Caesar continues to explore the shifting significations that we apply to organic material and manmade objects. For this, Caesars imprinted resin sculptures have been arrayed according to attributes and placed into taxonomic containers as though they were excavated artifacts being readied for preservation. Each combination of multiples references the found and the petrified object. Though distinct, each mirrors the other, like a fossil uncovered in a dried seabed. Individual boxes, too, function as artificial collections while they mimic geological fragments. In this sense, the particles are metaphors for Californias variegated landscape and terrain. The group is an analog or archive of the topography that Caesar occasionally enters for inspiration, and the figments of those places that he creates as installations in galleries. Each box presents an inimitable composition. The painterly quality of each comes from uncommon sources.
These non-sites suggesting sorted piles or bundles of cargo, do not construct so much as they accumulate objects. They investigate material qualities and privilege distance through ambiguous forms. In this new work, the artist has been experimenting with materials such as spices. Materiality and process are paramount to Caesars practice. He thinks of this as a collapse or entanglement between material and object. The work masquerades as artifact, conflating notions of time and signification. On his investigation into currency around the globe, and how currency marks ideals and identities of nations, the artist remarks: it is the authority of their form not their sovereignty that I am interested in.
Part of Caesars inspiration is Insulo de la Rozoj, a micronation built in 1967 on a platform in the Adriatic Sea, which introduced the image of its planned currency on stamps without reaching implementation. Using this as a point of departure, Caesar envisions the pelagic currency lost in time and offers prototypes that could be utilized by future micronations.
Los Angeles based artist Jedediah Caesar received an MFA from the University of California Los Angeles in 2001 and a BFA from the School of the Museum of Fine Arts, Boston in 1998. Recent solo exhibitions include out where the stones grow like roses at Susanne Vielmetter Projects, Los Angeles; Platform 9 at the DeCordova Museum and Sculpture Park in Lincoln, MA; Soft Structures at the Museum of Fine Arts, Boston and / ALBATROSS / BADGERS / CHIMPS / DINO / EMPIRE / EXTENSOR / FENCE / GOLDEN / GRANITE HILL / HEAVENS / INSIGNIFICANT / LARK / MR. TUX / ORANGE PEEL /PURPS / RAMPA / SWINGLES / THIN SPOT / UPSHOT / WHITE KNIGHT / YELLOW PAINT / ZIPPER / at DAmelio Terras, New York. Caesars work has been included in the Whitney Biennial, Whitney Museum of American Art, New York, and in exhibitions at the Fundament Foundation, Tilburg, Netherlands; the California Biennial 2008, Orange County Museum of Art, Newport Beach, CA, the Saatchi Gallery, London, UK; Dallas Contemporary, Dallas, TX, University of California, Los Angeles Armand Hammer Museum, Los Angeles, New Museum of Contemporary Art, New York; and Los Angeles Contemporary Exhibitions, Los Angeles. Among others, Caesars work is in the collection of the Saatchi Gallery in London; the Los Angeles County Museum of Art; and the New Museum in New York. Caesar previously produced the Gleaner Stone for LA><ARTs Public Art Initiative in 2008.
About Glow
LA><ART is proud to be a Glow Network Partner and sponsor for Jedediah Caesar's Glow 2013 project. Please join LA><ART at Glow on September 28, 2013 on the Santa Monica beach (glowsantamonica.org). In the context of Glow, Jedediah Caesar will extend his research on the issue of currency and create a site-specific performative and participatory installation on the beach.