Images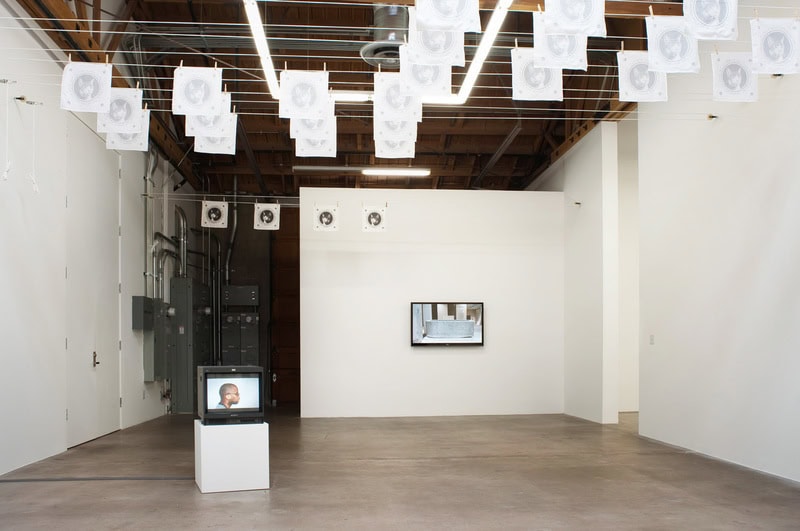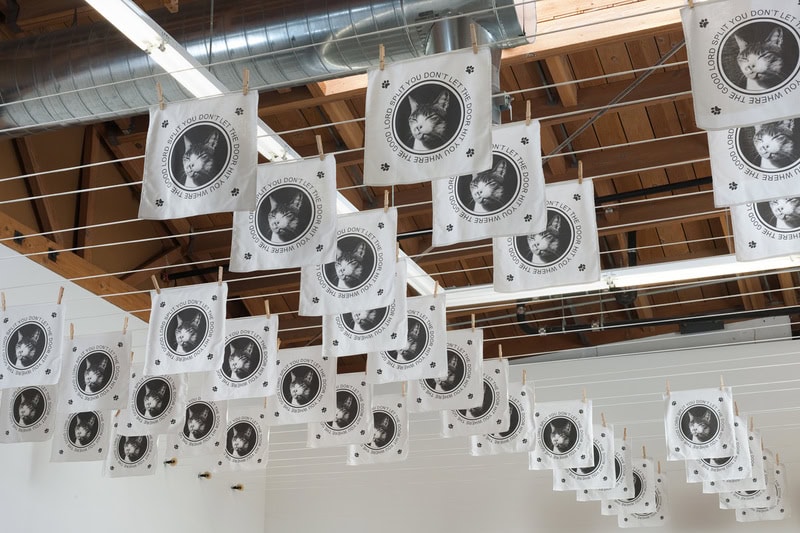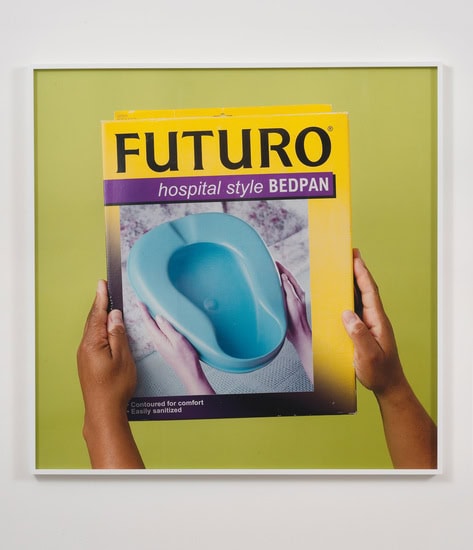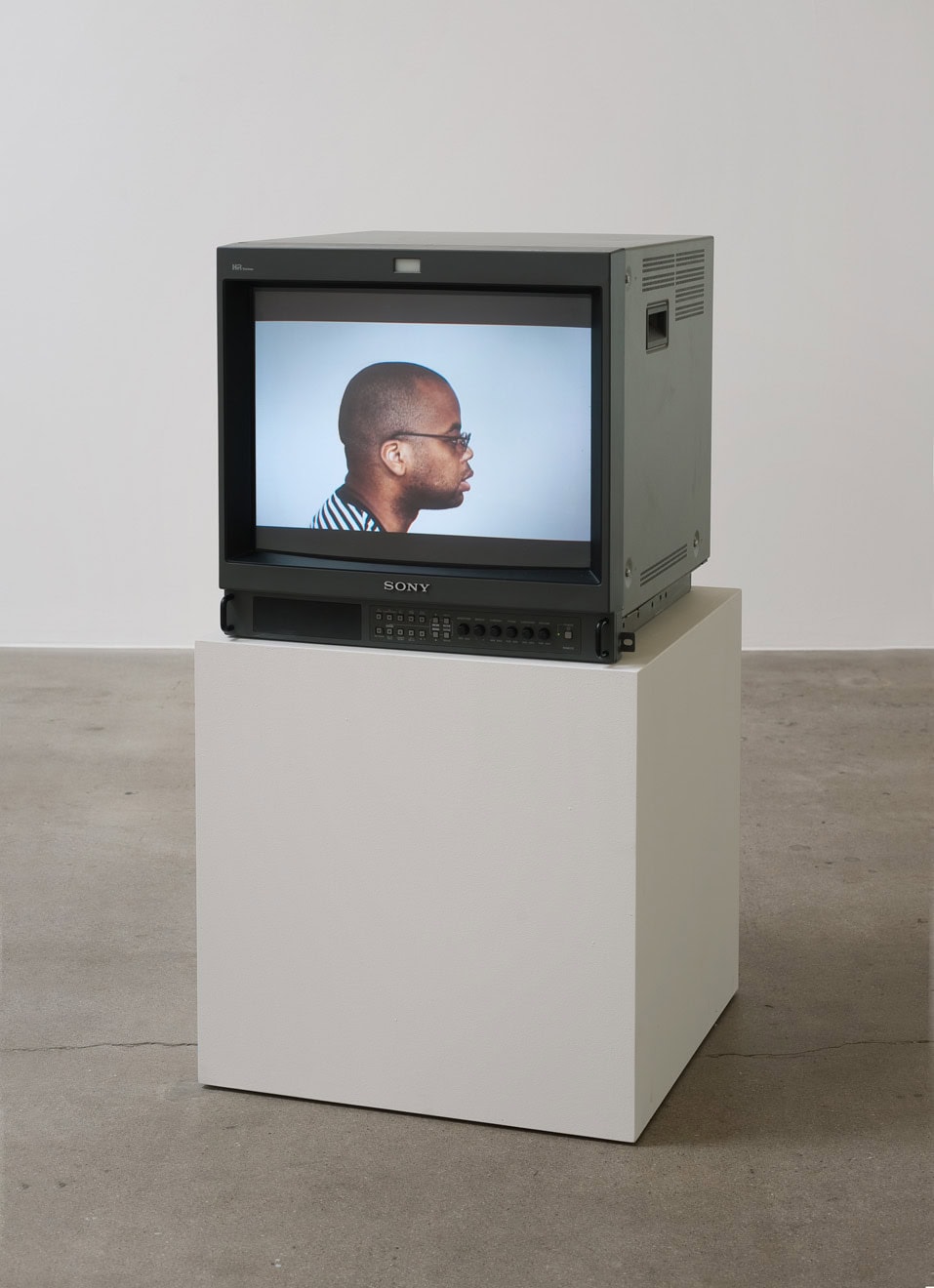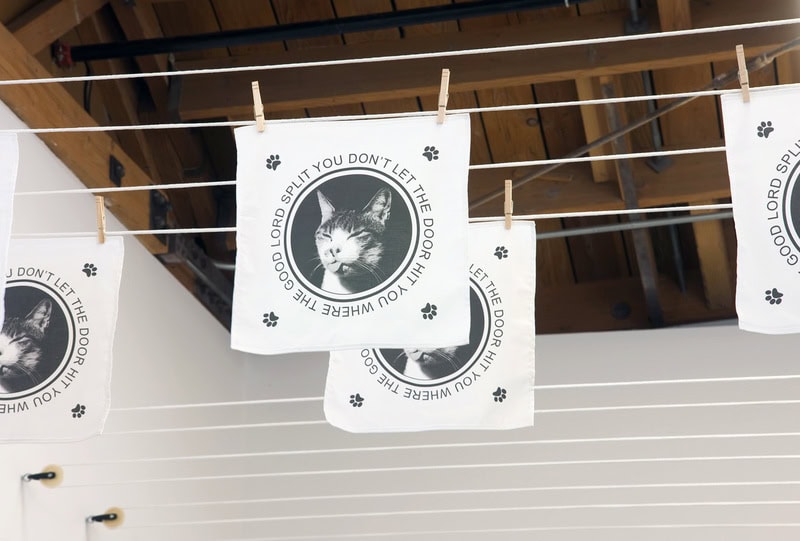 Press Release
Susanne Vielmetter Los Angeles Projects is pleased to present a solo exhibition of new work by Dave McKenzie in gallery 4. In this body of work Dave McKenzie continues to explore social rules and contemporary visual culture through a poetic inquiry into the incessant flow of digital images that dominates everyday life. McKenzie amplifies the nonsensical nature of the most dominant images on the internet (cute photos of cats); queries the contemporary obsession with producing and disseminating images of anything and everything; and tries to discover how to produce or find a photographic image that can stand on its own from the crowd.
"Where the Good Lord Split You" is dominated by two works: "Futuro," and "Meow, Meow, Meow, Meow." McKenzie stumbled upon the sources for both of these pieces in his Brooklyn neighborhood. These source materials have either been adulterated or unfaithfully reproduced to produce the prints on view. The "Futuro" bedpan box was spied in a store window, its bright colors and the fiction it depicts of an aseptic receptacle for bodily waste were too absurd to pass by. The cat banner that is hung on a clothesline that criss- crosses the gallery and repeats ad infinitum, "Meow, Meow, Meow, Meow," was inspired by a neighbor's printed kitty tea towels, hung out to dry in the breeze. McKenzie's alterations transform each image into a synecdoche for the entire apparatus of digital image production: The cell-phone camera that trains the user to produce the same pose for every "selfie;" the re-blogs that separate images forever from any credit to their maker; and software that allows any user anywhere to insert his own visual elements or text into an image and publish the edits immediately, on-line.
Two of McKenzie's videos will also be on view: "Wilfred and Me," and "Old Man/ Sarcophagus." The videos attempt to reproduce an image either of an experience that was related to the artist second hand, or a happening that the artist witnessed, but wasn't able to document. In "Wilfred and Me," McKenzie is shown in profile repeating the phrase "Magic Johnson has AIDs" for several minutes. The piece is an attempt at post-mortem intimacy with his father. After Wilfred's death, McKenzie's mother described the day that Johnson's infection was announced, noting that her husband was so overwhelmed by the news that he pulled the car over and cried. Remembering his father as a self-contained man, this image is un-reconcilable for McKenzie and repeating the phrase becomes a way to explore the thoughts and emotions that could have led to this outpouring of emotion. "Old Man/ Sarcophagus" is McKenzie's attempt to recapture a scene that he witnessed at the Neue Museum in Berlin by filming a Sarcophagus in the Egyptian wing over an entire day to see if another old man might take a moment to rest against the ancient artifact. The artist ultimately failed to capture a recreation of this image and the video portrays a number of other interactions with the object, none of which live up to McKenzie's memory of the old man.
Dave McKenzie was born in Kingston, Jamaica, and attended the Skowhegan School of Painting and Sculpture in 2000. Recent solo exhibitions include "Everything's Alright, Nothing's Okay!" at the Rosenwald-Wolf Gallery at the University of the Arts, Philadelphia, PA; "Dave McKenzie," Aspen Art Museum, Aspen, CO; "Screen Doors on Submarines", REDCAT, Los Angeles; and "Momentum 8: Dave McKenzie", The Institute of Contemporary Art Boston, Boston. McKenzie's work was included in "Radical Presence: Black Performance in Contemporary Art," Contemporary Arts Museum Houston, TX; "The Ungovernables," New Museum, New York, NY; "Blues for Smoke," Museum of Contemporary Art, Los Angeles, CA; "Prospect.1 New Orleans;" and "Black is, Black Ain't", The Renaissance Society at the University at the University of Chicago, IL. This is Dave McKenzie's third solo exhibition at the gallery.