Images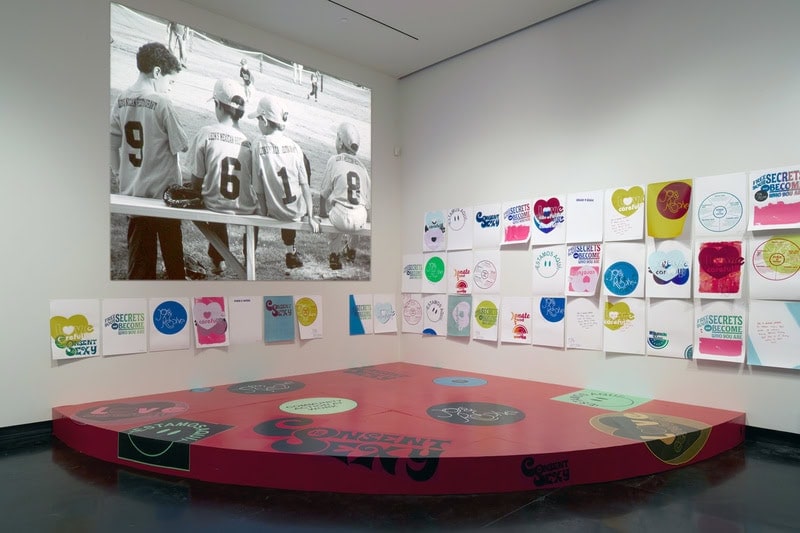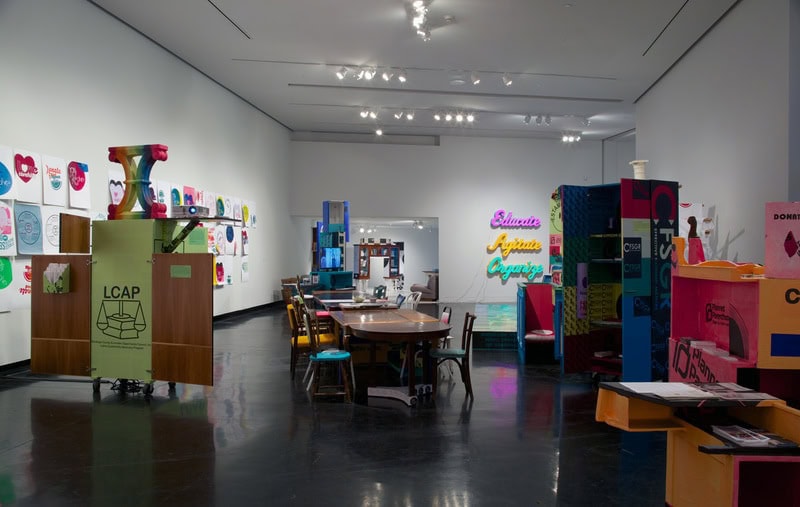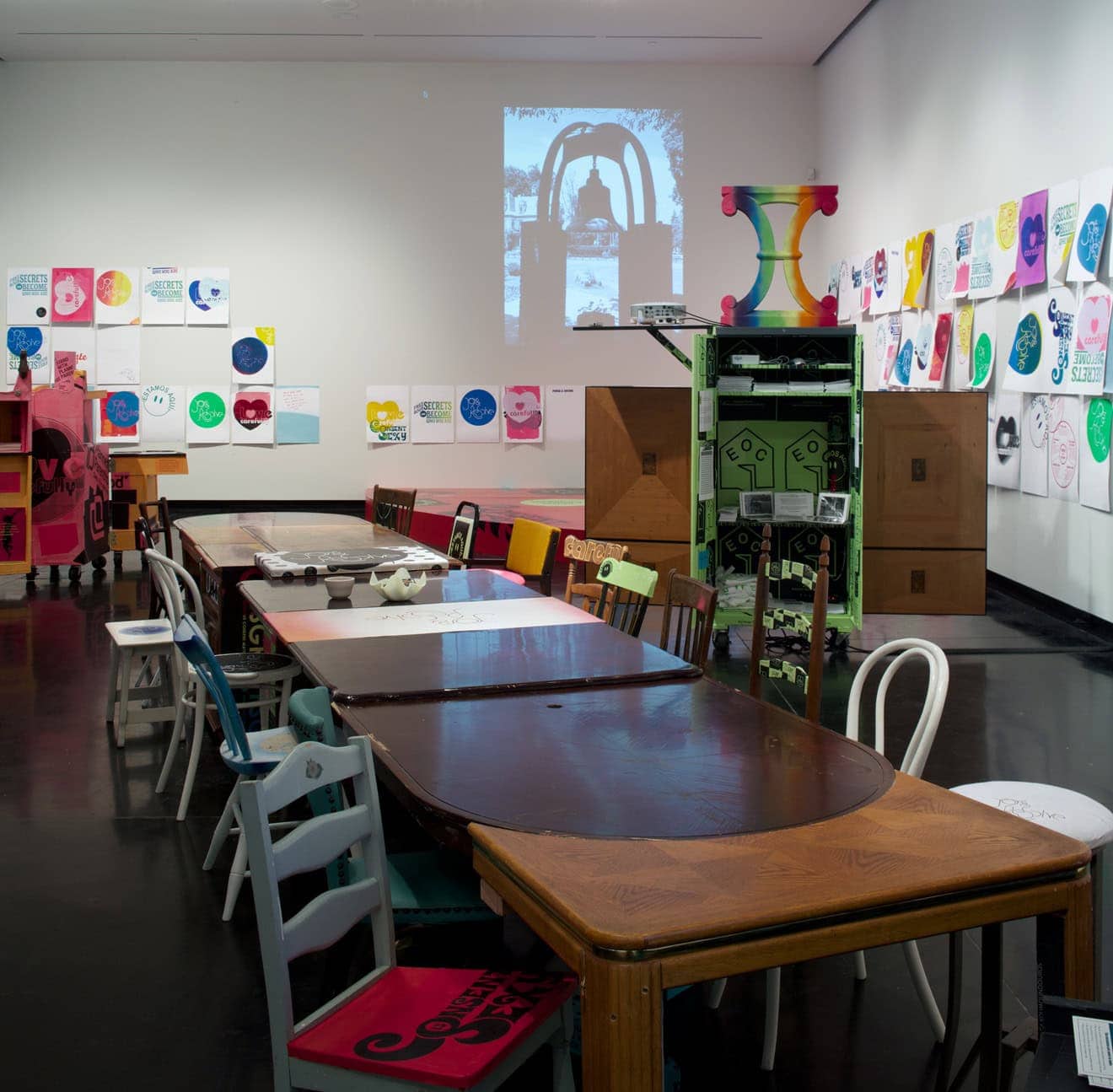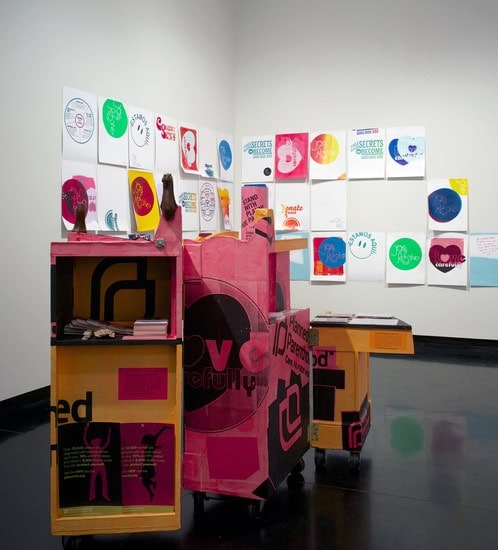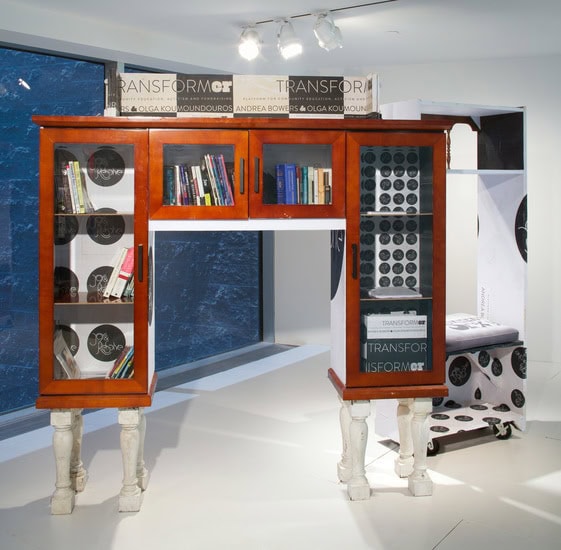 Press Release
This is the 4th iteration of TRANSFORMer, a collaborative, community-specific sculptural installation by artists Andrea Bowers and Olga Koumoundouros that raises awareness of local socio-political issues as it supports community and activist organizations around Saratoga Springs, NY. Bowers and Koumoundouros construct the sculptural installation from salvaged furniture and everyday materials and cover it with a skin of posters and educational information from the participating organizations. An integral component of the piece is an operational silk-screen station that produces posters and t-shirts. This participatory element of the piece calls attention to organizations and their needs through the active engagement of visitors and volunteers. Visitors also activate the piece by submitting donations in labeled boxes attached to the structure. At its core, the TRANSFORMer provides a public service; disseminating information and fundraising for featured community groups and their causes. The piece is animated and completed through its relationship to the specific community and activist organizations that collaborate with the artists on the project. 


For the Tang, TRANSFORMer has adopted the slogan Joy and Resolve which articulates the spirit of activism the artists hope to embody and engender through the installation. The TRANSFORMer installation includes a core sculptural element for display, donations, and silk screening, as well as additional tables, seating, shelves, lighting, and more. A series of events held in the gallery throughout the duration of the exhibition serves as an additional way to raise funds and awareness for the featured organizations.
TRANSFORMer was first installed as the Transformer Display for Community Fundraising in 2010 as part of the exhibition titled Love in a Cemetery organized by curator Robert Sain and artist Andrea Bowers at the 18th Street Arts Center in Santa Monica. This show was structured around a series of questions on the relationship between "cultural institutions" and "community," and it exhibited work of graduate students from the Public Practice Program at the Otis College of Art & Design. There the sculpture presented information and objects for fundraising for various Los Angeles organizations from "My Friends Place," a shelter for homeless youth, to "Homies Unidos," a gang violence prevention organization. The work has also been installed at the Outpost for Contemporary Art in Los Angeles in 2011, and most recently at Art Basel Miami Beach in 2011.
Andrea Bowers received her MFA from California Institute of the Arts, Valencia, CA and currently lives, works, and teaches in Los Angeles, CA. Since 2003 Bowers work has focused primarily on direct action and non-violent civil disobedience enacted through the lives of mainly women. She presents the stories of activists to express her belief that dissent is essential to maintaining a democratic process, as well as to illustrate the importance of a political strategy that stands in opposition to violence and war.
Bowers' recent solo exhibitions include Help the Work Along at Susanne Vielmetter Los Angeles Projects, The New Womans Survival Guide at Andrew Kreps Gallery, New York and Ni Una Muerte Mas, Project Room, National Museum of Contemporary Art, Athens, Greece. She produced Help Make Liverpool a City of Sanctuary at the 2012 Liverpool Biennial as well as spending 4 months in Salt Lake City developing a pedagogical project called Ground Floor where 22 University of Utah students worked collaboratively with local activists to produce projects and events throughout the city. She was also included in the 2004 Whitney Biennial and the 2008 California Biennial.
Olga Koumoundouros, a native of New York, NY, currently lives and works in Los Angeles, CA. She earned her MFA from the California Institute of the Arts in Valencia, CA.
Her practice engages ideas of labor, class, and human sustenance that challenge the stability of the American Dream. She contrasts constructed works with ready-made objects to reflect an economy of living in the U.S. today where connoisseurship and the disposable occupy the same space and the monstrosity of such proximity.
Koumoundouros has presented work at REDCAT, Los Angeles, CA; Project Row Houses, Houston, TX; Open Satellite, Bellevue, WA; Walter Phillips Gallery, The Banff Centre, Banff AB, Canada; Adamski Gallery, Berlin, Germany; Santa Monica Museum of Art, Santa Monica, CA; Studio Museum in Harlem, New York, NY; LAXART, Los Angeles, CA; Glassell School of Art, Museum of Fine Arts, Houston, TX; 18th Street Art Center, Santa Monica, CA; Hammer Museum, Los Angeles, CA; and many others.
Both artists are represented by Susanne Vielmetter Los Angeles Projects.
This exhibition is organized by Assistant Director for Curatorial Affairs, Rachel Seligman, and is supported by the Friends of the Tang.