Images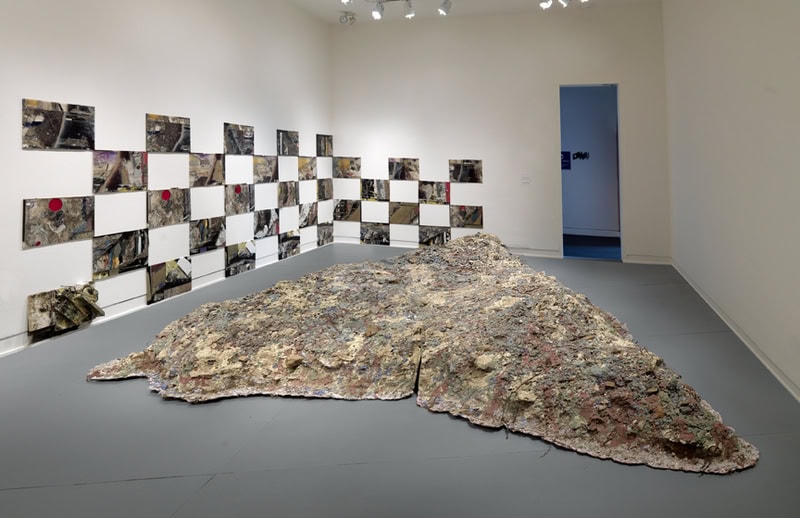 Press Release
Los Angeles-based artist Jedediah Caesar creates sculptures from amassed and congealed materials that speak to process, temporality, and location in contemporary art. Filling containers with found objects from a specific sitea road trip through California, a neighborhood in Los Angeles, or his own studioCaesar collects and recombines a variable grouping of natural and man-made refuse which he sets in resin and then slices. The result is a compression and reorganization of time and place into forms that flirt between the abstract and real, painting and sculpture, and old and new.
Caesars sculptural practice of collecting, condensing, and re-presenting found and often discarded materials becomes a post-industrial interpretation of geological processes. The thin slices of these object-laden bricks, akin to a geologic cross-section, resemble the intricate patterning of speckled marble and follow a similar logic of formation: compression, secretion, and metamorphism. Accordingly, his work is often inspired by the crystalline forms of geodes, the transformation of limestone into marble, and the visual layers of time exposed in each and every slice of rock. These natural, time-based processes find their sculptural translation in Caesars work in form and concept, as he reverse engineers their aggregate formation.
PLATFORM 9: Jedediah Caesar presents new work that explores the artists broader practices as they pertain to land and sitespecifically to that of deCordovas landscape. For this exhibition, Caesar will present new outdoor installation, sculpture, video, and printed matter along with his sculptural cuts that collectively reflect on place as a temporal, social, and sculptural material.
PLATFORM is a series of solo exhibitions by early- and mid-career artists from both the New England and national arts communities. These shows focus on work that engages with deCordova's unique architectural spaces and social, geographical, and physical location. The PLATFORM series is intended as a support for creativity and expression of new ideas, and as a catalyst for dialogue about contemporary art.
PLATFORM 9: Jedediah Caesar will be accompanied by an online brochure and is curated by Dina Deitsch, Curator of Contemporary Art.
The 2011-2012 PLATFORM series is generously funded by James and Audrey Foster.