Images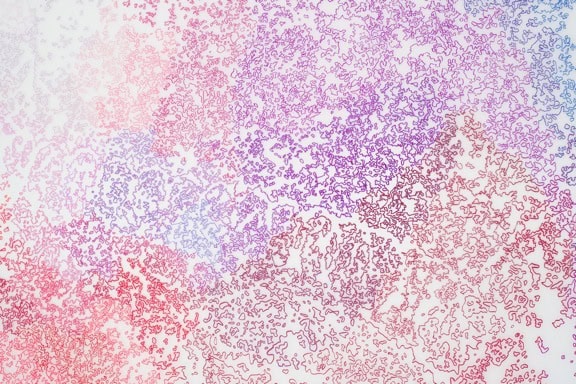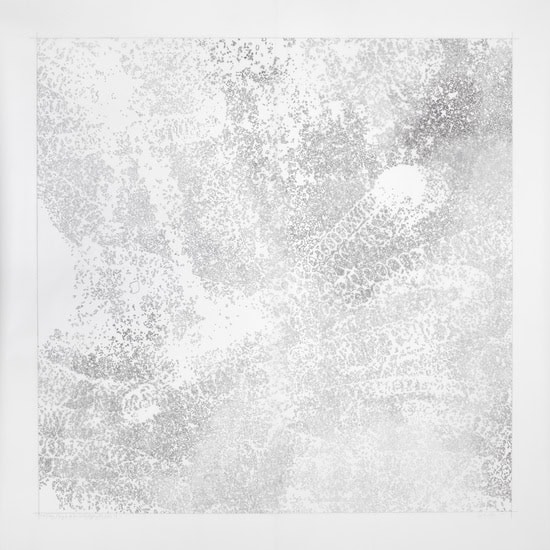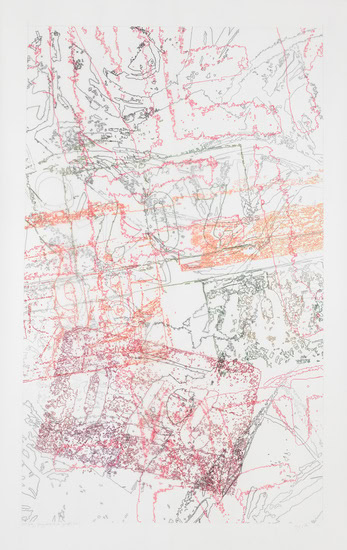 Press Release
In the context of Pacific Standard Time, Susanne Vielmetter Los Angeles Projects is pleased to present Ingrid Calame's first solo exhibition in Los Angeles in 10 years. On view will be a series of new color pencil drawings and a 50 foot long ephemeral wall drawing on the wall of the gallery.
Ingrid Calame has been tracing marks from streets and sidewalks since 1997. Using a consistent one to one scale, she documents more accurately than a photograph while translating with a precise and subjective pencil line the profuse information on the ground in front of her. The resulting forms are both abstract and representational in their translation from the real world to document. In her most recent work, the complex compositions or the constellations they are based on have given way to extremely large and complex tracings redrawn alone.
The centerpiece of the exhibition is LA River at Clearwater Street, 2006-2008 Variation #2, a 14′ high x 50′ long wall drawing made with pigment transferred directly onto the wall. Calame uses the Renaissance technique of pouncing in which she pushes pigment through a pricked paper template onto the wall of the gallery. Traditionally used as a preliminary stage for executing a painting or fresco onto a wall, Calame stops there at the bones of her image. The colorful form on the wall is a tracing of a 20′ x 50′ graffiti tag palimpsest that she traced in the LA River from 2006 to 2008, translating its multiple colors, layers, and transformations over time into one intricate closed shape.
In the additional drawings on Mylar, tracings from the floor of a steel company and from an abandoned wading pool in Buffalo, NY (Arcelor Mittal Steel shipping buildings in Lackawanna, Perry Street Projects wading pool) have been traced separately or in a constellation with tracings from the LA River. The chosen tracings juxtapose the intent of long lasting structures and marks with their gradual breaking down over time, strictly focusing on an accurate documentation of this deterioration. The resulting drawings surprise in how effortlessly they conjure up the ephemeral beauty of a brief moment within this ever-changing process.
Ingrid Calames work has been exhibited internationally. Recently the subject of a midcareer retrospective at the Fruitmarket Gallery, Edinburgh, Scotland, she has had solo museum exhibitions at the Albright-Knox Art Gallery, Buffalo, NY; the Monterey Museum of Art, Monterey, CA; the Indianapolis Museum of Art, Indianapolis, IN; Kunstverein Hannover, Germany; Museum of Contemporary Art, Cleveland, OH; and solo gallery exhibitions at James Cohan Gallery, New York, NY; Frith Street Gallery, London, England; Galerie Schmidt Maczollek, Cologne, Germany; Galerie Peter Kilchmann, Zurich, Switzerland and Deitch Projects, New York, NY. Group exhibitions include the Tate St. Ives, Cornwall, England; Neuberger Museum of Art, Purchase, NY; Orange County Museum of Art, Newport Beach, CA; The Columbus Museum, Columbus, GA; Museum of Fine Arts, Houston, TX; Art Gallery of Ontario, Toronto, Canada; Weatherspoon Art Museum, Greensboro, NC; Kunstmuseum St. Gallen, St. Gallen, Switzerland; San Francisco Art Institute, San Francisco, CA; Kunstmuseum Wolfsburg, Wolfsburg, Germany; Aspen Art Museum, Aspen, CO; Wrttembergischer Kunstverein, Stuttgart, Germany; Kasseler Kunstverein, Kassel, Germany; Whitney Museum of American Art, New York, NY and the Drawing Center, New York, NY.
Susanne Vielmetter Los Angeles Projects is located at 6006 Washington Blvd in Culver City, 1 block west of La Cienega at Sentney Avenue, on the south side of the street. Gallery parking is available across the street from the gallery off of Sentney Avenue. Gallery Hours are Tuesday through Saturday from 11 am – 6 pm and by appointment.