Images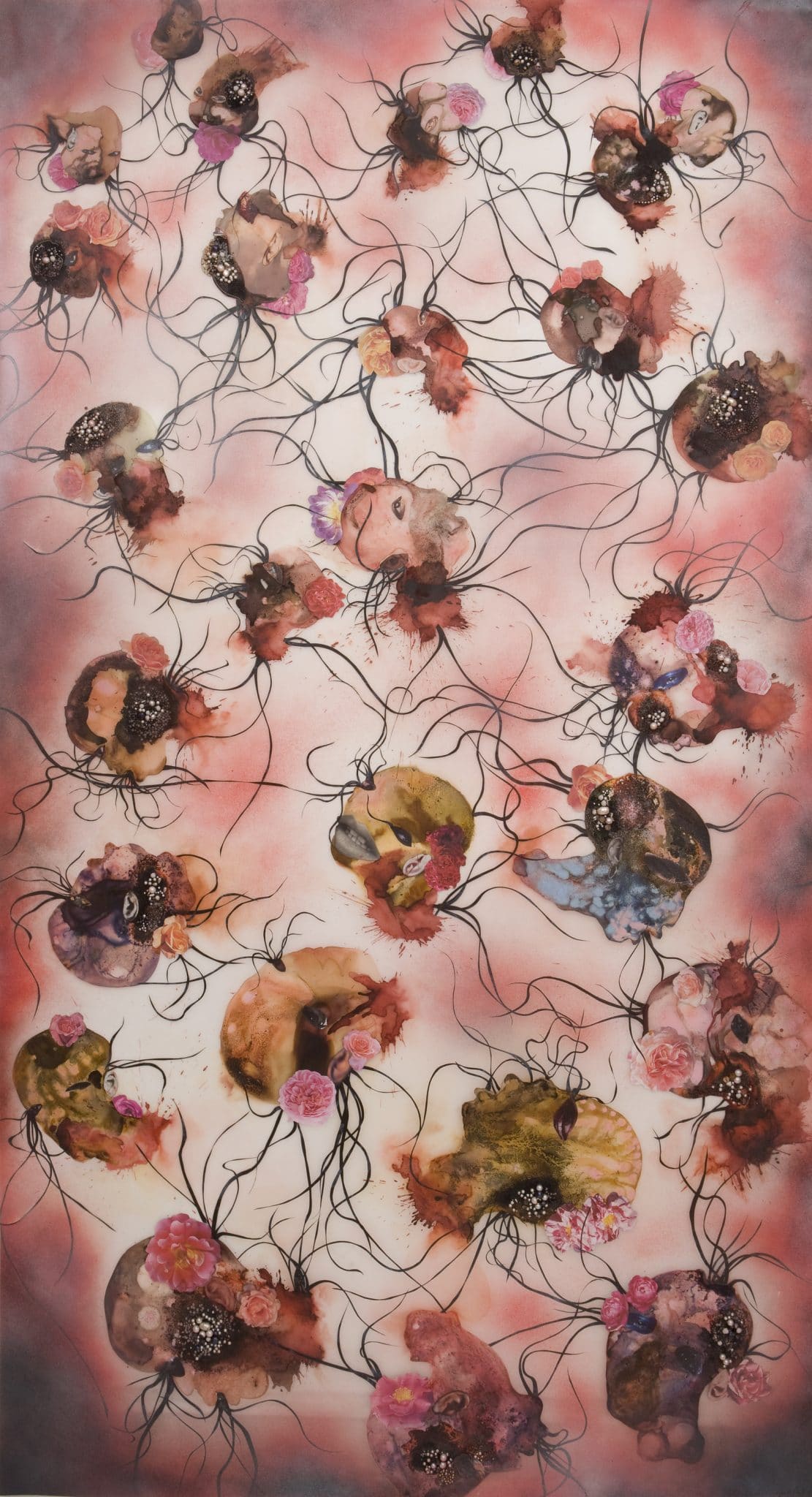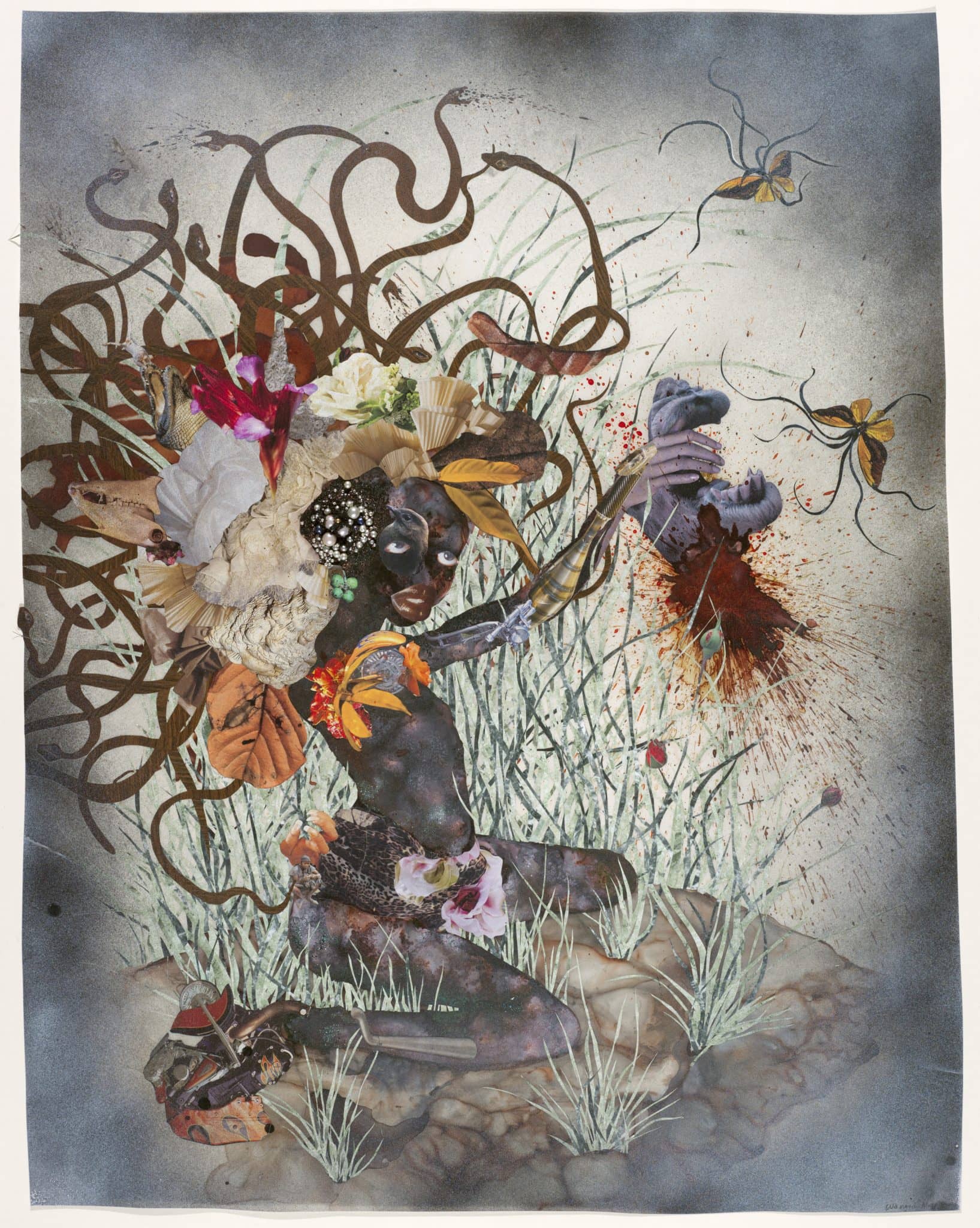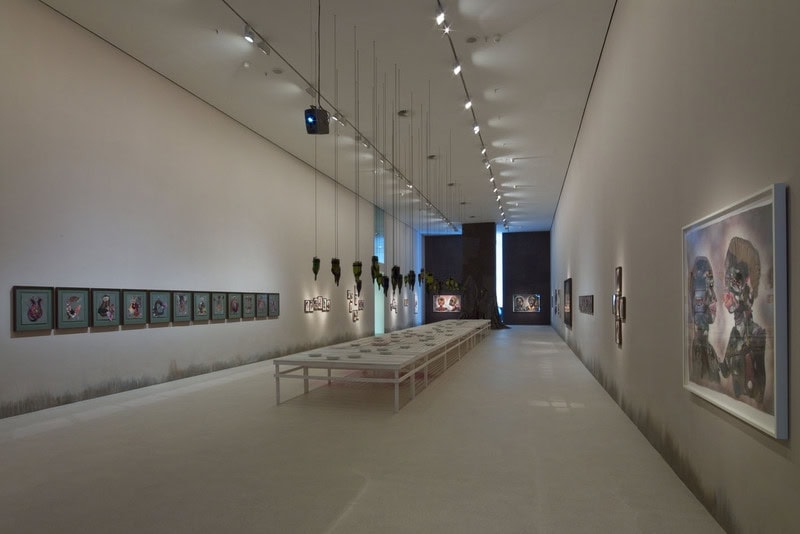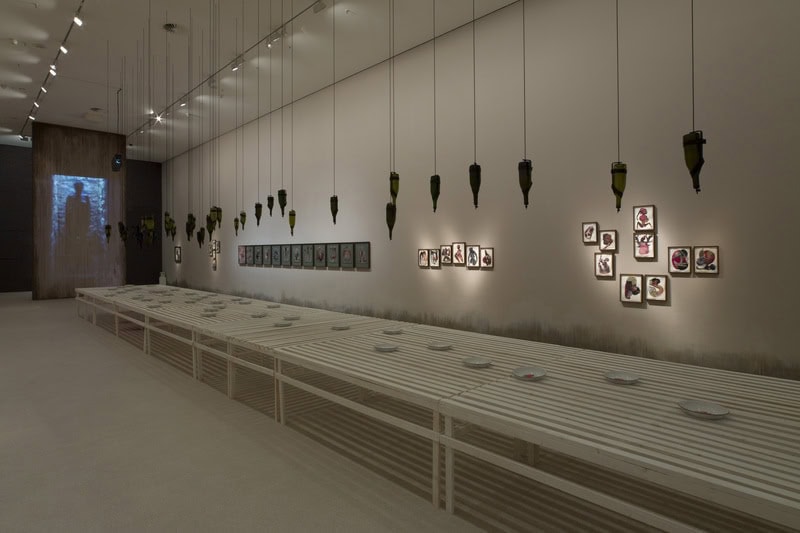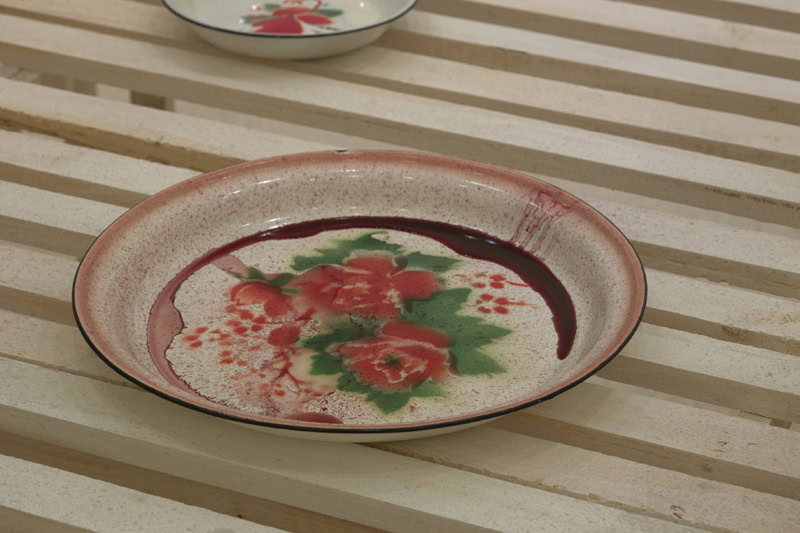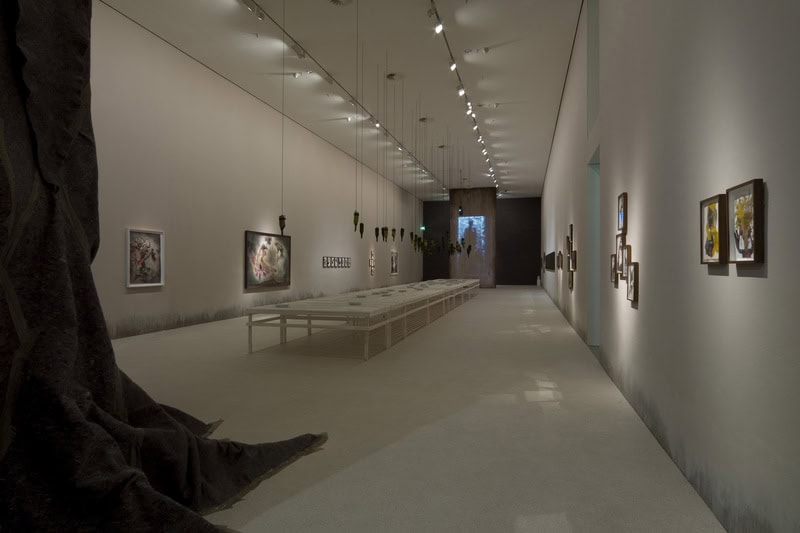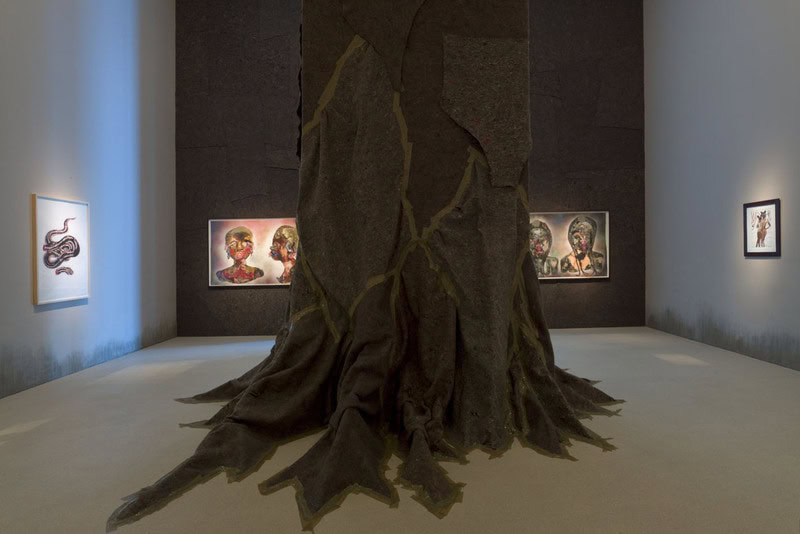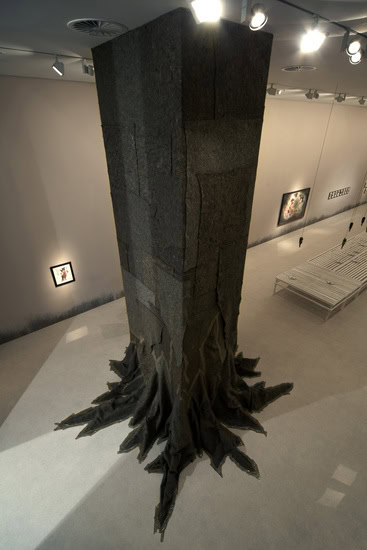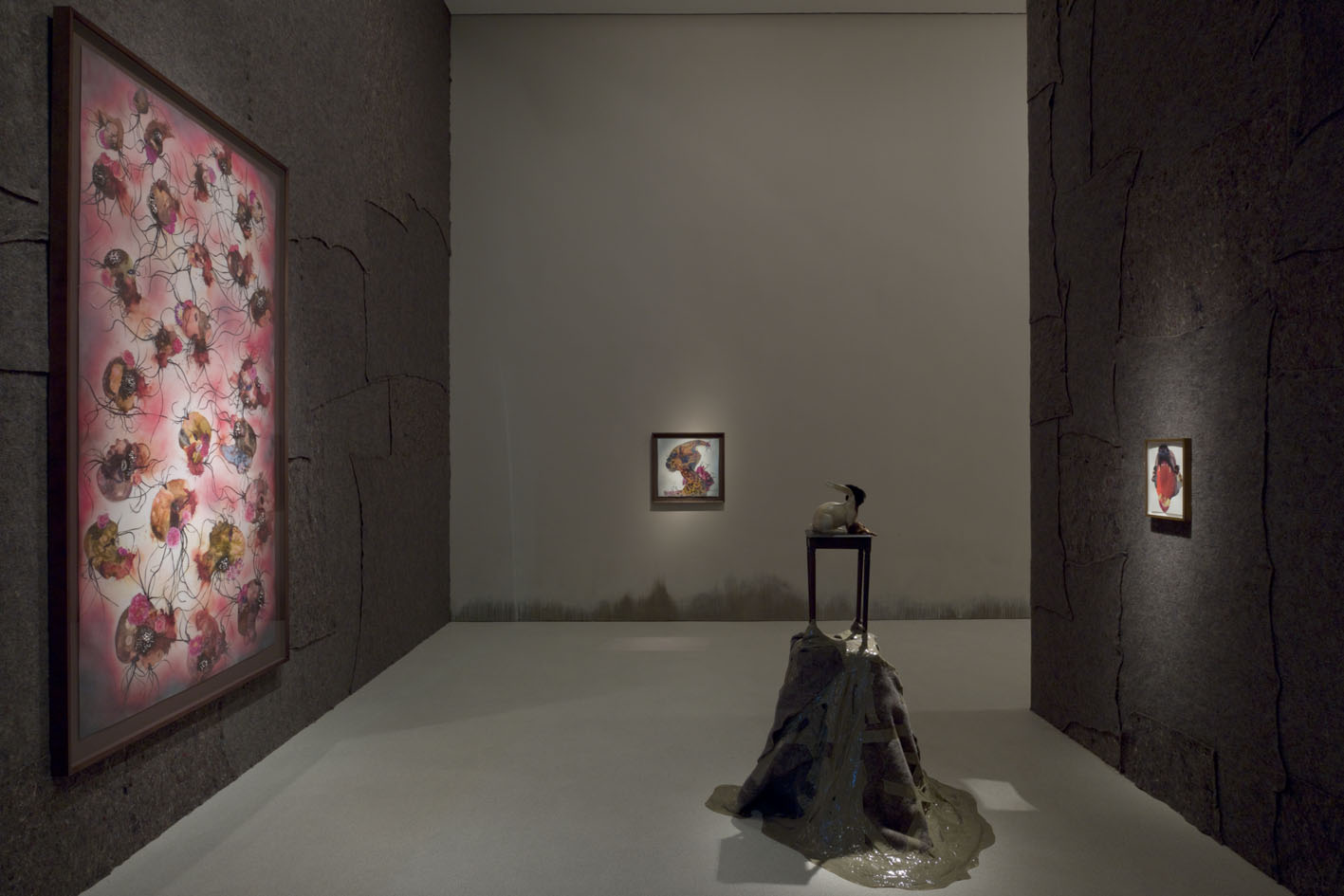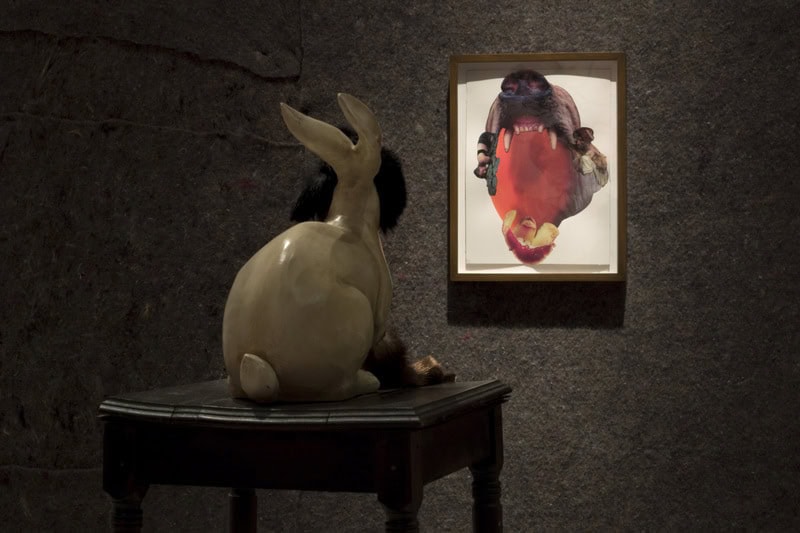 Press Release
Wangechi Mutus installation at the Deutsche Guggenheim is the first exhibition in Deutsche Banks new Artist of the Year program.
The artist, who was born in Kenya in 1972 and currently lives in New York, was selected on the recom- mendation of the Deutsche Bank Global Art Advisory Council, comprised of the curators Okwui Enwezor, Hou Hanru, Udo Kittelmann, and Nancy Spector. The selection of Wangechi Mutu as Artist of the Year 2010 reflects equally important focuses of Deutsche Banks art activities: internationalism, diversity and a connection between artistic themes and social issues. Unlike many other prizes, the Artist of the Year award does not include prize money, but is firmly embedded in Deutsche Banks art program, with which the bank has made contemporary art accessible to the public worldwide for 30 years. When the bank promotes young artists, it is not a matter of one-off financial support, but of conveying new and noteworthy artistic positions to a wide public and providing long-term impetus to the artists career. Therefore, the Artist of the Year is presented in a solo exhibition at the Deutsche Guggenheim. In addition, a selection of the artists works is purchased for the Deutsche Bank Collection. The focus is on young artists who have already amassed an unmistakable and extraordinary oeuvre, in which works on paper or photography play an important role. In 2010, moreover, works by Mutu can be seen on a floor devoted to the artist as part of the new art concept for the modernized towers of Deutsche Banks Frankfurt headquarters.
For her solo exhibition, Mutu transformed the Deutsche Guggenheim into a suggestive environment which recalls both a protective cocoon and the improvised buildings found in Shanty Towns. She built organic-looking sculptural con- structions from simple means such as gray, felt-like blankets made of recycled materials or brown parcel tape. The creations cover walls and floors of the exhibition hall and at the same time provide the frame- work and background for Mutus collages and her new video work Mud Fountain.
Wangechi Mutus installation is inspired by her memories of Berlin, among other things. During the period when she was attending a boarding school in Wales, Mutu visited Berlin as a member of a gospel choir shortly after the fall of the Berlin Wall. Her impressions of the material discrepancies between East and West Berlin, as well as of the citizens of the former GDRs tremendous desire for products which they had known hitherto only from TV and which they seemed to worship like fetishes, were an important point of departure for the project at the Deutsche Guggenheim.
Mutu counters the manifest idea that she is perhaps an African artist who draws on the culture of her home continent in her work with a multiperspectival cosmos. The alienation and uprooting in her images and installations is obvious. She seems to be less interested in reflecting on original cultural identity than in providing a vision of a future in which more and more people, as migrants and permanent travelers, are becoming part of the AlieNation. In her view, cultural identity is no longer determined by geographical origins, ancestry or biological disposition, but is increasingly becoming a hybrid construct that people can determine and change themselves. In Mutus work, the conceptual appropriation of images and her reflection on them are related to a physical experience: I think one of the things about being an artist is that your brain is in every part of your body that you use to create. In her collages, Mutu transforms images of an alienated world into something very distinctive by working with them, by processing them as tangible material into new creations. Although she engages with Baudrillards postmodern idea that it is impossible to distinguish between original and copy, between model and depiction, between reality and imagination, from trivial pictures reproduced thousandfold she creates originals bearing her unique artistic style, which are auratically charged due to the very individual and time-con-suming work processthrough thoughts, ideas, and associations that she incorporates in the work.
My Dirty Little Heaven can be likened to a transformer which passes this energy on to visitors by means of visual, tactile, or even olfactory stimuli, which in turn trigger associations, memories, and fantasies. The White Cube as a neutral, pure space in which art can be viewed detached from everyday realities embodies, as a symbol of western modern art, a desire for symmetry, rationality, and enlightenment. Mutu opposes this notion with her little dirty heaven, an improvised, organic, pieced-together architecture which occupies the space, contaminates it, so to speak. The architecture suggests that one can ensconce oneself provisionally in this cool construction, can create a home, warmth, ones own heaven. It is a space whose walls are plastered with dreams and longings, in which almost everything is a substitute for something that one cannot own or be. Liquid drips from upside-down bottles suspended from the ceiling slowly but steadily. The enameled metal bowls which catch it are reminiscent of mass feeding or look as though they are there to collect water dripping through a leaky roof. The tables could also be stretchers for wounded people or biers for corpses. While the gray blankets hanging in front of the walls and windows can be viewed as a Beuysian metaphor for warmth and protection, they relate to very real disasters and states of emergency.
With their masses of (re)produced images and materials, Mutus collages and installations address the issue of waste: the daily overload of media pictures, consumerism, ruthless exploitation of natural, economic, and spiritual resources, a world in which bodies have become commodities. She counters these phenomena with a plea for an alternative, more human economy. The attempt to develop this economy is an integral part of her artistic practice and her general thinking: I have a theory that theres an incredible waste of resources, imagination, and ideasalthough they are right in front of us. Often you find them in places youd least expect: in areas with incredible poverty, with people who seem to be the least educated, but who are actually quite ingenious because theyre still alive despite the con- ditions they live in. In a way, my exhibition is an homage to their systems, to their way of working, to this kind of tenacity and ingenuity.
Artist of the Year
With the Artist of the Year award, Deutsche Bank is opening a new chapter in its commitment to art. Based on a recommendation by Deutsche Banks Global Art Advisory Council which includes internationally renowned curators Okwui Enwezor, Hou Hanru, Udo Kittelmann, and Nancy Spector, the bank honors a young artist who has already amassed an unmistakable and extraordinary oeuvre, in which works on paper or photography play an important role. The prize was awarded for the first time this yearArtist of the Year 2010 is Wangechi Mutu. The prize is not based on a financial reward, but positioned as an integral part of Deutsche Banks art program that has been opening up the world of contemporary art to the public for the last thirty yearsthrough Deutsche Banks own substantial collection, its exhibitions, and its joint projects with partners. Each Artist of the Year will be featured in a large solo exhibition at the Deutsche Guggenheim in Berlin, which will subsequently move on to other international institutions. An exclusive print edition designed by the artist and a catalog will appear concurrently with the exhibition. In addition, a selection of the artists works on paper will be acquired for the Deutsche Bank Collection. More information can be found in the online art magazine at www.db-artmag.com.
Source: http://www.deutsche-guggenheim.de/e/ausstellungen-mutu01.php
Wangechi Mutus Installation im Deutschen Guggenheim ist die erste Ausstellung im neuen Programm Knstler des Jahres der Deutschen Bank.
Ausgxewhlt wurde die 1972 in Kenia geborene und heute in New York lebende Knstlerin auf Empfehlung des Global Art Advisory Councils der Deutschen Bank, das von den international renommierten Kuratoren Okwui Enwezor, Hou Hanru, Udo Kittelmann und Nancy Spector gebildet wird. Die Wahl Wangechi Mutus zur Knstlerin des Jahres 2010 reprsentiert gleichermaen wichtige Schwerpunkte des Kunstengagements der Deutschen Bank: Internationalitt, Diversitt und die Verbindung von knstlerischen Fragestellungen mit sozialen Themen. Im Unterschied zu vielen anderen Auszeichnungen ist Knstler des Jahres nicht mit einem Geldpreis dotiert, sondern fest in das Kunstprogramm der Deutschen Bank eingebettet, mit dem sie seit 30 Jahren weltweit Zugang zu zeitgenssischer Kunst schafft. Bei der Frderung junger Knstler geht es der Bank darum, neue und beachtenswerte Positionen einem breiten Publikum zu vermitteln und langfristige Impulse fr die knstlerische Laufbahn zu geben. Deshalb wird der Knstler des Jahres in einer Einzelausstellung im Deutsche Guggenheim vorgestellt. Zustzlich wird eine Auswahl von Arbeiten fr die Sammlung angekauft. Der Fokus liegt dabei auf jungen Knstlern, die bereits ein unverwechselbares und auergewhnliches Werk geschaffen haben, in dem Arbeiten auf Papier oder Fotografie eine wichtige Rolle spielen. 2010 werden Arbeiten von Mutu auerdem im Rahmen des neuen Kunstkonzepts fr die modernisierten Trme des Frankfurter Hauptsitzes der Deutschen Bank auf einer ihr gewidmeten Etage zu sehen sein.
Fr ihre Einzelschau transformiert Mutu die Ausstellungshalle Unter den Linden in ein suggestives Environment, das gleichzeitig an einen schtzenden Kokon wie an die improvisierten Konstruktionen in den Shanty Towns, Barackensiedlungen an den Peripherien von Metropolen wie Rio de Janeiro, Lagos oder Kapstadt, erinnert. Mit einfachen Mitteln wie grauen, filzartigen Decken aus recycelten Materialien oder braunem Paketklebeband fertigt sie organisch wirkende skulpturale Gebilde. Sie bedecken Wnde und Bden der Ausstellungshalle und bilden gleichzeitig Rahmen und Hintergrund fr Mutus Collagen und die neue Videoarbeit Mud Fountain. Wangechi Mutus Installation ist auch von Erinnerungen an Berlin inspiriert. Als Schlerin Mutu lebte damals in Wales war sie hier als Mitglied eines Gospel Chors kurz nach dem Fall der Mauer zu Gast. Ihre Eindrcke von der materiellen Diskrepanz zwischen Ost- und West-Berlin sowie dem bermchtigen Verlangen der Menschen aus der ehemaligen DDR nach den Produkten, die sie bislang nur aus dem Fernsehen kannten und die sie wie Fetische zu verehren schienen, waren ein wichtiger Ausgangspunkt fr das Projekt im Deutsche Guggenheim. Der vielleicht naheliegenden Vorstellung, dass sie eine afrikanische Knstlerin ist, die in ihrer Arbeit von der Kultur ihrer Heimat zehrt, setzt Wangechi Mutu einen multiperspektivischen Kosmos entgegen.
Die Entfremdung und Entwurzelung in ihren Bildern und Installationen ist offensichtlich. Es scheint hier weniger um eine Rckbesinnung auf ursprngliche kulturelle Identitt zu gehen, sondern eher um die Vision einer Zukunft, in der immer mehr Menschen als Migranten und permanent Reisende zu Bewohnern der AlieNation werden. Kulturelle Identitt wird dann nicht mehr durch die geografische Herkunft, Abstammung oder biologische Anlagen determiniert, sondern zunehmend zum hybriden Konstrukt, das man auch selbst bestimmen und verndern kann. Die gedankliche Aneignung von und das Nachdenken ber Bilder gehen in Mutus Arbeit mit einer krperlichen Erfahrung einher: Ich glaube, bei Knstlern sitzt das Gehirn in jeder Faser des Krpers, die man bei seiner kreativen Arbeit einsetzt. Die Bilder einer entfremdeten Welt transformiert Mutu in ihren Collagen zu etwas Eigenem, indem sie sie berhrt, de facto als greifbares Material in Neuschpfungen verarbeitet. Zwar thematisiert Mutu die postmoderne Vorstellung von Baudrillard, dass es unmglich geworden ist, zwischen Original und Kopie, Vorbild und Abbild, Realitt und Imagination zu unterscheiden. Doch schafft sie aus trivialen, tausendfach reproduzierten Images so etwas wie Originale, die durch knstlerische Handschrift, durch den sehr persnlichen und zeitaufwendigen Arbeitsprozess auratisch aufgeladen werden durch Gedanken, Ideen und Assoziationen, die durch die Hand in das Werk einflieen. Man kann sich My Dirty Little Heaven wie einen Transformator vorstellen, der diese Energie an den Besucher weiterleitet durch visuelle, haptische, olfaktorische Reize, durch die wiederum Assoziationen, Erinnerungen und Fantasien ausgelst werden. Der White Cube als neutraler, reiner Raum, in dem abgelst von der Alltagswirklichkeit Kunst betrachtet werden kann, verkrpert als ein Sinnbild der westlichen Moderne das Streben nach Symmetrie, Rationalitt und Aufklrung. Dieser Vorstellung setzt Mutu einen kleinen, schmutzigen Himmel entgegen, eine improvisierte, organische, zusammengestckelte Architektur, die den Raum okkupiert, im wahrsten Sinne des Wortes verunreinigt. Sie spricht von dem Versuch, sich in dieser khlen Struktur notdrftig einzurichten, sich ein Zuhause, Wrme, einen eigenen Himmel zu schaffen. Einen Raum, dessen Wnde mit Sehnschten und Trumen gepflastert sind, in dem fast alles ein Ersatz fr etwas ist, das man nicht besitzen oder sein kann. Die Milch regnet zwar wie Manna von der Decke, doch sie fliet sprlich. Die emaillierten Blechschsseln, in denen sie aufgefangen wird, erinnern an Massenspeisungen oder wirken als seien sie aufgestellt, um Wasser aufzufangen, das durch ein undichtes Dach tropft. Die Tische knnten auch Tragen fr Verletzte oder Bahren fr Leichen sein. Whrend man die grauen Decken, die vor Wnde und Fenster gehngt sind, auch als Beuyssche Metapher fr Wrme und Schutz sehen kann, nehmen sie auf ganz reale Katastrophen und Notlagen Bezug. In Mutus Collagen und Installationen mit massenhaft (re-)produzierten Images und Materialien geht es um Verschwendung: den tagtglichen Overload von medialen Bildern, Konsum, die gnadenlose Ausbeutung von natrlichen, konomischen und spirituellen Ressourcen, eine Welt, in der der Krper zur Ware geworden ist. Diesen Erscheinungen setzt sie die Forderung nach einer alternativen, menschlicheren konomie entgegen. Der Versuch, diese konomie zu entwickeln, bestimmt ebenso ihre Kunstpraxis wie auch ihr generelles Denken: Ich habe diese Theorie ber die ungeheure Verschwendung von Ressourcen, Einfallsreichtum und Ideen, die eigentlich direkt vor unserer Nase liegen. Dabei findet man sie hufig an den Orten, wo man sie zuletzt erwartet: in Gegenden, die vllig verarmt sind, bei Leuten, die als vllig ungebildet gelten, die aber tatschlich genial sind, da sie noch immer am Leben sind trotz der unmenschlichen Umstnde, in denen sie sich befinden. Fr mich ist diese Ausstellung eine Hommage an ihre Strategien, an ihre Arbeitsweisen, an ihre Hartnckigkeit und an ihren Erfindungsreichtum.
Artist of the Year
Mit der Auszeichnung Knstler des Jahres erffnet die Deutsche Bank ein neues Kapitel in ihrem globalen Kunstengagement. Auf Empfehlung des Deutsche Bank Global Art Advisory Council, dem die renommierten Kuratoren Okwui Enwezor, Hou Hanru, Udo Kittelmann und Nancy Spector angehren, ehrt die Bank junge Knstlerinnen und Knstler, die bereits ein unverwechselbares und auergewhnliches Werk geschaffen haben, in dem Arbeiten auf Papier oder Fotografie eine wichtige Rolle spielen. Der Preis wird in diesem Jahr erstmals vergeben Knstlerin des Jahres 2010 ist Wangechi Mutu. Im Unterschied zu vielen anderen Auszeichnungen ist Knstler des Jahres nicht mit einem Geldpreis dotiert, sondern fest in das Kunstprogramm der Deutschen Bank eingebettet, mit dem sie seit 30 Jahren weltweit Zugang zu zeitgenssischer Kunst schafft sei es durch ihre Kunstsammlung, durch Ausstellungen oder Kooperationen. Hhepunkt ist jeweils eine Einzelausstellung des Knstlers des Jahres im Deutsche Guggenheim in Berlin, die anschlieend an weiteren internationalen Standorten prsentiert wird. Zur Ausstellung erscheinen ein ausfhrlicher Katalog und eine exklusive Edition des Knstlers. Zudem wird eine Auswahl von Arbeiten auf Papier fr die Sammlung Deutsche Bank erworben. Mehr Informationen im Online-Kunstmagazin www.db-artmag.com.
Quelle: http://www.deutsche-guggenheim.de/d/ausstellungen-mutu01.php