Images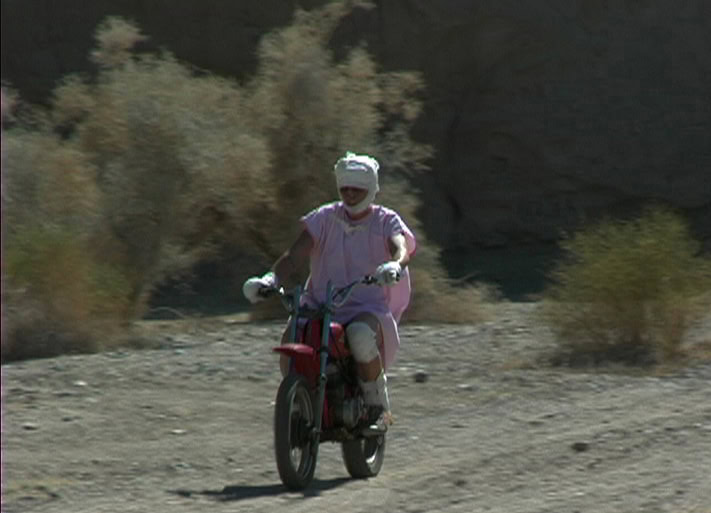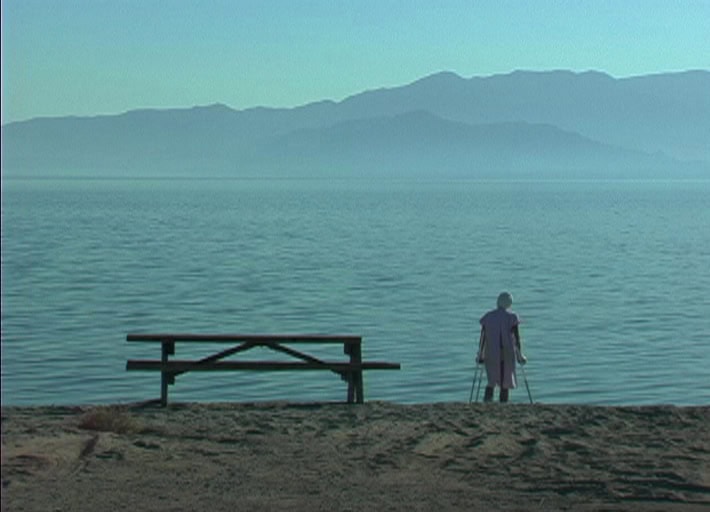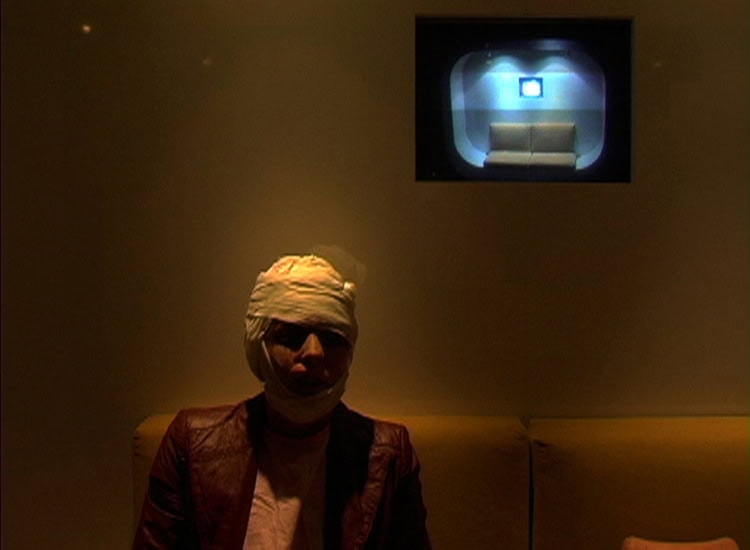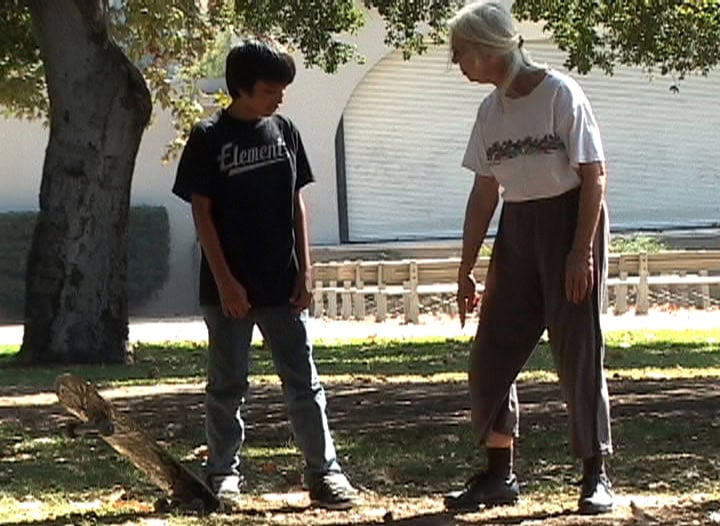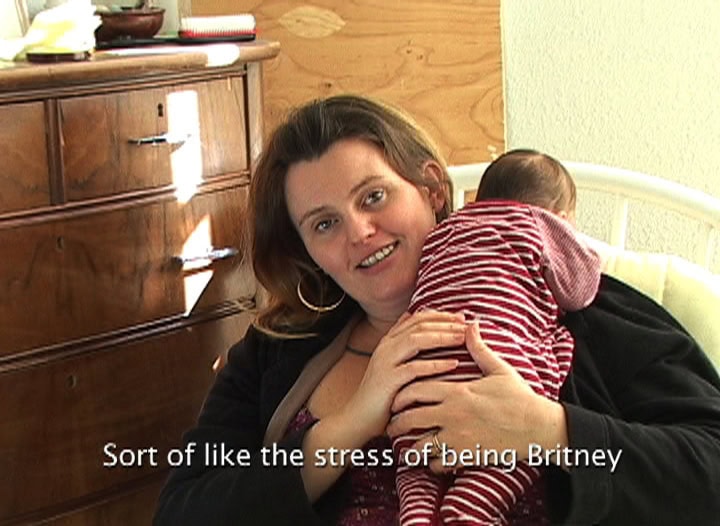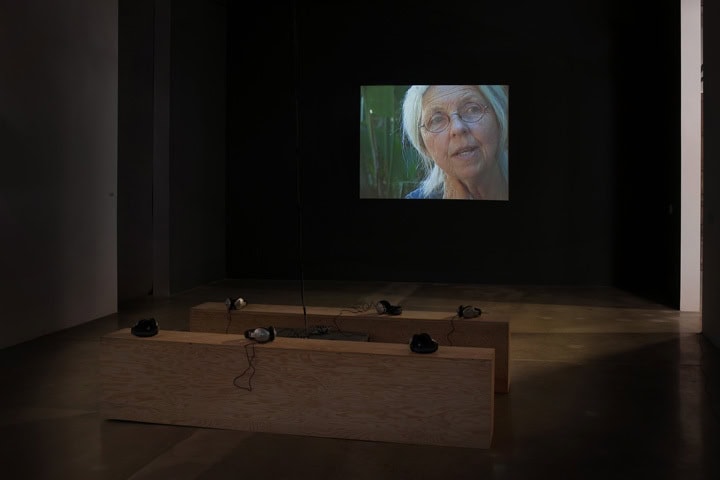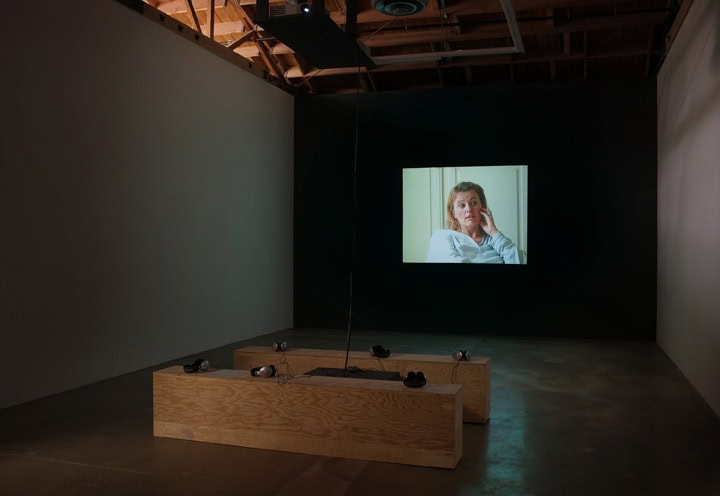 Press Release
Susanne Vielmetter Los Angeles Projects is pleased to present three new videos by Stanya Kahn in our first solo exhibition of her work.
Using humor as a central device, Kahn combines storytelling with visceral performances, blurring the lines between the fictional and the real to show how language is forged out of trauma. Her new body of work aims beyond the notion that humor alleviates bad feelings in bad times, proposing that bad times can reconfigure our language and the way we make meaning, thus giving rise to new forms of articulation. Paralleling the ways in which jokes compress and expand meaning, Kahn organizes her narratives along the lines of a psycho-emotional unpacking. Less concerned about linear time or plot arcs, she makes full use of the moving pictures spectacle of sound, image, movement, and performance to keep us being-in-the-world.
Two of the videos, Sandra and Kathy, feature real people, Kahns mother and her closest friend. In the intimacy provided by such close relations, Kahn elicits from these characters difficult stories recalling traumatic times, within a present moment that is equally fraught. And yet, both womens charismatic resiliency upends the tragic with the absurdly comic, redefining the present by re-performing and re-wording the past.
In the third and central video, Its Cool, Im Good, language and physicality merge as Kahn resumes her familiar place in front of the camera. With a complex sound score and over twenty locations featured, Its Cool, Im Good reflects a stressed personal state amidst a stressed environment. Economic collapse, urban tension, ecological demise are real and metaphorical contexts for the pressurized state of just being, represented symbolically by full-body injuries from a mysterious cause. With an inexorable sense of humor, Kahns protagonist is vulnerable and manipulative, narcissistic and generous, steering the viewer as an enthusiastic tour guide all the while offering a non-stop flow of anecdotes, observations, and advice on how to navigate this difficult reality.
Stanya Kahn, and her work in collaboration with Harry Dodge, was included in the 2008 Whitney Biennial and has been featured recently in Virtuoso Illusions at MIT, Cambridge, MA, curated by Michael Rush; in Slightly Unbalanced at the Harnnett Museum, Richmond, Virginia; in Reflections on the Electric Mirror: New Feminist Video at the Elizabeth A. Sackler Center for Feminist Art, Brooklyn Museum of Art; in Code Share: 5 continents, 10 biennales, 20 artists, CAC Vilnius, Lithuania; in the Videonale 12, Kunsthalle Bonn, Bonn; in Unusual Behavior, Santa Barbara Museum of Contemporary Art, Santa Barbara, in California Video, Getty Museum, Los Angeles; in Laughing in a Foreign Language, The Hayward, London; in Between Two Deaths, ZKM/Center for Art and Media, Karlsruhe, Germany; in Edens Edge, Hammer Museum, Los Angeles, CA; in Shared Women, Los Angeles Contemporary Exhibitions, Los Angeles, CA; in Defamation of Character, PS 1, Contemporary Art Center; at Elizabeth Dee Gallery, New York, NY and in Marking Time, at the Getty Museum and Los Angeles Contemporary Exhibitions, among others.
Susanne Vielmetter Los Angeles Projects has moved. The new address is 6006 Washington Blvd in Culver City, 1 block west of La Cienega at Sentney Avenue. Gallery parking is available in the parking lot across the street from the gallery off of Sentney Avenue. Gallery Hours are Tuesday through Saturday from 11 am – 6 pm and by appointment.