Images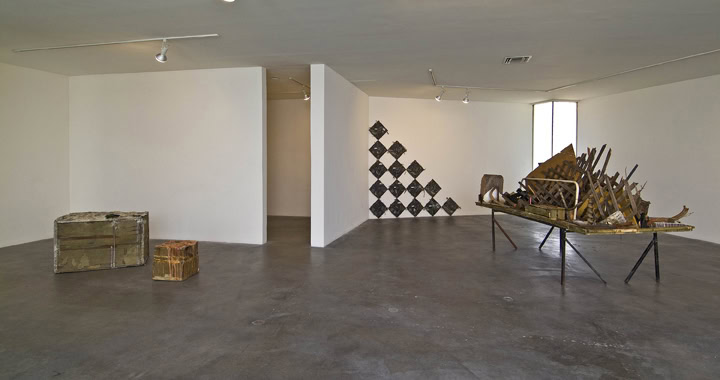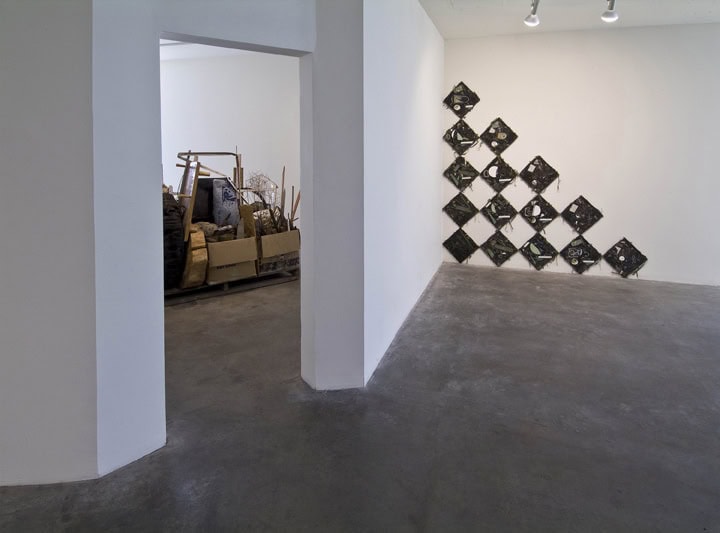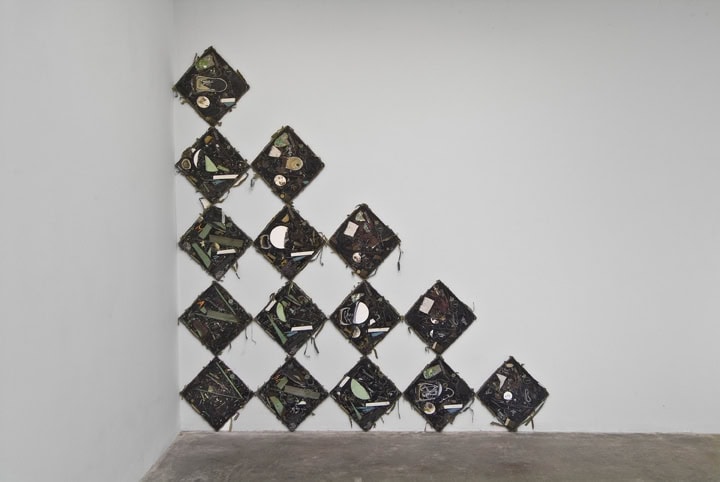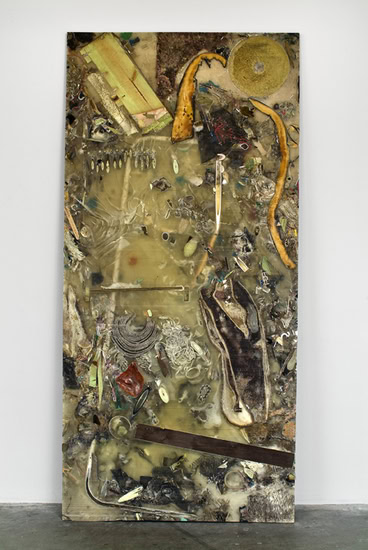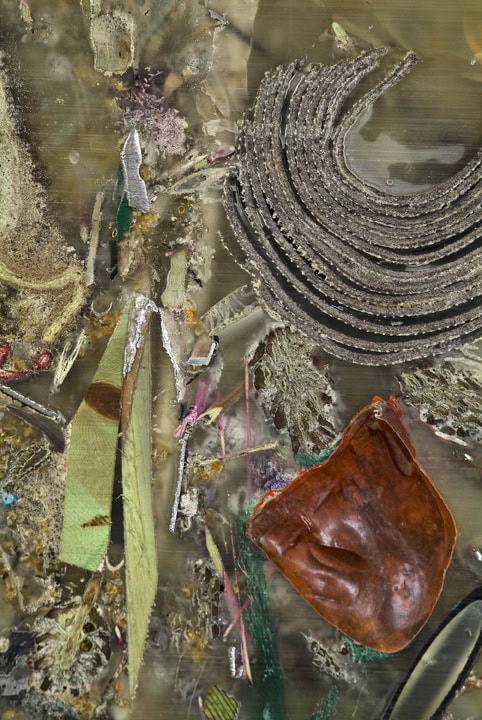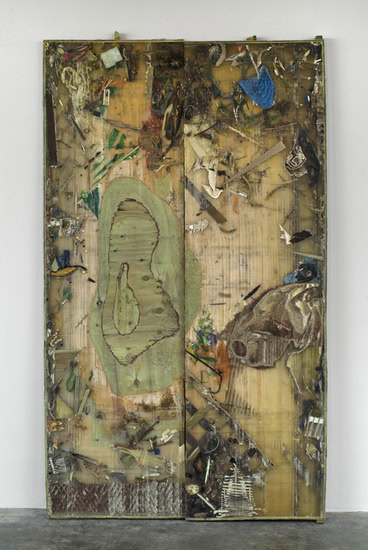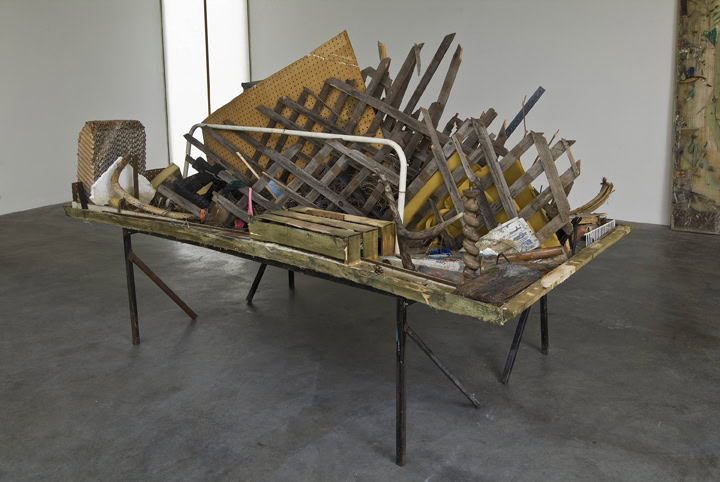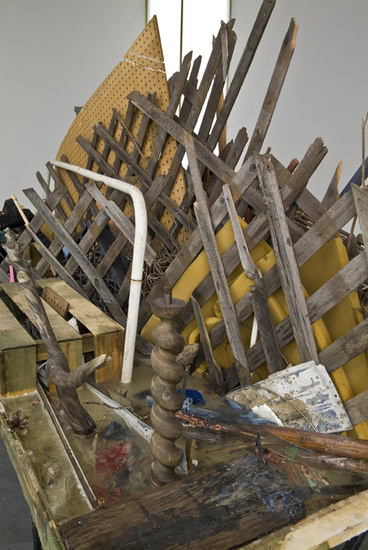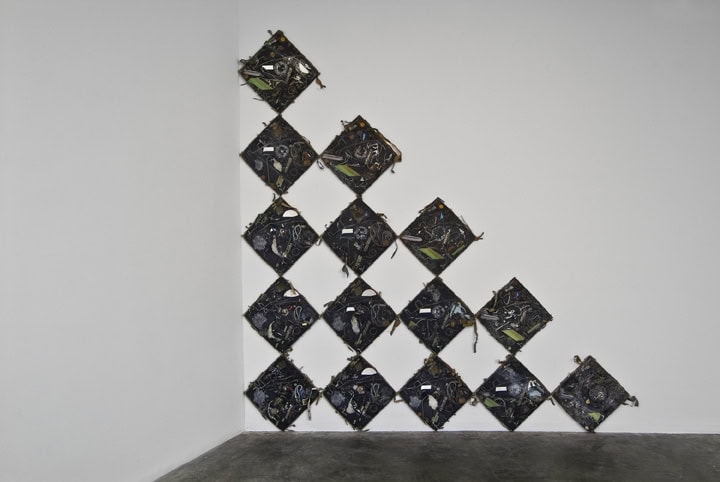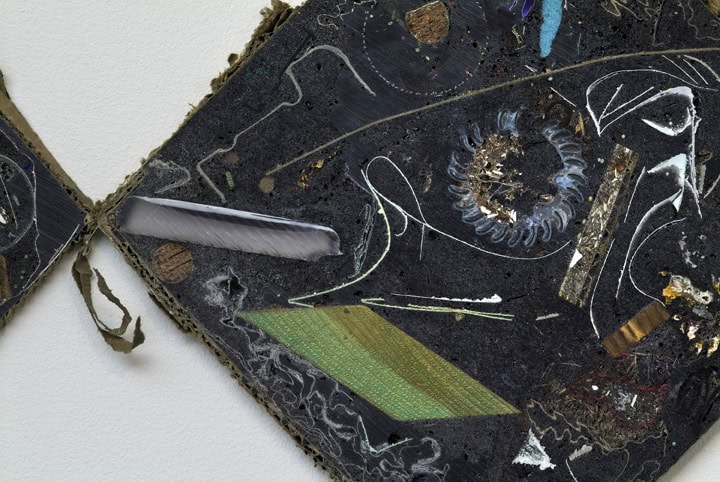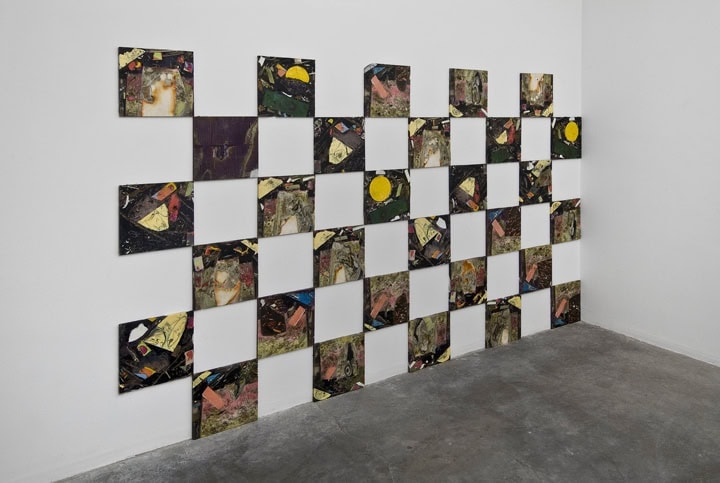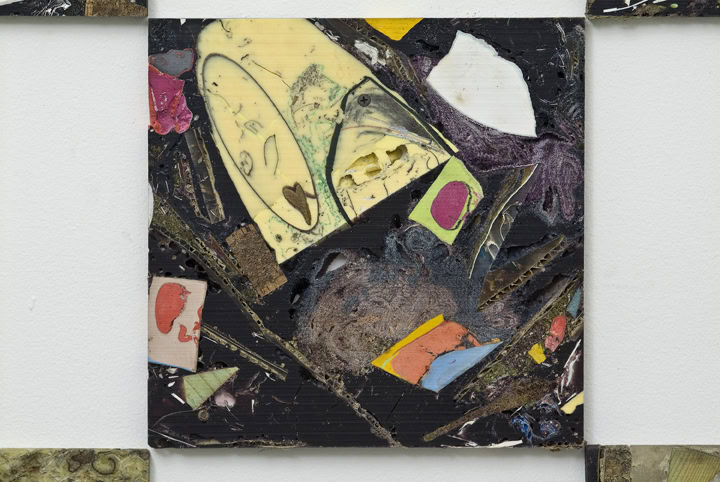 Press Release
Susanne Vielmetter Los Angeles Projects is pleased to present a solo exhibition of new works by Jedediah Caesar. Entitled Holding Station the exhibition conceptually connects all the sculptures in the gallery to a network of other works that is spread out over a larger space and a larger time. The transitional quality of each piece is shown as parts of a whole, of each object within each piece, of each piece together for the exhibition.
Jedediah Caesar constructs his sculptures by amassing a multitude of objects into containers, usually cardboard boxes that are then filled with resin and cut into rectangular blocks, flat slices, or other shapes. Some of the works in the exhibition are outer shells of earlier works shown in other venues. Others are cut-off remnants of works within the exhibition, that fitted together – would constitute a previous whole. What all works have in common is a keenly tuned sensibility to the visceral nature of objects, a highly developed aesthetic of fusing shapes, colors, and textures into a larger sculptural form and a vivid interplay between abstraction and representation.
Jedediah Caesar received his MFA from the University of California, Los Angeles. His work has been shown in solo exhibitions at the Blanton Museum, University of Texas at Austin, Texas; at DAmelio Terras Gallery, New York; and at Galerie Natalia Obadia, Paris, France. Recent group exhibitions include the Whitney Biennial., Whitney Museum of American Art, New York, NY; Abstract America: New Painting and Sculpture, Saatchi Gallery, London, UK; The Station, curated by Shamim Momin and Nate Lowman, Miami, Fl; Red Wind, Blum & Poe, Los Angeles, CA; Multiverse, Claremont Museum of Art, Claremont, CA; the California Biennial 2008, Orange County Museum of Art, Newport Beach, CA; Trace, Whitney Museum of American Art at Altria, New York; Thing, UCLA Armand Hammer Museum and Cultural Center, Los Angeles, The 7th Annual Altoids Collection, Consolidated Works, Seattle; Blue Star Art Complex, San Antonio; New Museum of Contemporary Art, New York; and Los Angeles Contemporary Exhibitions, Los Angeles. He will be participating in Stardust at the Fundament Foundation, Tilburg, Netherlands, and in Abstract America: New Painting and Sculpture, Saatchi Gallery, London, UK later this year. This is Jedediah Caesars second solo exhibition at the gallery.
Susanne Vielmetter Los Angeles Projects is located at 5795 West Washington Blvd in Culver City, between Fairfax and La Cienega. Gallery Hours are Tuesday through Saturday from 11 am – 6 pm and by appointment. Directions: Coming from downtown, take the 10 frwy west, exit at the Washington / Fairfax exit, turn left, it's the second building on your right. 10 frwy coming from the west side, take the Fairfax exit, turn right on Fairfax, turn immediately right on Washington Blvd, the building is the second on your right, next to the Dunn Edwards store.