Images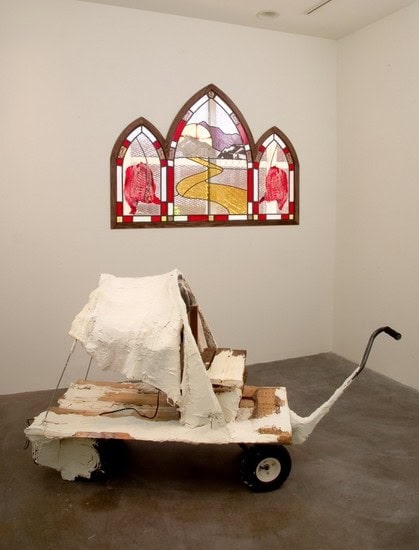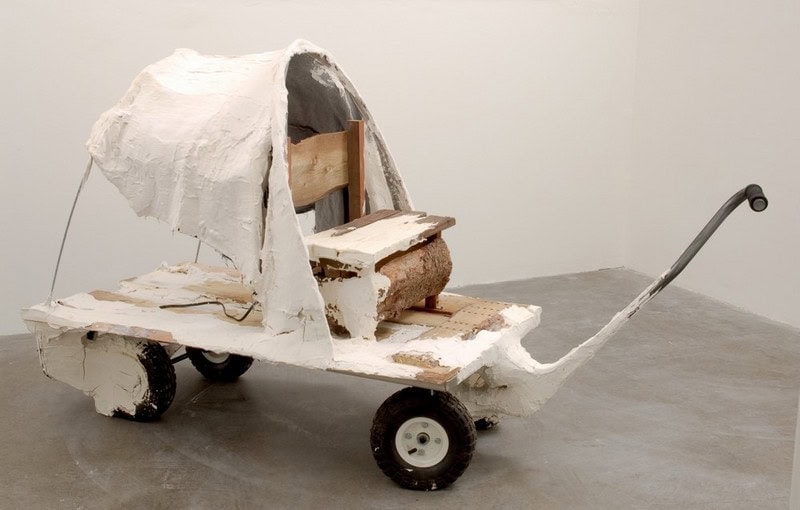 Press Release
Susanne Vielmetter Los Angeles Projects is pleased to present new sculpture by Olga Koumoundouros in the project space.
Power relationships are also at the heart of Olga Koumoundouros work. But while Shana Lutkers work focuses on an exploration of the relationship between the private and the public, Koumoundouros scrutinizes how these forces become prevalent in the materialization of the American Dream and more specifically, how the social dynamics of upward mobility cause problems to the social and environmental context.
Presenting two sculptures in two opposite project spaces, Koumoundouros work is formally based on opposites: one room displays a floor sculpture, the other a work wedged underneath the ceiling. The floor work, a bizarre pioneer wagon made from a garden car, covered with bark and a pair of Levis jeans, epitomizes the problems of mobility and the movement toward opportunity. Seized up in paralysis, it is embalmed in layers of white plaster. In the other room, a massive tar covered metal jack jams a crystal chandelier into the ceiling. Held up by the brutal upward force of the steel jack, the chandelier converts into a powerful image of forces pushing and pulling, of violent thrusts and stagnant frustration, both such essentially human endeavors.
Olga Koumoundouros graduated with an MFA from the California Institute for the Arts in 2001. Her work has been shown at Stefan Adamski Gallery, Aachen, Germany, at Occidental College, Los Angeles., at the Banff Centre – Walter Phillips Gallery, Banff, Canada; at the Armory Center for the Arts, Pasadena; at the Studio Museum of Harlem, New York; at LAX-Art, Los Angeles, Glassell School of Art, Houston, at the Suburban, Chicago; and at the Schindler House, Los Angeles. Her work was included in Thing at the UCLA Armand Hammer Museum, Los Angeles. This is her first exhibition at the gallery.
Susanne Vielmetter Los Angeles Projects is located at 5795 West Washington Blvd in Culver City, between Fairfax and La Cienega. Gallery Hours are Tuesday through Saturday from 11 am – 6 pm and by appointment. For more information about the artist please contact the gallery.