Images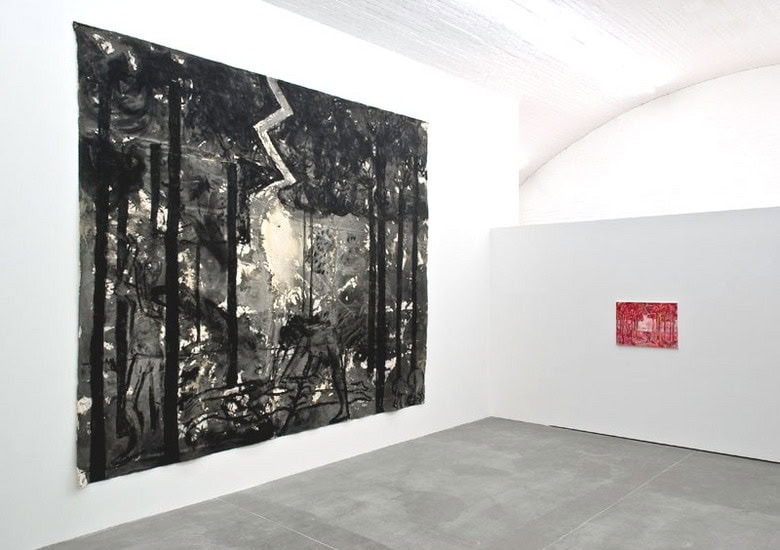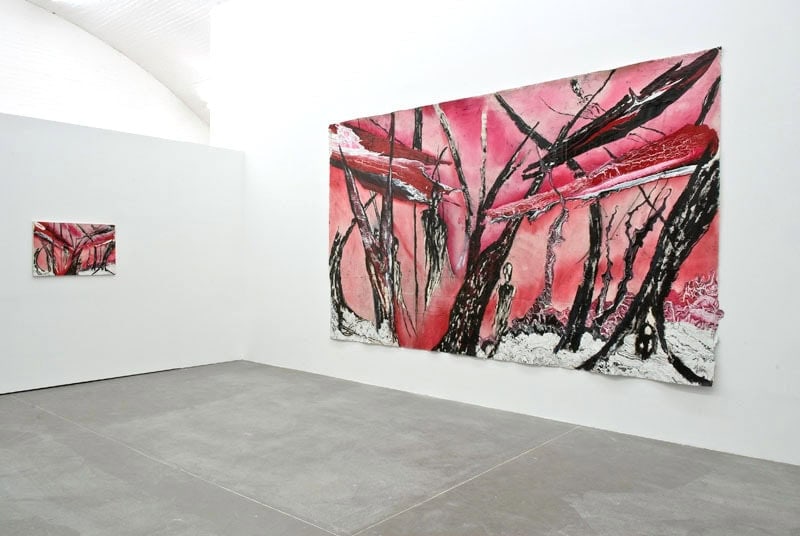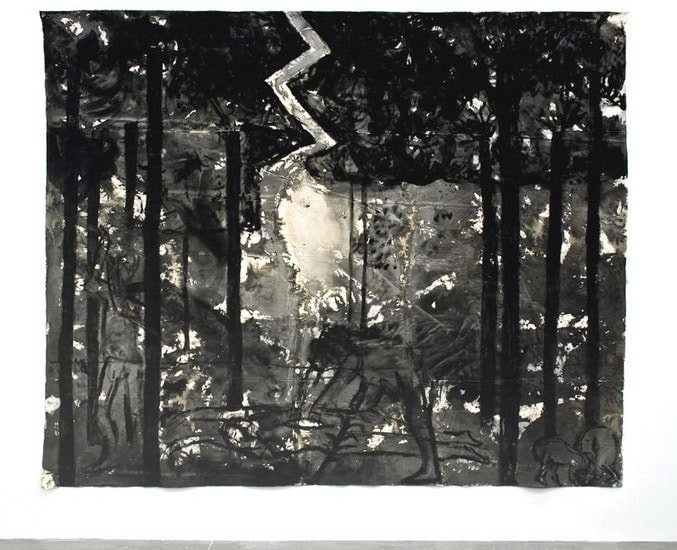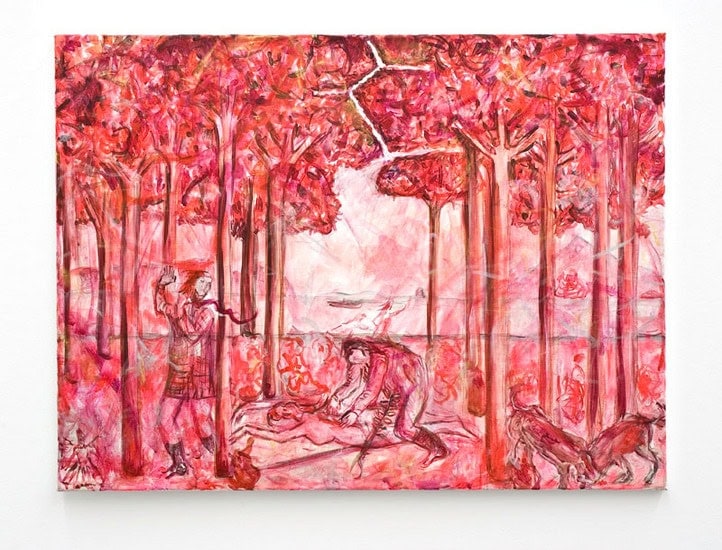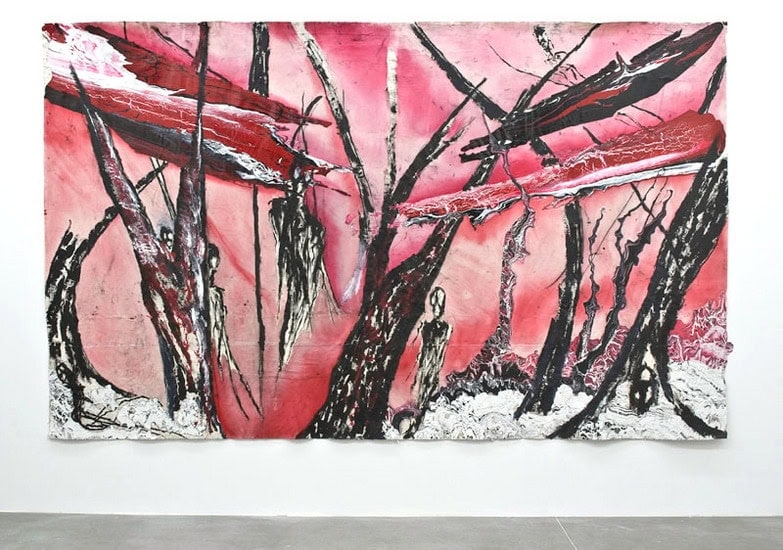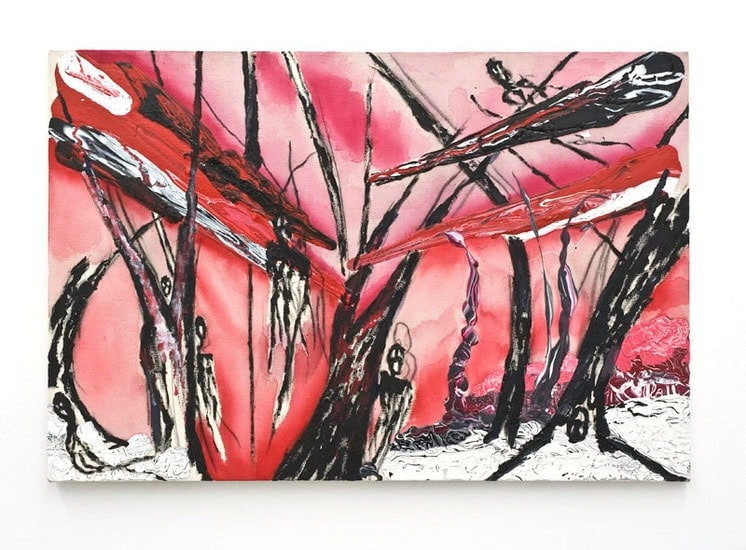 Press Release
Susanne Vielmetter Berlin Projects is pleased to announce the move of our Berlin gallery space next door to Bogen 48, Holzmarktstrasse 15/18.
The opening exhibition of our new space features a two person exhibition of paintings by Rodney McMillian and Jutta Koether.
In the exhibition, Jutta Koether and Rodney McMillian are showing four paintings, a large and a small work by each artist. Inspired by an ongoing dialog that the artists have entertained over the last year, their aim was to create a body of work that positions itself in a dialectic discourse with the historical meaning of painting in its location, in particular with the strong history of expressive painting in Germany.
The artists decided to restrict their palettes for these work to the colors red, white and black, colors that have both historical relevance and a specific significance within each artist's work. Jutta Koether has extensively explored in cyclical bodies of work the colors red and black, and McMillian's work often moves within the contrast of black and white, dark and light. In his past work, there has been a focus on the social implications of the white canvas both as a painterly gesture and as a sculptural material, as blank screen and as a three-dimensional texture. At the heart of Koether's and McMillian's exploration in this exhibition lies an attempt to make visible a desire to express, an admission about the difficulty to evoke a psychological reaction through painting without relying on a narrative structure. Aiming at a semi-subconscious state between dream and awareness, their paintings are situated at the moment where images of a dream converge with the shock of awakening to reality.
Jutta Koetheris a painter, performer, musician, and writer who has shown her work extensively since 1985. Recent solo exhibitions include Kunsthalle Bern, Bern; Koelnischer Kunstverein, Cologne; the Generali Foundation, Vienna; Reena Spaulings Gallery, New York; Susanne Vielmetter Los Angeles Projects, Los Angeles and Galerie Daniel Buchholz, Cologne. She was included in the Whitney Biennial of 2006 and her work has been featured in group exhibitions at P.S.1 Contemporary Art Center, New York; De Appel, Amsterdam; ICA Philadelphia, Philadelphia; ICA Boston, Boston; Henry Art Gallery, Seattle; Van Abbemuseum, Eindhoven; Columbia University, New York; Kunstverein Graz, Graz; Magasin 3, Center for Contemporary Art, Malmö; Kunst-Werke, Berlin and at the Wiener Secession, Vienna.
Rodney McMillian received his MFA in 2002 from the California Institute of the Arts, Valencia. His work has been featured in solo exhibitions at the Neuer Aachener Kunstverein, Aachen; at Triple Candie, New York; at Susanne Vielmetter Los Angeles Projects, Los Angeles and at Adamski Galerie, Aachen. Group exhibitions include "USA Today" at the Royal Academy of Art, London; the Walker Art Center, Minneapolis; the Museum of Contemporary Art, Los Angeles; the Astrup Fearnley Museum of Art, Oslo; the Serpentine Gallery, London; Bard Museum Center for Curatorial Studies, Annandale-on-Hudson; Städtisches Museum Abteiberg, Mönchengladbach; the UCLA Hammer Museum, Los Angeles; the Studio Museum in Harlem, Harlem; the REDCAT Gallery, Los Angeles and the Kunstsammlung Nordrhein-Westfalen (K21), Düsseldorf.
Exhibitions in the new gallery space will alternately showcase artists represented by Susanne Vielmetter Los Angeles Projects and by Praz Delavallade Gallery, Paris.
Susanne Vielmetter Berlin Projects is located at Holzmarktstrasse 15/18 in Berlin Mitte. From the U/S train stop Jannowitzbrücke turn right and walk approximately 300 meters towards the "Aral" gas station. At the "Aral" gas station turn right towards the galleries which are located in the arched spaces underneath the rail road tracks. Gallery hours are Tuesday – Saturday from 11 am – 6 pm.